House Bar, the sleek craft cocktail bar within the super-stylish Kimpton DeWitt luxury hotel epitomises all that's buzzing in Amsterdam right now, writes Andrew Forbes.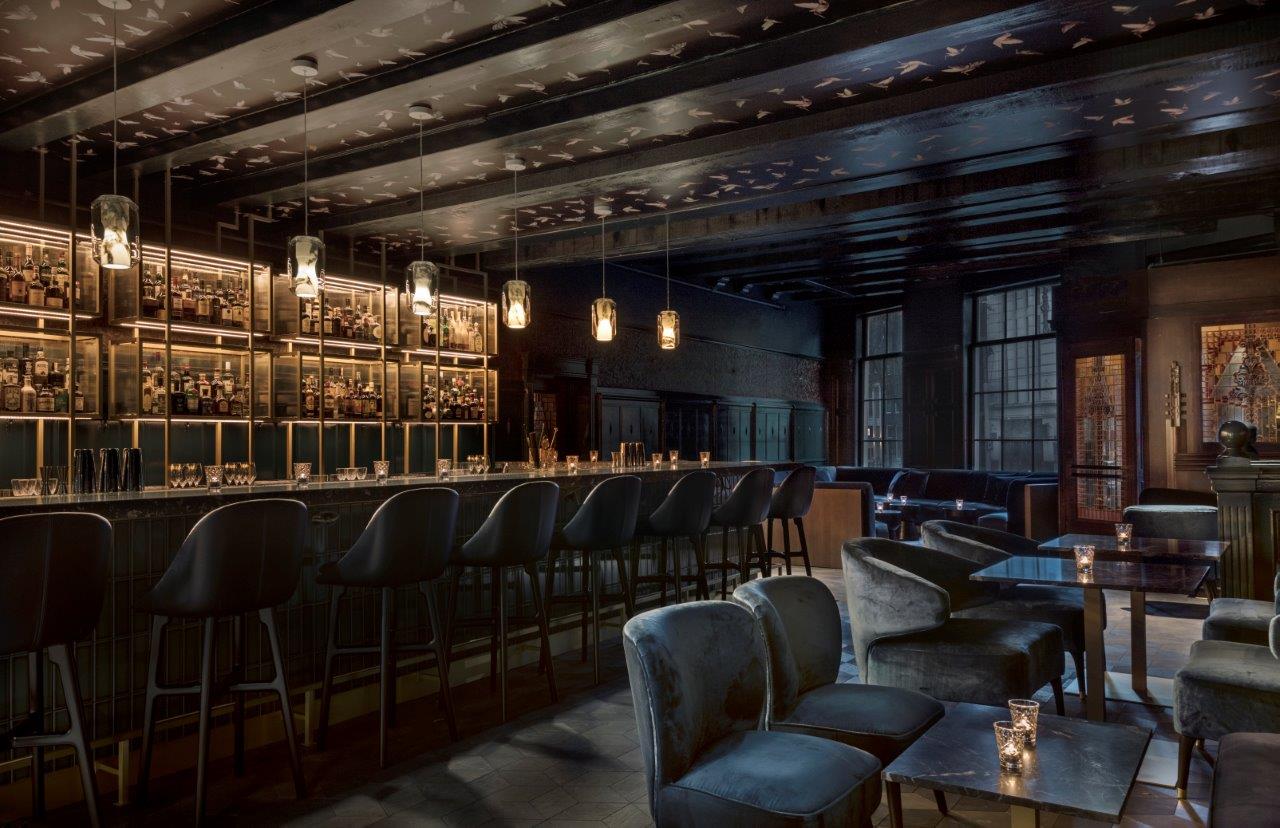 The Netherlands has always punched well above its weight, thanks to the country's open-mindedness, and international perspective; and more than ever before, Amsterdam is a global city, of trade, commerce and the arts – supporting a vibrant hospitality scene.
House Bar @ The Kimpton DeWitt Hotel
Kimpton has recently brought it signature style of hospitality to Amsterdam with the opening of the DeWitt Hotel, a 274-room property that includes 17th century buildings.
It's within one of these original, fine Dutch houses, dating to 1645, that one finds the House Bar – a contemporary cocktail bar, with a sophisticated interior that harmonises the historic setting with the chic urban cues of a Manhattan style bar.
spirited evening of creatively mixed drinks and satisfying gourmet bites
Cocktail expert and manager Thomas Datema was our host last month as we dropped in for a spirited evening of creatively mixed drinks and satisfying gourmet bites.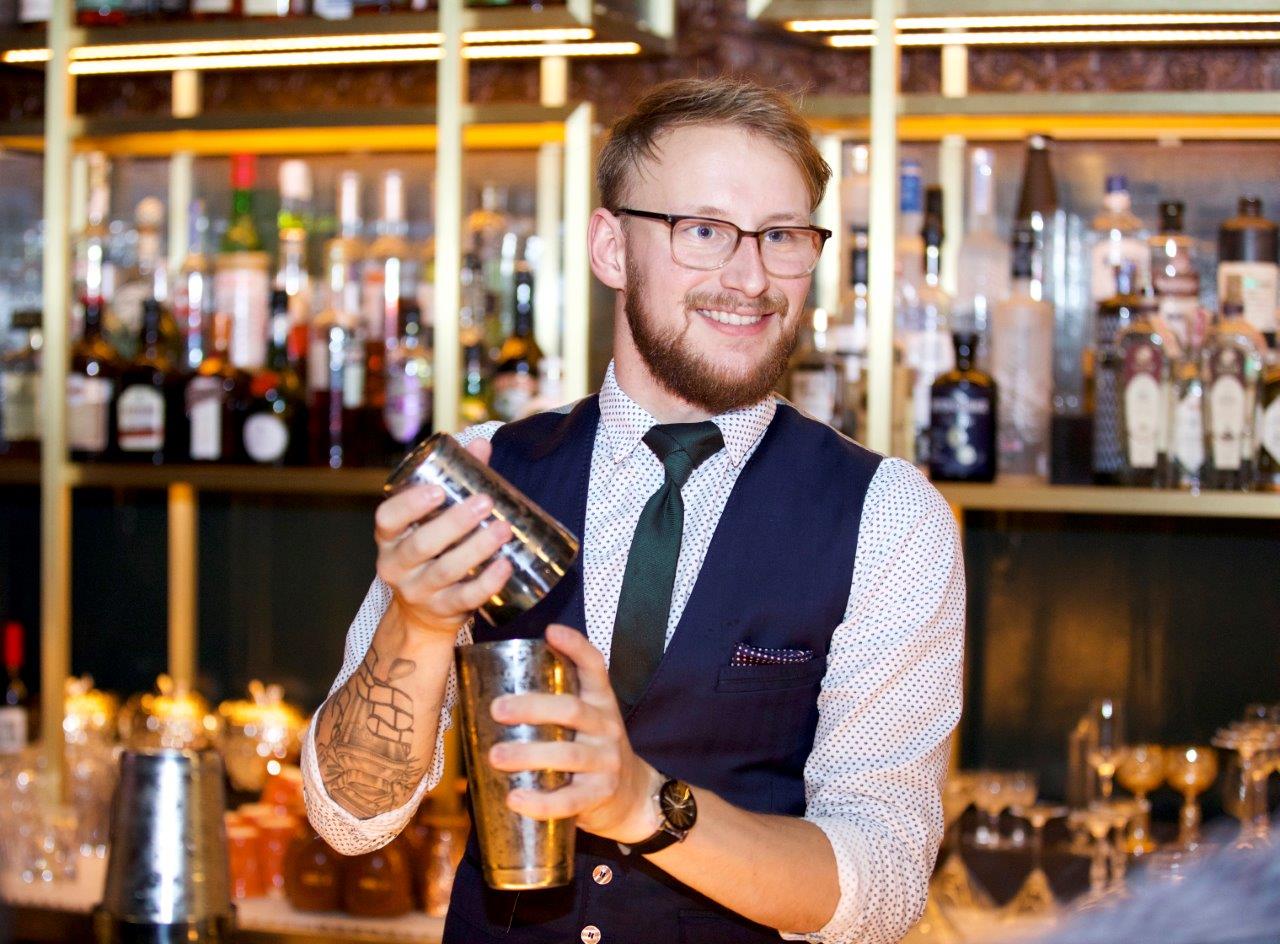 There are discreet tables in the warmly lit space, or you can opt to pull up a plush stool at the bar as we did and enjoy banter with the bartenders of the House Bar Amsterdam.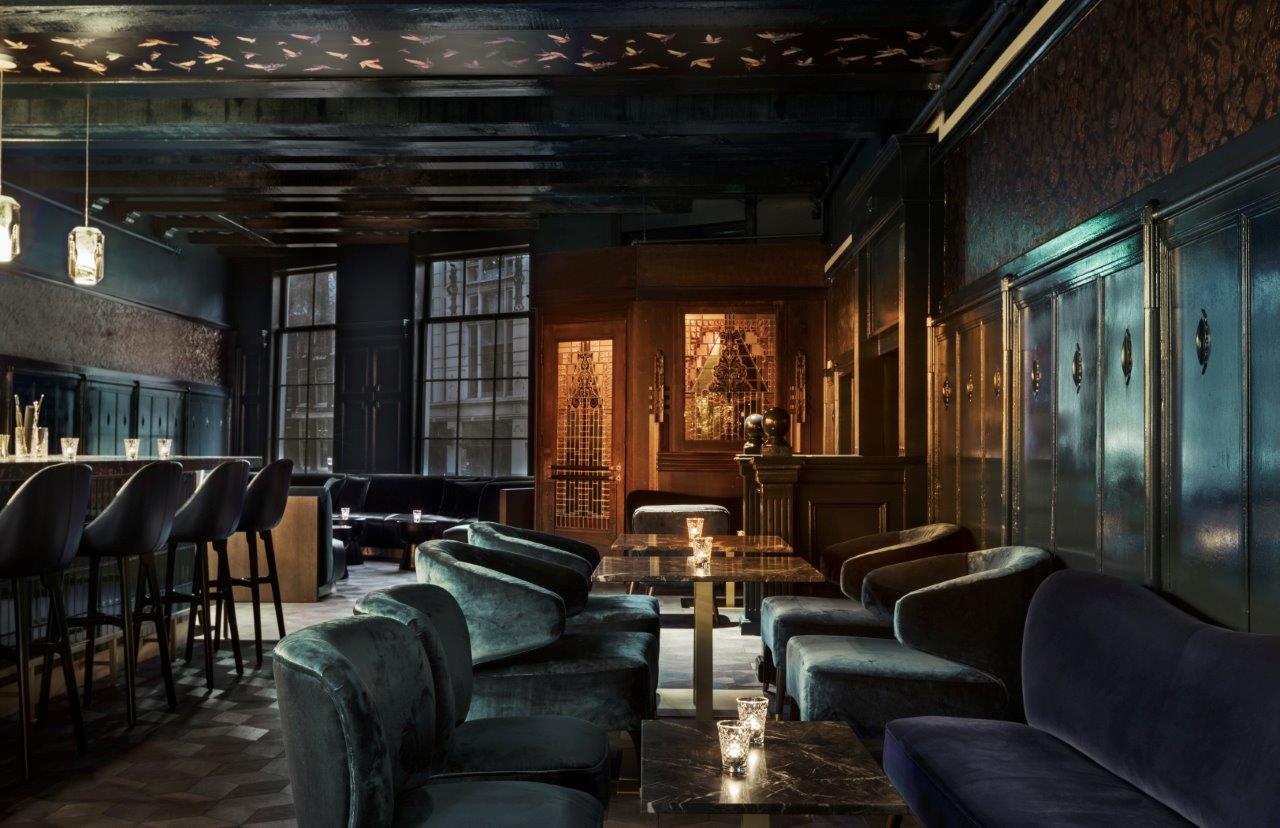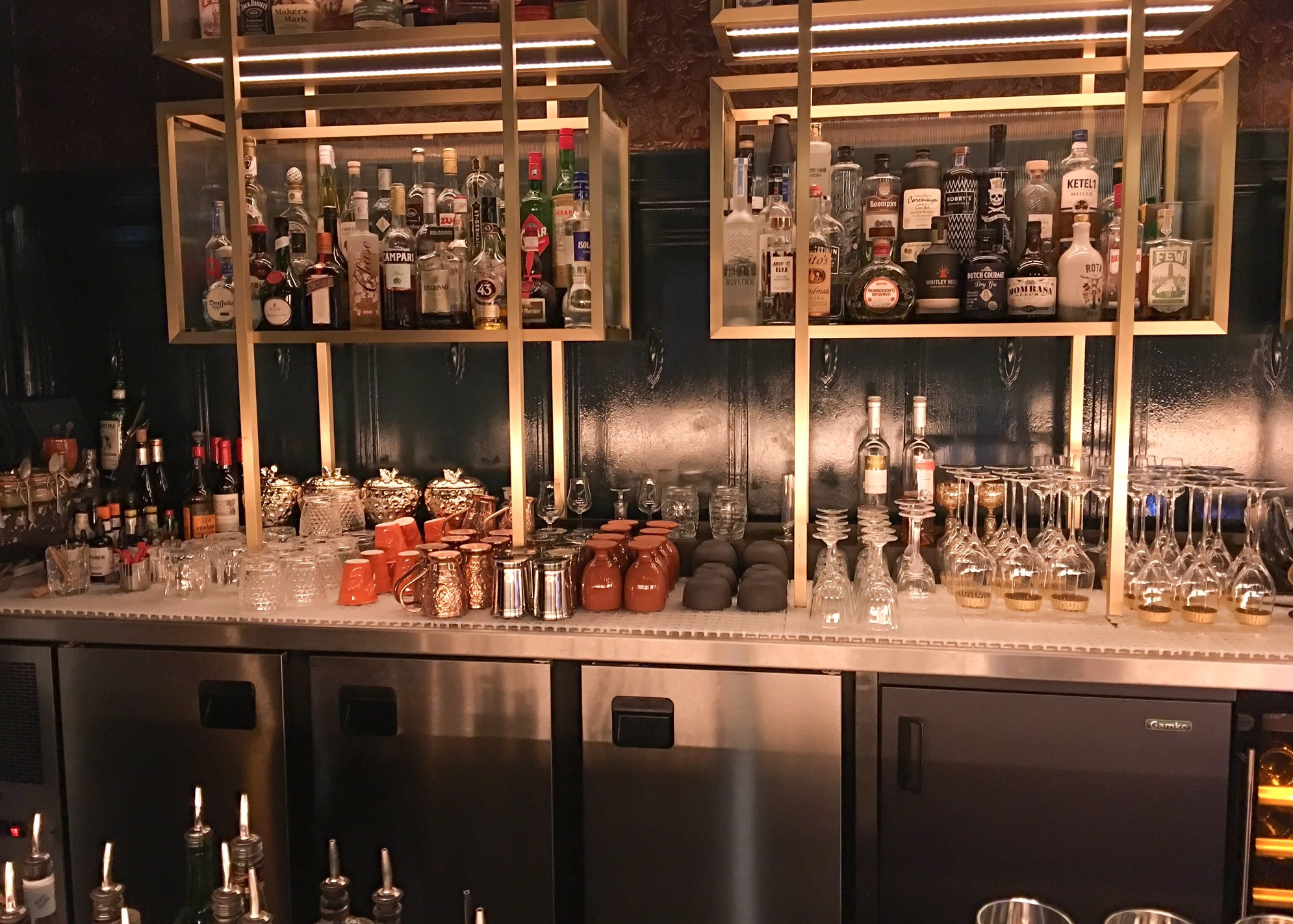 The bar is rich in subtle tones and textures from the myriad of bottles, bespoke glasses, copper beakers, and terracotta cups, as well as of course all manner of cocktail paraphernalia from glistening shakers, to strainers, muddlers, mallets and zesters.
Beyond the Mojito
If you think a cocktail is a gin & tonic, or a mojito then please think again. The craft of cocktail making is a refined art and Thomas and his team are proud to showcase their skills and imagination.
If you're willing to experiment and discover something new, then the seasoned mixologists will be happy to make suggestions for you, in line with your preferences for sweet, sour, dry, short or long.
Gourmet sharing plates
Why not make an evening of it?  The hotel's Chef Sam "SammyD" DeMarco, from Brooklyn New York heads a team that are a whizz are creating tasty, gourmet snacks, 'Sam-Wiches', and Chef's Boards that are perfectly pared with the cocktails.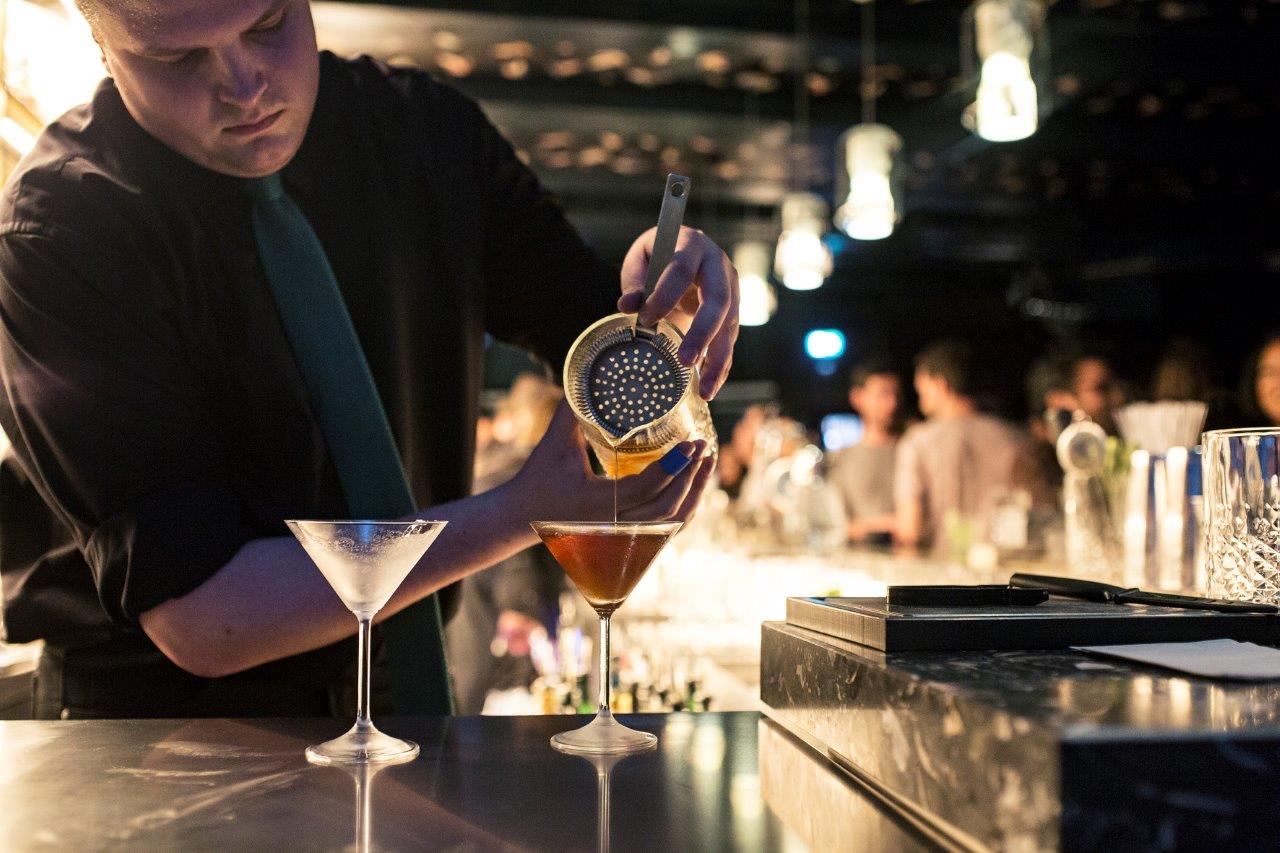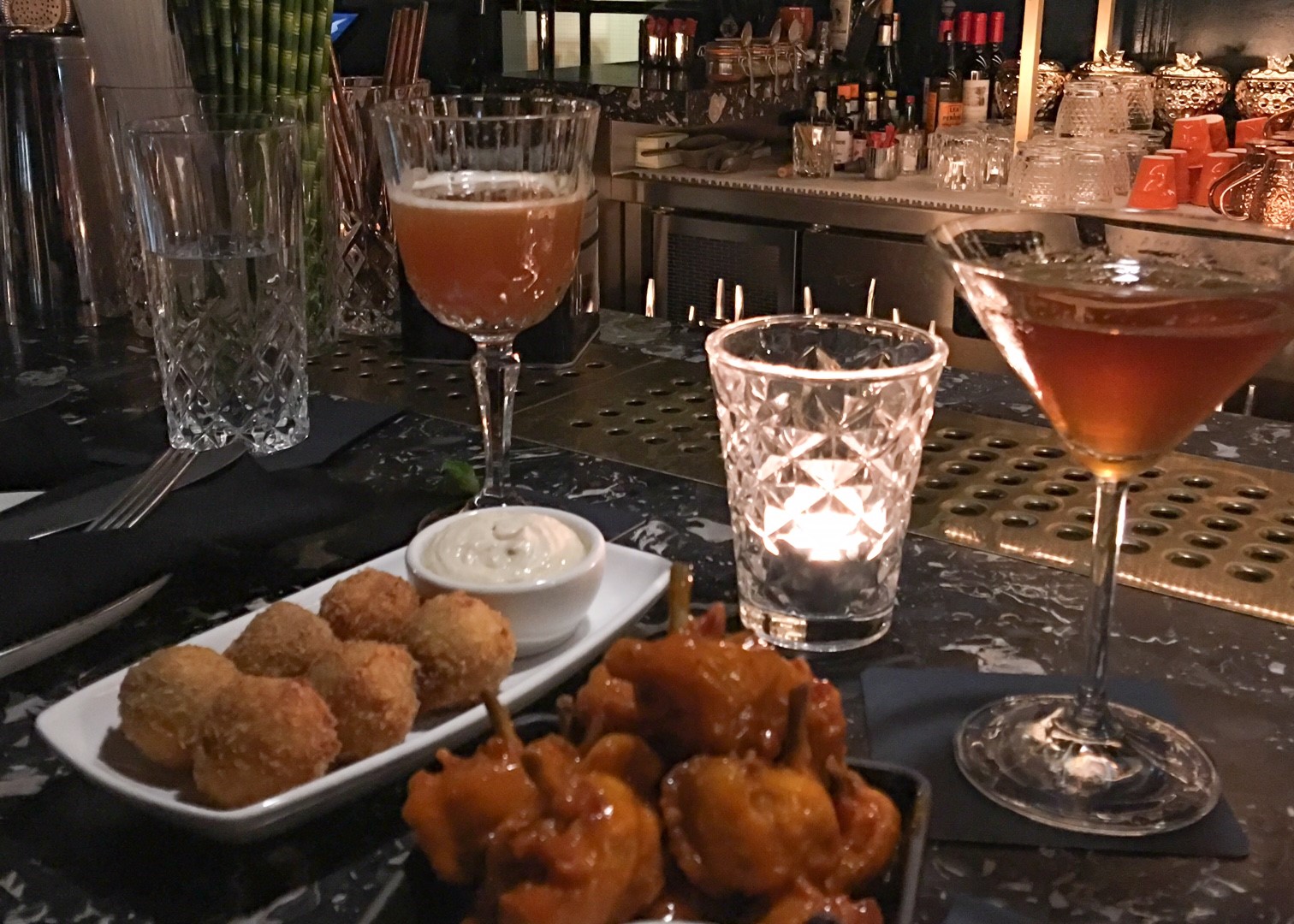 We kicked off our evening with a 'Laughing Cavalier' (Gin Sul, Aperol, Lemon and Vanilla-Sea Salt Foam), and a 'Music Lesson' (Bols Genever, Watermelon, Belsazar Rosé Vermouth, Lemon, and Egg White) both from the 'Artist's Journey' selection of cocktails.
This historic house bar was once a poet's home; offering some inspiration for the menu. You can order the classic unforgettable cocktails if you wish, yet the House Bar has also created a signature menu of more than two dozen drinks to sip and savour.
Chef Sam's Lollipop Chicken Wings (buffalo sauce, blue cheese dip, celery sticks) and the oxtail & marrow 'Onze Bitterballen' were a winning  accompaniment.
Crafting Cocktails with a twist
Each cocktail is a mini work of art; carefully mixed, perfectly balanced and beautifully presented. So, if you're a cocktail aficionado you will not be disappointed, and if you're new to such creatively in mixed drinks then House Bar Amsterdam will certainly seduce you will their creations.
The evening continued with the evocatively named (and extravagantly presented) 'Snow White Conspiracy' (Zubrowka Bison Grass Vodka, Apple, Lemon, Angostura, Rose Water).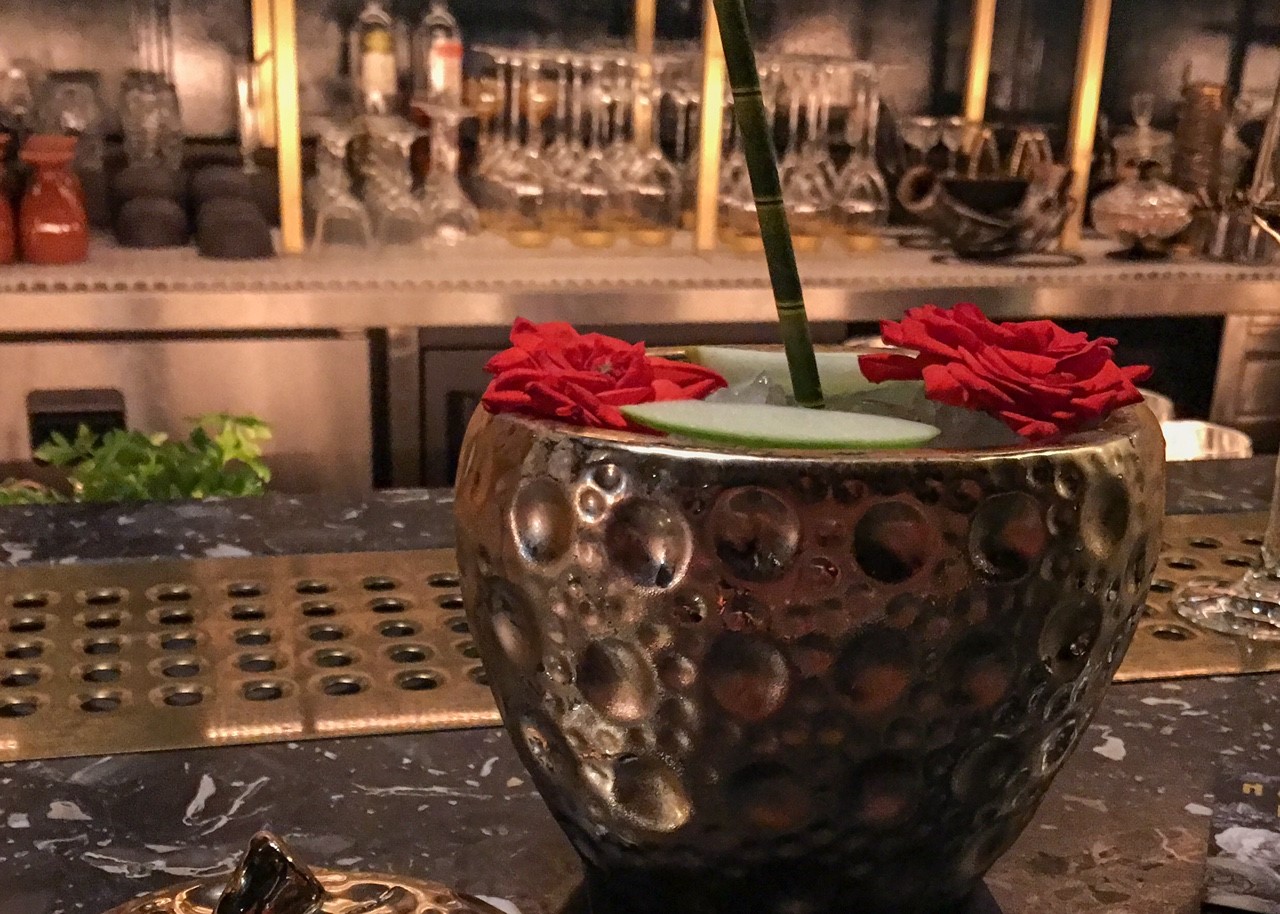 It looks like I would be drinking half a litre of vodka, but in fact the bespoke holder is deceptive as the cocktail glass is hidden within crushed ice.
The 'Garden of Earthly Delights' (Green Chartreuse, Pineapple, Chili, Turmeric, Cinnamon, Lemon, Mint, Parsley) was spicy and earthy.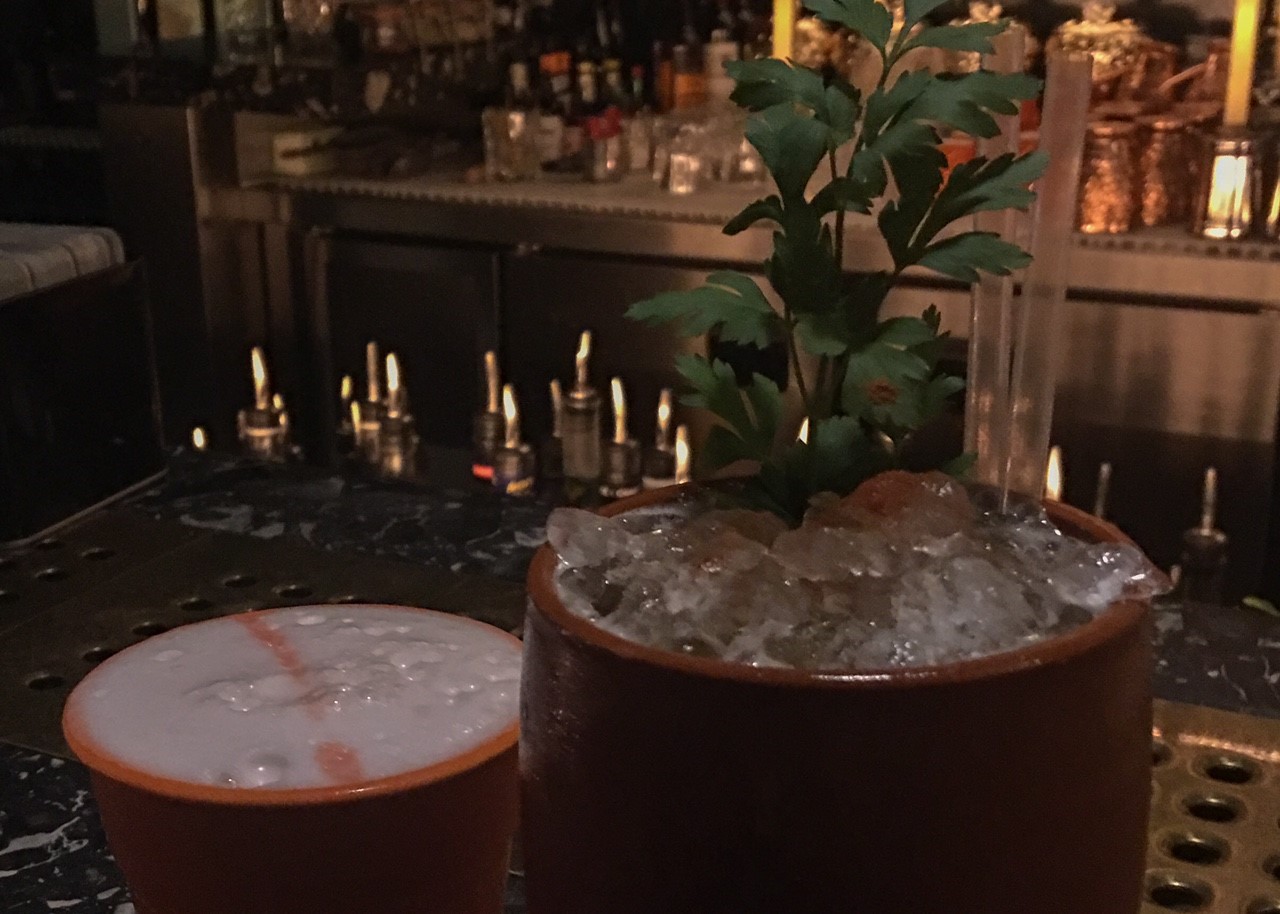 At this point I was tucking into the Chef's 'Black Angus Beef Mini Burger Trio' (with truffle aioli, taleggio cheese, madeira, onions, foie gras butter); yes, they were as good as they sound!
If you're looking for a lighter snack, I can recommend the 'Crispy Walnut Shrimp' (local honey, candied walnuts, spring onions).
The House Bar is showcasing the best in international cocktail mixology and Thomas and his team aspire to best practice from being as sustainable as possible in the use of materials from fruit to straws, as well as pushing the boundaries in creatively.
I guess I should add that you can order a mocktail, but why would you when you can enjoy the real thing at the House Bar Amsterdam!
Information
The House Bar is open till 1am during the week (Sunday to Thursday) and until 3am at the weekends (Friday & Saturday). The kitchen is open until midnight and 1am respectively. At the time of writing, cocktails were between 10 and 15 euros each.
House Bar
Nieuwezijds Voorburgwal 5,
1012 RC Amsterdam, The Netherlands
Tel: +31 (0)20 521 1757