Owing to an exclusive partnership with Italian supercar brand Lamborghini, one of our favourite luxury hotel brands Waldorf Astoria is offering VIP hotel guests a range of Lamborghini driving experiences at key Waldorf properties around the world throughout 2017. TLE were privileged to experience this last weekend at the Waldorf Astoria Edinburgh.
Waldorf Astoria Driving Experience offers an exclusive opportunity for guests to take to the roads and test drive a range of Lambourghini's newest models including the Huracán RWD, Spyder and Aventador S.Coupé!
Participating at a range of properties throughout the world guests have assess to a 30 minute sessions during the event, which are led by Lamborghini's professional driving instructors. Bespoke driving routes are curated to allow guests to see the most iconic sights and places in the city they are in.
TLE's driving experience
We met at the hotel lobby and were taken up to the first floor to be briefed on the days adventure. After a short video about the brand our instructor for the day Andreas told us about the latest models at Lambourghini then we were taken down to the cars and what beauties they were.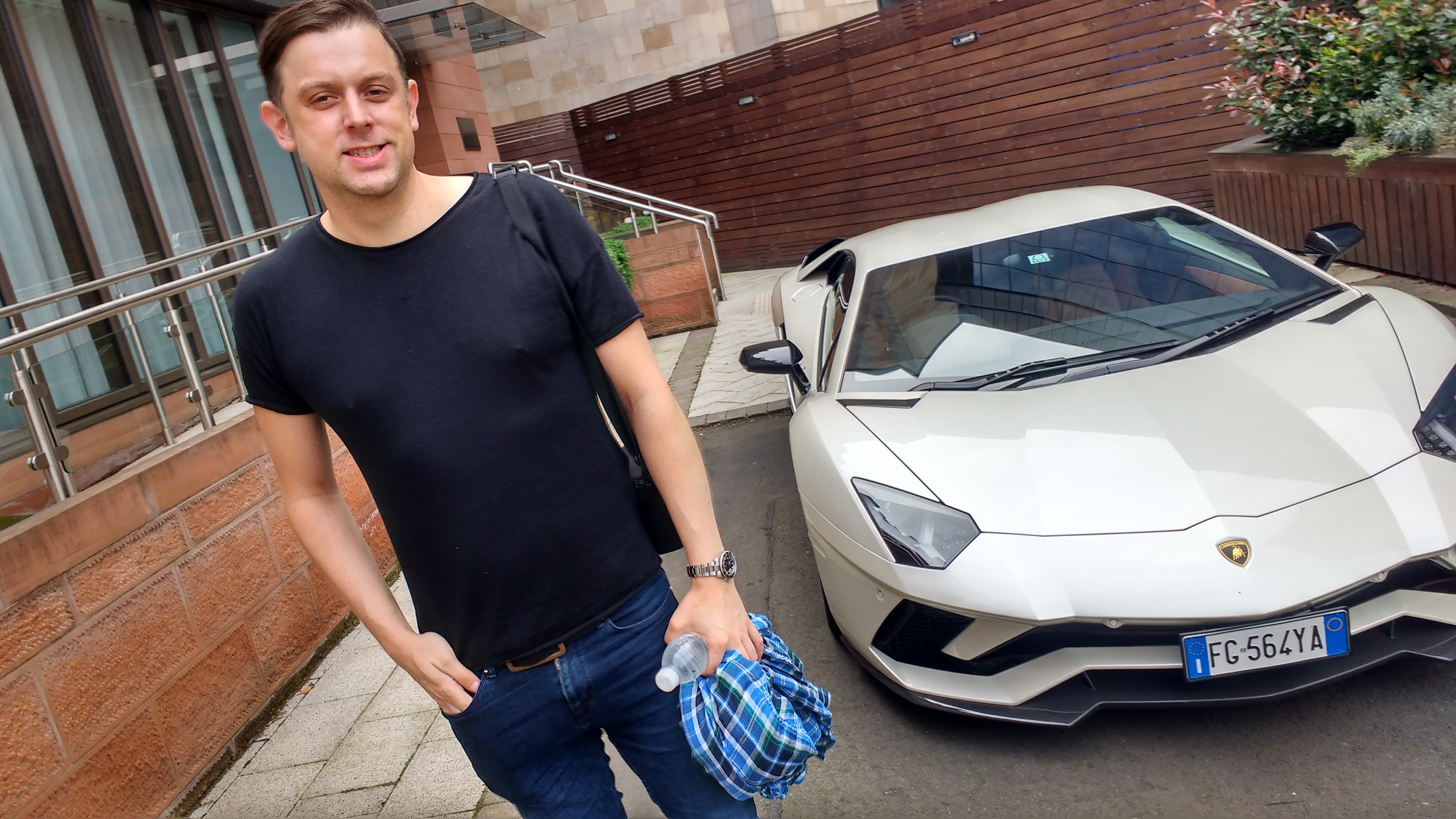 I immediately chose the new Aventador S, which has a 6.5-litre V12 engine developing 740hp, a top speed of 217mph and goes from 0-62mph in a zippy 2.9 seconds. The deal breaker for me were the gull-wing doors which open upwards rather than out, I'm easily pleased!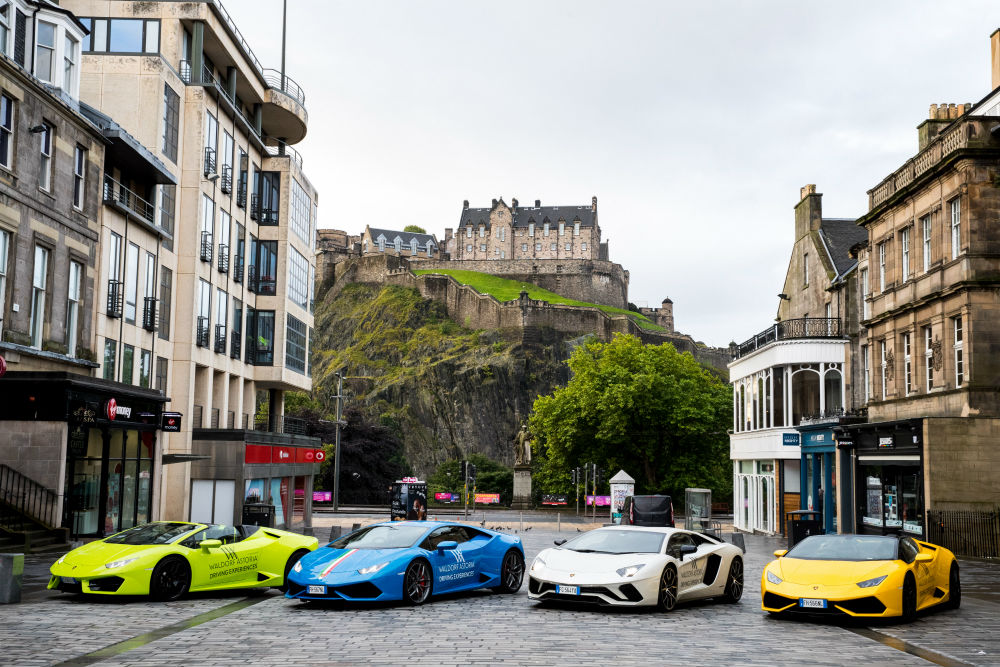 After a quick demonstration on how to drive this beast of a car, which looks quit daunting at first as you get into what feels like the cockpit a plane. You realise that it is actually quite straightforward to operate as half the buttons and gadgets you don't need to press, even though you want to press them all. There is no gear stick, everything is operated by the wheel, a gentle squeeze of a lever behind the wheel and she is out of neutral and ready to go, just go easy on the accelerator as the cars 6.5 litre engine is itching to take off!
We headed slowly through the city centre towards Morningside., why is.the traffic so bad in Edinburgh even on a Sunday! The slow speed did have its advantages as it allowed me to be famous for five minutes – these cars are real head turners and you are guaranteed to get a lot of interest and the odd photo or two. I did realise that I could have capitalised on this situation further but taking one of the softtop's which are also available to drive!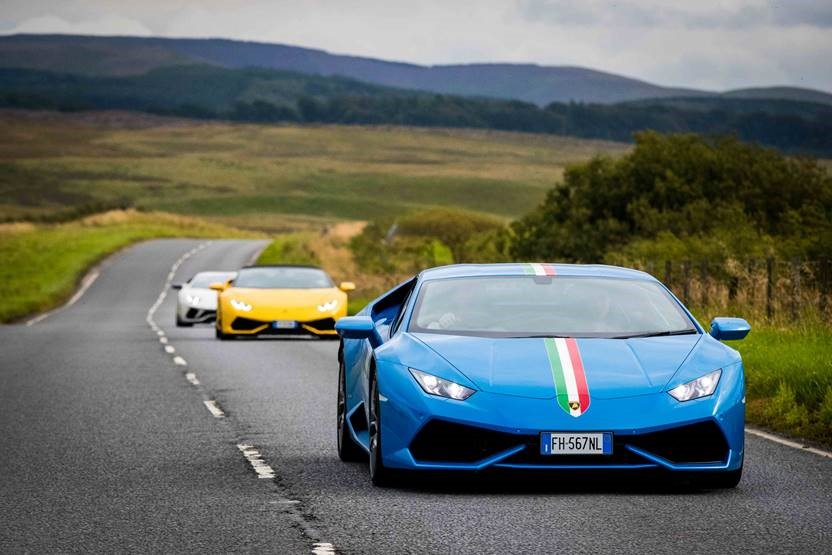 Once we were out of the city, it was time for our procession of 4 cars to put our foot on the gas as we took the cars along the motorway for a short distance then a loop over the motorway and back along towards the Pentland Hills and just as I was really getting into the swing of driving my Aventador and hour had passed ion a flash and it was time to head back to the hotel.
When and Where?
Waldorf Astoria Driving Experiences are available to Gold or Diamond Hilton HHonors members staying on property, who are 25 years of age or older. Participation requires pre- registration, a valid driving licence and a signed waiver. There are a couple of dates left in the calendar for 2017.
Was – 17-19 MARCH La Quinta Resort & Club, A Waldorf Astoria Resort (La Quinta, CA) – During BPN Paribas Open Indian Wells
Was – 12-14 MAY Waldorf Astoria Chicago (Chicago, IL) –In conjunction with World of Lamborghini program
Was – 14-16 JULY Trianon Palace Versailles, A Waldorf Astoria Hotel (Versailles, France) – During Bastille Day
Was – 25-27 AUGUST Waldorf Astoria Edinburgh – The Caledonian (Edinburgh, Scotland) – During Edinburgh Fringe Festival
3-5 NOVEMBER Boca Raton Resort & Club, A Waldorf Astoria Resort (Boca Raton, FL) – During Fort Lauderdale Boat Show
16-18 NOVEMBER Waldorf Astoria Dubai – Palm Jumeirah (Dubai, UAE) – During Dubai International Motor Show
For more information, visit Waldorf Astoria Driving Experiences