Our 'new normal' has forced us to become armchair travellers, filled with wanderlust but confined to our living rooms. At Perowne International, we are looking beyond the current situation to when travel restrictions are lifted. We have put together our top picks of out of this world hotels and bucket list destinations to bookmark for when we can travel again. From the new Six Senses resort deep in the Israeli desert to a private paradise island in the remote Anambas Islands, there is an escape that promises to inspire everyone…
BOOKMARK THIS…
*FAR FLUNG*
…Private Island Playground In The Remote Anambas Islands, Indonesia – Be One Of The First To Explore Bawah's Exclusive New Island 'elang' – 
Situated in the remote Anambas Islands, Indonesia, between Malaysia and Borneo, Bawah Reserve is made up of six tropical islands, 13 white sand beaches and two crystal clear lagoons ready to be explored by land and sea. In addition to its current 36 lodges (including some of the only overwater villas in Indonesia), Bawah is launching six brand new cliffside lodges on a previously untouched island named Elang later this year. Further enhancing the reserve's private island experience, guests over 18 can opt to book one lodge or to take over the entire island. It will be home to its own guest-only clubhouse which has been carefully designed around a rock formation and inspired by tribal communal houses in Indonesia as well as a beachside restaurant and bar, spa, private beach and salt water infinity pool, created from a natural hollow and refreshed with every tidal change, complete with a water slide. Guests of Elang will have full access to the reserve's main island, just a short boat trip away and can take part in the plethora of activities included in the rate, in addition to full board dining experiences as well as a daily spa treatment. Guests even have the option to spend a morning as castaways on a one of the reserve's uninhabited islands, where they will have free run of the deserted island and enjoy total seclusion from the outside world.
HOW: Rates on Elang in a one-bedroom lodge will start from $3,280 USD (approx. £2,500) per night. Rates on the main island at Bawah Reserve start from $1,980 USD (approx. £1,700) per night. www.bawahreserve.com
…The Spectacular Beaches Of Lombok – A Destination Making A Come Back With The Opening Of The Legian Sire In August 2020 
The Legian Sire, Lombok will launch in August 2020, making Lombok and the neighbouring Gili Islands more accessible than ever for the discerning traveller, offering diverse, cultural experiences within the island, which still remains remarkably untouched by tourism. Located on the beautiful 3.8-kilometre Sire Beach, the 45-suite and 15- villa boutique resort has staggering views of the Gili Islands and Lombok's Mount Rinjani. The hotel interiors are by Studio Affandy & Yeo, boutique design studio whose founders Agnes Affandy and Shaun Yeo are prodigies of Jaya Ibrahim (interior designer of sister property The Legian Seminyak, Bali) and architecture is by award-winning ESA International, headed up by Indonesian talent Putu Edy Semara – celebrating local culture and craftsmanship. The hotel opening will also help put Lombok on the map for wellness travellers, thanks to LHM's innovative Wellness by The Legian concept, including an Apothecary Bar, with fresh all-natural, organic ingredients including Lombok volcanic clay. Guests can sample sea-and-farm-to-table fare at signature eatery, The Restaurant, relaxed Italian plates at The Cucina and delicious dishes at The Vegetarian – the first vegetarian restaurant in Lombok. Lombok is far from a fly and flop destination and during a stay, The Legian Sire guests will embark on snorkelling excursions to the neighbouring Gili Islands, hike to local waterfalls and across paddy fields, discover the local wildlife and get a taste of the local culture with a visit Lombok's oldest mosque, Bayan Belek, built in 1634.
Read our guide to the best luxury hotels in Bali
HOW: Rates for a suite at The Legian Sire, Lombok start from $347++ USD (approx. £270) per night and $613++ USD (approx. £476) per night for the villas at The Club by The Legian Sire, Lombok. For more information please visit www.lhm-hotels.com
…Luxury Island Paradise On The Idyllic Island Of Malolo – Six Senses Fiji, Home To Beautiful Beaches, Luxurious Villas & World-class Spa 
Six Senses Fiji is located on the tropical volcanic island of Malolo – part of the stunning Mamanuca Islands archipelago, just 15.5 miles from Nadi International Airport. The island is set amidst crystal waters, pale ivory sands and thick tropical forest. The resort is comprised of 24 spacious pool villas and 60 residential villas, each offering privacy, seclusion and luxury. Situated on one of the most dramatically beautiful isles in the 333-island nation with consistent warm, tropical weather making it an ideal year-round destination. Experiences on offer include hiking the hilltop trail and enjoying a private sunrise breakfast, prepared by Six Senses Fiji's expert chefs at the top.
Read our guide to the best luxury hotels in Fiji
HOW: Rates at Six Senses Fiji start from FJD 2,137 (currently approx. £771) based on two sharing a Hideaway Pool Villa on a B&B basis. www.sixsenses.com
…Discover The Secret Island Of Sumba, Indonesia At Nihi Sumba – Go Off The Beaten Track On This Peaceful And Tropical Island 
Escape to and explore the remote and untouched paradise of Sumba, hidden amongst Indonesia's beguiling islands, at Nihi Sumba – an idyllic hideaway for wanderlust lovers looking to travel again. The size of Massachusetts and totally untouched, yet just a 50-minute flight from Bali— Nihi Sumba is home to just 21 villas amid hundreds of acres of lush gardens and on a private beach, ensuring total seclusion. Guests can go totally off the beaten track and immerse themselves in nature by hiking through dramatic waterfalls, ancient villages and butterfly trails, as well as stand-up paddling down the Wanukaka River to the unique 'Spa Safari' by the sea for ultimate relaxation. Guests can also experience the beauty of Nihi Sumba on horseback, riding Sumbanese horses along the mile-and-a-half long stretch of beach. Nihi Sumba is also home to one of the world's most coveted private waves, known as "God's Left' – the ultimate thrill for adventure seekers while calmer waters can be found at nearby Coconut Cove. For the ultimate beachfront views, escape to MaranggaVilla – Nihi's most intimate hideaway with its own private gardens leading directly to the ocean.
HOW: Rates at Nihi Sumba start from £1,627 per night based on two people sharing on a full board basis. www.nihi.com
…Wander Through The Hills Of Sri Lanka's Tea Country With Teardrop 
Escape to Goatfell, perched amongst tea bushes amidst the Concordia Estate, and on an astonishing edge-of-the- world elevation above Nuwara Eliya. Part of Teardrop Hotels' portfolio of small yet stylish boutique hotels, Goatfell is a former superintendent's residence turned boutique hotel and home to just four ensuite bedrooms in the main house, with living and dining rooms. This intimate experience follows through at every point
of guests' stay – from butler service to the restaurant's menu, which draws on seasonal vegetables grown on site and by the hotel's neighbour, translated into a combination of Sri Lankan and Western dishes. The interiors of the former bungalow resonate with the warmth and country charm of a bygone era, offering log-fired sitting rooms and panoramic tea field views 2,000 metres above sea level – all which can be enjoyed from an infinity swimming pool. This contemporary take on a traditional planter's bungalow offers guests the ultimate immersion into Sri Lankan culture – without compromising on indulgence and relaxation. Guests can escape and explore the sights of the colonial-era hill station of Nuwara Eliya or visit Horton Plains to peer down from World's End and stroll through the reserve's plains, or even embark on an excursion to Sri Lanka's third-highest mountain Tothupola Kandabefore partaking in sundowner cocktails after a day of exploring.
HOW: Rates at Goatfell start from £352 per night based on two people sharing on a full board basis. www.teardrop-hotels.com/goatfell/
…A Magical Floating Palace In The Middle Of Lake Pichola In Udaipur, Only Accessible By Boat – Taj Lake Palace, Udaipur 
This 270-year-old white marble palace floats like a mirage in the middle of Lake Pichola and looks dazzling from the shore, making it one of the most private and exclusive hotspots in the world. Reached by a short boat ride, it was built as a summer retreat by Maharana Jagjit Singh who ruled Udaipur in the 17th century. It has undergone major refurbishment which has gone a long way to restore its palatial feel with marble floors and rich furnishings, making incredibly opulent and ideal for an unforgettable Indian escape. Meals can be enjoyed from Jharokha – an informal all-day restaurant serving both buffet and a la carte from around the world, Neel Kahal – a fine dining option specialising in signature Rajasthani food which overlooks the famous lily pond and Bhairo – a breath taking rooftop contemporary western cuisine restaurant offering scintillating views of the beautifully lit Palace of the King of Mewar and the sparkling waters of Lake Pichola. Special experiences at Taj Lake Palace include the in-house fortune teller who is available each afternoon to read guests palms, beautiful traditional dance performances each evening to be enjoyed alongside cocktails and snacks and relaxing treatments onboard the hotels exclusive Jiva Spa Boat.
HOW: Rates at Taj Lake Palace start from approx. £541 per person per night on a B&B basis. For more information please visit: www.tajhotels.com
*THE AMERICAS*
…Diving Hotspot For An Adventurous Escape On Panama's Pacific Coast – Islas Secas, A Spectacular Ocean Wilderness Set On A Far-flung, 14-island Archipelago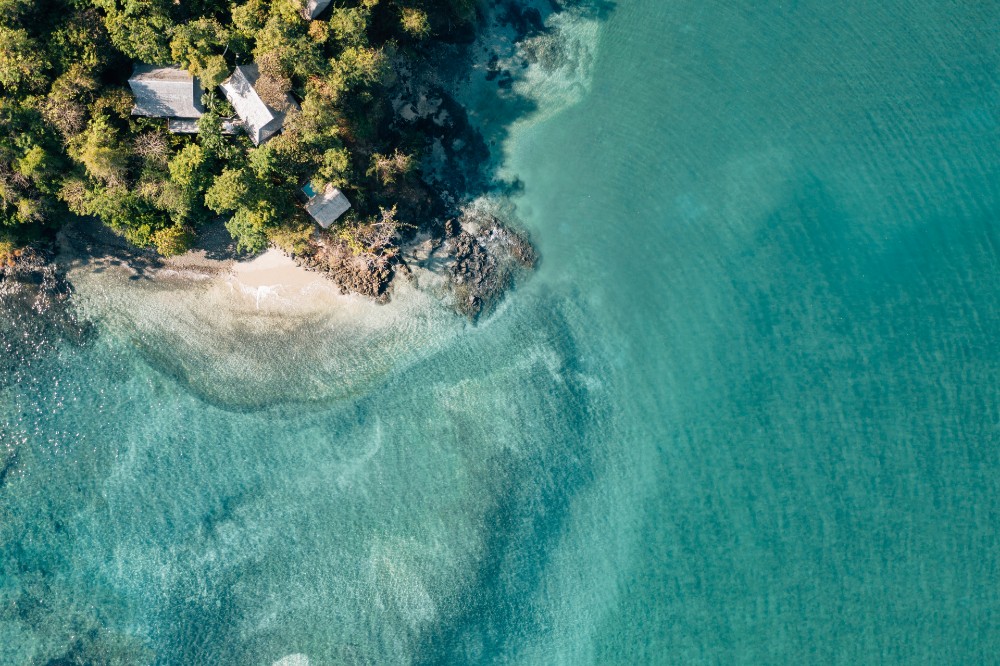 Located off the Pacific Coast of Panama, recently opened Islas Secas truly is one of Central America's best kept treasures and affords adventurous travellers endless opportunities for escapism. The highly exclusive, privately-owned archipelago of 14 beautiful islands in the Gulf of Chiriquí, is home to four individually designed Casita sites sleeping up to just 18 guests. The resort's dedicated Adventure Concierge offers thrill-seekers a myriad of activities both on land and at sea. Guests can dive into the aquatic wonders of the Gulf on one of the hotel's thrilling marine safaris, 'fly' along the coastline on an e-foil surfboard, swim with the Pacific's fish-storied waters, or witness the natural beauty of a migrating Humpback whale. Islas Secas's strong eco-reserve credentials also attract the most eco-conscious of travellers, with100% of the property's energy being solar-generated and 75% of the archipelago left untouched by the human hand. Islas Secas is an inspired eco-destination befitting the most intrepid traveller, combining the wonders of Panama's incredible natural land and seascape with genuinely sustainable hospitality and once-in-a-lifetime opportunities for adventure.
HOW: Islas Secas opened as a full-service island resort on 20th December 2019. Rates start from $2,000 per night (currently approx. £1,731) on an all-inclusive basis, including all F&B, select activities on and off-island, and road and boat transfers between the city of David Airport and Islas Secas. www.islassecas.com
…Chic Hotel, Perfect For Turtle Spotting, On The Riviera Maya
Located on Mexico's pristine Caribbean coast surrounded by lush Mayan jungle, sits the idyllic Hotel Esencia, on an exclusive 50-acre private estate. Hotel Esencia is positioned right on the stunning, tranquil beach, Xpu-Ha (pronounced 'shpooo-ha' by those in the know), hailed as being the finest stretch of sand in the region and one of the most protected and untouched beaches in Mexico where sea turtles make their nests each year. The boutique hotel is perfectly situated, equally between Tulum, Playa del Carmen, under cenotes and Mayan Pyramids, treating guests to some of Mexico's finest cultural spots, all within easy reach. For those seeking aquatic adventure, just steps off the hotel's beach lies a reef sanctuary teeming with sea turtles and colourful exotic fish – one of the region's best kept secrets. In the five years since being purchased by American entrepreneur and entertainment powerhouse, Kevin Wendle, the hotel has cemented its reputation as one of the world's hottest beach resorts – a spot that prides itself on excellent service as much as it does gorgeous interiors and offering its well-heeled guests the utmost privacy.
Read our guide to the best luxury hotels in the Riviera Maya
HOW: Located just 50 minutes from Cancun and 30 from Tulum, Hotel Esencia is full of character, charm and heritage. Rates start from $700++ per night (currently approx. £606) in an entry-level Jungle Room Suite. The rates are based on two people sharing on a room-only basis and is subject to 19% tax and 10% service per night. www.hotelesencia.com
*AFRICA*
…Once-in-a-lifetime Helicopter Ride At One Of Africa's Finest Design Lodges, Matetsi Victoria Falls, Zimbabwe 
Image by Tom Parker
Set on a private 15km stretch of the mighty Zambezi and just 45 minutes from Victoria Falls, Matetsi Victoria Falls is unique in that it offers guests both world-class safari experiences as well as an idyllic retreat from which to visit the Falls. Matetsi River House is the ideal place to reconnect with family and friends, thanks to the spacious, exclusive- use four-bedroom villa that has been decorated in the same contemporary African style as the main lodge, complete with fire pit and private swimming pool. Guests are looked after by a dedicated team including a private chef, butler, guide and tracker during their stay and will explore the Matetsi Private Game Reserve's 55,000 hectares of pristine wilderness by foot, vehicle and boat, while great herds of elephant, buffalo and plains game delight and amaze. Guests are also able to enjoy once-in-a-lifetime adventures as for those staying four nights or more, Matetsi Victoria Falls offers a bucket-list helicopter ride where guests will pass over the thundering Falls, soar along the Zambezi River and the immense Batoga Gorge, then over to the Zambezi National Park for some aerial game viewing.
HOW: Matetsi River House rates start from US$4,930 (approx. £3,859) per night on an exclusive-use basis for eight guests. Rates include accommodation, meals, house selection of non- alcoholic and alcoholic beverages, laundry and safari activities. www.matetsivictoriafalls.com
…Remote Wilderness Retreat Nestled Deep In South Africa's Cederberg Mountains – Reconnect With Nature And Your Loved Ones At Bushmans Kloof 
Nestled deep in South Africa's Cederberg Mountains and with 7,000 hectares to explore, this South African National Heritage Site allows travellers to self-isolate and immerse themselves in breath-taking surroundings whilst being able to enjoy a range of both exhilarating and relaxing activities. Guests will be mesmerised by the impressive and dramatic landscape that encompasses them as they enjoy secluded waterfall hikes, nature drives and swimming in crystal clear water pools. With many having experienced unprecedented levels of stress during recent times, guests at Bushmans Kloof are also able to relax and indulge by enjoying al fresco massages in the secluded Riverside Gazebo, with treatments drawing on ancient Africa traditions and using an exclusive line of body-care products. Organic, home- grown cuisine is also a highlight, with Bushmans Kloof boasting its very own vegetable gardens and unique San medicinal and herb garden, all of which can be enjoyed during a candlelit dinner under the starlit sky, deep in the wilderness.
HOW: Ampersand Travel offer seven nights at Bushmans Kloof from £2,145 per person on a full board basis including international flights from London to Cape Town, private transfers, local excursions and spa treatments. www.ampersandtravel.com / 0207 819 9770
…Luxury Lodge For The Family At Recently Redesigned Singita Castleton – This Is The Perfect Retreat To Escape To The African Bush 
Singita Castleton, surrounded by 45,000 acres of untouched wilderness in South Africa's Sabi Sand Reserve, has been given a refreshing new look and the exclusive-use villa now includes a brand-new yoga pavilion alongside its state-of-the-art and fully equipped fitness centre, and massage treatment rooms reachable through a private walkway in the tranquil gardens. The living areas extend outdoors onto deep, covered verandas overlooking a busy waterhole nearby where game regularly gather to drink. As part of Singita's Private Villa Collection, up to 12 guests of Singita Castleton will access exclusive comforts such as a private game-viewing vehicle and a personal staff team including a Field Guide, private chef and host meaning they can truly relax and enjoy travel once more. Game drives, mealtimes and activities are entirely according to travellers' own preferences giving them complete freedom to design their days as they wish.
HOW: Rates for Singita Castleton start from £13,481 per night for up to eight guests. www.singita.com/lodge/singita-castleton
*CLOSER TO HOME*
…New Design Hotel Opening Up In Santanyi, Creating The Ultimate Mallorcan Twin Centre Trip With Sister Hotel Sant Francesc In Palma
Located in the quaint rural town of Santanyí in the south east of Mallorca, Can Ferrereta will be one of Europe's most exciting new hotel openings in 2020. Mallorcan-based BASTIDAS Architecture and Spanish design house WIT have worked with the Soldevila-Ferrer family, who also own sister property, Sant Francesc in Palma, on the project. The historic 17th century building has been meticulously restored and now comprises 32 individually designed rooms and suites, surrounded by verdant gardens. It will also be home to a Mediterranean restaurant complete with a Mallorcan patio, serving delicious seasonal dishes made with local produce, as well as two bars, an 25m swimming pool, gym and a beautifully designed spa with hammam and indoor pool. Art will be a defining characteristic of the hotel, with a focus on local and Spanish artists. The opening of Can Ferrereta will create a new and exciting Mallorcan twin centre trip with Sant Francesc Hotel Singular in Palma, only 45 minutes away.
Read our guide to the best luxury hotels in Palma
HOW: Rates at Can Ferrereta will start from €315 per night on a B&B basis. Rates at Sant Francesc start from €325 per night on a B&B basis. www.hotelsantfrancesc.com
…Dramatic Desert Resort Set Deep In Israel's Negev – Six Senses Shaharut, Opening September 2020 
Set in the Israeli Negev Desert, Six Senses Shaharut will open in September 2020. Lain into a dramatic cliff with panoramic views of the desert landscape, the resort will comprise suites and villas including one three-bedroom retreat. The villas will be built from, and inspired by, local rocks and pigments and the landscape will utilise regional cacti and indigenous desert blooms while much of the resort's furnishings will be sourced from local community artisans. There will be a Six Senses Spa, one main restaurant, a poolside bar and grill, an authentic tented Bedouin dining experience with a fire pit for late night feasting and a desert activity centre.
HOW: Rates at Six Senses Shaharut will start from $1,000 (currently approx. £860) per night based on two people sharing on a B&B basis. www.sixsenses.com
…Unknown Region Of Norway Named Sunnmøre – Stay At 62°nord's Family-owned Collection Of Beautiful Hotels And Lodges, Restaurants, Helicopters And Boats 
Founded by Norwegian couple Knut and Line Flakk, 62oNORD is a leading experiential travel company committed to offering highly personalised, world-class adventures on the North West coast of Norway. TheFlakk's have taken their love and passion for their home region, Sunnmøre, to a whole new level, tailor making all aspects of an itinerary, with a team of local guides and experts to reveal the awe-inspiring beauty of the region. From breathtakingly beautiful hikes, world-class skiing and helicopter adventures to deep sea fishing, wildlife safaris and destination dining, visitors will instantly disconnect from the stresses of daily life. In addition, 62oNORD's privately owned collection of restaurants and boutique accommodation located in and around the region, further enhances the guest experience,  drawing on the distinct Art Nouveau and traditional Norwegian architecture, fresh coastal cuisine and noble Viking heritage.
HOW: For more information please visit: www.62.no/en
…Unique Icelandic Lodge On The Remote Troll Peninsula – Experience Complete Seclusion At Deplar Farm Under The Nothern Lights And A Thrilling Menu Of Outdoor Adventures From Heli-skiing To Winter Surfing 
Escape to one of Eleven Experience's most unique properties, the remote Icelandic lodge, Deplar Farm. The Nordic- inspired lodge is located on the stunning Troll Peninsula, surrounded by untouched mountain terrain and completely secluded. With deep valleys left behind by long-gone glaciers, the area is now cut by rivers at the bottom of the glacial valleys, which have taken over 10,000 years to form. Skiing in Iceland is a unique experience as active travellers have the novelty of skiing down to the sea, together with freshly powdered slopes each day. Deplar Farm is also known for its exhilarating menu of outdoor pursuits, including heli-skiing, sea kayaking, whale watching in the surrounding fjords, astro-touring and fat biking special trails around the valley. Due to limited light-pollution in Iceland, guests can also stargaze out across the clear Icelandic night sky from the lodges impressive geo-thermally heated outdoor pool, and from October to March, even catch a glimpse of the extraordinary Northern Lights dancing across the sky. Guests can enjoy the lodge's extensive wellness area as well as a unique indoor/outdoor pool, heated to 38 degrees from thermal springs, with a swim-up bar and built-in sound system. The 13 rooms are cosy and stylish and come the evening, guests can feast on local Icelandic delicacies cooked by the private chef. Deplar Farm also offers various entertainment spaces, a pizza oven and full band set up for late night jamming sessions, as well as two helicopter pads.
HOW: Rates at Deplar Farm during the winter season (1 Nov- 14 March) start at £1,370 per person per night (based on double occupancy). This includes customised adventure itineraries, all gear necessary for activities, pre-arrival planning with an Experience Manager, all in-house meals, house alcohol and non-alcoholic beverages, daily housekeeping and airport transfers to/from Akureyri. Flights to Akureyri start from £400 return per person with Iceland Air. Eleven Experience www.elevenexperience.com
…Converted Monastery 'hanging' Over The Cliff Edge Overlooking The Gulf Of Salerno – Monastero Santa Rosa Hotel & Spa 
Monastero Santa Rosa Hotel & Spa is a spectacular former 17th century monastery which was lovingly transformed into just twenty beautiful sea-view guest suites. Hidden away on Italy's iconic Amalfi Coast – the hotel boasts the finest setting in this part of Italy, nestled into the side of a cliff, allowing for panoramic views over the breath-taking Gulf of Salerno. Guests can while away hours between the hotel's incredible heated infinity pool, stunning landscaped gardens, Michelin-starred restaurant and the unique, award-winning spa. Active guests will love the hotels 'health and hike' package, allowing them to explore the stunning Italian coastline and escape the crowds by hiking the little- known route called 'Valle delle Ferriere' or 'Ironworks Valley' with a private guide; beginning at the 'Piazza Duomo' in Amalfi and ending at the 'green heart' of the coast.
HOW: Monastero Santa Rosa Hotel & Spa is a 90-minute drive from Naples Airport. Rates start from €400 (approx. £346) per room per night on a B&B basis www.monasterosantarosa.com