Banyan Tree Group has announced the opening of Buahan, a Banyan Tree Escape. This brand extension symbolises the Banyan Tree brand's vision and commitment to creating immersive experiences combining deep nature and sustainable design. Buahan is an adults-only property that features a "no walls, no doors" concept throughout the property and in each of its 16 balés (villas).
The resort has an Open Kitchen and Living Room, which are open dining and lounge spaces that create a sense of community. Here, guests can learn about the resort's unique zero-waste farm-to-table concept, local sourcing philosophy and heritage techniques. The menu concept is 70% plant-based and is sourced locally within a one-hour drive from the property. This concept was developed through a collaboration with Agency X, a local consultant group that houses the acclaimed restaurant Locavore, Nusantara Restaurant, and The Night Rooster Cocktail Bar.
The Botanist Bar uses local-grown natural ingredients and botanicals in its beverages, while Toja Spa celebrates the well-being traditions from Buahan village and its surrounding areas, with a unique "open" garden experience.
The brand also celebrates unconventional craft forms, such as sonic branding with Singapore-based creative studio Parable, using re-purposed Ulin 'iron' wood from boat jetties, hand-carved wooden headboards, hand-smithed copper bathtubs, and natural dye soft furnishings.
Read our guide to the best luxury hotels in Bali
The resort is situated in a quiet enclave, next to the Ayung River and waterfall, with sweeping views of the seven majestic peaks. The resort's bales are designed to blend spacious indoor-outdoor living areas with 180-degree panoramic views and sounds of nature, through a bold taste of 'The Naked Experience' where only a thin veil separates guests from nature.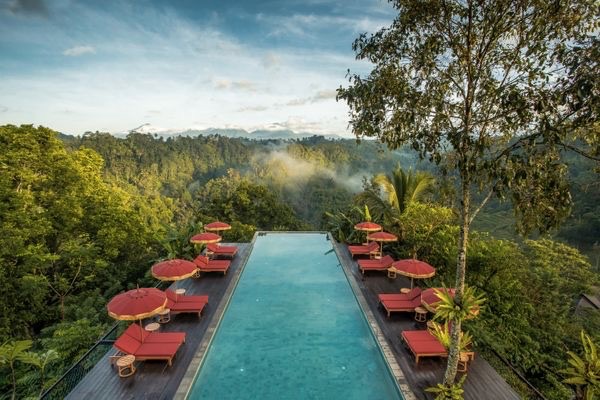 Scattered on and off the property, secret Hideaway Spots draw on the element of being at one with nature, providing guests with a garden sanctuary for meditation, reading, or simply taking a moment to pause and unwind.