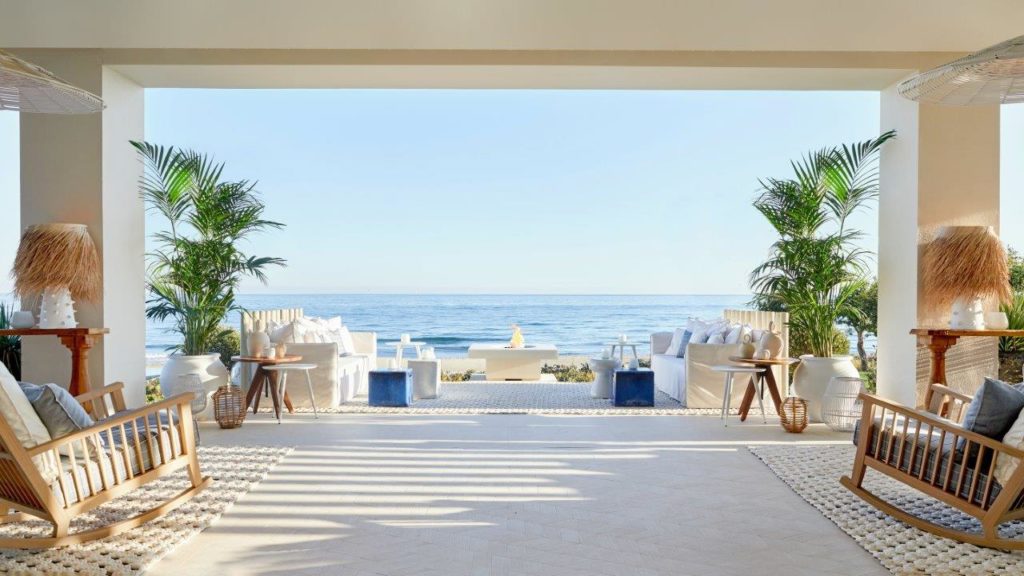 Ikos Andalusia is a beautiful 5 star property on Spain's much loved Costa del Sol. Located beachside, between Marbella & Estepona, this 'infinite lifestyle' resort reimagines all-inclusive for a new generation of discerning travellers seeking designer suites, top-class leisure & wellness facilities, as well as gourmet menus designed by Michelin star chefs.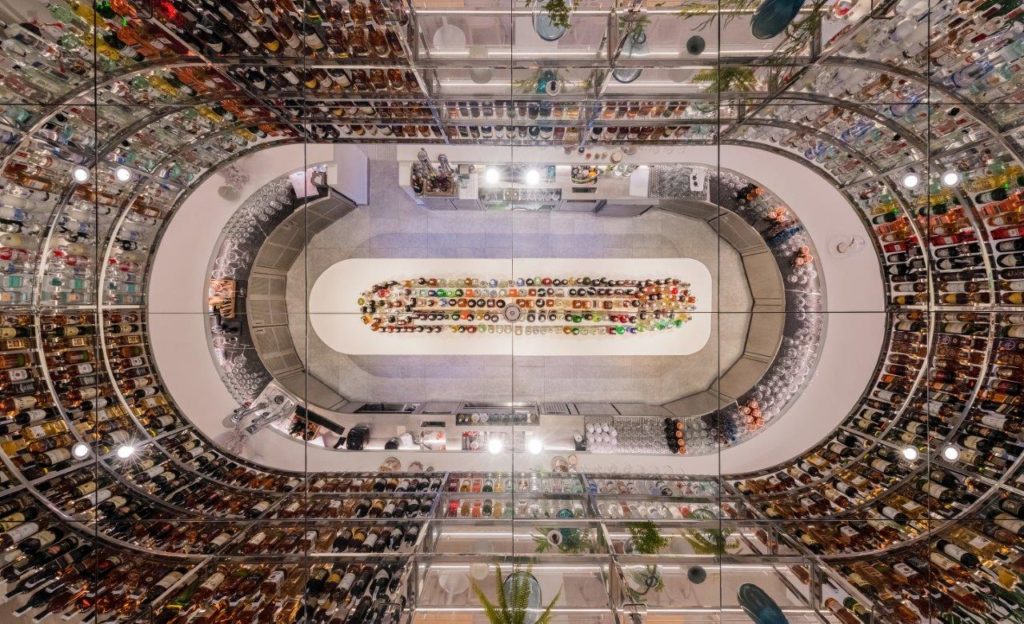 The spectacular Main Bar of Ikos Andalusia is an architectural and design masterpiece. Opening onto an Ibiza-style Mediteranean beach terrace, the bar is an elegant, continuous oval, with sweeping, fully-stocked drinks shelves above that seem to climb up to infinite.
Yet the morning I visit, (a few days before Ikos Andalusia's must anticipated 2021 opening) the space is being used for a workshop; Marian Beke has flown in from London and is hosting a series of masterclasses for the Ikos Andalusia team, showcasing his new collection of Exclusive Elixirs cocktails for the resort as well as teaching a few tricks of the trade this master bartender has learnt in his illustrious career in mixology and hospitality.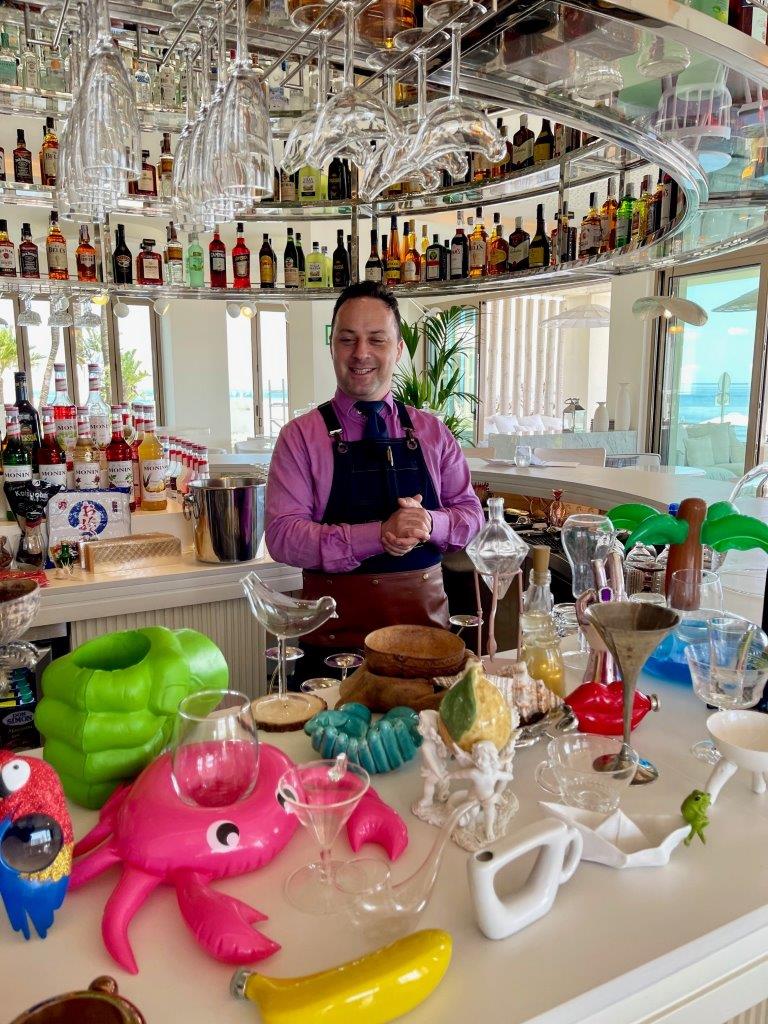 'This seminar is all about inspiring the team', explains Marian. 'I'm sharing some of the tricks we use in London, like spraying edible gold onto the glasses. I want to excite the team and bring a smile to the faces of guests.'
Inspirational Workshop
Marian has also brought with him a large collection of his unique cocktail glasses and accessories. It's a captivating display of vintage ceramic designs and porcelain cups, customised items made from coconut shells and even candle sticks, together with kitsch and fun creations like floating glass holders for the pool and even an incredible hulk hand! This is all in the name of inspiration. You won't see these quirky items on the menu, but they are fun and evocative tools used by Marian to communicate the power of story-telling that lies in each colourful and delicious concoction.
The workshops not only help the Ikos Andalusia bartender team master the preparation and presentation of Beke's Exclusive Elixirs, but they also inspire the team to create their own stories and 'continue their journey as bartenders'. 
'It's not just about preparing the cocktails on the menu', explains Marian. 'Guests may want to order off the menu and ask the bartender to create a drink.' Marian wants to nurture creativity.
Ikos Andalusia offers guests a 5 star experience, where dining together with some 300 wines and world-class spirits are all included in the resort's award-winning 'Infinite Lifestyle'.
As part of this, guests can also order artisan style drinks, including classic cocktails as well as ten signature Exclusive Elixirs designed by Marian Beke. Each will be made by Ikos Andalusia bartenders, personally trained by Beke.
When designing the cocktails for Ikos Andalusia, Marian considers the environment, and the guest. 'Here it's a beach resort and you can enjoy drinks all day. So, we're creating lighter, refreshing Mediterranean cocktails', confirms Marian
'I want guests to have the wow factor. Guests expect more than the typical resort pina colada or mojito'. The Exclusive Elixirs certainly deliver on the promise, Drinks use international and locally sourced ingredients, with garnishes from the Mediterranean gardens.
Andalusian Inspiration
His Ikos Andalusia cocktails includes the 'Andalusian Julep', made with 50ml of Spanish Torres 10 year old brandy, 10ml of mango syrup, 10ml of vanilla syrup, and chocolate bitters. Build and mix the ingredients, serve with ice in a julep cup, garnished with mint leaves and a dehydrated nectarine wheel.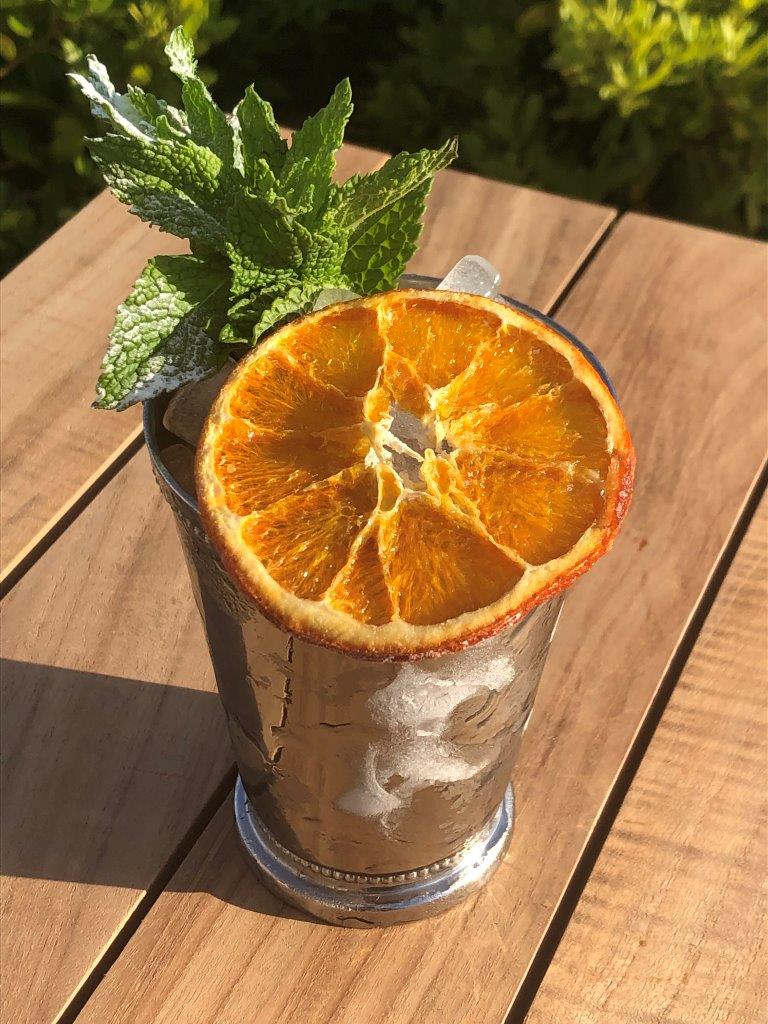 Bartender & Mixologist
Marian Beke is from Slovakia. His father was in the wine business, so from an earlier age Marian was immersed in the world of hospitality. Although he could well have gone on to become a sommelier, it was a teenage trip to Prague, and a visit to a cocktail bar that was to change the course of his life.
Seduced by the freedom and creativity of a bartender, able to mix a drink to suit a client's mood and appetite, Marian made a leap of faith and moved to the UK, where though extraordinary commitment and tenacity he learnt the language and honed his creative mixology skills at some of the city's most iconic bars.
The Gibson, on London's trendy Old Street, is Marian's own bar, and is already recognised as one of the top 50 cocktail bars in the world.
Marian Beke's vision is in demand by the hospitality sector, and Ikos Andalusia have brought his mixology magic to their luxurious resort, their first in Spain.
Ikos Andalusia has been designed by architectural firm Studio Gronda.
You can read The Luxury Editor profile review of Ikos Andalusia here.
Find Our More
Prices start from €385 per room on an all-inclusive basis
Website: ikosresorts.com/resorts/ikos-andalusia/
Address: Ikos Andalusia, Carretera Nacional 340, Km 164, 29680 Estepona, Spain
Phone: 0808 1110131