This season the St. Pancras Renaissance Hotel celebrates its 10th anniversary with a series of tempting experiences to mark ten years of welcoming travellers, diners, cocktail drinkers, afternoon tea tasters, spa-goers – and Spice Girls – through its doors. Re-opening as a hotel in May 2011, the grand hotel is recognised for being one of the most iconic, historic buildings in London, backdrop to many music videos, films and Eurostar arrivals, as well as host to royals and local residents alike. So it is only fitting that the St. Pancras Renaissance Hotel rolls out the red carpet and introduces a selection of unforgettable spa, stay and dining experiences for guests to mark the last decade.
10 Until 10 – Stay, Play & Enjoy Being Away
In celebration of the 10th anniversary, from 17th May guests can book the hotel's new 10 till 10 stay package, allowing for an early check in at 10am and late check out at 10pm the following day, making the most of an indulgent staycation in the city. Guests can kick start their stay with a champagne brunch in The Hansom followed by a post lockdown re-charge in the serene, Victorian-inspired St. Pancras Spa, a luxury oasis steeped in old world charm hidden away inside the hotel. The following morning guests can lie in at leisure knowing check out isn't until 10pm later that day. From Spice Girls to wizardry inspired tipples, guests booking the package will also enjoy a complimentary cocktail each from the hotel's new 10th anniversary cocktail menu as well as a surprise welcome amenity.
Read our guide to the best suites in London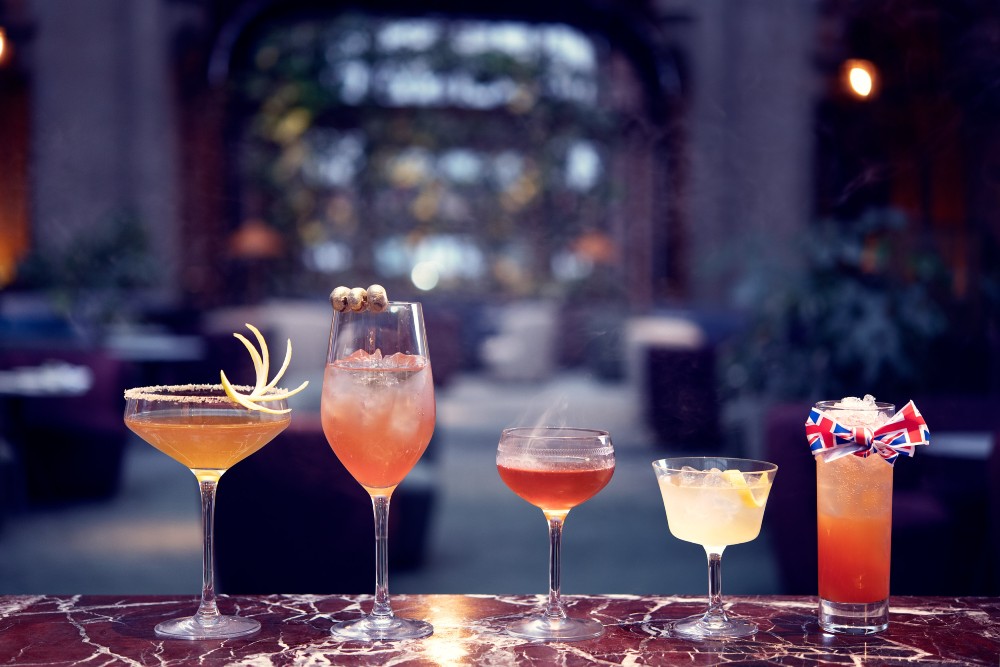 Lose 10 Years – Turn Back Time
It has been estimated that over 6 million people* in the UK believe that lockdown has visibly taken its toll on their skin. Guests and visitors looking to turn back the clock by 10 years and experience a post lockdown glow will enjoy St. Pancras Spa's 60-minute Ko Bi Do Fountain of Youth Facial. Designed to noticeably reduce aging and lockdown stress, the Ko Bi Do Fountain of Youth Facial consists of energising movements to create a natural face-lift and generate radiance.
Read our guide to the best spas in London
The 60-minute Ko Bi Do Fountain of Youth Facial starts from £110 per person and can be booked daily. For more information on the facial or to book please visit: www.stpancras-spa.com
10 £10 Cocktail Menu
In ode to the hotel's British heritage The Hansom at St. Pancras Renaissance is set to launch a special 10 piece cocktail menu, all priced at £10 for the day of the hotel's re-opening on 17th May. The new cocktail menu is divided into two, the first section pays homage to the hotel's iconic heritage, introducing signature cocktails including:
Zig-A-Zig-Ah:

Re-spice this season. A cocktail created in honour of the hotel's signature staircase and backdrop to the Spice Girls'

Wannabe

music video, which celebrate its 25

th

anniversary of release this year. £10 on the 17

th

May, then £12.

Potio Fumum Magica:

A spellbinding homage to the much-loved mythical series and hotel's connection to King's Cross platform 9 ¾ – the gateway to the wonderful world of wizardry. £10 on the 17

th

May, then £15.
While international travel is still a while away, the second section of the menu allows guests to experience a taste of a destination without stepping foot on a plane or train, through a selection of travel-inspired cocktails. Each cocktail draws inspiration from a unique destination which features another Renaissance Hotel:
Discover New York Times Square:

Where New York meets the UK, enjoy an Anglo-American Old Fashioned. A contemporary twist on a classic, this cocktail blends award-winning bourbon and British whisky. £10 on the 17

th

May, then £16.

Discover Paris:

Inspired by the hotel's travel connections with the Eurostar route to Paris, this Champagne cocktail has all the flavour and flair of a true Parisienne. £10 on the 17

th

May, then £18.
St. Pancras Renaissance Hotel's 10 Until 10 stay package is available until 31st August 2021. The celebratory experiences including the Hansom Bar's 10 Cocktail Menu are available until the end of the year.
For more information on the 10th-anniversary stay package, spa treatments and Hansom cocktail menu at St. Pancras Renaissance or to book please visit: www.marriott.co.uk