Nobuyuki Matsuhisa is undoubtedly the world's most famous master chef of New Style Japanese cuisine, based on Nikkei fusion gastronomy; and now his innovative dishes, presented in exclusive, sleek surroundings are available in Spain for the first time, at Nobu Restaurant Marbella, writes Andrew Forbes.
Matsuhisa began his restaurant empire in Beverly Hills, with the opening of Matsuhisa in 1987. By 1997 he had opened his first restaurant in Europe, Nobu London on Old Park Lane. Fast-forward to the present day and his restaurants are found across five continents, and continue to be a favourite with the world's A-Listers, thanks to consistently fine food, exclusive restaurant design, as well as the creative and business input of co-founder Robert De Niro, and principal Meir Teper.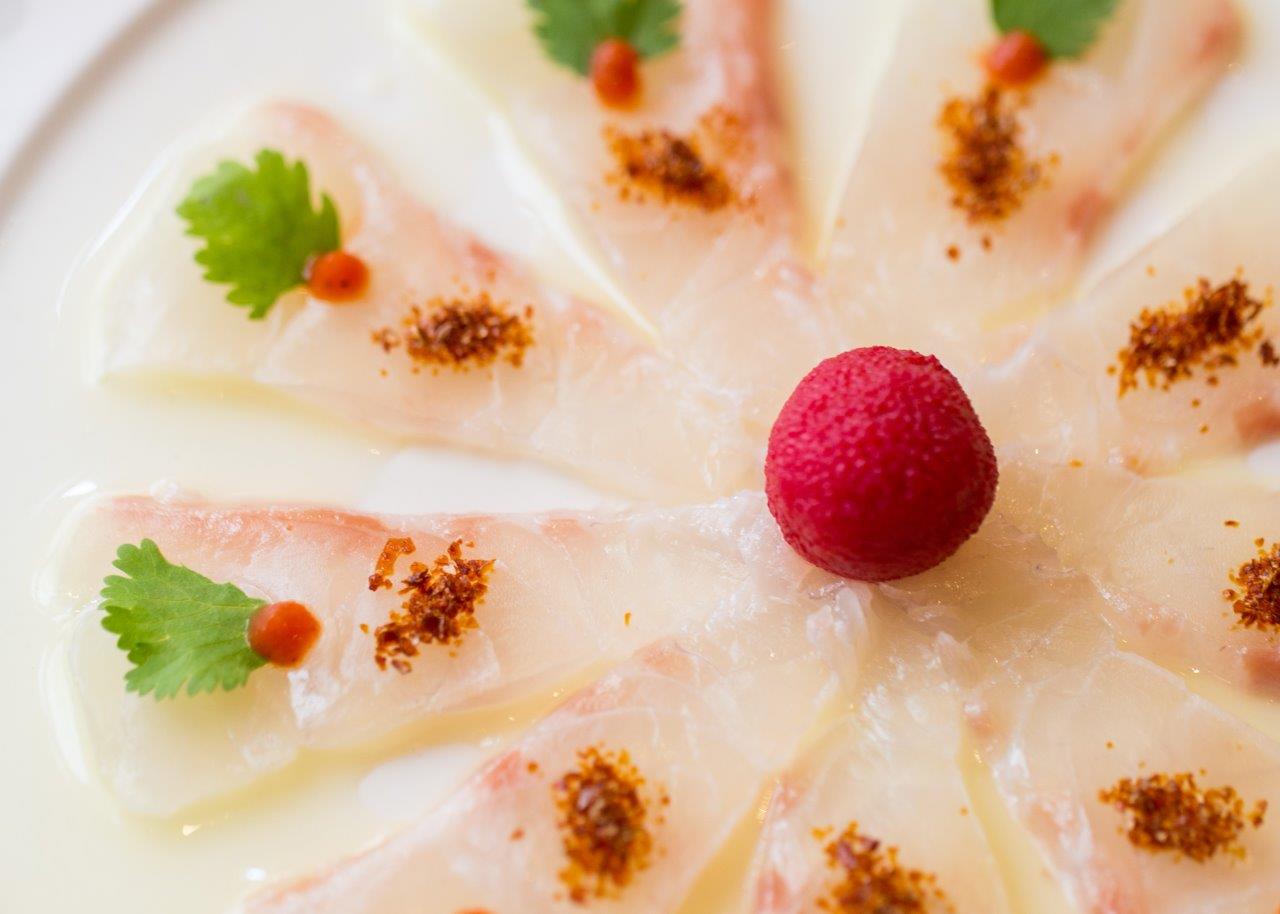 Each location showcases stunning interior design, and most importantly great food, with each restaurant striving to follow Matsuhisa's mission of 'Buy the best and do the best, to make the best'.
Nobu Marbella – first in Spain
Nobu Marbella is no exception. Found within La Plaza, the vibrant, exclusive gastronomic food hub at the heart of the Puente Romano Beach Resort & Spa, Nobu Marbella offers a diverse menu of classic favourites as well as new seasonal dishes. Expect of course exceptional fish, reflecting the legacy of the century or more of influence that the ethnic Japanese population has had on Peruvian gastronomy, creating this dynamic New Style Japanese cuisine that Nobu celebrates.
As a young man Chef Nobu Matsuhisa moved from Tokyo to Lima, Peru's capital – and that was the start of a journey through which he honed is creative 'Nobu Style' that has made him one of the most celebrated and successful chefs and restaurateurs in the world.
The newly opened Nobu Marbella has striking good looks, thanks to exquisite interiors conceived by Jean-Pierre Martel, using fine natural materials, showcasing clean, balanced lines of contemporary design.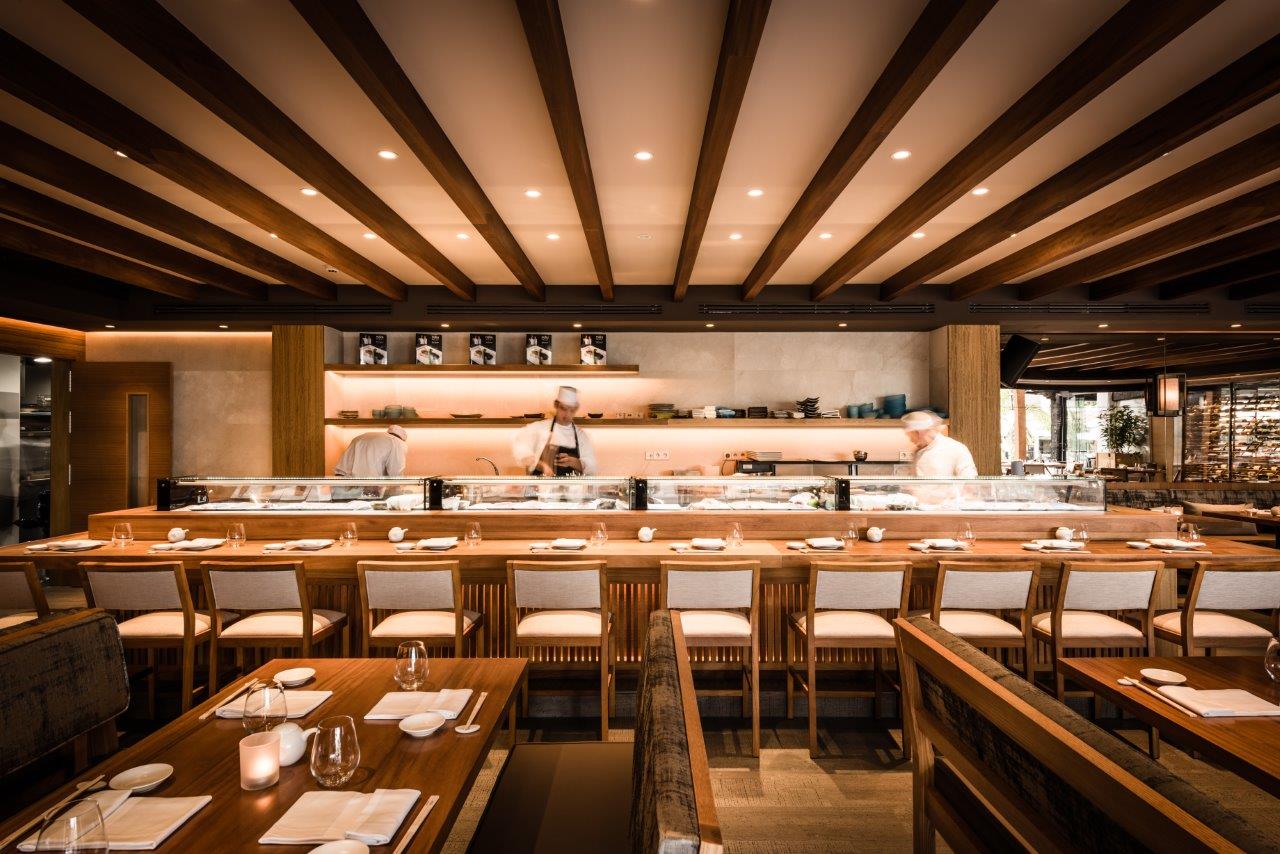 Irasshaimase!
A warm welcome is one of the hallmarks of the Nobu dining experience. Upon arriving at Nobu Marbella, and being greeted by the Maître d' (impeccable in Armani of course) you'll soon hear the chorus of 'irasshaimase!', from the smiling waiters and sushi chefs – it's the signature welcome from the Nobu team.
The Nobu Marbella menu is perfectly suited to the Spanish lifestyle, where ordering many sharing plates is the norm. Divided between cold and hot plates; Nobu's signature Sashimi Tacos; Tempura; Nigiri Sushi & Sashimi; soups & rice dishes; and world-class Japanese A5 Wagyu beef; there's plenty to choose from.  You'll also find regional dishes such as the tasty Padron peppers and the scallop with fois gras and vanilla miso, as well many signature dishes that have made Nobu renowned internationally for its New Style Japanese fusion cuisine.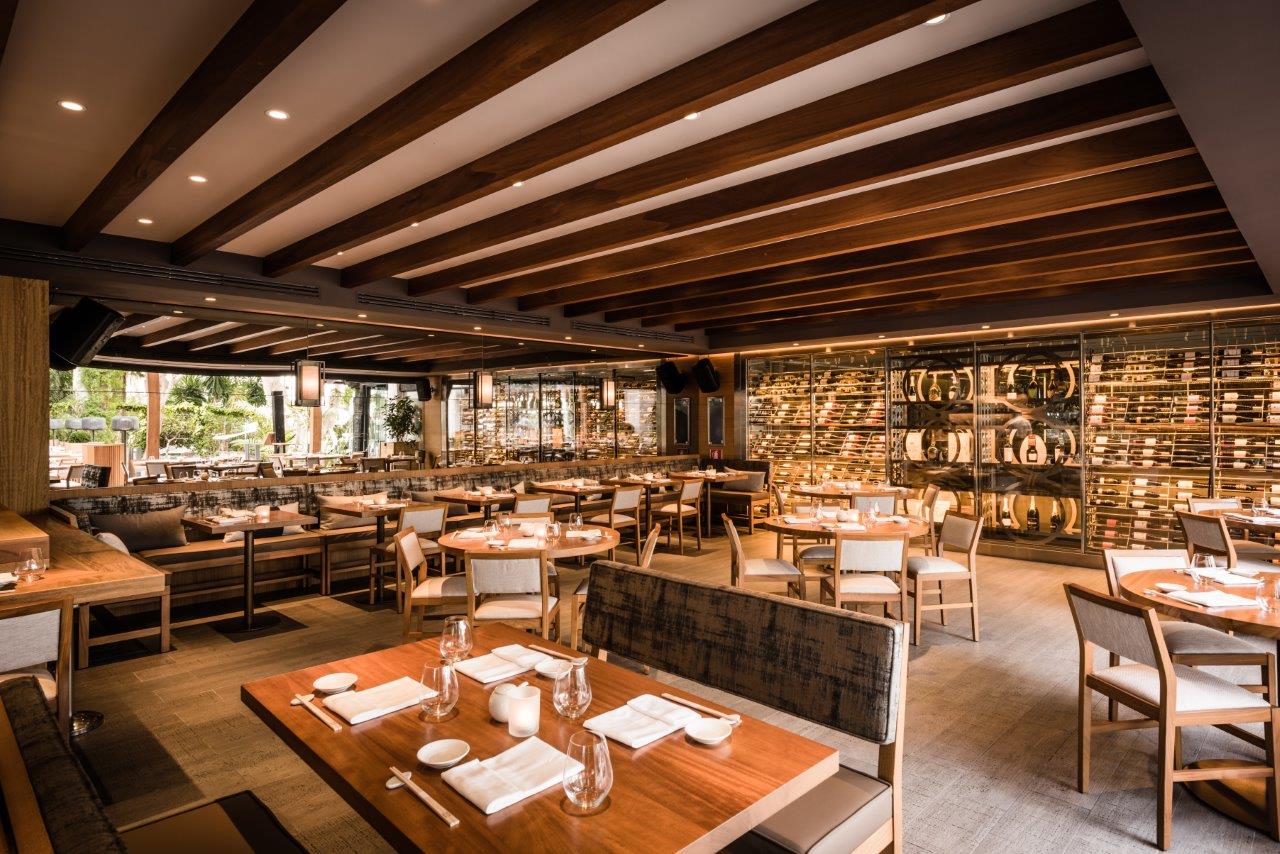 This weekend has been glorious in Southern Spain – and Nobu Marbella makes the very most of its Mediterranean setting with a large open-plan design. There is a dynamic sushi bar area; the main dining room; but also, a wonderful al fresco terrace that overlooks La Plaza, where huge sub-tropical fig trees tower over a chic bar area where there is live music. There's also a view of the ancient roman bridge (from which the Puente Romano resort takes its name). We took a table on the terrace; 'best seats in the house' confirmed Fuensanta, our waitress, looking immaculate in her Nobu uniform with smart blue Armani shirt.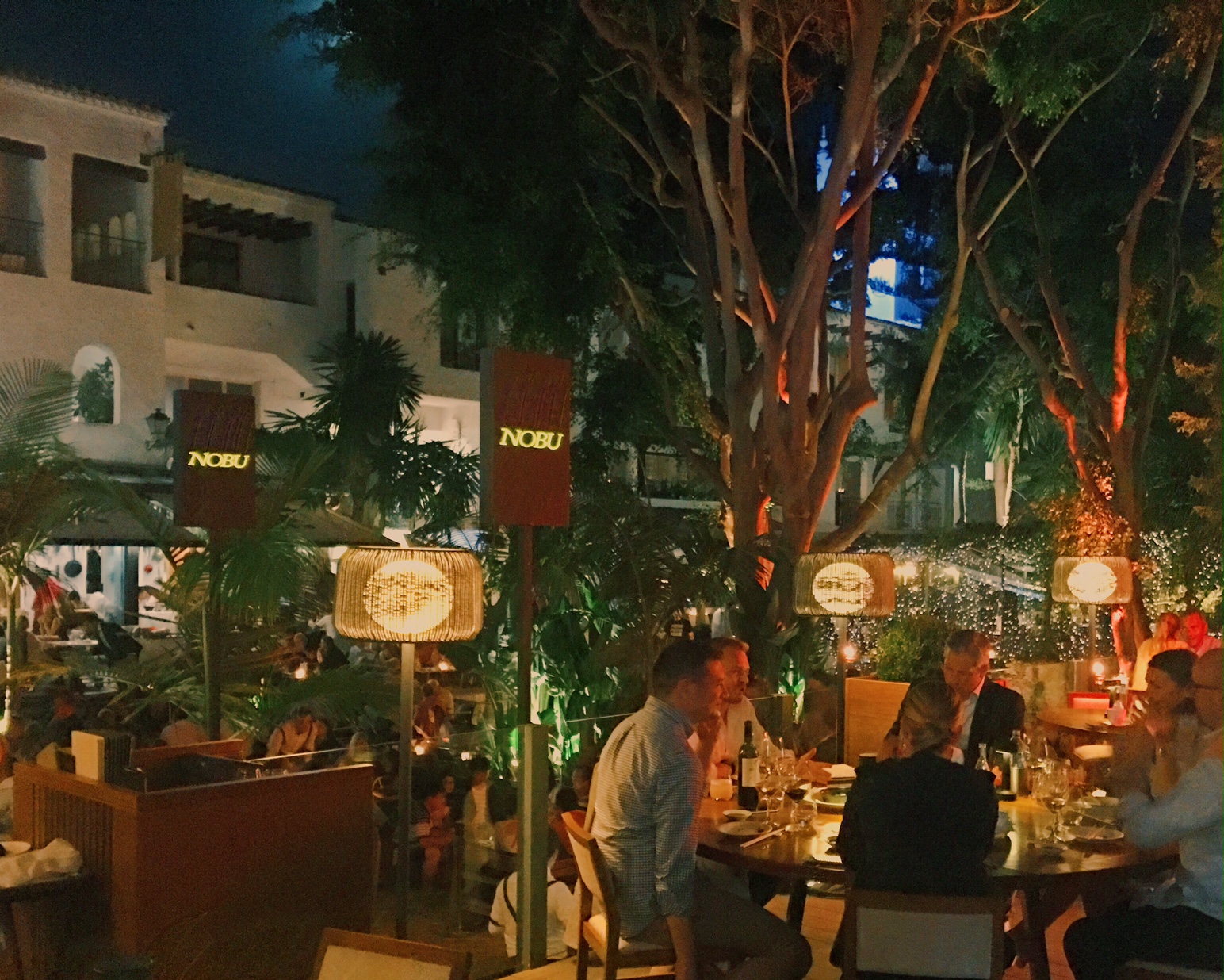 The simple, elegant wooden table was simply set with pristinely folded linen napkins, chopsticks and lamp. Once seated one is given menus, cocktail and wine list; and of course, each guest has an elegant little soy sauce pourer and dish.
I knew I'd need time to navigate the menu; so, I ordered a cocktail to kick-off the evening; a 'Pacharan Pomelo' (Pacharan, ginger, and grapefruit) which seemed a suitably Mediterranean choice. Yet there was plenty of other temptations from a Japanese Bloody Mary to a Peruvian Caipirinha – and of course a good list of Saki too!
Omakase Winter Tasting Menu
This month sees the launch of the new Winter Omakase tasting menu; it's an opportunity to enjoy a few of the most emblematic dishes from Nobu, as well as new creations for the season.
After some informed recommendations from Fuensanta, I decided I wanted the best of both worlds –  I ordered the tasting menu whilst my guest ordered freestyle, and we agreed to share everything!
First out of the kitchen was the crispy rice bites with Yellowtail; a new season interpretation of the classic crispy rice with salmon or tuna – bite-sized morsels full of flavour and texture.
Around us the restaurant and the La Plaza was pulsating with good-time energy. The sounds of laughter, chatter and live music filled the warm evening air, fragrant with the scents jasmine and dame de noche from the surrounding Mediterranean gardens. Few venues can compare in my mind with La Plaza – here upscale restaurants and brasseries open out onto this chic open-air courtyard – very smart. In fact, amongst the bold and the beautiful we spotted a few famous faces. (Read our review of the Puente Romano Beach Resort and Spa here).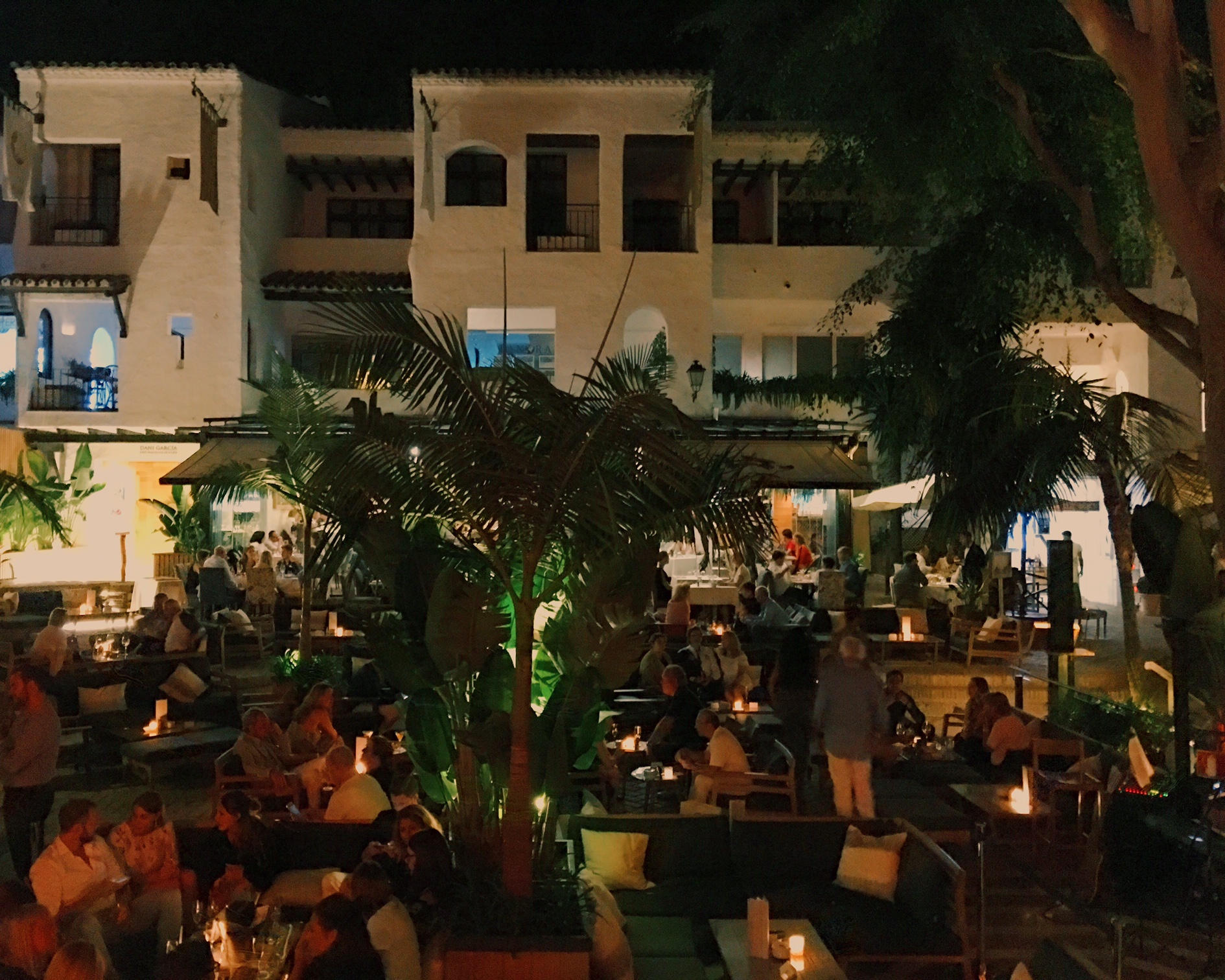 But I wasn't being distracted – the dishes continued to arrive and I was in foodie heaven. Service was flawless, despite the fact the restaurant was full, with guests continuing to arrive for dinner up to 11pm. Things worked with Japanese attention to detail.
I just had to try the Yellowtail sashimi with Jalapeño – delicately prepared Japanese Hamachi with razor thin slices of pepper, dipped in a ceviche style sauce that has an Asian soy base.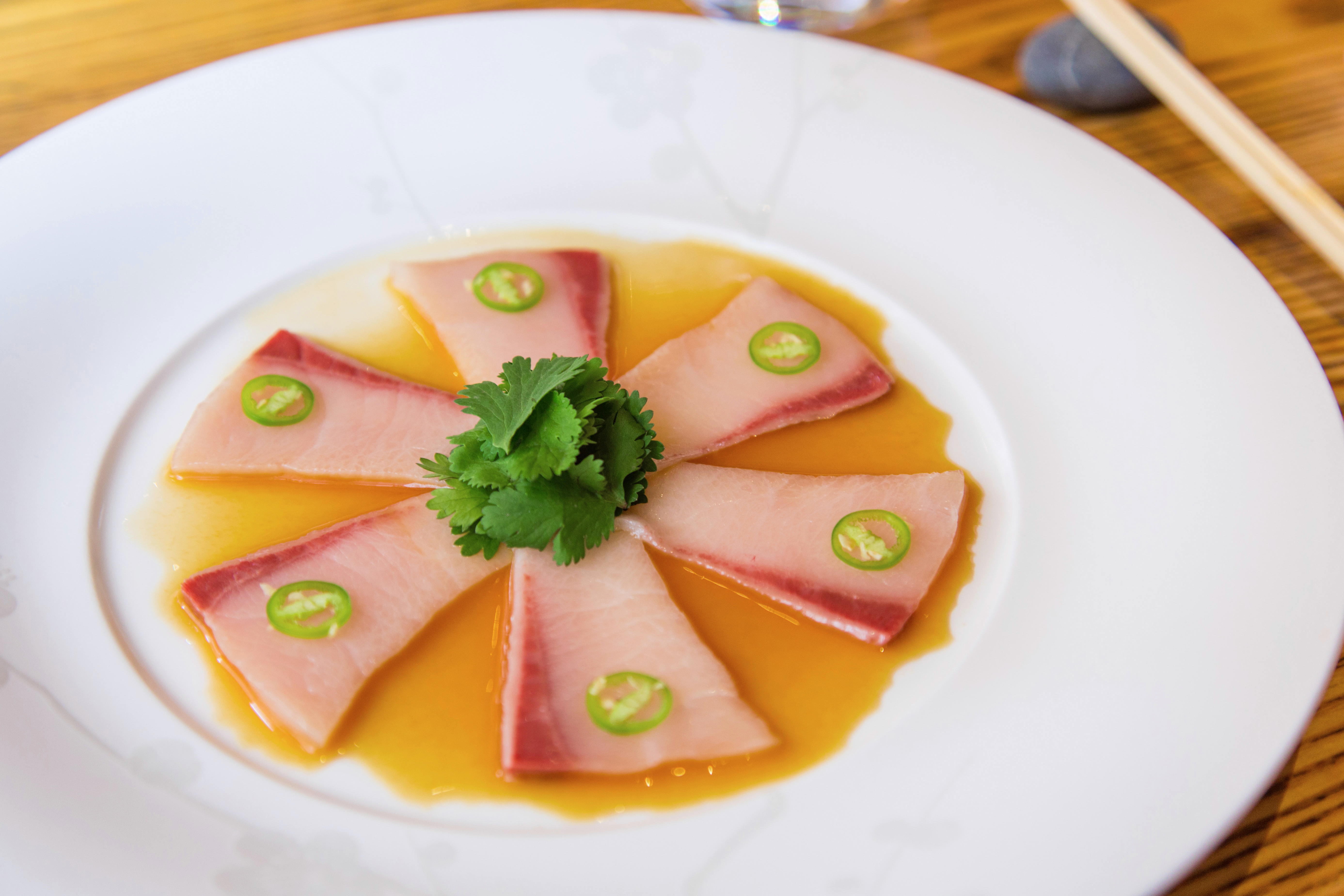 This is the epitome of the cuisine, where Japanese aromas and flavours of soy collide with the chili picante heat of Latin America.
The Omakase tasting menu also includes a sampling starter plate of three standout Nobu dishes; the salmon Karashi su Miso; White Fish Tiradito with spicy paste: and Oyster New Style, that was bursting with flavour.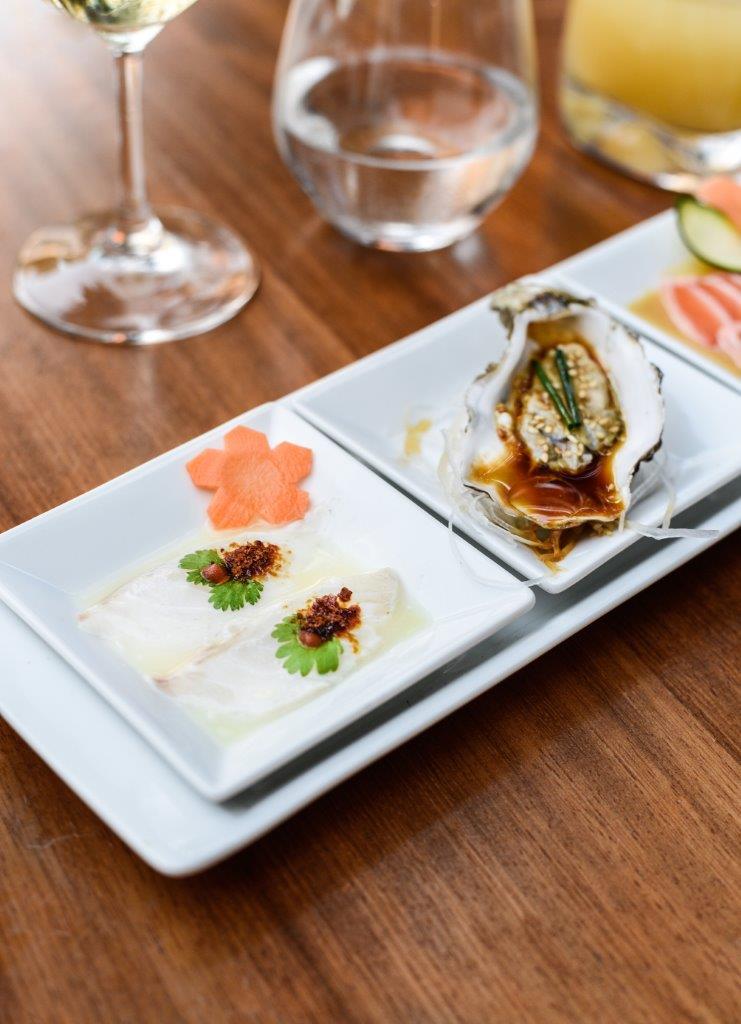 From the Tempura menu we tucked into the crispy scallops with kataifa with tonkatsu sauce on baby butter lettuce.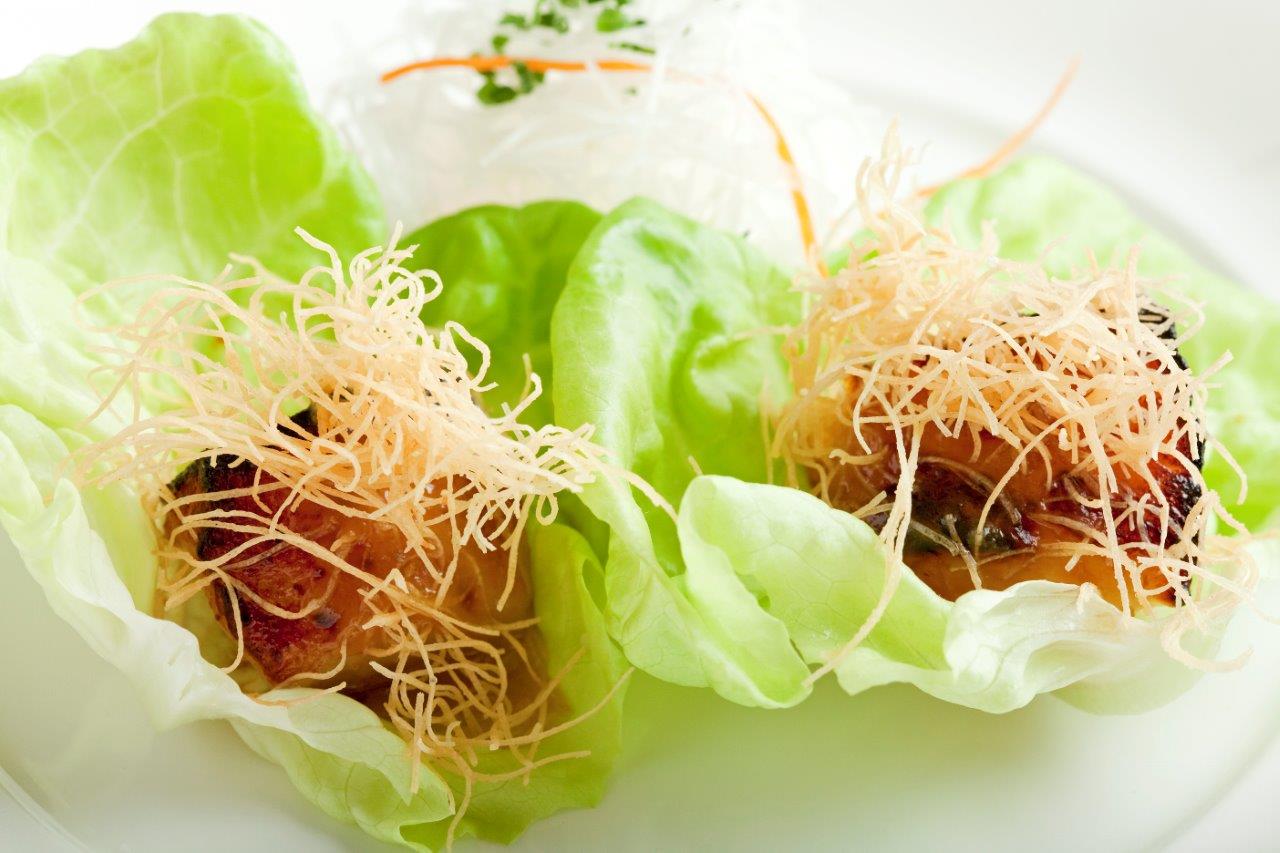 The tasting menu continued with a salad of mushrooms and prawns (ask for less dressing if you like things lighter – Nobu prepares food with the precision and artistry of the Japanese, but is generous with sweet dressings and sauces in the American style).
Then the beautiful sampler plate of three nigiri sushi; sweet Ama Ebi prawn; Octopus Dry Miso with crispy garlic: and exceptional ruby red Tuna.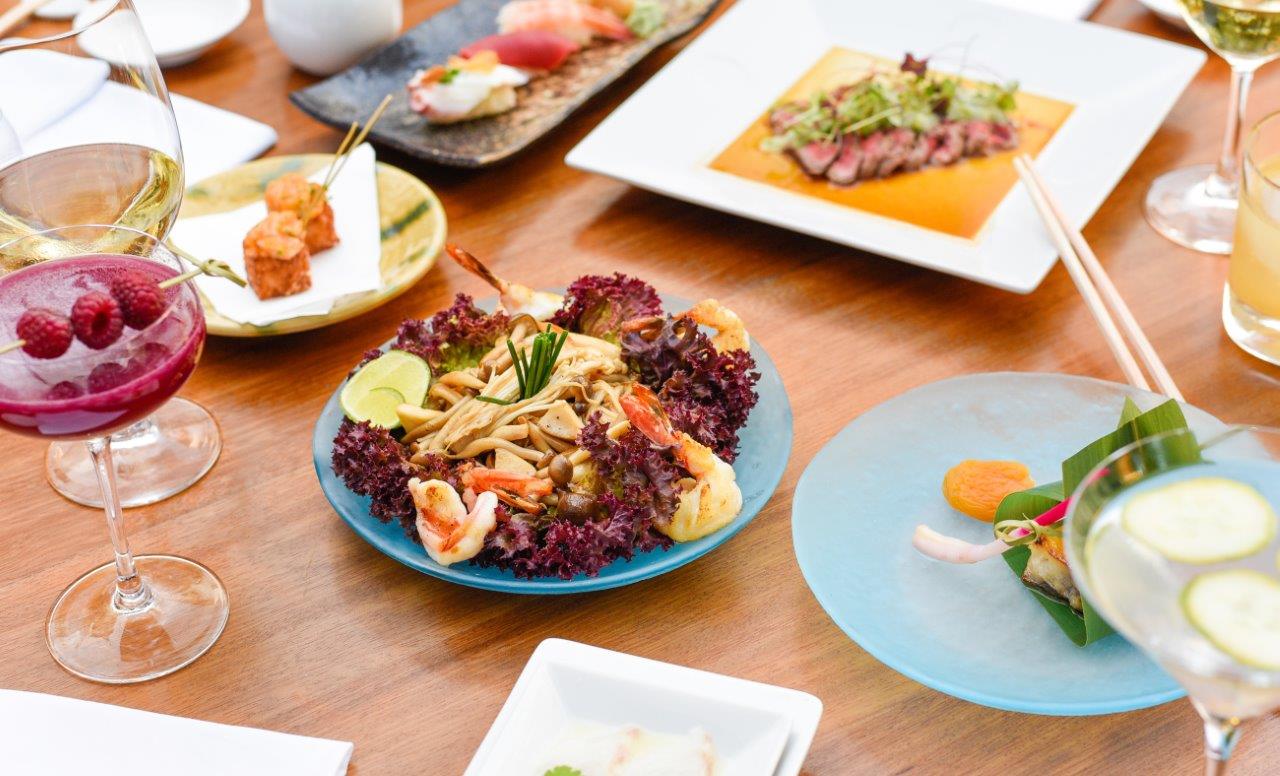 Omakase Winter Nobu Tasting Menu
The wine waiter recommended a fresh and aromatic Albariño white wine from Northern Spain that was the perfect with the seafood.
Nobu restaurants are well known for their highly trained staff, and at Nobu Marbella it's clear each waiter is well-versed in the menu, able to discuss in detail in English and Spanish.  It was also a treat to meet Eleni Manousou, the Executive Chef at Nobu Marbella, a friendly and charismatic woman, she joked how she is a Greek, relocated from Nobu Dubai, now working in Spain, creating Japanese and Peruvian food!
The best of the evening was yet to come from Eleni's kitchen – the Chilean Black Cod with Miso, a Nobu classic, lived up to expectations, exquisitely presented, wrapped in a banana leaf, with a spear of ginger. The fish is left for some three days in a sweet miso marinade before baking – and when served the meaty flakes are delicate and sweet.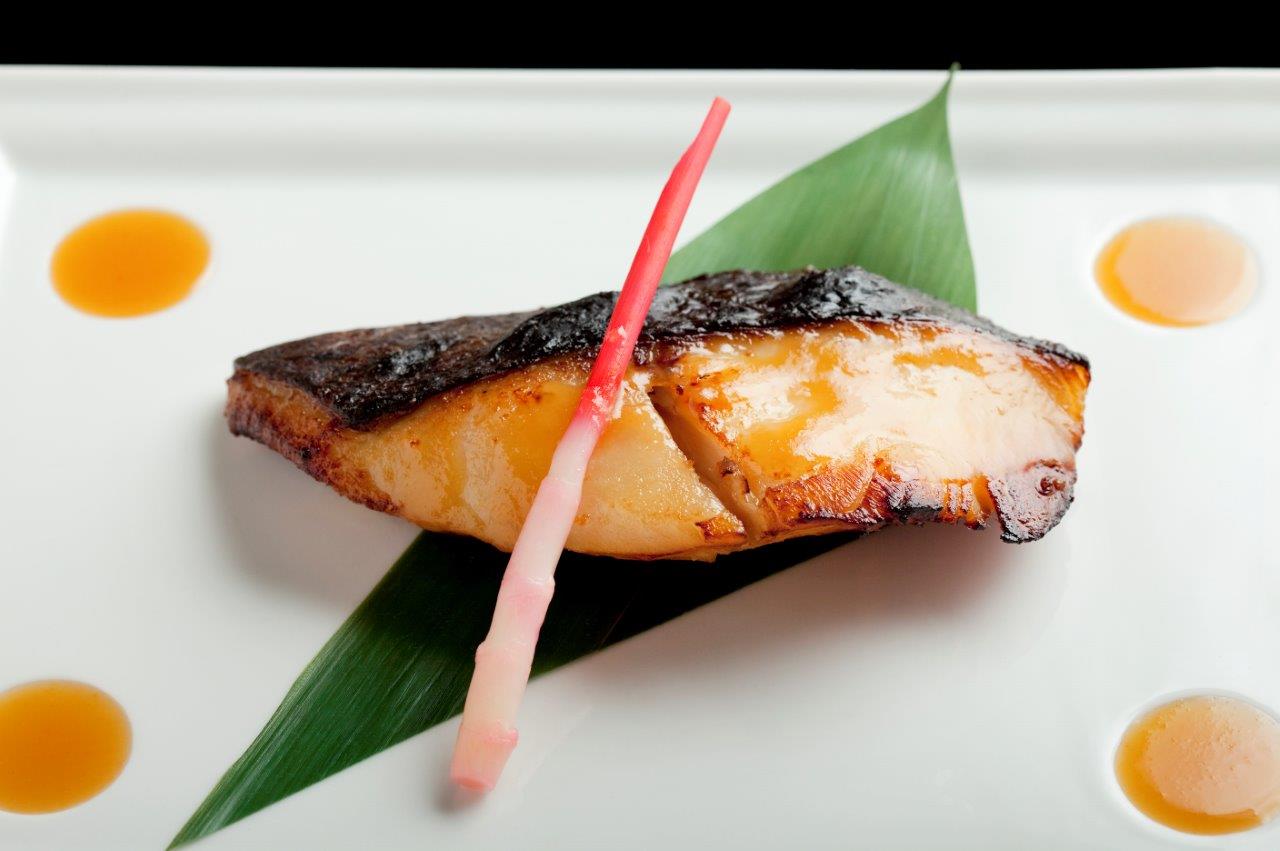 The prime Beef Tenderloin with Wasabi Salsa & Ponzu was superb – part of the Omakase Menu.
A favourite dish of the evening was the roasted duck breast with wasabi salsa; a small plate of perfectly prepared, tender duck, with colliding flavours of picante and sweetness – it was the winner for sure.
For those with a sweet-tooth there are some tempting puddings, including the Nobu cheesecake; passion fruit brulée; and seasonal creations such as the fruit crumble as part of the Omakase menu.
Nobu may well be the most popular purveyor of this fusion cuisine, but they have continued to maintain exceptional standards throughout their decades of global expansion. This is glamorous, chic dining where gastronomy and style fuse, creating a memorable evening of great food, excellent service and a cool environment.
Information
Nobu Marbella restaurant is open daily, with prices from 8 euro to 58 euro per dish.
The Omakase Winter Menu is 65 euro per person.
Web: La Plaza, Boulevard Alfonzo H, s/n, 05200 Marbella, Málaga
Tel: +34 952 77 86 86
(Nobu Restaurant Marbella is set to be joined by a Nobu Hotel Marbella in Spring 2018)