Sam Thomas, and her now husband, Jon, left the corporate world behind and they are now living the great outdoors dream running a successful chalet business in Morzine in the French Alps. Read her story along with some interesting insights into the luxury travel sector in our interview. We guarantee it will make you want to hit the slopes and seek out some  pow action right now!
What made you leave your old life? What inspired you to start More Mountain?
Having taken a sabbatical from our recruitment careers in 2004, my (now) husband Jon [Dredge] and I decided to leave the corporate world behind and seek out new adventures further afield! We'd always shared a passion for the mountains and snowboarding, so we embarked upon an endless winter, chasing the snow across the northern and southern hemispheres. We lived in Whistler, Canada, then moved to Queenstown in New Zealand and followed this with a more permanent relocation to the French Alps. We felt at home in the mountains so knew this is where our future lay!
Our time spent travelling meant that we experienced a range of accommodation types, from tiny wooden mountain huts to plush five-star hotels. Having also stayed in various types of ski accommodation, we felt inspired to create the type of mountain accommodation we always strived to find – hence, More Mountain was born.
Our personal experience shaped the More Mountain offering into what it is today – contemporary, stylish design and quality service, with a cool 'laid-back luxury' vibe. We have grown our portfolio over the years and now offer five catered chalets and 26 self-catered apartments in central Morzine.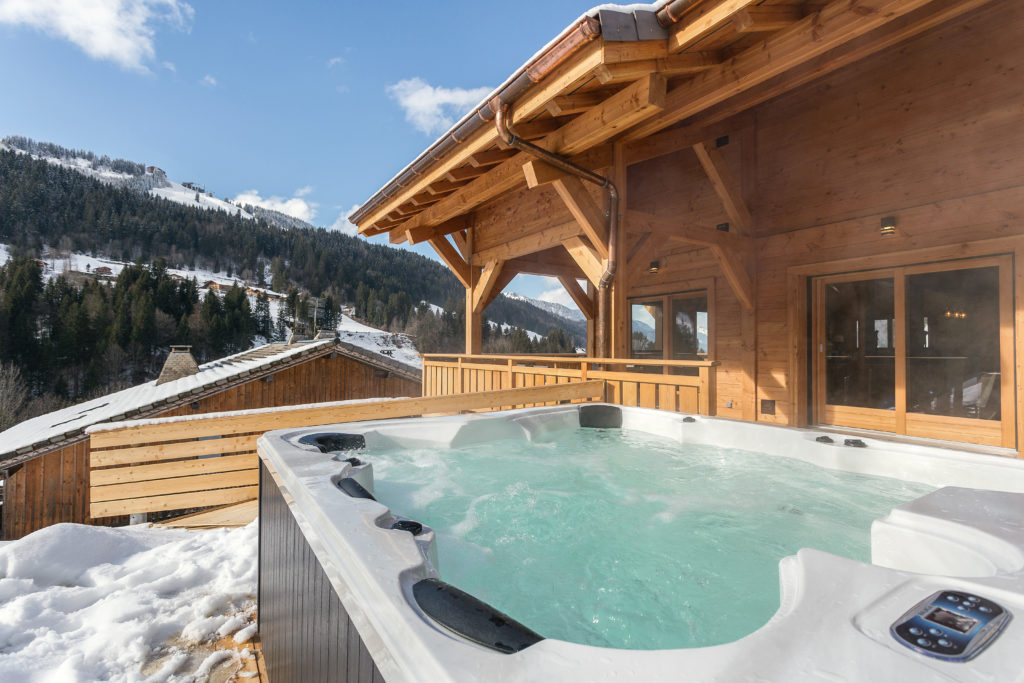 Why did you choose Morzine? What does this area of the French Alps have over other places in the world?
Morzine easily won us over, it's a friendly town with an authentic French village charm. Nestled in the Portes du Soleil, we're surrounded by a vast natural playground with all sorts of mountain pursuits on the doorstep. Winter brings the obvious thrills of skiing and snowboarding, but summer is equally as vibrant and the 'all year round' holiday potential added to the appeal of the destination. The mountainscape is stunning, whatever season you're in.
From a practical perspective, as a place to live, Morzine has a well-established infrastructure with schools and shops, restaurants and doctors open throughout the year, and is in close proximity to Geneva Airport at only 1hr 15mins by car.
You both have previous experience in Sales and Marketing, how has this helped you develop the More Mountain business?
Having worked in highly competitive environments previously, it taught us how important it is to truly understand and listen to our customers, and to deliver exactly what they're looking for. Hospitality needs to blow people away and it's important to manage expectations, a skill that both of us took from our previous roles in the UK.
Communication is key and we take a great deal of time to speak with our clients before they travel, listening to what they want out of their holiday. Our biggest motivation is seeing our guests enjoy their holidays with us and come back time and time again. This is what inspires us to stay at the top of our game.
We're also very aware of the ski industry and how we fit in – checking up on key trends, competitors' activity, and considering like-minded brands who we can collaborate with to enhance our offering and appeal to new audiences.
We recently announced our partnership with British dog product specialists, Mutts & Hounds, to launch Alpine Pups – a special package that welcomes four-legged friends to join their owners for stays in select dog-friendly apartments. As dog owners ourselves, we know that they're part of the family and should share in our happy holiday times!
Is working as a husband and wife team a challenge? How does each of your separate skill sets complement each other?
Working as a couple can be hard and you have to be strong, but I can't imagine not working with Jon – we make a great team and have a good understanding and appreciation for each other's skills.
I am the front of house sales and client facing person, whilst Jon is behind the scenes, quietly making sure everything is ticking over correctly and reacting to situations quickly. He has a calm, practical and considered approach to problem solving, whereas I am more of a risk taker. I enjoy training staff and driving sales and marketing; I love selling holidays and I'm always looking for new ways to do things. We work closely together, whilst also ensuring that we stick to our separate roles – we realised a long time ago that this is how to get the best out of each other.
Morzine is our office – the people we know are both colleagues and friends and my phone is always on, so it can be hard to switch off. That said, we always make the effort to enjoy quality time together outside of the business, including fulfilling our most important role of being mum and dad to five-year old Ted! We're an active family and make the most of our local area with as many adventures as possible.
Morzine is a popular destination especially in the winter sport season. What makes More Mountain chalets and apartments stand out from others? What little extras can people expect when they are staying with you?
Our apartments and chalets are all lovingly designed with input from ourselves and our property owners. Both Jon and I have a keen eye for detail and functionality, so every property that we take into our portfolio must meet our design standards and make our guests' stays super comfortable.
Our high standards of cleanliness and professional levels of service from long standing staff also sets us apart. We get to know our guests and tailor their holiday experience before they arrive. Every guest is treated as an individual from the moment of enquiry and we liaise closely with them to ensure everything is right before they get here. We've lived in Morzine for 12 years, so we have a wealth of local knowledge to provide recommendations for every age and interest.
Guests of our apartments can enjoy the added flexibility and independence of self-catering, with the assistance of our in-resort concierge team. We help with airport transfers, lift passes and ski hire prior to the stay. We meet guests personally on their arrival, and assist throughout the visit with restaurant bookings, breakfast deliveries and recommendations on local activities.
Guests also know that Jon and I are still very hands on, both in resort and throughout the booking process. We still answer the phone, we still meet and greet guests and check up on them to ensure they're having a great stay.
Can you tell us about the More Mountain customer? What do they appreciate most in life? What do they enjoy doing?
We've grown and developed our business to reflect our own interests in hospitality and level of expectation. I like to think we appeal to like-minded others. Our primary audience is the 30-40 something age group who spent their youth on the snow and in the bike parks, and are now professionals with disposable incomes and families of their own to share in their experiences. Jon and I call it the 'post-dude' generation… after all that's what we have both become!
Our clients are pretty cool and still have an appetite for the outdoors and adventure which can be easily satisfied in Morzine. They're looking for a holiday experience that includes luxurious hospitality and high standards, yet with a laid-back and relaxed atmosphere with like-minded people. It seems to be working!
Your apartments and chalets have a strong focus on great design and include some iconic pieces including Barcelona and Eames chairs. Where do you look for inspiration in designing your properties?
We have a keen eye for detail and the quality of interiors are incredibly important to us. We love staying in luxury hotels, and every trip away is also a homework exercise and source of inspiration.
Every property we take into our portfolio must meet our design standards and feature quality fixtures and fittings. Most of our apartments are expertly planned and designed with a holiday rental in mind, and they will always feature luxury extras like BOSE sound docks, Nespresso Coffee Machines and SONOS systems. We like to feature something special from a classic designer in each property. Every chalet or apartment has to be home from home, but just that little bit better!
In addition, we work with local artisans to incorporate bespoke features. The ARK, one of our catered chalets, is an urban chic, state of the art property that is full of character and balances quirky style with comfort. A highlight feature is the beautiful stone staircase featuring wrought iron hand-crafted balustrades, forged by a local blacksmith, set against a specially commissioned graffiti wall.
We've built a strong understanding of what looks good and works well, and it's for this reason that we continue to be successful.
Morzine is most commonly associated with the winter ski season but what does the area offer in the summer months? What activities would you recommend for visitors?
After the snow clears, the grass gets greener, the wild flowers bloom and the cowbell chimes can be heard again. Summer is a beautiful time of year with plenty to keep the whole family entertained. For many, it's the highlight of the year.
There are the thrills of mountain biking, paragliding and white-water rafting, as well as more gentle pursuits such as hiking using the network of chair lifts (although some of the ridge-top hikes aren't for the faint hearted!), swimming and pony trekking. You can chill by the lakeside enjoying the public barbeques, or pet the friendly goats in Les Lindarets. There's never a dull moment, and the fresh mountain air is the best therapy.
It's also great value. Our guests can enjoy a huge range of activities for only €2 a day (or free for under-fives) thanks to the Portes du Soleil's Multi Pass Scheme. This includes Morzine's indoor and outdoor swimming complex, tennis, ice-skating, mini- golf and access to 22 mountain ski lifts for stunning walks and hikes.
Having taken the plunge and trying a summer mountain getaway, many of our guests now come back year after year. They love it!
You both take a hands-on approach with the business. Tell us what an average day for you involves? If there is such a thing!
At 6am I take half an hour to myself to check emails, before getting Ted ready and off to school. Jon and I then walk our Fox Terrier, Figsy which is our daily strategy meeting! We spend this time planning the day ahead, and we're generally in the office by 9.30am.
We go through the day's tasks with the team, and then no two days are the same. I could be taking a phone call from a guest about a reservation, placing an order with the local bakery, having a consultation with a property owner about development and design plans, or preparing a digital marketing strategy. We love the variety and although it's busy we wouldn't have it any other way!
On quieter days, we make the most of being in the mountains and take a couple of hours out to ride on the hill, or head down to the lake at Thonon for a change of scenery before heading back to the office.
What epitomises luxury travel for you?
Exceeding my expectations as a customer – that is luxury. Personalised service is always important, across any luxury travel experience and for me it's those genuine connections between staff and guests that make it extra special – that's what keeps me coming back as a customer.  Plus good standards of cleanliness – I am a fuss pot!
For more information please visit:
Website: www.moremountain.com
Or follow on social media Facebook | Instagram | Twitter