Summer is already in full swing in the Mediterranean. The scent of jasmine is in the evening air in Andalucia; now is the season to eat out late, and enjoy these balmy summer nights, writes Andrew Forbes.
Marbella's Puente Romano Beach Resort and Spa ( a Leading Hotels of the World property) has this week opened its new 'El Patio Dani Garcia'.
It's a fun concept for the summer season, a magical place where guests can be enticed by the flavours of Andalucia.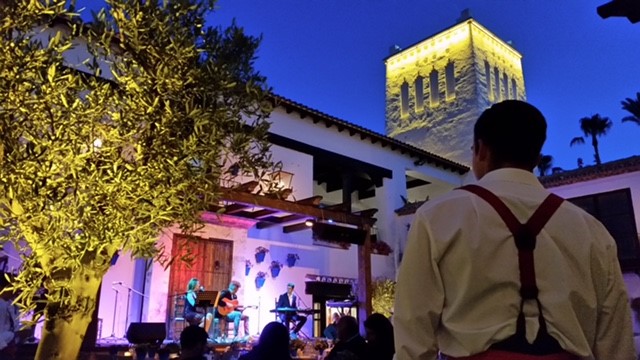 Puente Romano Beach Resort
The luxury Puente Romano Beach Resort has been a favourite for generations of both residents and visitors to Marbella. 2016 looks set to be one of its best years, with even more additions to its culinary, entertainment and bar scene. The Hotel's Plaza Village pulsates with energy each evening and is a stylish destination for those looking for smart places to eat, enjoy a drink or dance the night away.
El Patio Dani Garcia
Hot on the heels of the resort's latest opening, Joe's Bar, comes 'El Patio Dani Garcia', combining informal Andalusian dining from the kitchen of Dani Garcia, with vibrant and colourful entertainment that captures the traditional spirit of southern Spain.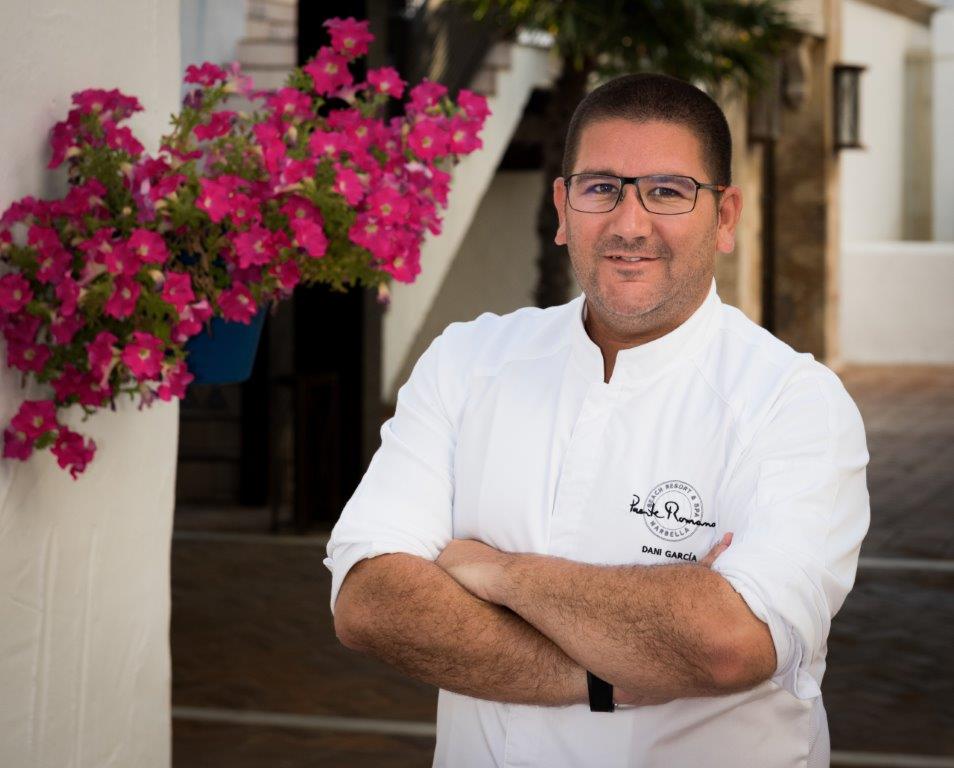 As one enters the courtyard, one is greeted by stilt-walkers, jugglers and dancers. The evening starts with cocktails and snacks, like traditional toasted almonds, offered by team members carrying vintage trays.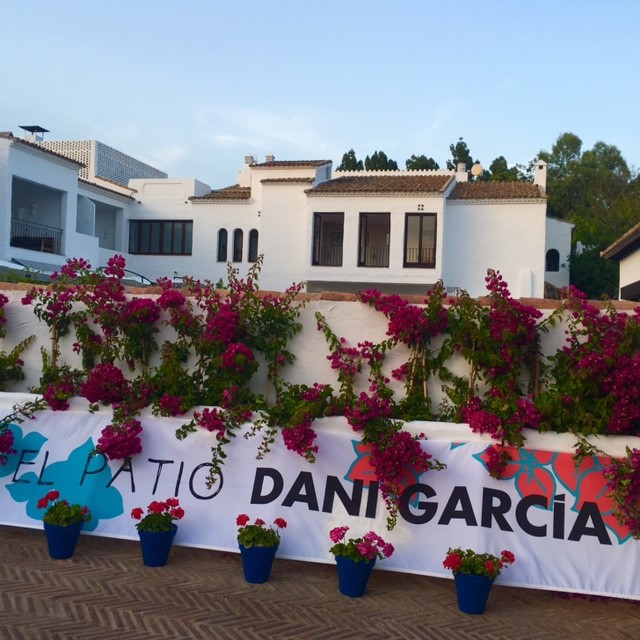 Once seated in the quintessential 'Patio Andaluz' one really feels the joy of summer in Southern Spain; surrounded by the intense pinks and purples of the flowering bougainvillea in this stylish courtyard with its marble, and river stone mosaic floor, accented with geranium-filled flower-pots and wrought iron lamps on the walls; whilst subtlety lit olive trees stand amongst the tables.
In front of the dining tables is a stage where the talented performers entertain dinner guests.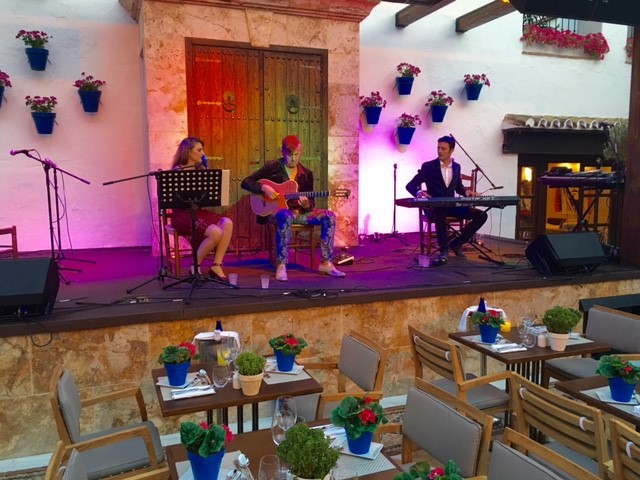 Fixed Menu
As the menu was offered, the live music began, starting a dinner cabaret that would continue for some hours. The serving team, dressed in traditional 'traje corto' Andalusian dress, were particularly friendly and welcoming.
The fixed menu of informal dishes is from the kitchen of Dani Garcia and includes a selection of classic starters such as  ensaladilla rusa, crudités, Malaga fried seafood & fish and choice of gazpacho and salmorejo dinner soups. Then one can choose from the 5 main courses (yellow sea bass; beef cheek; guinea fowl; vegetarian rice; or truffle and mushroom ravioli).
It started with an amuse bouche of beetroot as a rose.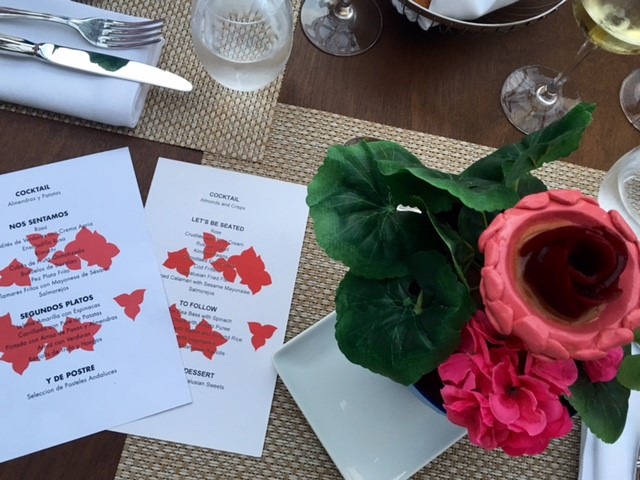 Finally there's a selection of classic Andalusian cakes that one can find throughout the seasons (including the famous ' tocino de cielo', 'torrijas', 'borrachuelas' and 'buñuelos') all served on a little 'trono' float, echoing the famous Easter parades.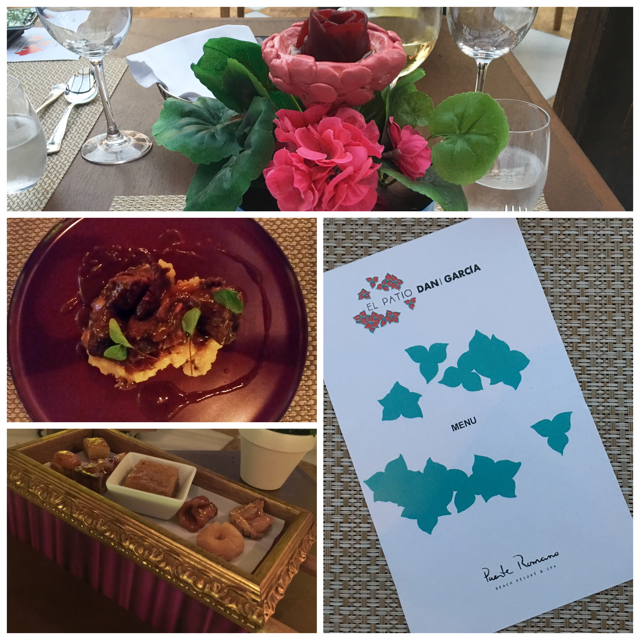 There's a good wine list, ranging from very affordable and tasty Spanish white and rosé wines from 19 euro a bottle to French wines up to around 128 euro a bottle.
Olé! Classic Flamenco show
The flamenco show is one of the highlights of the evening, with wonderfully dressed performers dancing, singing and clapping with typical Andalusian passion.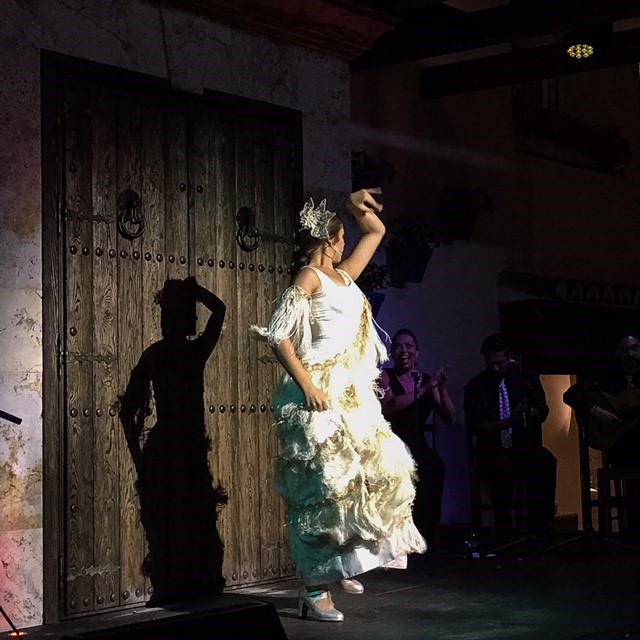 The evening ends with more live music including players from the famous Gipsy Kings; before a closing acrobatic fire show.
All-in-all it makes for a very entertaining Andalusian holiday evening – something ideal to share with family or friends.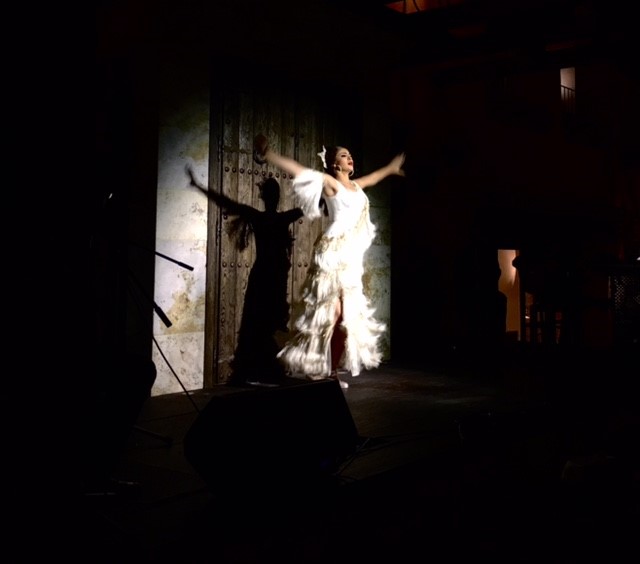 Information
El Patio Dani Garcia runs every Tuesday to Sunday, until the end of August with tickets costing €90 per person (€38 per child).
You can read our profile review of The Puente Romano Beach Resort here.