UPDATE
Chef Simon Andreas Petutschnig is now Executive Chef at Fera Restaurante & The Kitchen.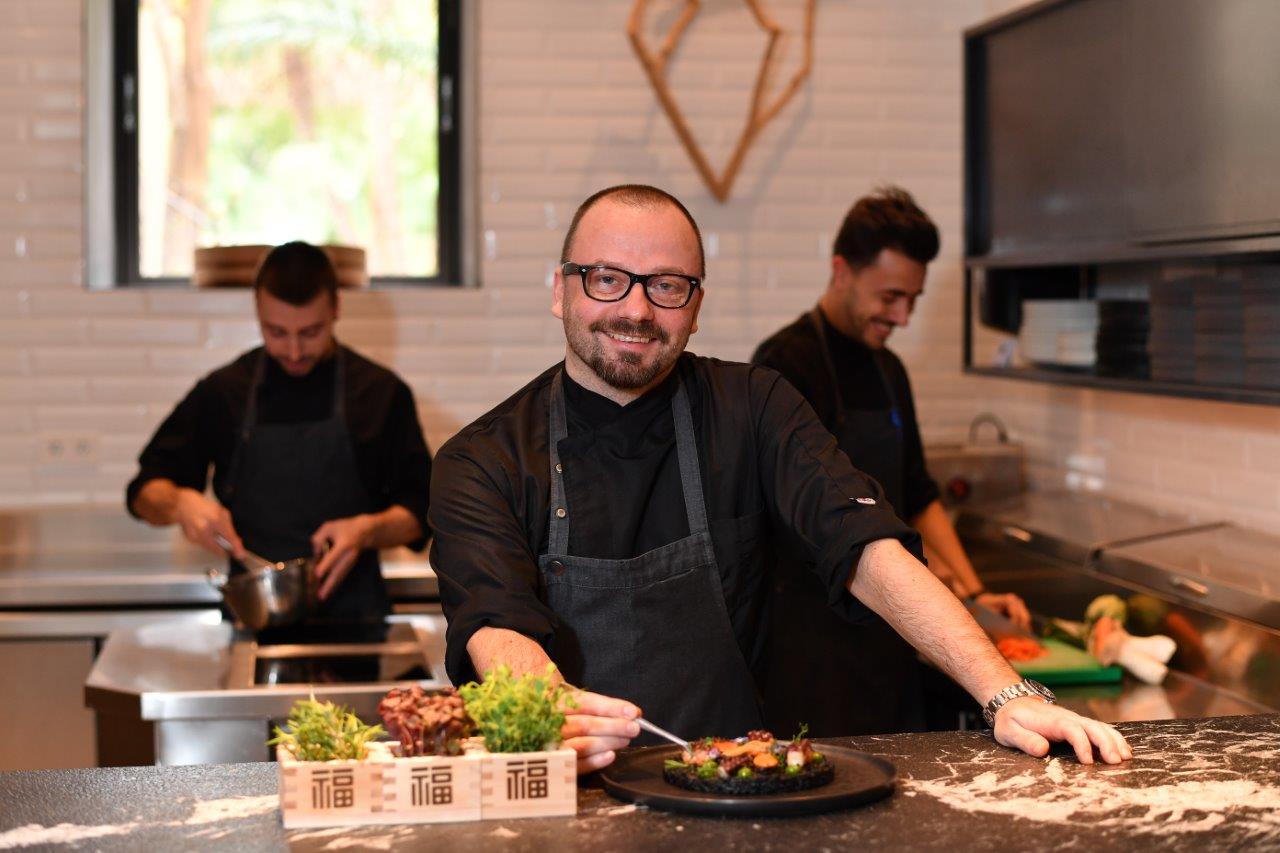 The elegant roof terrace of the Hotel Sant Francesc (a Small Luxury Hotels of the World Property), in the historic centre of Palma de Mallorca is a special place. It affords privileged views out towards the Tramontana Mountains and across the rooftops of old town to Mallorca's iconic gothic Cathedral, writes Andrew Forbes.
It's the setting for my conversation with Simon Andreas Petutschnig, the Executive Chef at this 19th century mansion house property, now a luxurious boutique hotel.
Austrian born Chef Simon has been part of the Hotel Sant Francesc team from the beginning, and has just celebrated a year at the property, which opened last spring. He is head Chef at the intimate QUADRAT Restaurant, found in the property's former stables, and has garnered praise and accolades from the press for his cuisine.
QUADRAT Restaurant
The restaurant, which opens out onto a contemporary garden dining terrace, serves Mediterranean dishes that draw upon the richness of the local Balearic produce; yet undeniably the restaurant has a modern, Asian twist too.
'Well, I'm reluctant to put a name to my type of cuisine' smiles Simon, as I press him for clarification. 'But I believe I bring together the heat and passion of the Mediterranean with the soul of Asia. Ilka Karl, our General Manager likes to refer to it as MediterrAsian'.
Simon's pork dim sum dish is a creative illustration of this; clearly Asian-inspired, yet the ingredients are most definitely Mediterranean. In fact the pork is local, from Mallorca. To be precise it's Mallorcan Black Pig, a unique, indigenous breed of pig from the Balearic Islands.
Simon continues, 'My team and I always make everything in house, our own bread, pasta, and the wheat wrapper for our homemade dim sum…'.
One can see the magic that happens in his kitchen in the following short film, showing the preparation and serving of his pork dim sum.
World-class
With almost 20 years training and experience, working with world-class Michelin starred chefs in Switzerland and Spain, Simon has brought an international perspective to the hotel's cuisine. His years in Cataluña, and in Barcelona in particular has equipped him with the skills and modern techniques that are driving Spain's exceptional culinary scene.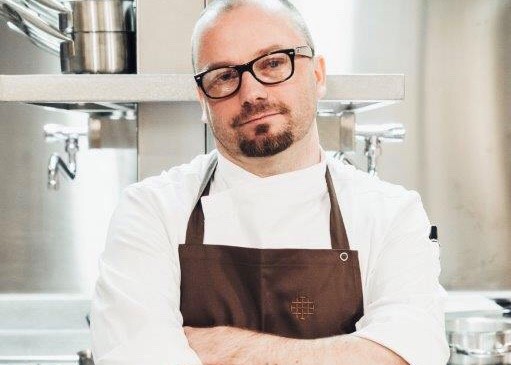 Yet he always remains grounded in the basics of fine, fresh ingredients and the fundamentals of flavour. For example it was his grandmother who really inspired Simon's love of food, the art of cooking and the joy that food brings to people, and those values have shaped his approach.
'I make sure that even the youngest members of my team can master the classic techniques and dishes – the fundamentals that all chefs must know if they are to be able to go on and experiment and to develop a personal style. Chefs may be seen as artists, but at the end of the day I believe we are artisans'.
It's thanks to this approach that Chef Simon's international team, including people from Brazil, America, Spain and of course Mallorca create a menu that truly emphasises the culinary traditions of the Mediterranean, using local ingredients prepared with classic, honed skills.
Creative Kitchen
However, eating at QUADRAT Restaurant holds plenty of surprises for guests. The menu changes seasonally, at least four times a year, but also each day there are new dishes created by Simon and his team, as well as amouse bouche and little treats from the chef reflecting the morning's purchases at the market.
Starters might include red tuna tartar with wasabi emulsion; or sea bream ceviche with passion fruit and pumpkin. Main plates include Balearic rices; fresh Mediterranean fish and seafood; as well as confit of Mallorcan lamb.
'I strive to create an atmosphere of creativity in my kitchen' continues Simon. 'It's a place where each member of the team can feel confident to experiment; where they can make a contribution. I want to nurture an environment that inspires and develops the teams' passion for great food, so we can share that with guests'.
For Simon, working in Mallorca is a dream. He believes that Spain and her islands offers probably the world's richest variety of high quality produce, and there's no better place to see that than at the local markets.
Market Fresh
'My greatest inspiration comes from the markets in Spain, confirms Simon. 'In Barcelona I used to love going early to the 'Mercado de La Boqueria' and seeing what was new. Here in Palma de Mallorca, the Mercat de L'Olivar is wonderful too'.
Each month delivers new colours, new textures, new seasonal produce that inspires Simon and his chefs. Mallorca is blessed with an abundant larder, the freshest possible fish from the sea, just minutes away from the hotel; and add to that the island's exceptional olive oil and salt, which you can find on the tables at the QUADRAT Restaurant. Not forgetting of course, the local fresh and cured meat, Mediterranean fruit and vegetables.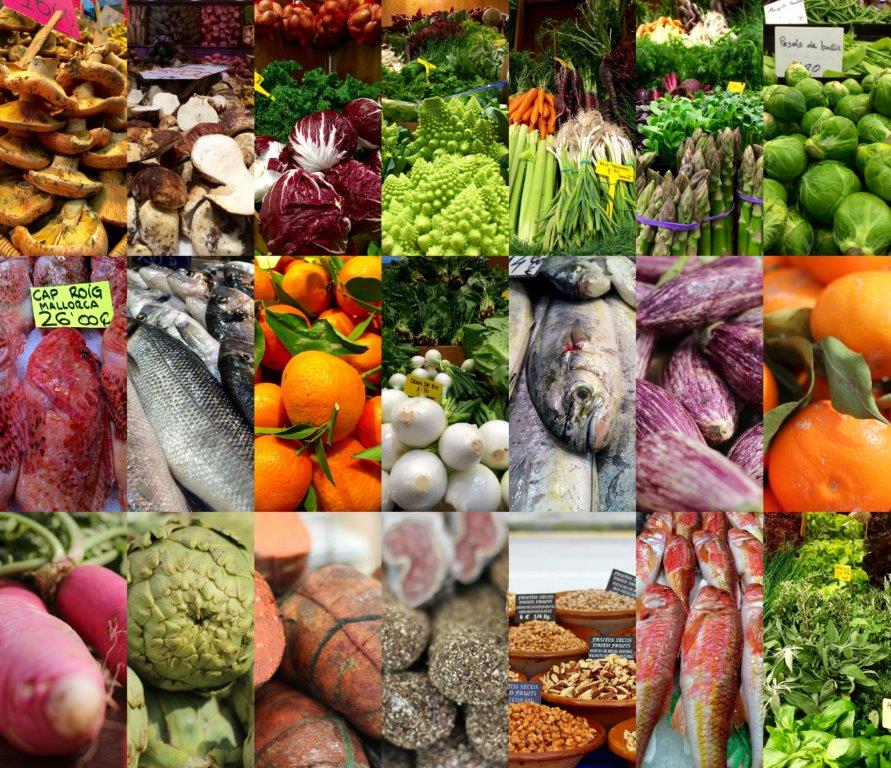 © Simon Andreas Petutschnig – Mercat de L'Olivar produce
Simon explains to me what an exciting time it is to be a chef in Spain. 'Spain now is like the Paris of the 1970s and 80s; here so much is going on, in cities, and across the provinces and islands, which is continuing to influence world cuisine and modern techniques.'
Simon spent many years in Barcelona, the gastronomic hub of Spain, learning the latest techniques and approaches, as well as being influenced by the emerging trend in Asian cuisine. Yet he is not seduced by fads. 'We want to surprise our clients in the restaurant and keep the menu dynamic, but I don't get distracted by fashions in food'.
That would seem to sum up the style of Chef Simon Andreas Petutschnig; keeping his QUADRAT Restaurant cuisine connected to its Mediterranean roots, whilst adding surprises with Asian influences, yet always focused on the all-important – taste.
'Yes taste is everything!' enthuses Simon. 'Of course presentation, service and the dining environment all contribute to a great experience but it's the flavours that are fundamental.'
Menus
QUADRAT Restaurant is open seven days a week, for breakfast, lunch and dinner.
For Spring 2016, during the week, a three course gourmet lunch is available for 26,50 euro. Simon Andreas Petutschnig's 'Menu Degustación' tasting menu is 45 euro. A la carte always available.
You can read my full profile review of Hotel Santa Francesc here.
Address
Plaza Sant Francesc, 5
Palma de Mallorca
Tel: +34 971 495 000
Web: http://www.hotelsantfrancesc.com/
Photos: Sant Francesc Hotel Singular © Vera Lair Photography