California is one of my all-time favourite destinations. A state that is so rich in its diversity in terms of spectacular natural surroundings, sophisticated urban life, culture and cuisine. So is always a pleasure to discover new places in this west coast state; and The Lodge at Torrey Pines, La Jolla, (San Diego) has been a delight, writes Andrew Forbes.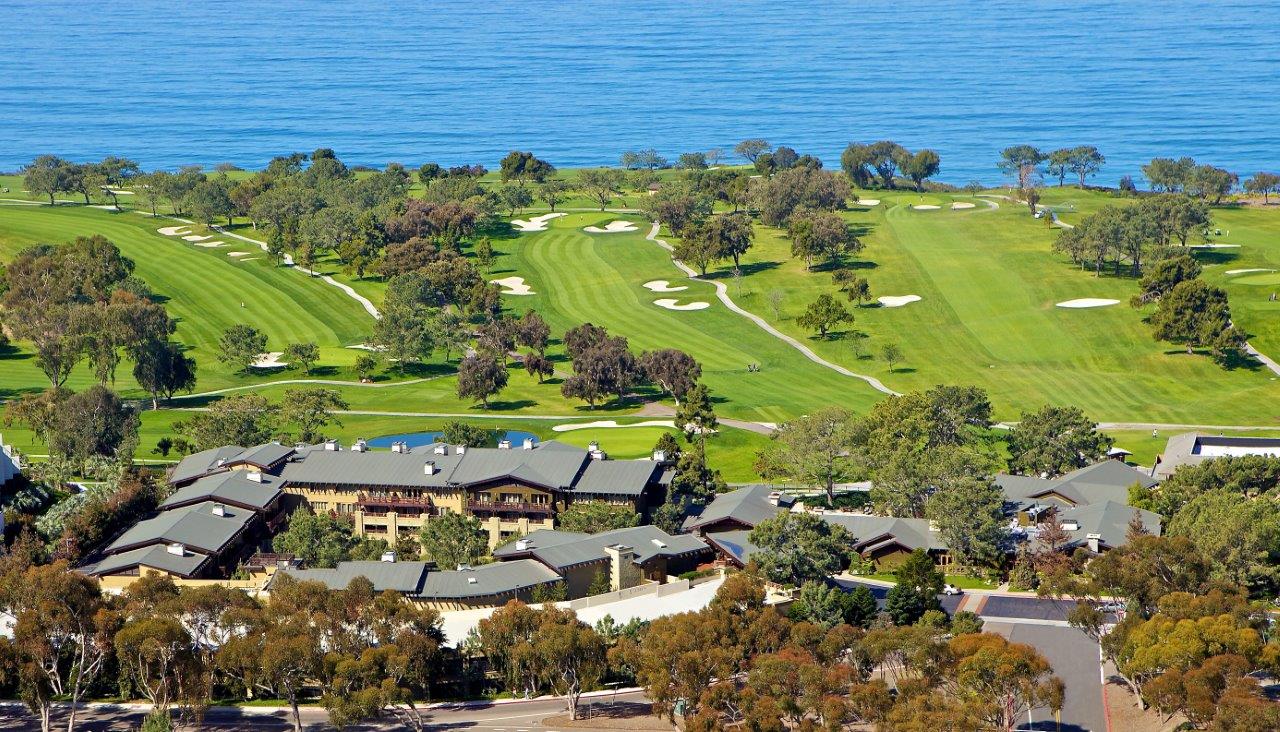 This 5-star resort property has all the grandeur and appeal of a classic rural American lodge yet has golf and Pacific Ocean views and the contemporary facilities and comforts of a 21st century luxury hotel close to a city.
Built less than 20 years ago, The Lodge at Torrey Pines is a design masterpiece; a celebration of the early 1900s Californian Craftsman-style architecture. The resort takes inspiration from the early 20th century Craftsman bungalow villas of Pasadena by Charles and Henry Greene. The hotel's woodwork, fabrics and bespoke craftsman furniture all take inspiration from this period.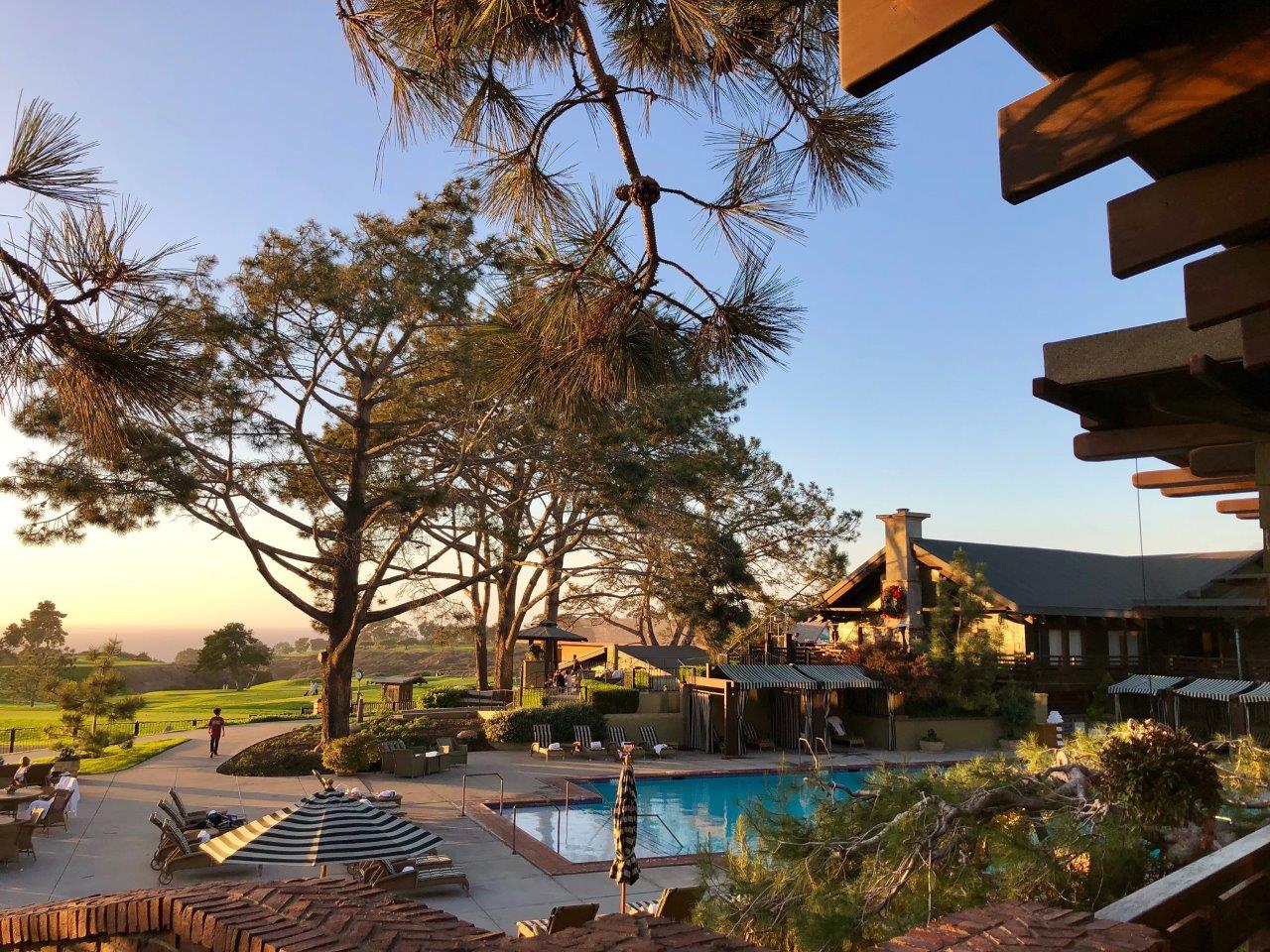 Resort highlights include a signature spa offering treatments using eco-friendly, marine and botanical-based products; upscale fine-dining at the A.R. Valentien restaurant, recognised for its locally sourced cuisine; and not forgetting, the adjacent PGA Tour championship Torrey Pines Golf Course.
Yet in my experience, the biggest highlight was the impeccable service from the professional, friendly team.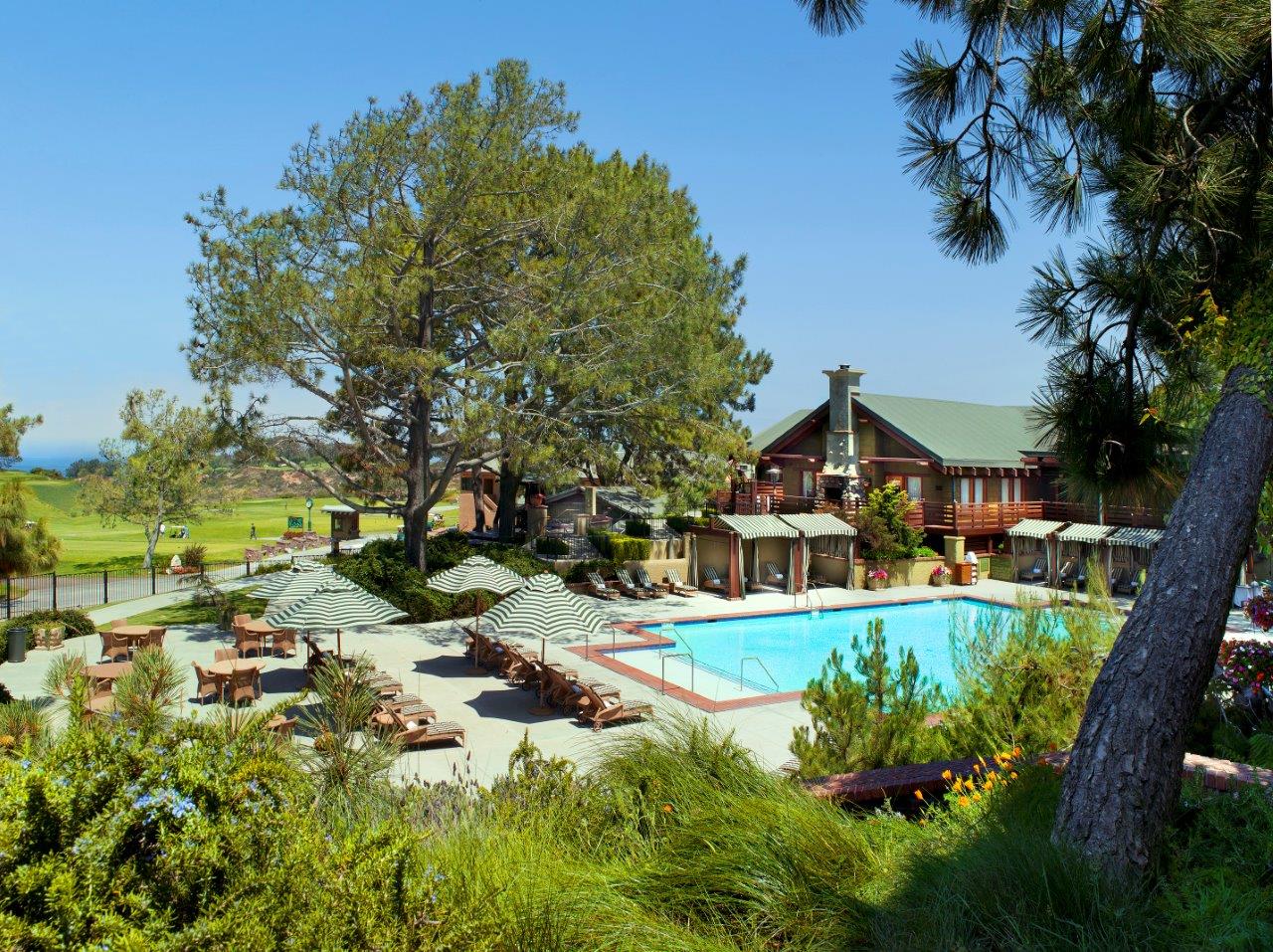 Location
The Lodge at Torrey Pines is within a few minutes' drive of the centre of La Jolla, the chic coastal enclave that forms part of San Diego, California's second largest city.
The hotel's setting is tranquil, close to nature. Set back from the rugged cliffs of the Pacific; within walking distance of the Torrey Pines State Natural Reserve, the lodge offers resort style amenities, access to world-class golf, and also the convenience of La Jolla village centre nearby, and downtown San Diego beyond.
San Diego's International Airport is less than half an hour's drive away.
Famous for its zoo, San Diego is made up of a series of neighbourhoods and coastal communities, retaining a small-town feel. La Jolla is a personal favourite. This coastal village offers great dining, distinctive coffee shops and a vibrant arts scene.
Style & Ambience
As one drives up to The Lodge at Torrey Pines one could believe you've arrived at an historic national park lodge. The architecture of bold timber clad in vines is really quite captivating.
The valets and doormen wear tartan uniforms, further creating this ambiance of a highland retreat or woodsy lodge.
The entrance lobby is grand; with a high vaulted ceiling, huge fireplace and lots of hardwood.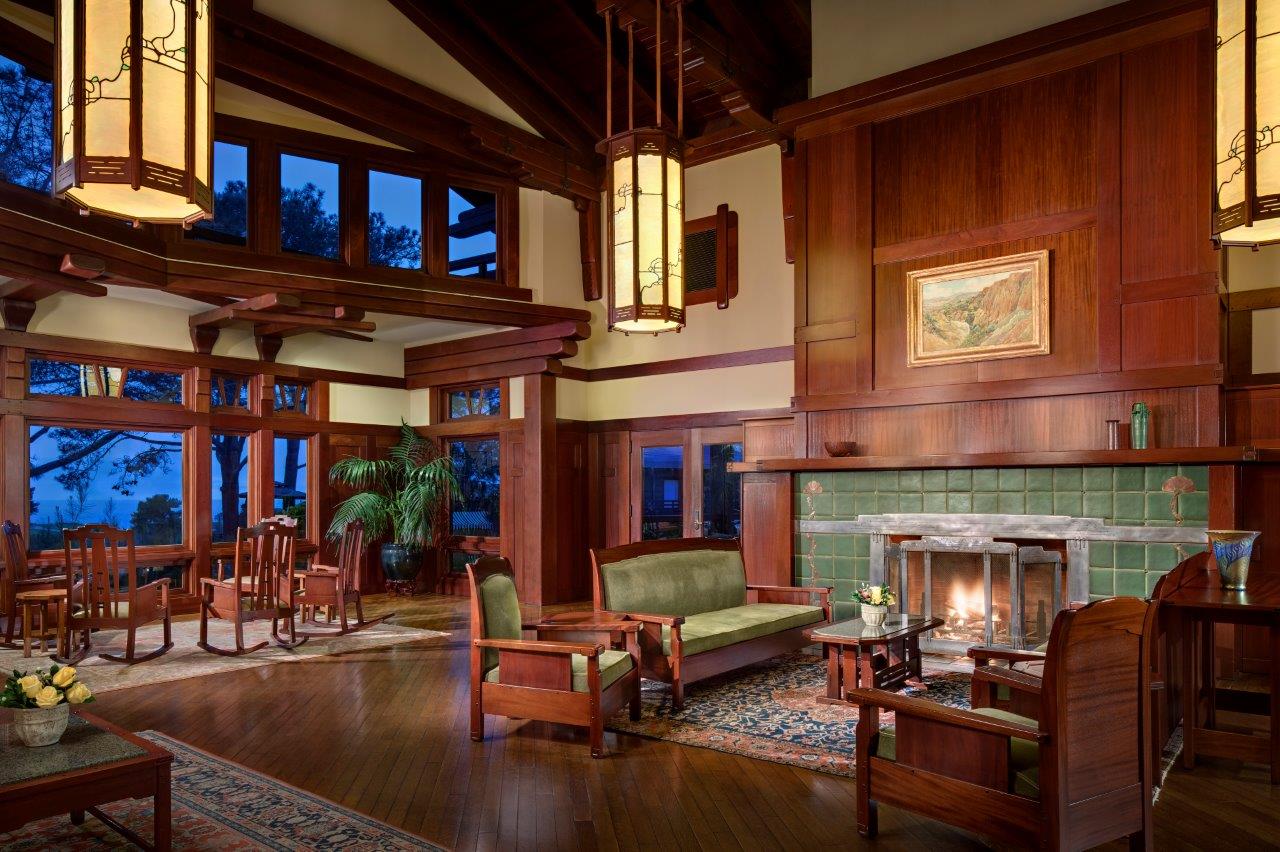 The style is quite dark with so much wood yet with the bright Californian sunshine filling the spaces it's welcoming.
I particularly loved the detailing; the wallpapers and fabrics certainly made me think of William Morris; and the bespoke guest room furniture is unique, said to be inspired by Gustav Stickley.
Guest Rooms & Suites
The Lodge at Torrey Pines is deceptive in that it feels homey and cabin-like, yet actually it has some 170 guest rooms and the property extends to many acres.
So, when it comes to guest rooms think big. Guest rooms start from at least 50 square metres; and the suites are from 100 to 200 square metres.
Palisade Suite
We stayed in a Palisade Suite overlooking the golf course and with a partial sea view. Made all the more special with a bottle of Californian bubbles!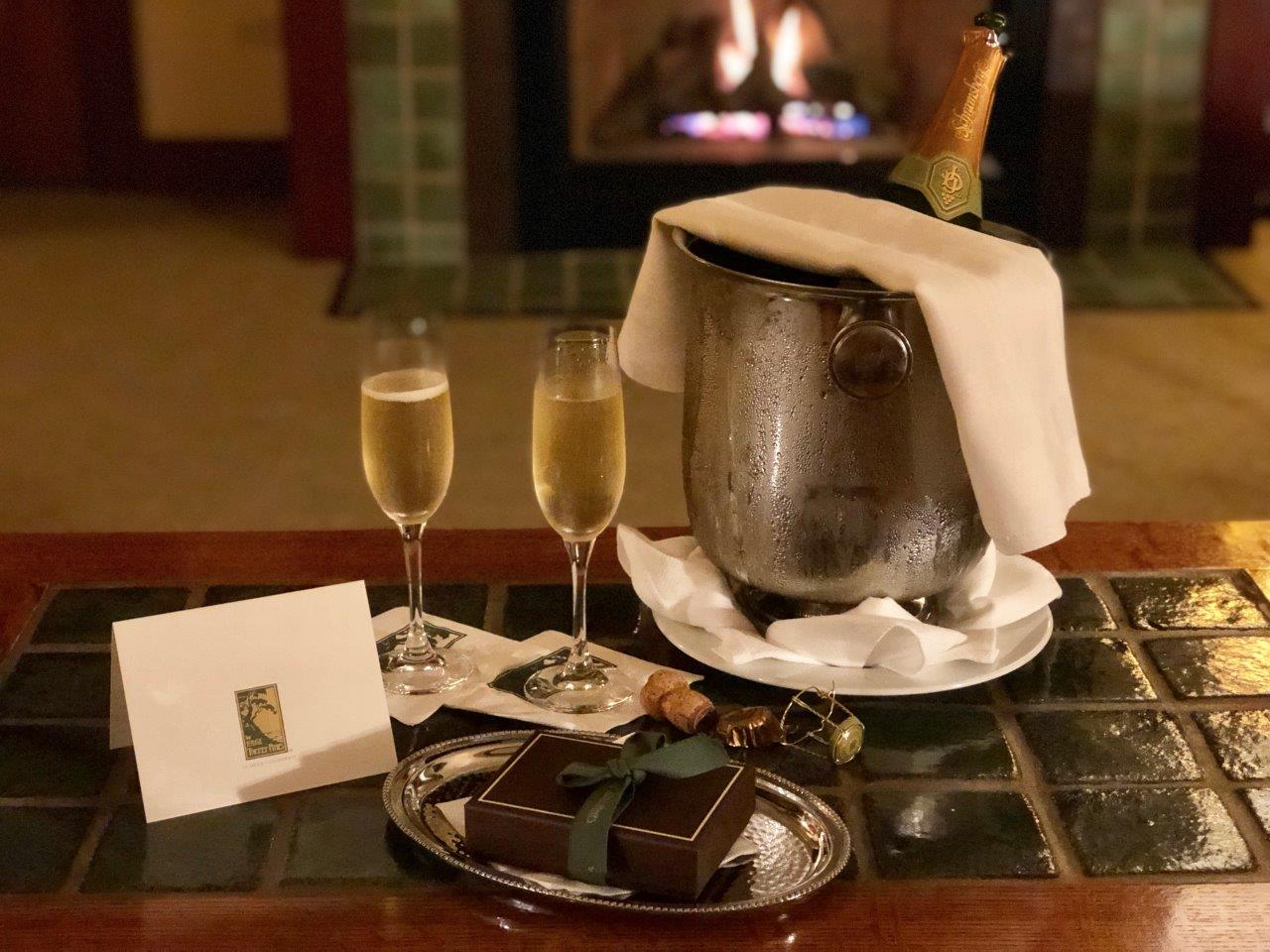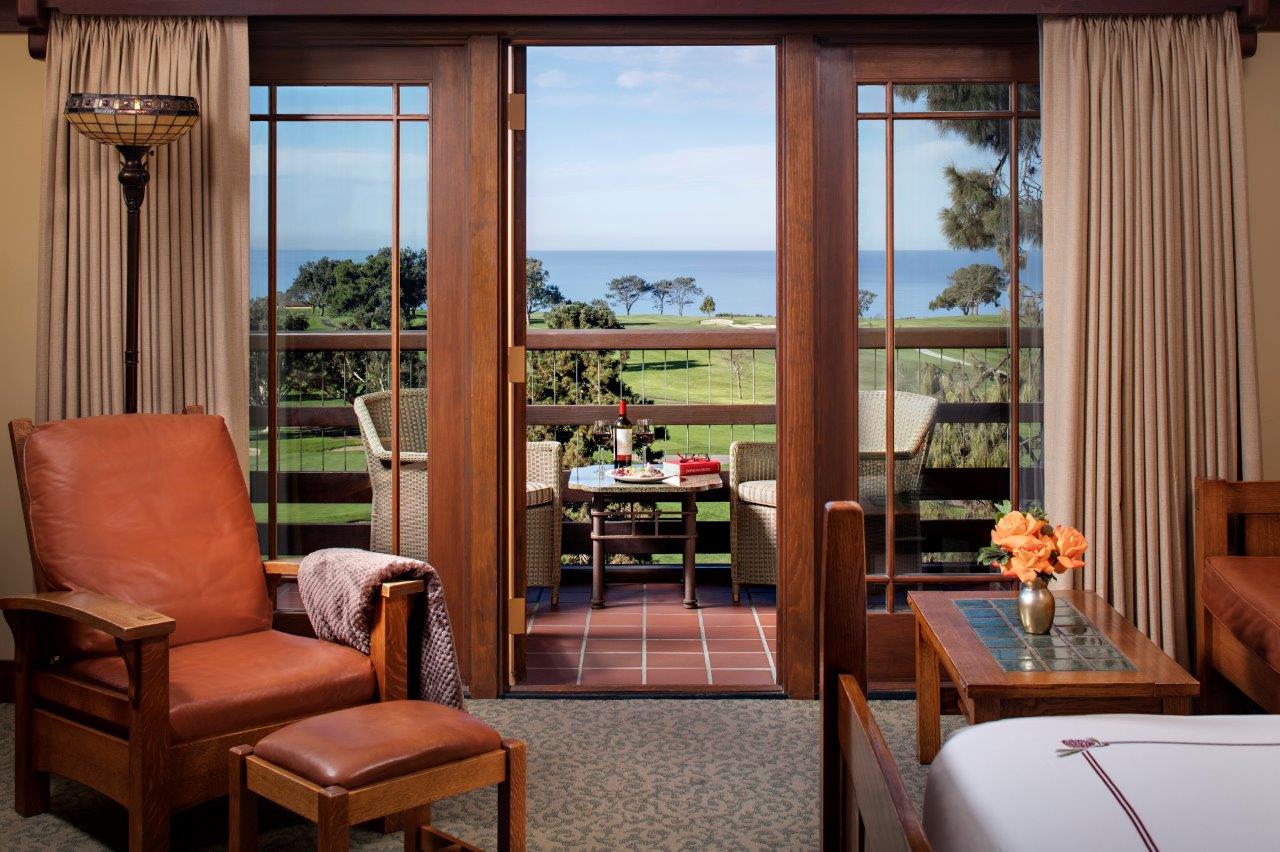 The suite had colourful Tiffany style lamps, bold craftsman furniture, a large bed with crisp white Egyptian linens; two gas fireplaces; and outside terrace balconies.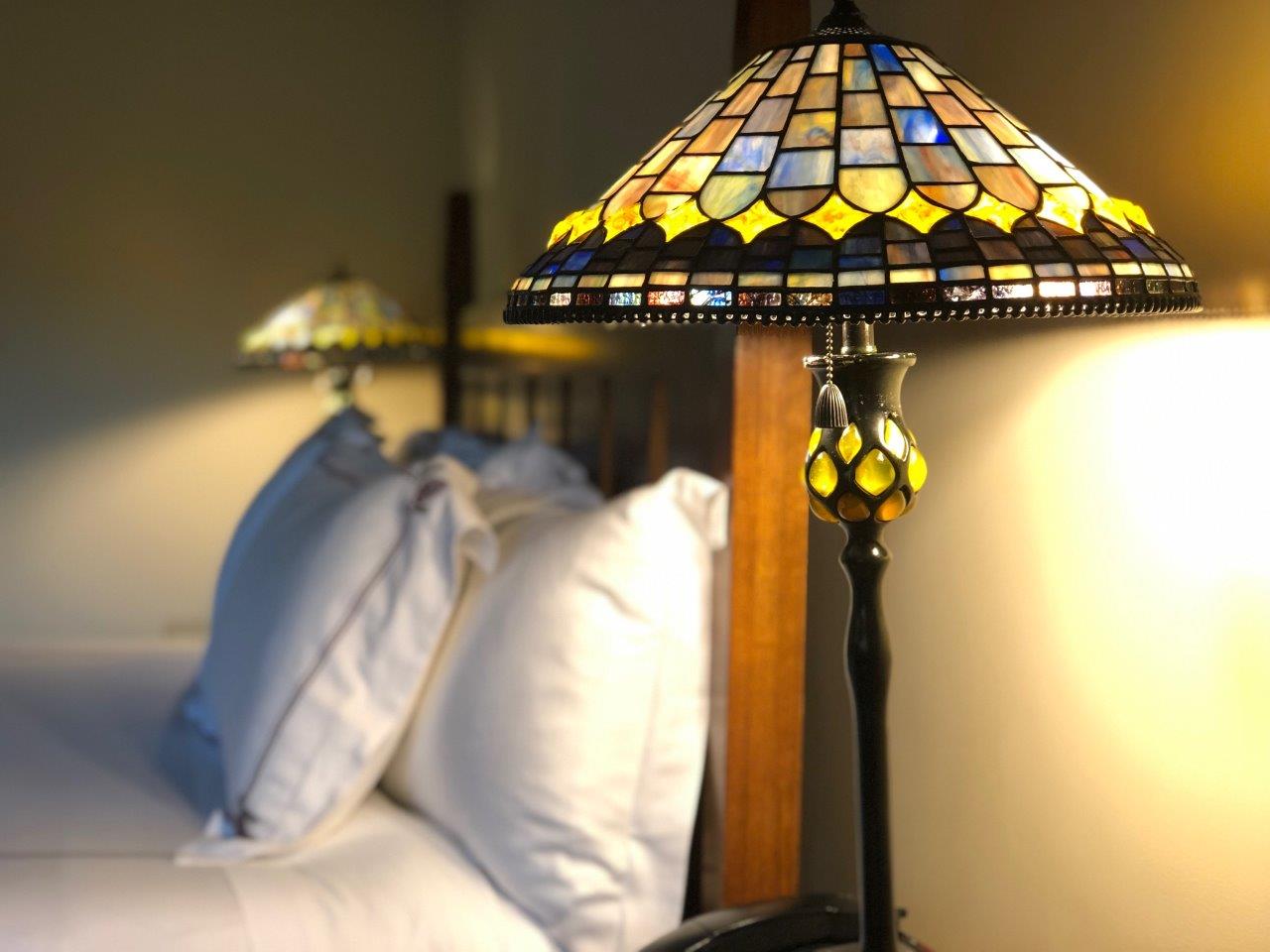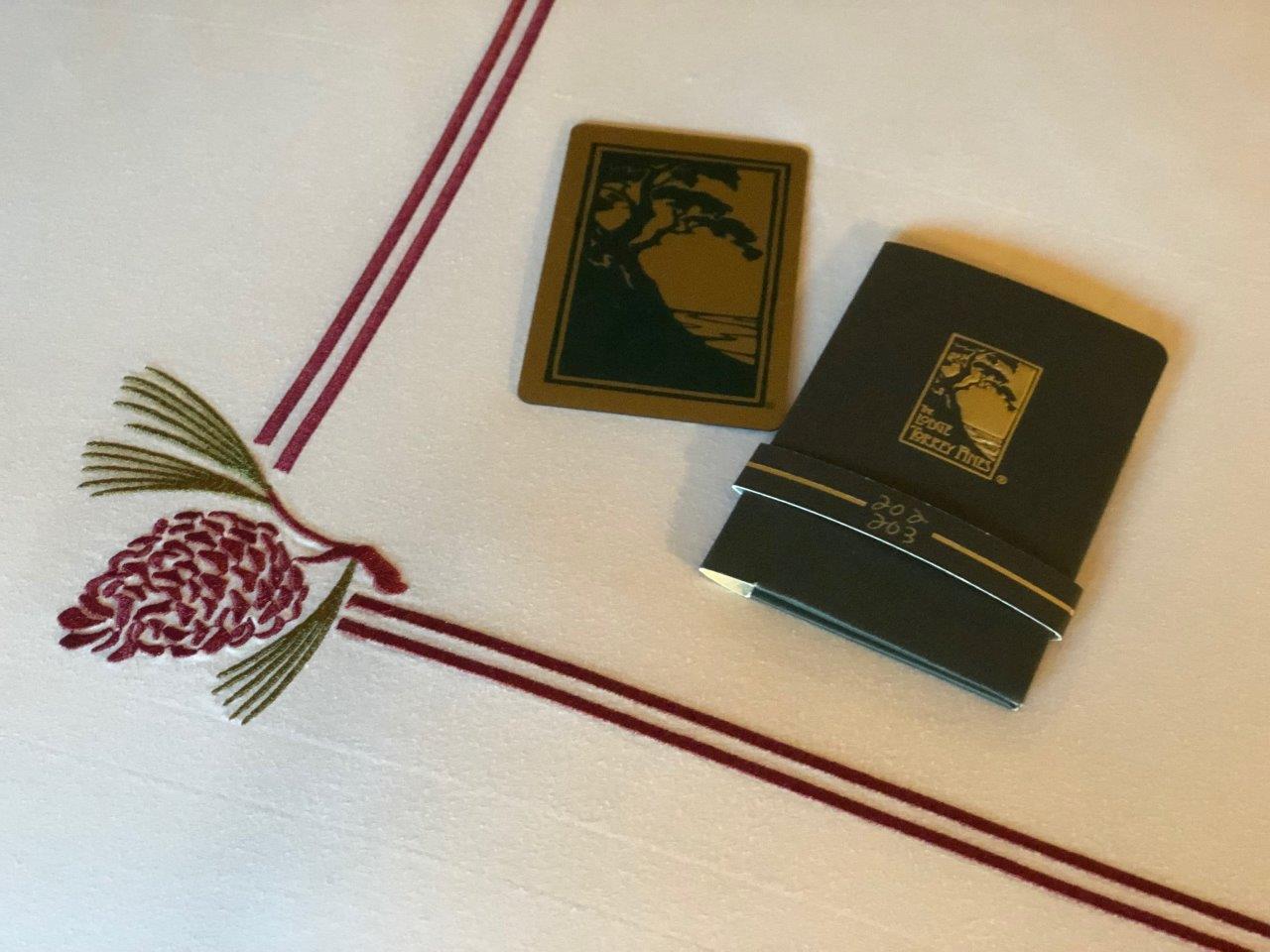 The suite was divided into two rooms (one bedroom and one living room with sofa bed). There was two full size bathrooms, each with a walk-in shower and standalone bathtub. Toiletries are bespoke with a lovely sage lemongrass scent.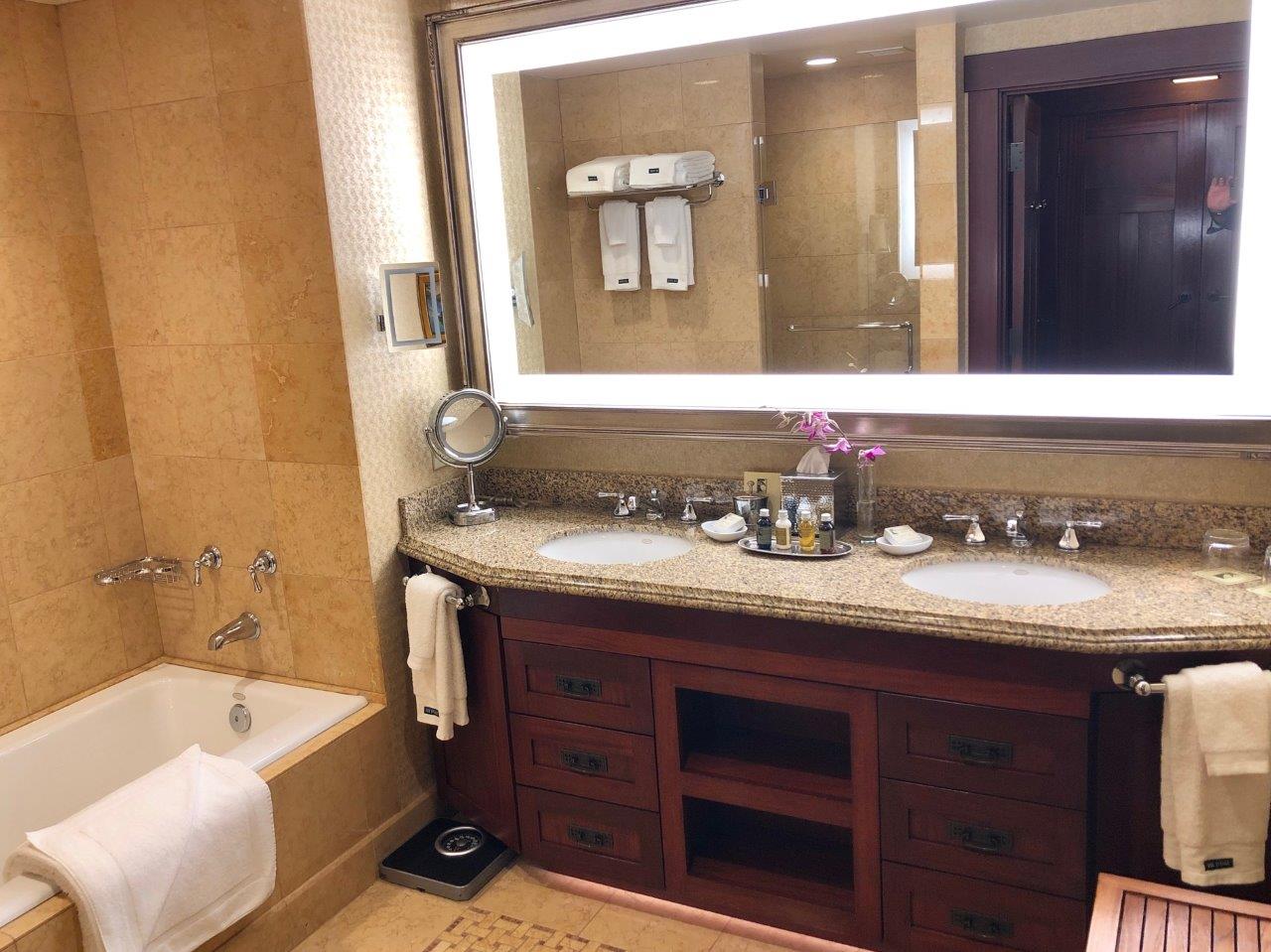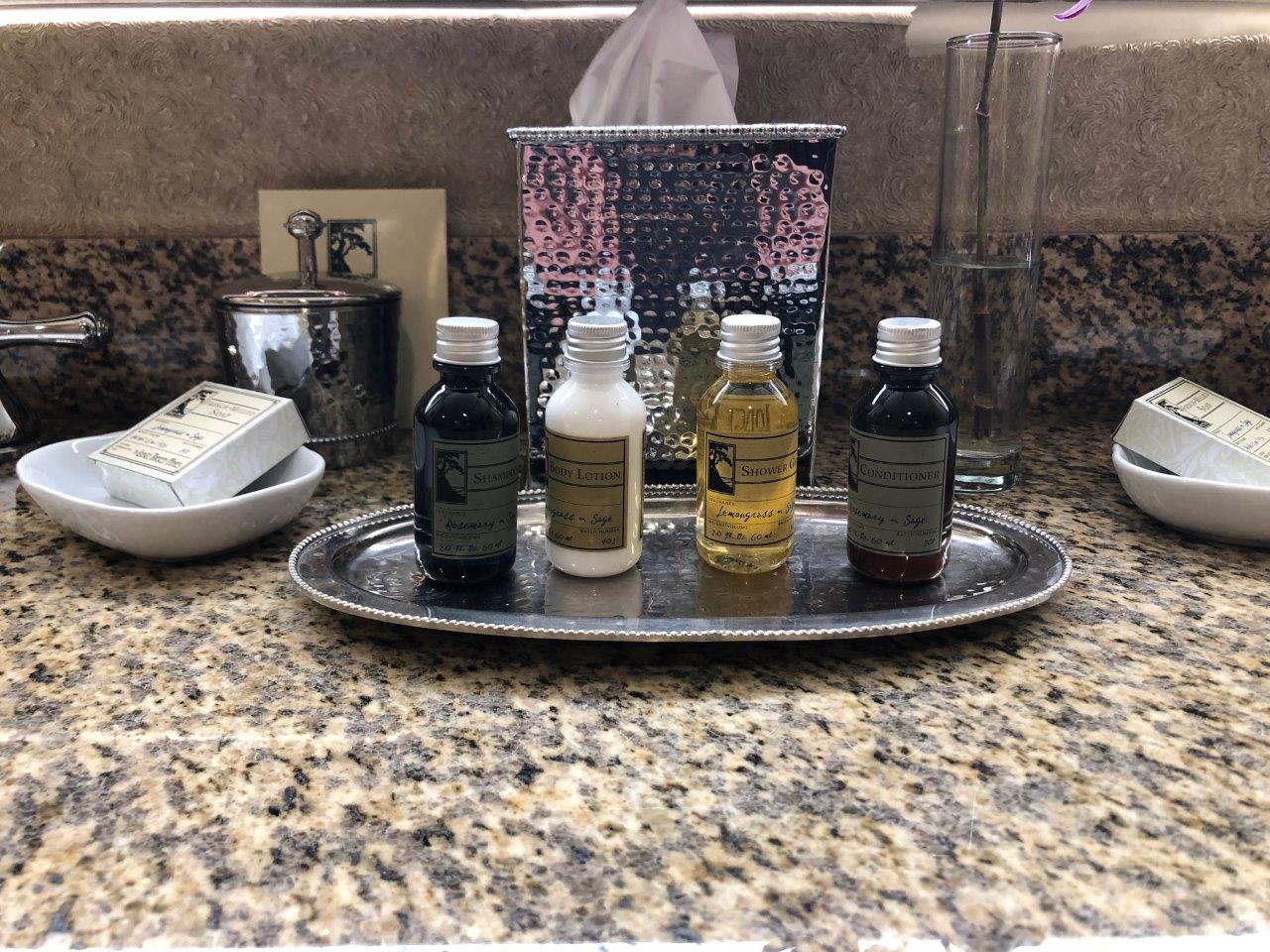 Room amenities encompass a coffee maker; a simply stocked wet minibar; high definition LCD TV; and turn-down service
Other suite types include the aptly named Blacker Suite (with a huge living area, and a full kitchen);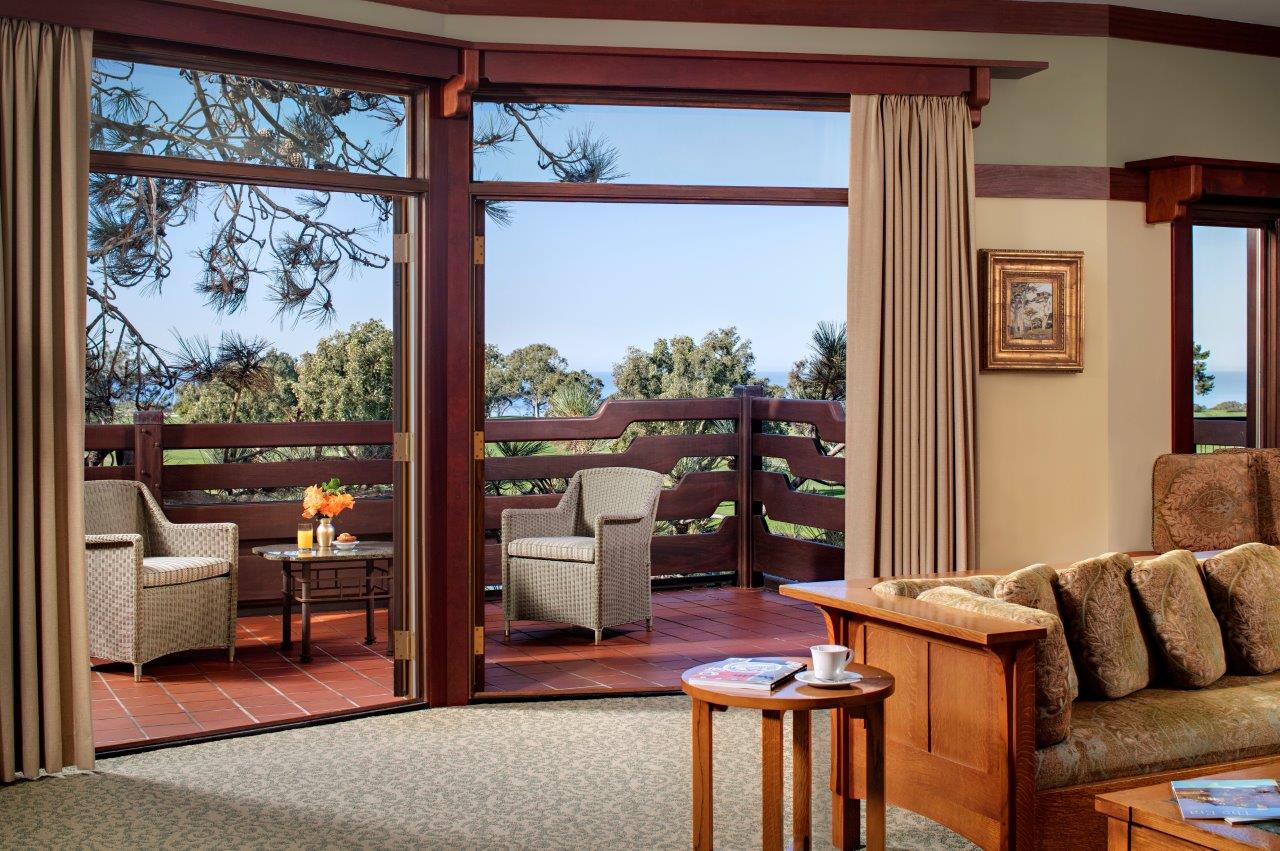 …and the Gamble Suite (again two large rooms, living area and kitchen); and the romantic Thorsen Suite with not only has a gas fireplace indoors, but also a fireplace in the bathroom and on the terrace!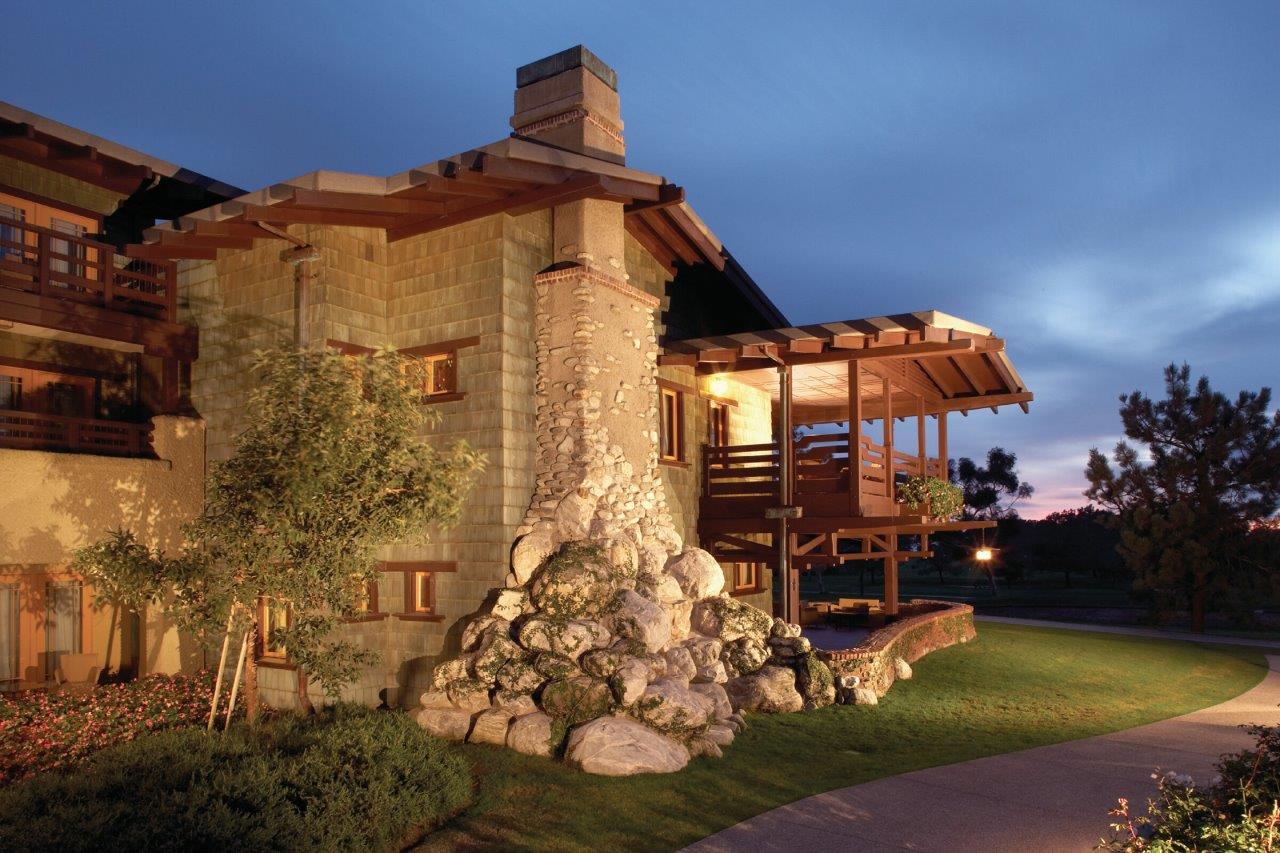 Dining
There are a number of options at the resort. There's a poolside snacks and drinks service; and two restaurants – The Grill; and the fine-dining Restaurant A.R. Valentien.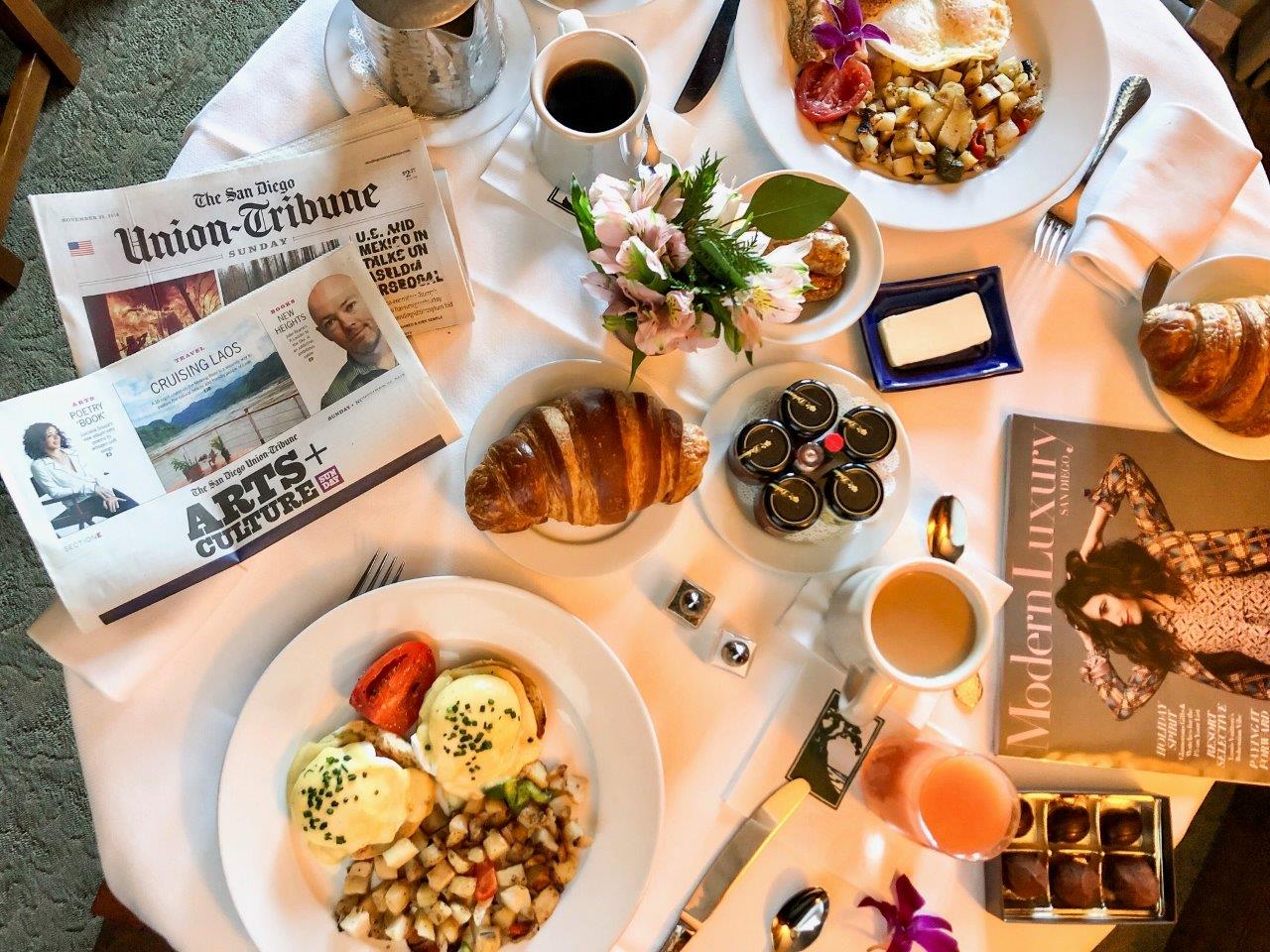 In addition there is a comprehensive, gourmet room-service menu; I can recommend the breakfast. I real luxury to enjoy the first meal of the day in the suite!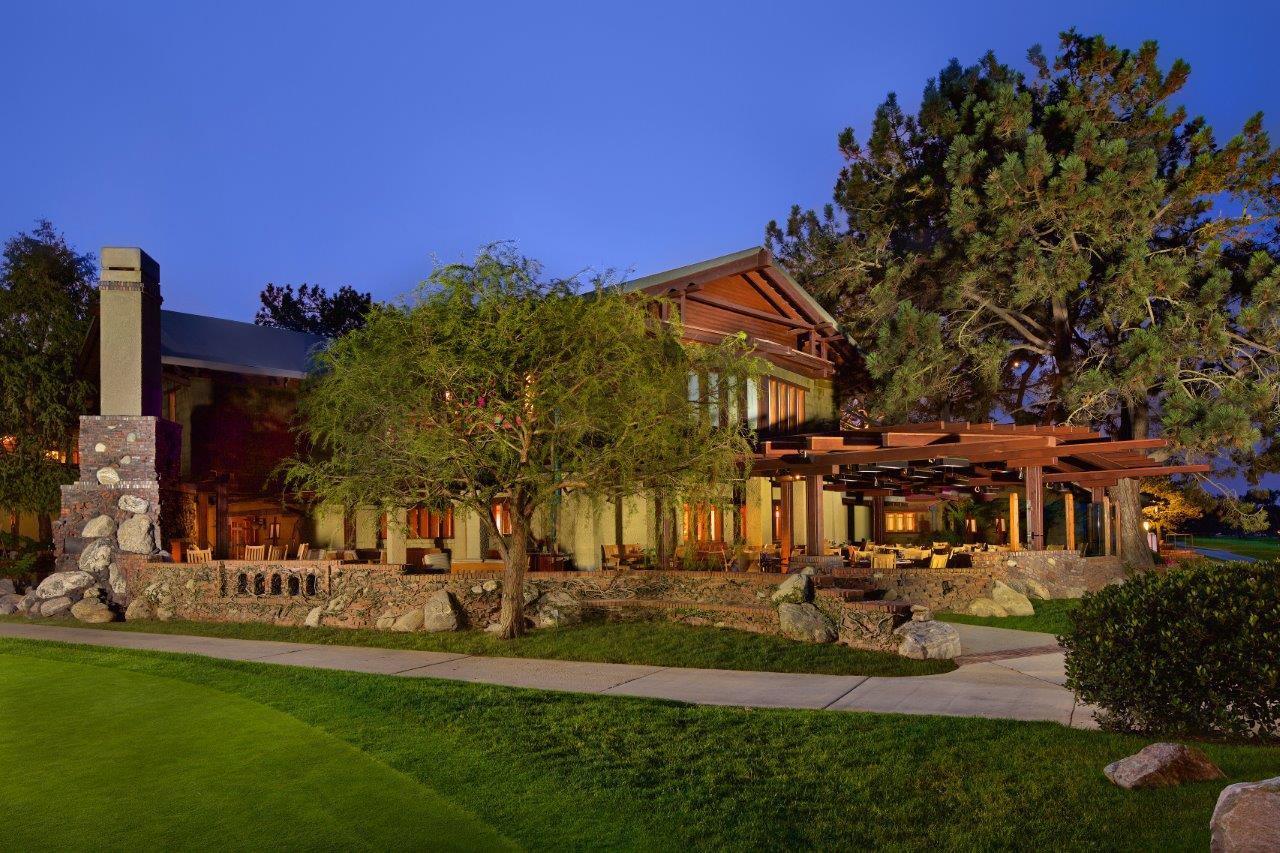 The Grill
The Grill at Torrey Pines is all about informal dining, open for breakfast, lunch and dinner with a menu of soups, salads, wood-grilled beef, hot smoked salmon, rotisserie chicken and more.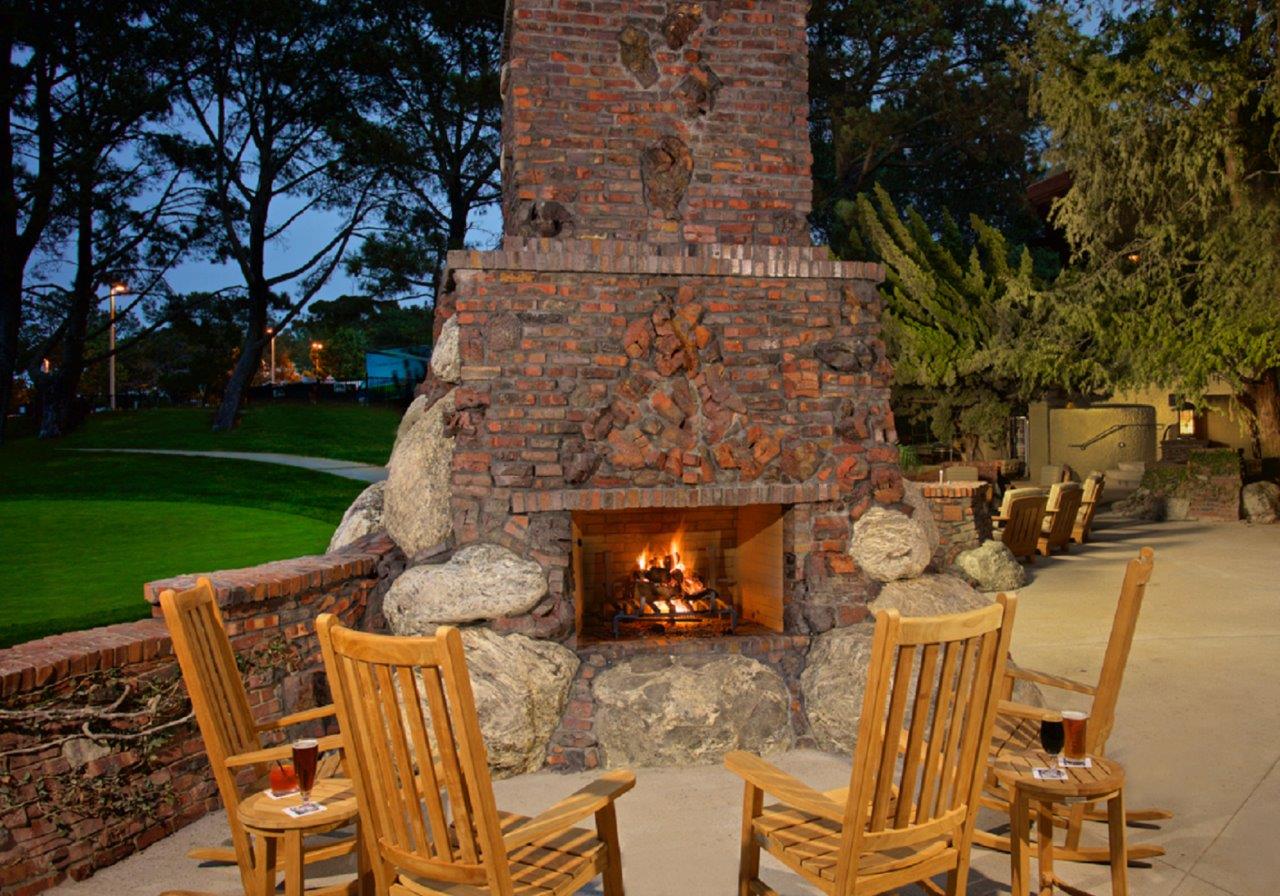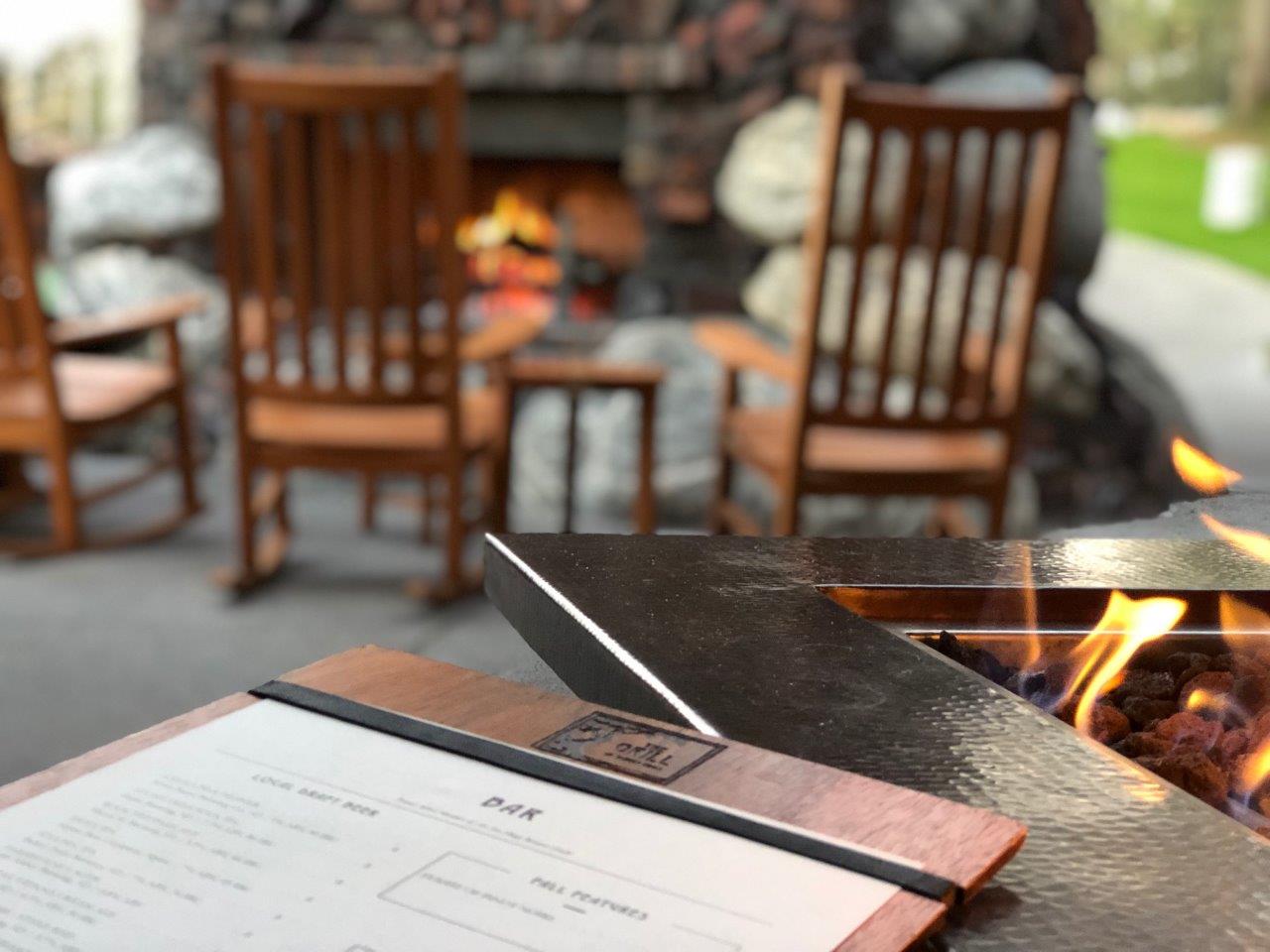 I particularly loved the outdoors terrace and patio, with firepits and a rustic open fire, and a menu or wines and craft beers.
A.R. Valentien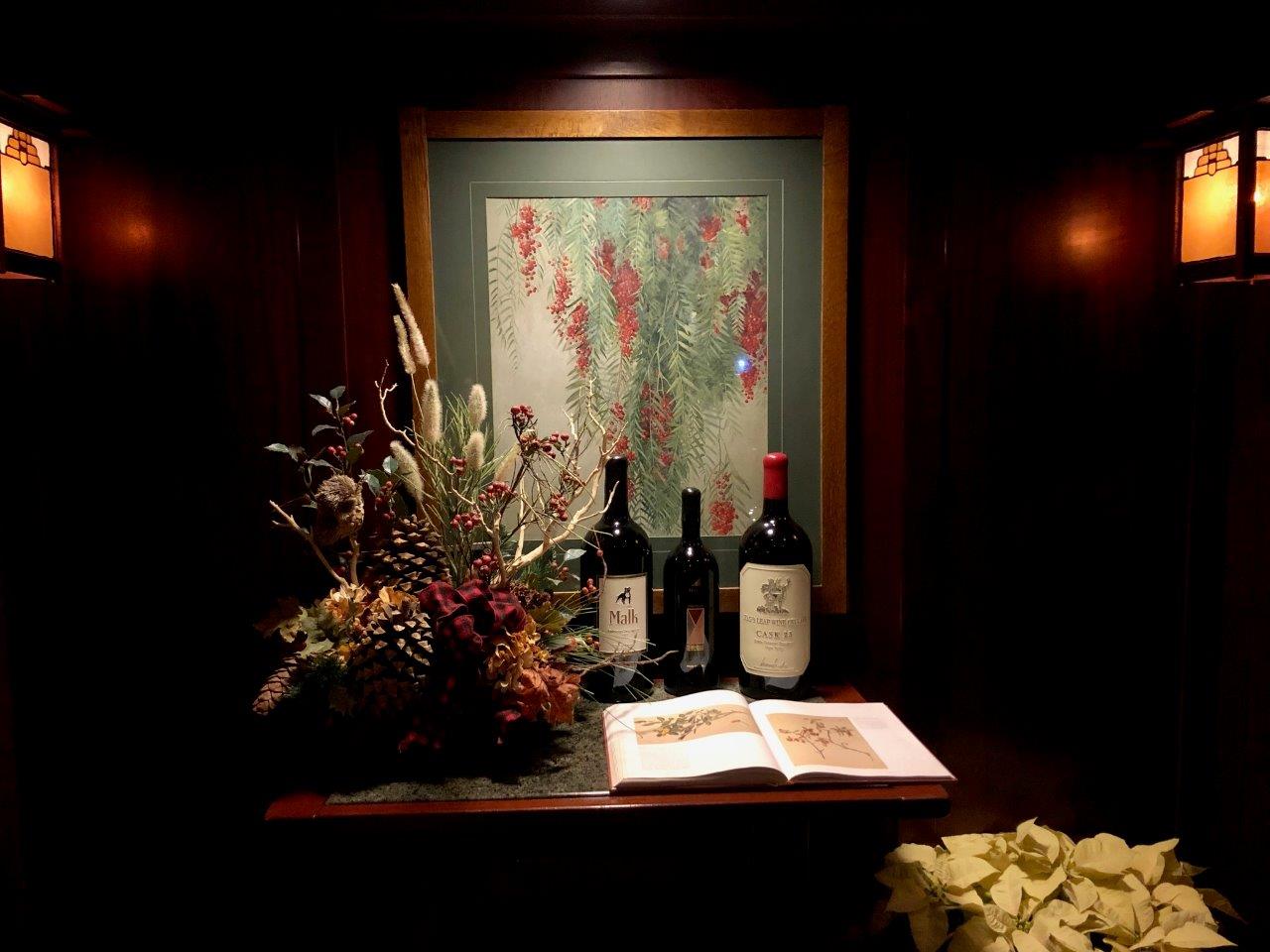 Dining at the Restaurant A.R. Valentien was a highlight for us.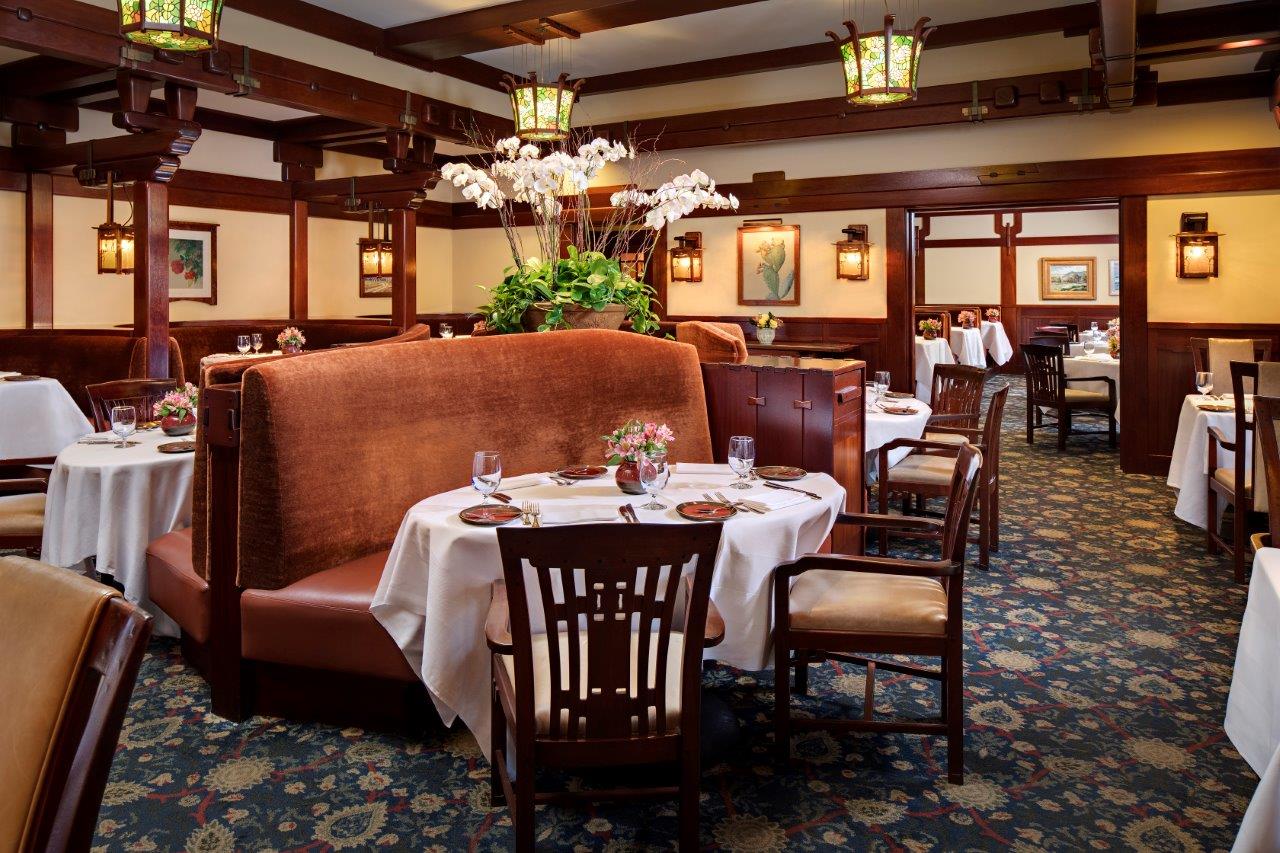 The elegant restaurant decorated with chandelier lamps and tables set with white lines also opens out onto the pool view terrace.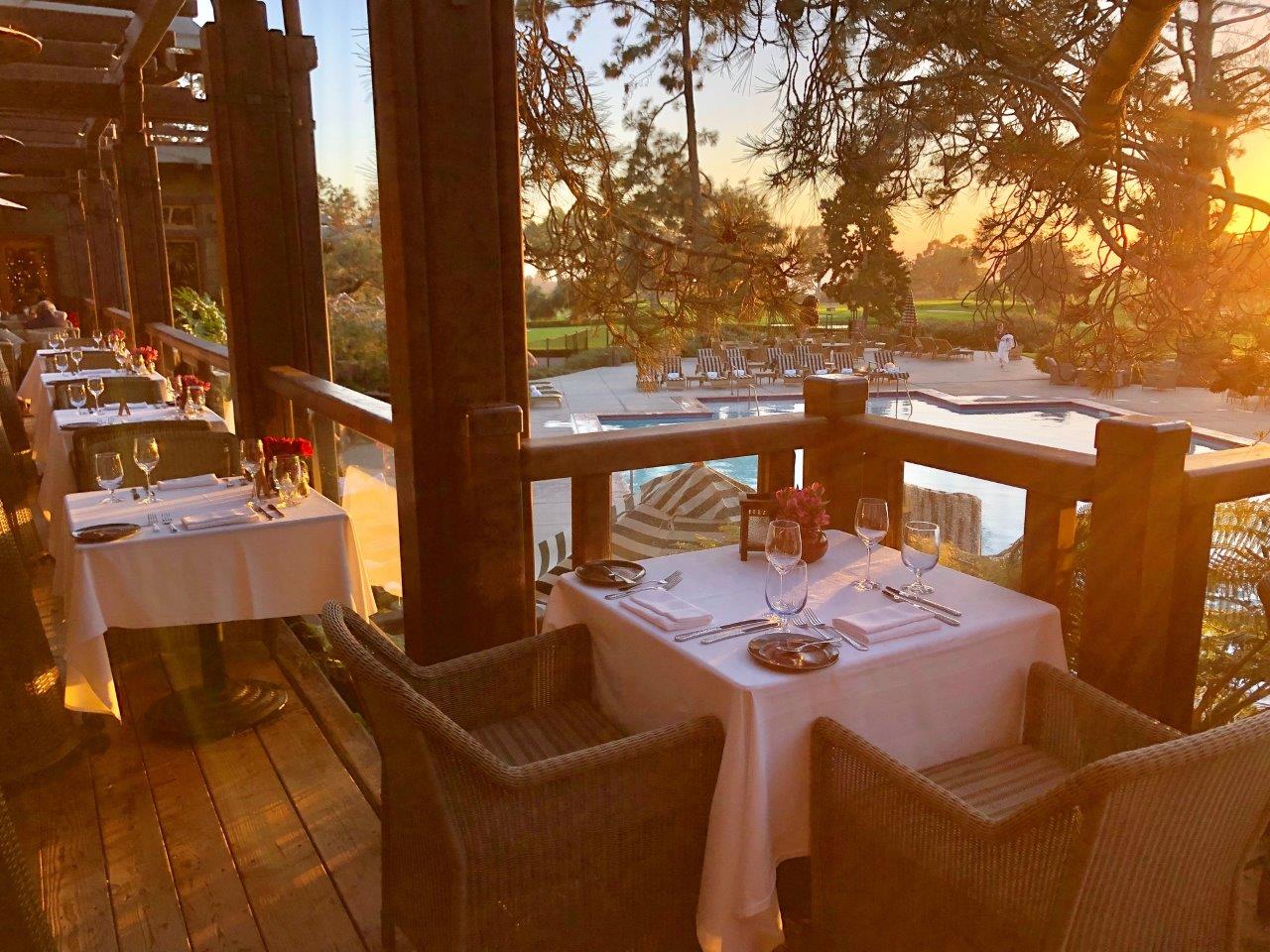 This is where we chose to eat and it was a perfect setting, enjoying a cocktail as the sun went down.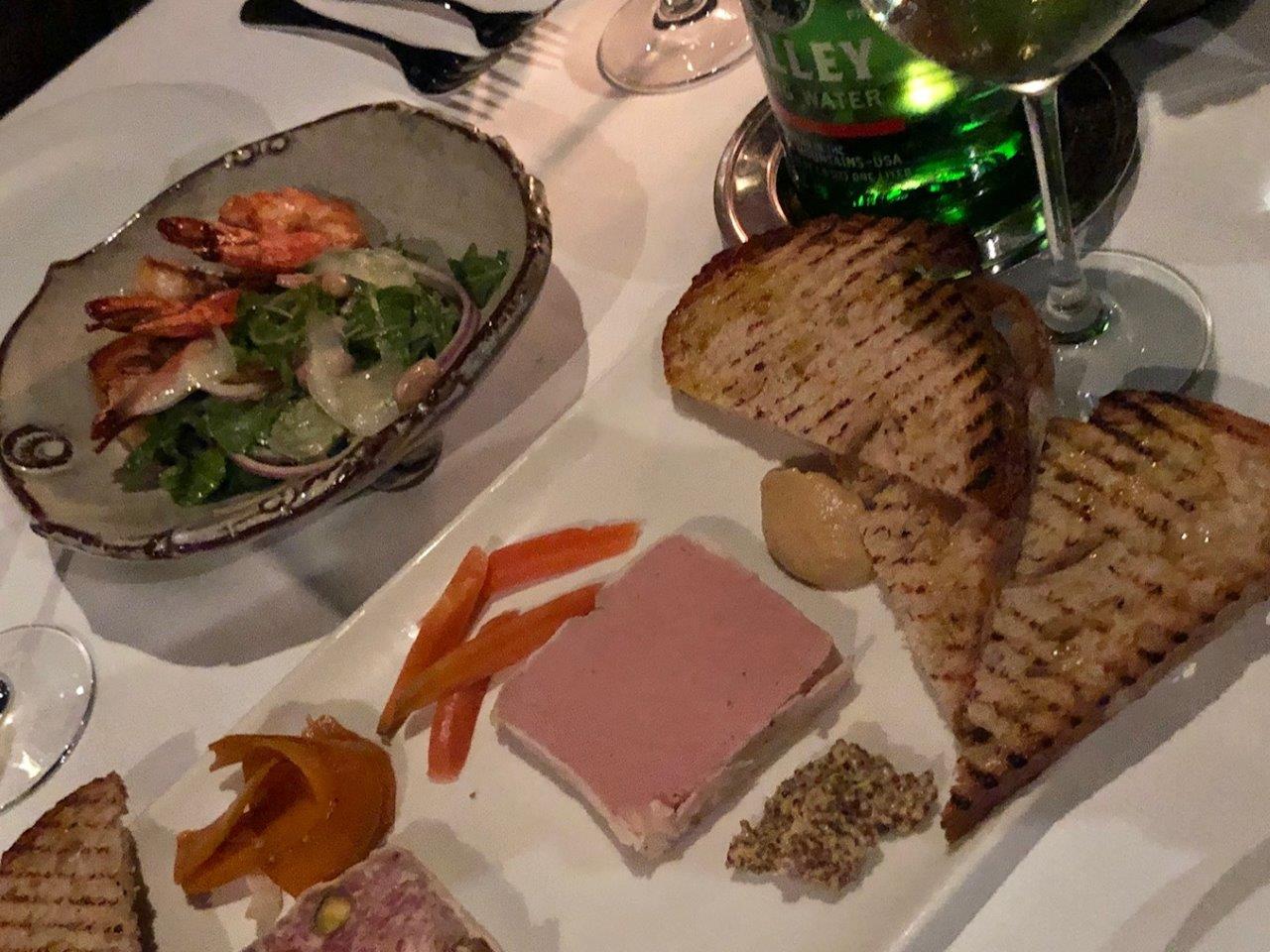 The menu has some French influences, and they pride themselves on their chicken liver pâté, and their duck with pistachio pâté, so that was a must. I also ordered the marinated shrimp, which were bold and juicy.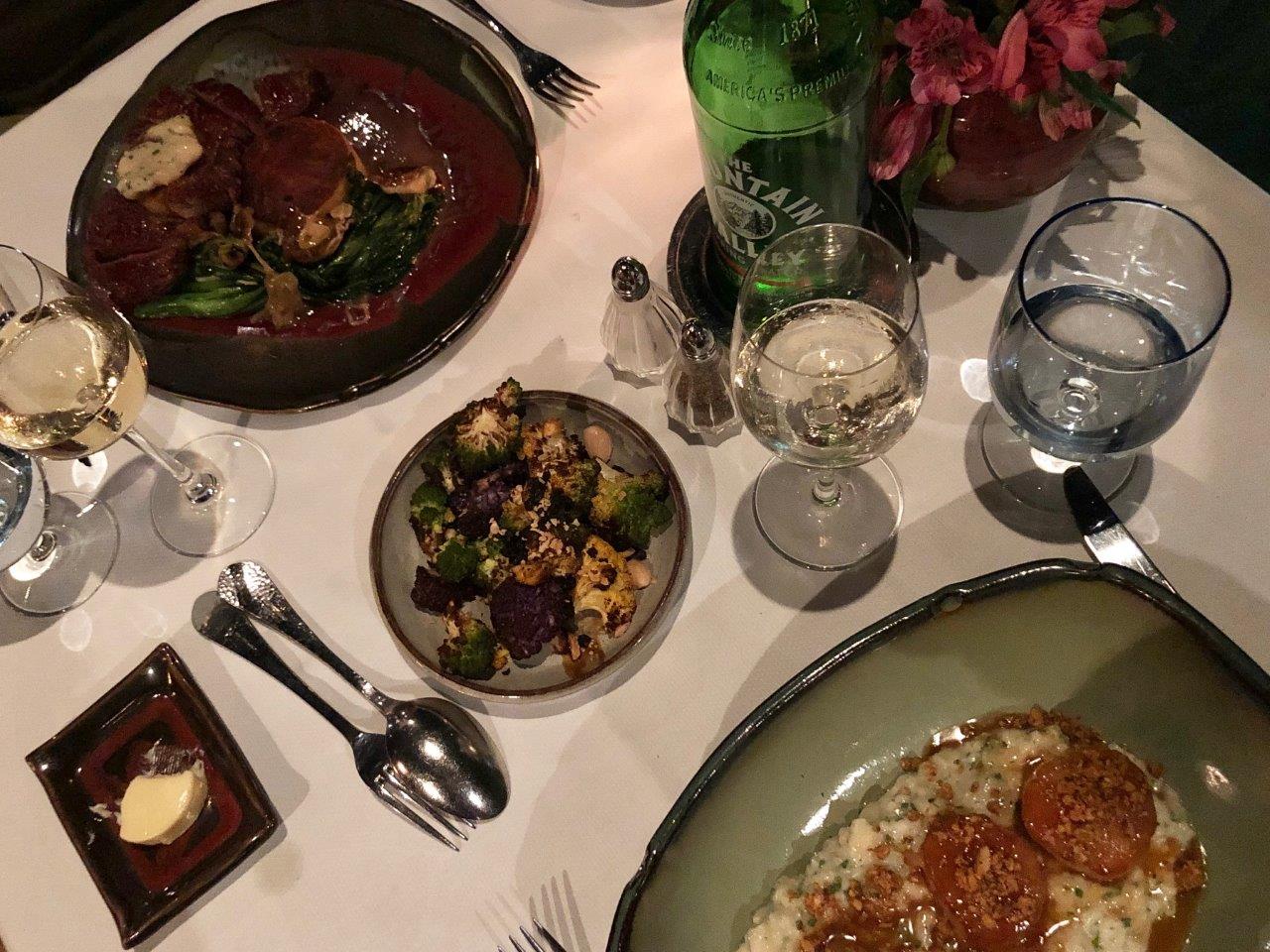 For our main course I was happy to have had the caramelised diver scallops, carefully harvested by hand and delivered to the restaurant the same day. They were exceptional, served with a celery root and mascarpone risotto – yes it tasted as good as it sounds!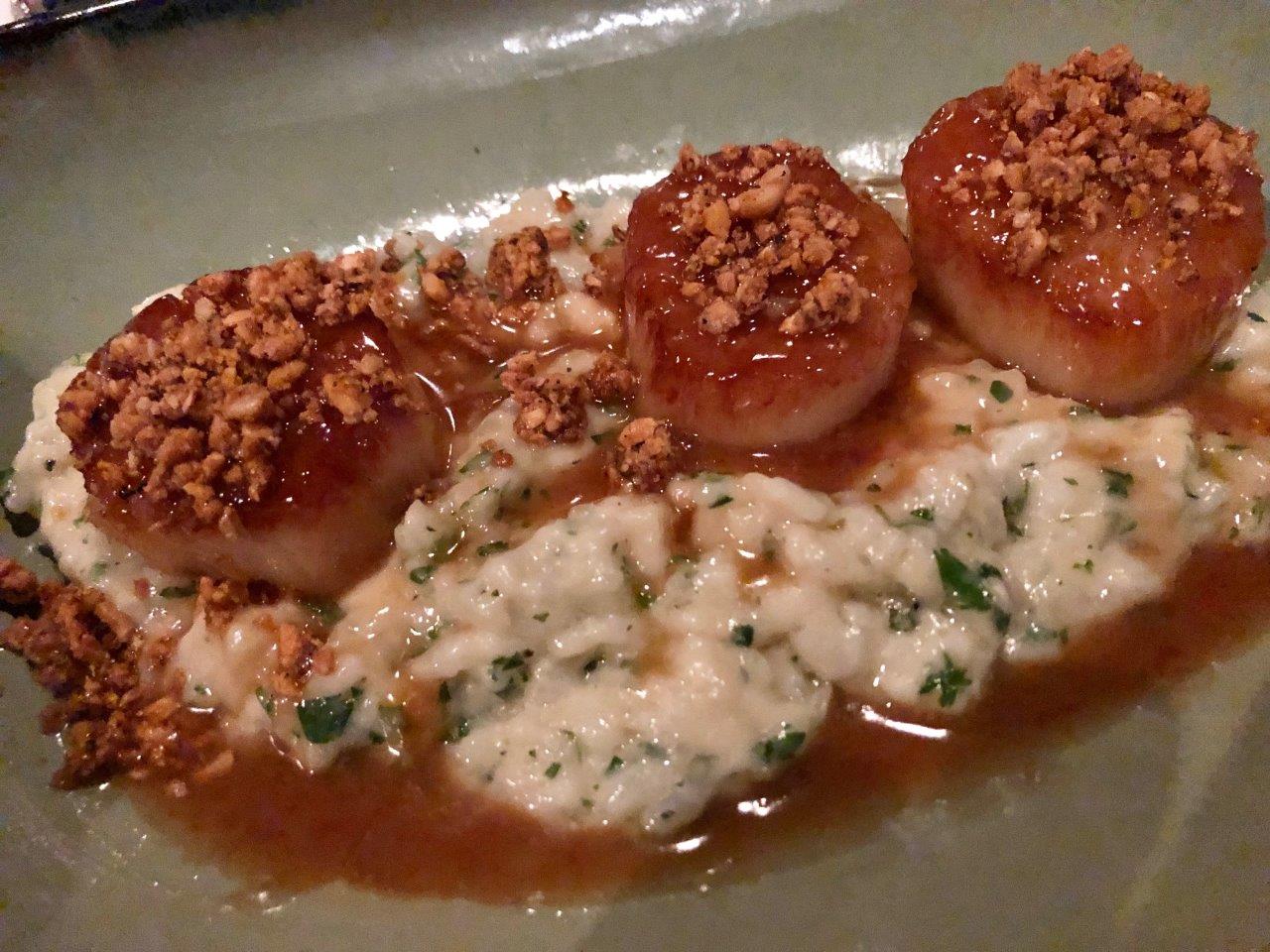 My dining partner ordered the 28-day dry aged prime rib which is another speciality.
Our server was superb. As a guest at The Lodge at Torrey Pines, you will see that the team really has a great attitude, are very professional and importantly knowledgeable about their work, the property and the area.
In addition, we got to try some splendid European and American wines by the glass, thanks to the insightful advice of Restaurant Service Manager Paul Krikorian.
Spa
I didn't get the chance to experience the spa; but it's certainly a beautiful space. Treatments take inspiration from the nature and flora of the nearby Torrey Pines State Natural Reserve.
Swimming
Outside, the hotel has an outdoor pool (with underwater music!), with sun loungers and places to sit and relax.
Destination La Jolla, San Diego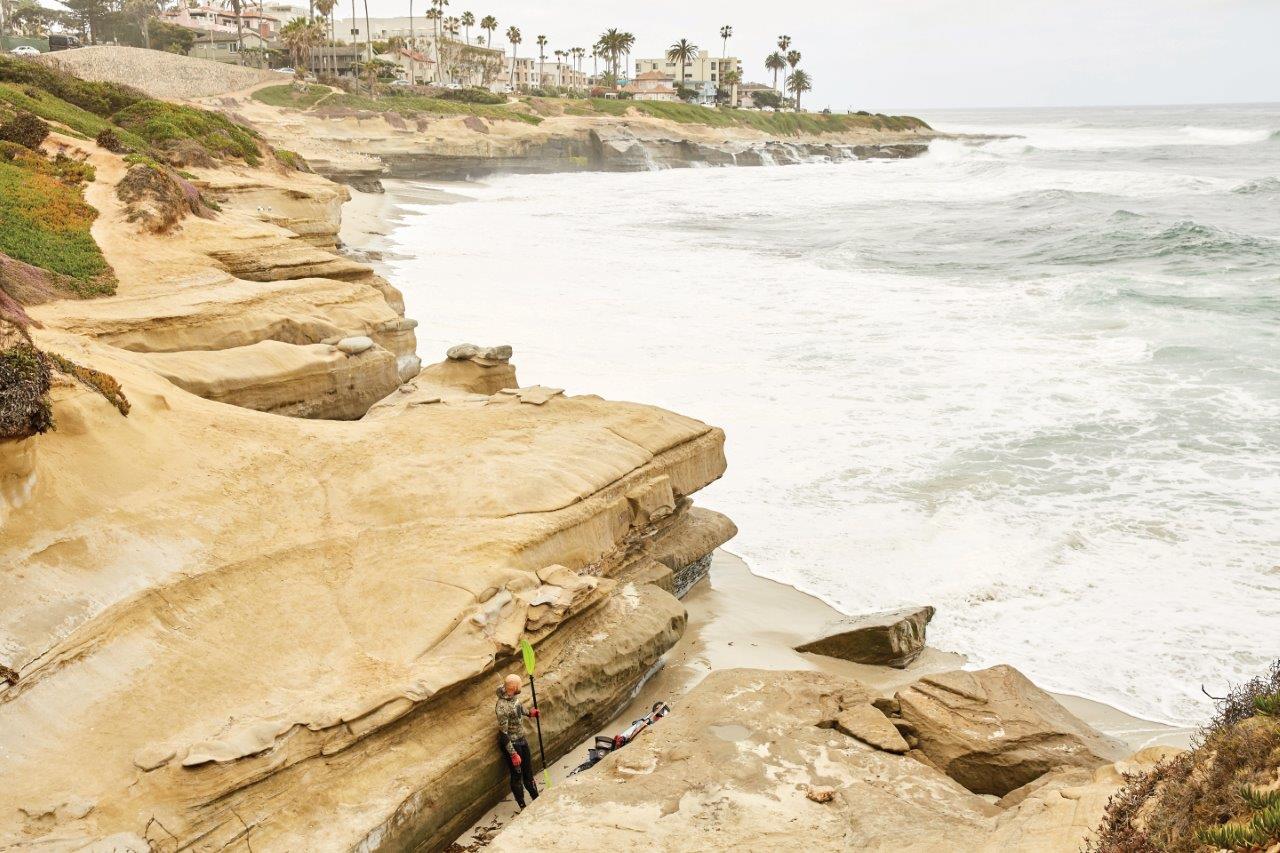 Hiking
Torrey Pines State Natural Reserve is one of California's wildest stretches of coast, where rare, protected Torrey pines grow upon strikingly eroded land falling down to the Pacific. This wondrous natural area is within walking distance of the resort and offers spectacular hiking routes.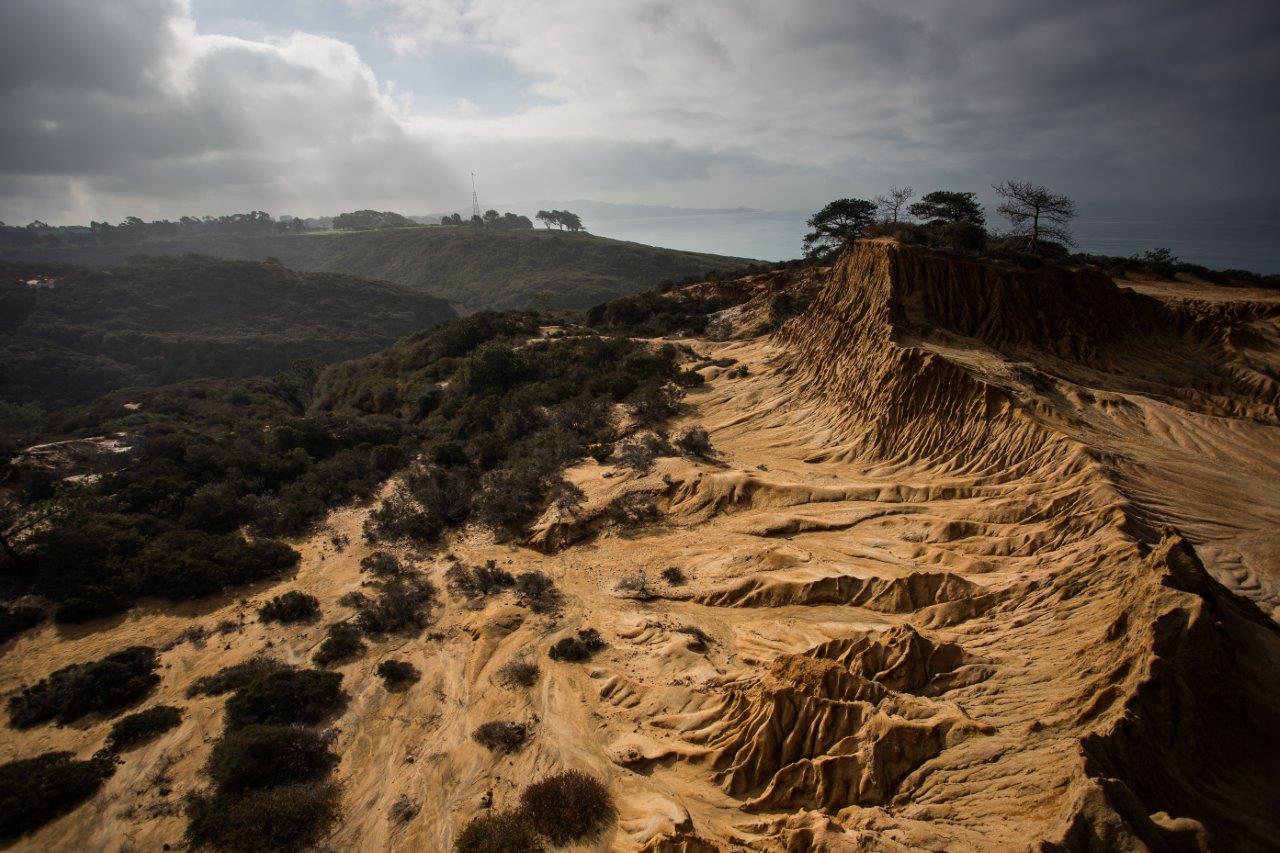 Golf
The Lodge a Torrey Pines is perfect for those looking to enjoy world-class gold facilities too, with the course right of the property's doorstep.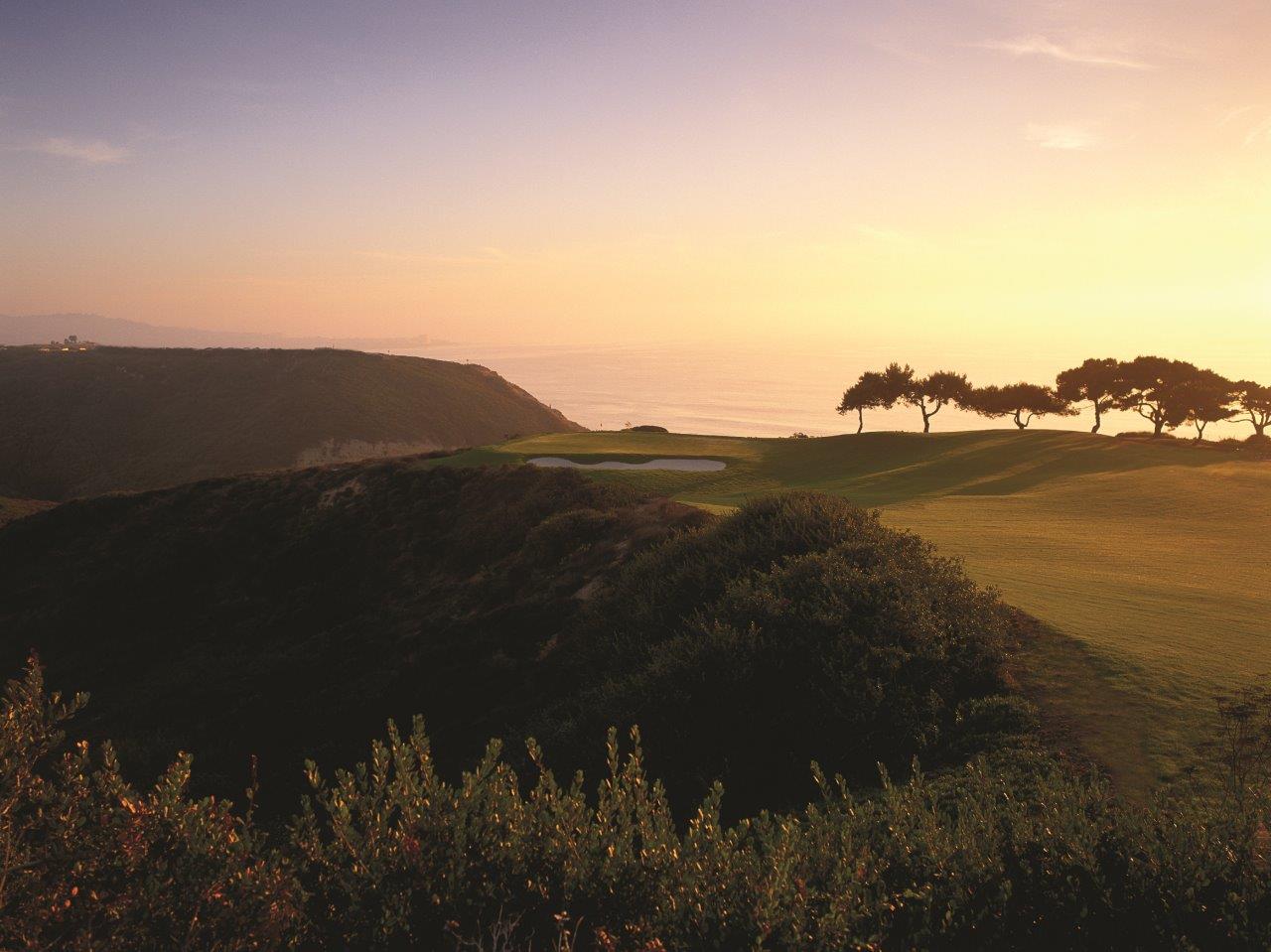 Beach
The resort offers a transfer service to La Jolla Shores, a family-friendly beach. The Lodge at Torrey Pines even provides folding chairs and towels for guests too!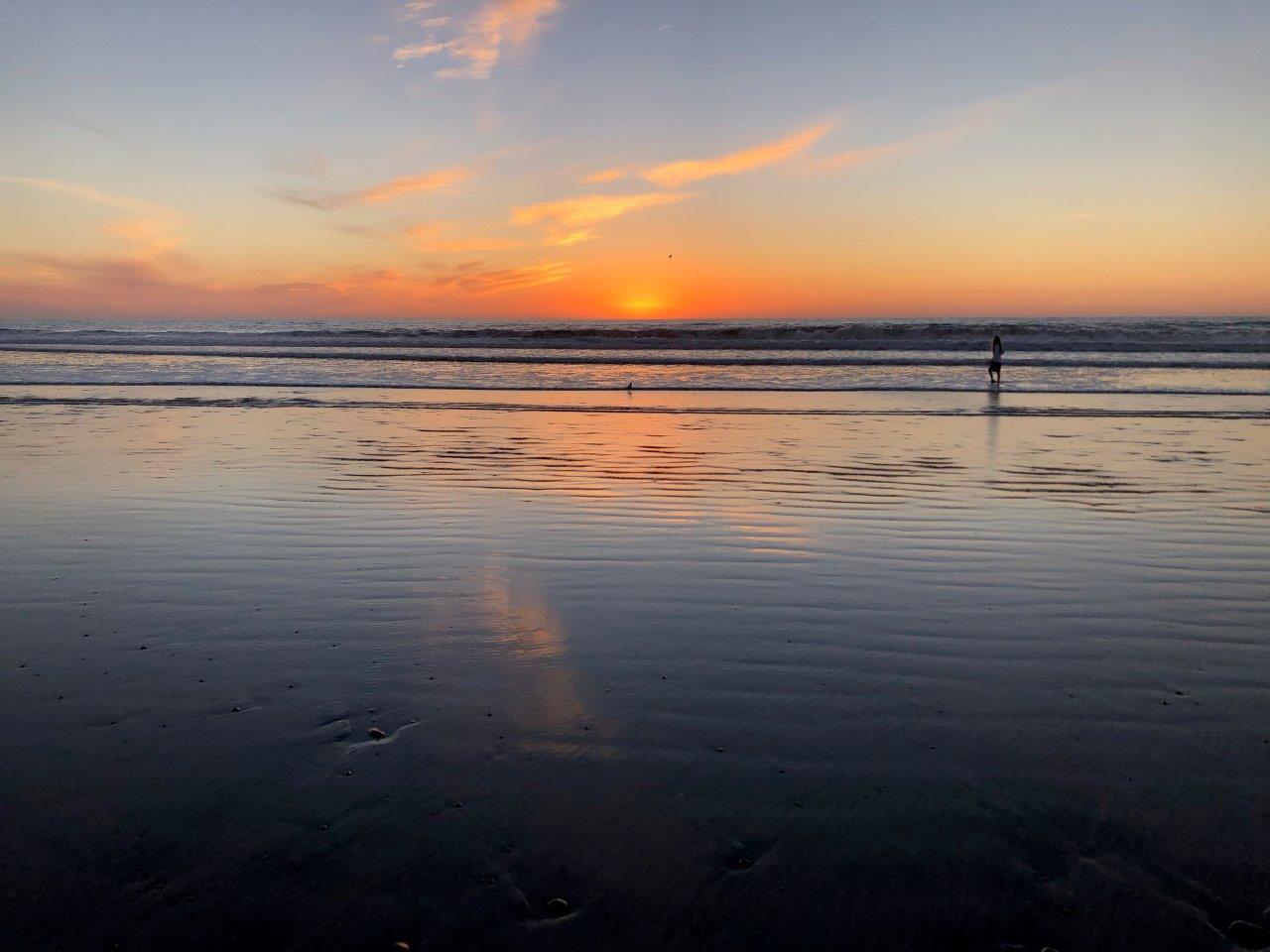 Shopping
La Jolla has some lovely independent boutiques, and also for bigger brands, there is a mall, called The Shops at La Jolla Village.
Culture
La Jolla boasts a Museum of Contemporary Art (MOCA); as well as a playhouse where you can probably take in a fun musical.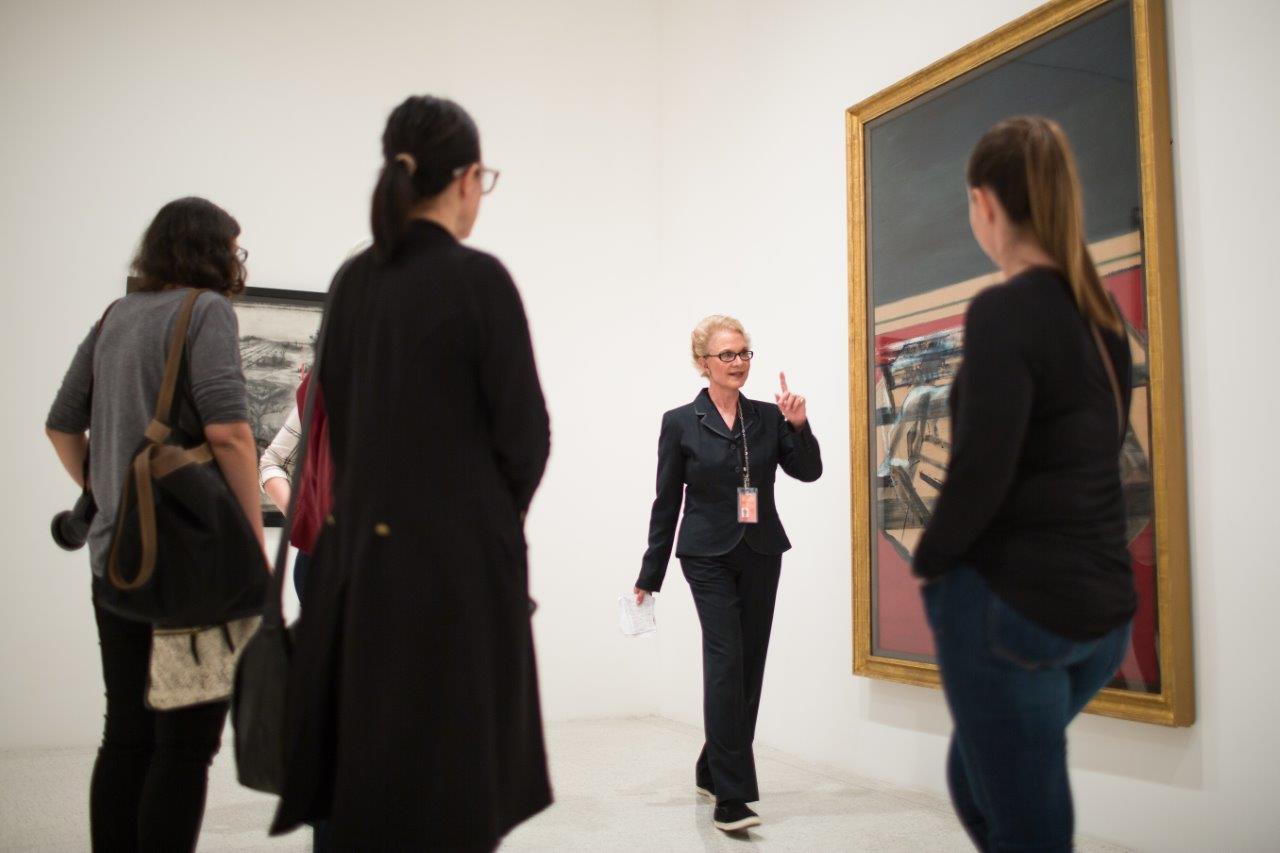 La Jolla is a pleasure to visit and The Lodge at Torrey Pines is quite unique. It's architecture, style and location really set it apart. Yet at the end of the day, it was the excellent service and friendly team that was the lasting memory.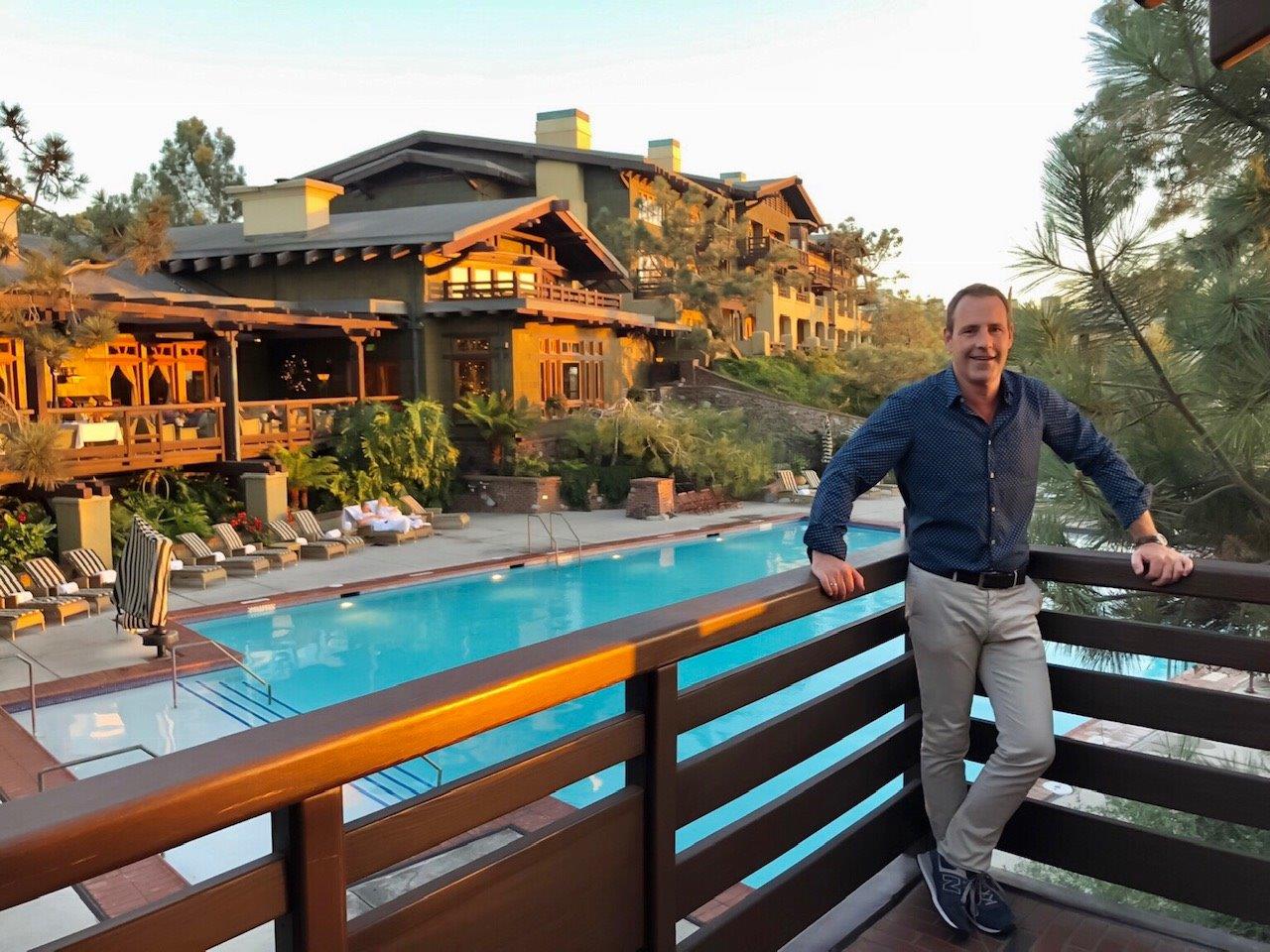 Information
San Diego also offers world-class attractions, retail and culture. Visit the City of San Diego web site for more information.
For California travel inspiration check-out the Visit California website.
The Lodge at Torrey Pines Road
Address: 11480 N Torrey Pines Rd, La Jolla, CA 92037, USA
T: +1 (858) 453-4420
Web: https://www.lodgetorreypines.com
Hertz Car Hire
I stayed at The Lodege at Torrey Pines during my road-trip along California's scenic Pacific Coast Highway, with a hire car booked directly with Hertz UK.
I joined Hertz UK's free 'Gold Plus Rewards' service that offered reward points, as well as fast pick-up and returns – superb service. For inspiration on other US road-trips visit the Hertz Road-Trip Planner Online, where you will also find downloadable maps and additional insider guides.
I was a guest of The Lodge at Torrey Pines – hosting through the UK office of  Visit California. My opinions remain my own.