With its brilliant, sparkling sunshine; beautifully rugged coast; postcard-perfect sandy beaches; and a cuisine that has retained it provenance and quality, its little wonder that Portugal's southern Atlantic coast is such a popular holiday destination.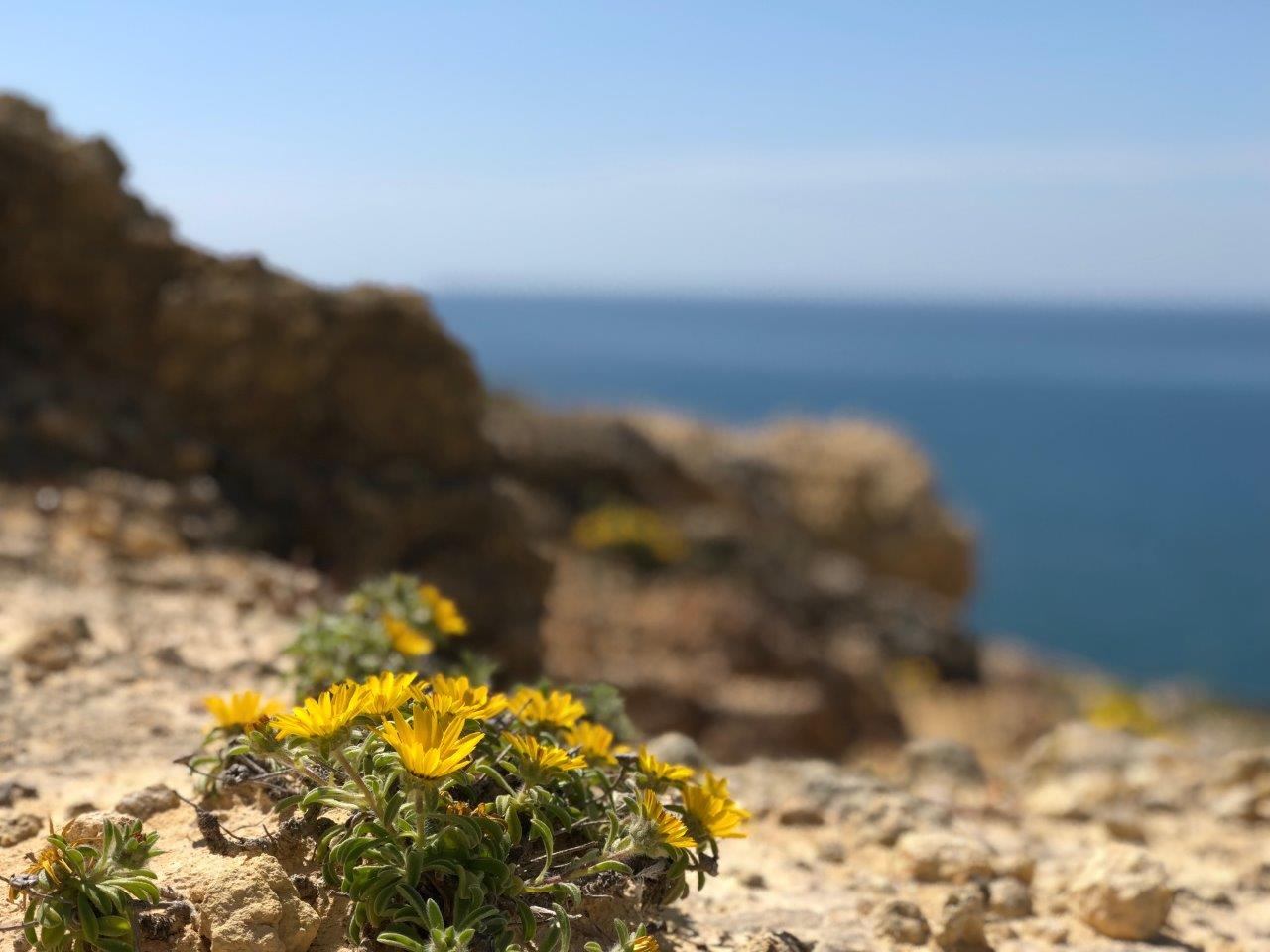 Quality in Algarve hospitality continues to shift up a gear, and for discerning couples and families there's a new 5-star resort that's attracting a new generation of travellers to these shores, the Tivoli Carvoeiro Algarve Resort, writes Andrew Forbes.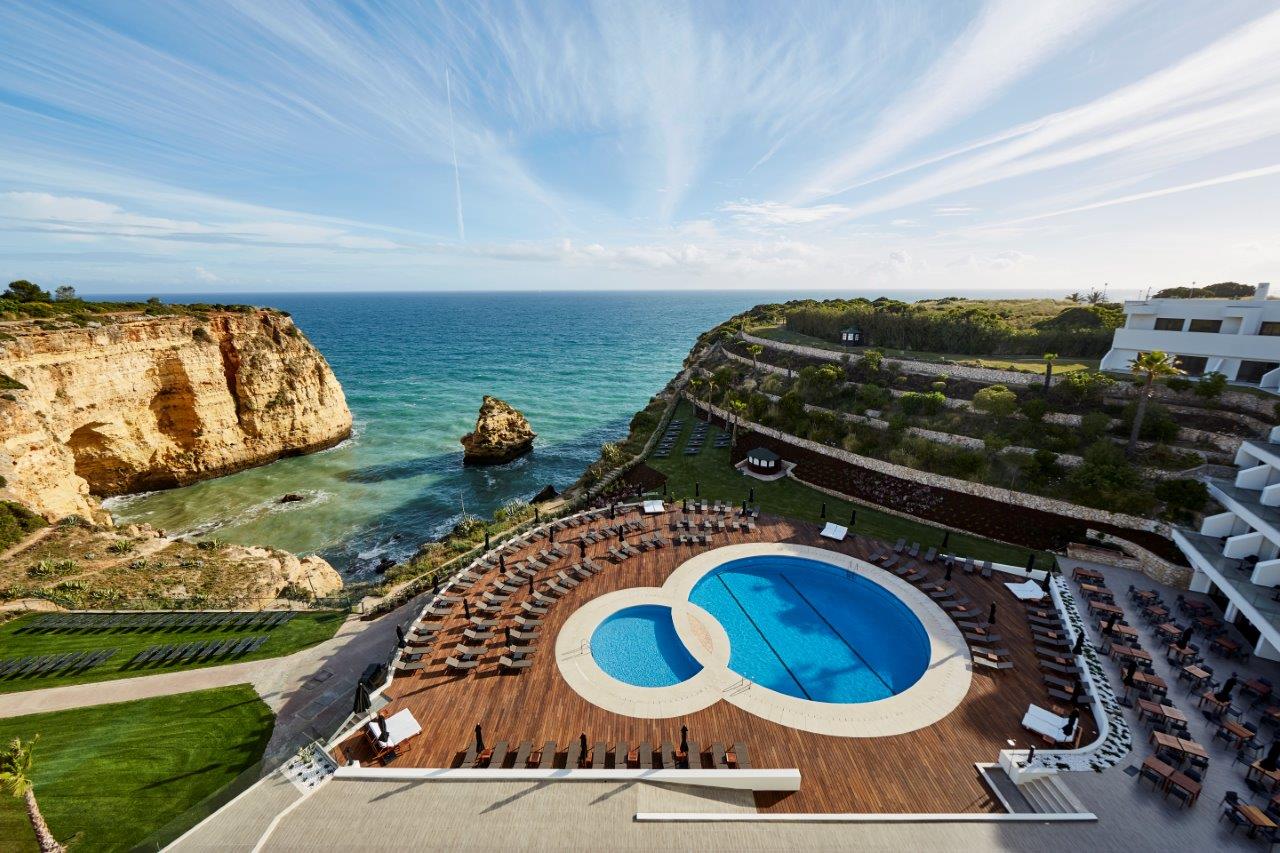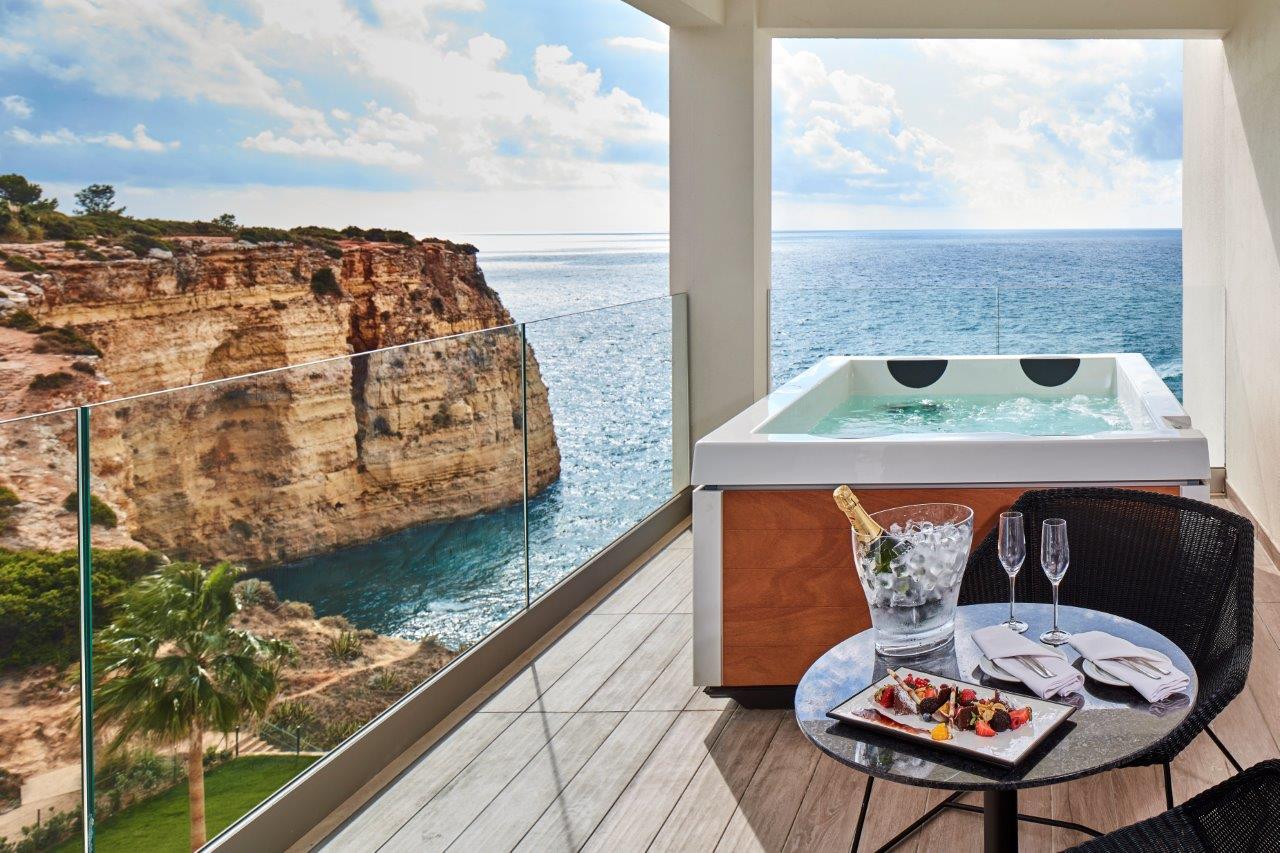 This upscale family-friendly resort has been totally reimagined for 2018,  with a sparkling new signature Tivoli Spa; a cool Sky Bar with views out across the coast and the Atlantic; family and adult pools; an indoor pool and kids club; 248 new guest rooms, including stunning Junior Suites and Deluxe Sea View rooms, perfect for couples looking for a high quality experience; and large interconnecting family rooms with sofa-beds for added flexibility for multi-generational holidays.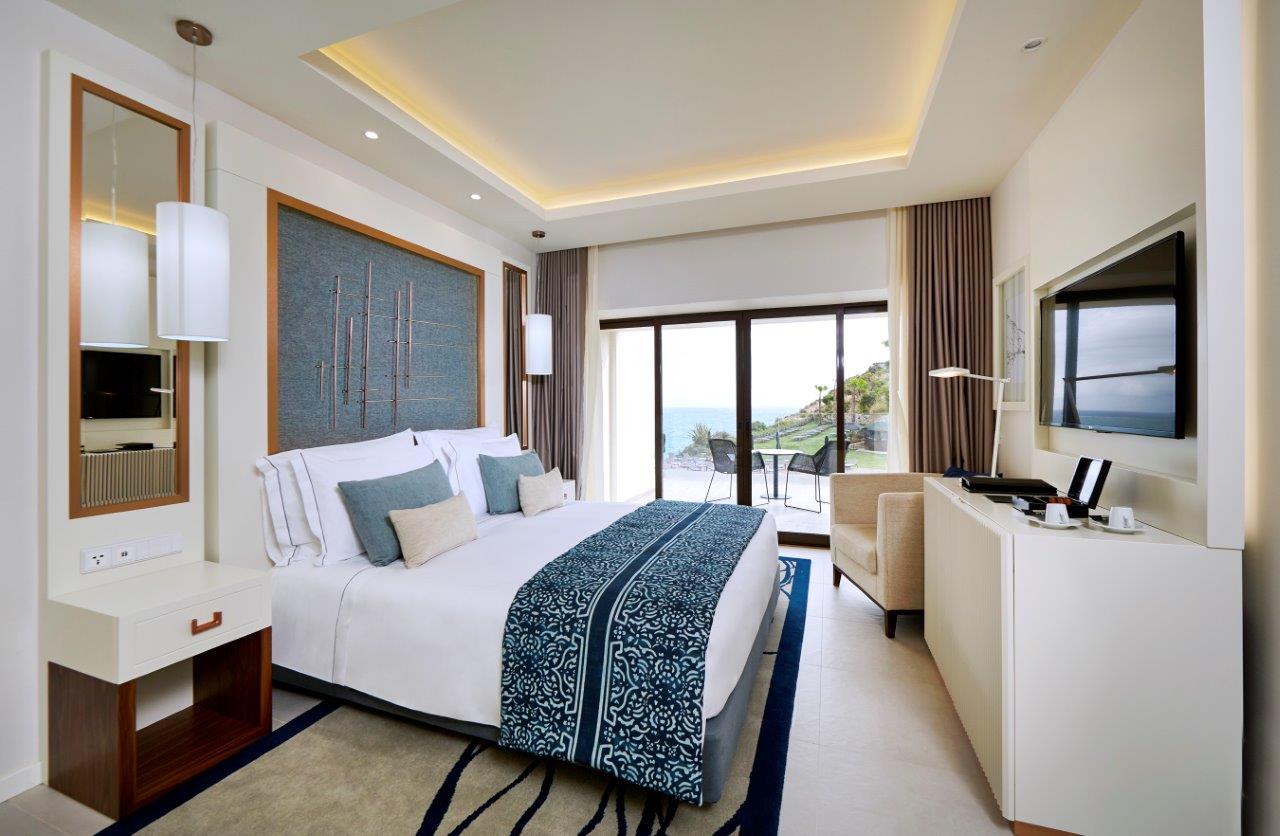 The food and beverage have been completely realigned with a diverse choice of bars and restaurants, with a distinct focus on local produce and Algarve wines.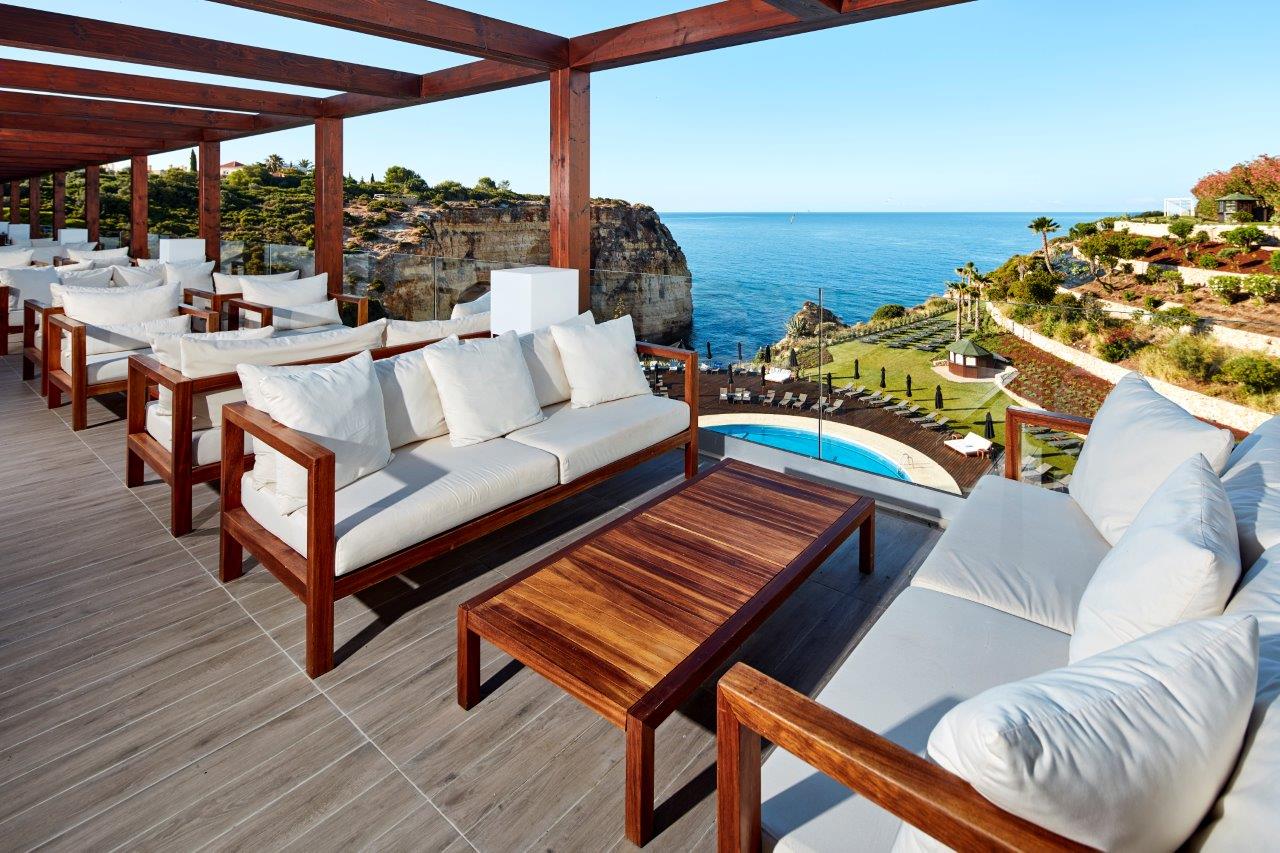 The Algarve is a personal favourite, but this was the first time I have stayed in a large, family resort – and I was very impressed! Tivoli have done a superb job upgrading this property, keeping its family-friendly, relaxed Portuguese style, but bringing the facilities and service offerings up to genuine 5-star levels.
Portuguese Hospitality
This established resort, secluded within the cliffs of the stunning golden sandstone Vale Covo, with frontline views out across the Atlantic Ocean, has been welcoming guests for decades. Yet this year, the property offers genuine 5-star services and facilities following a complete renovation transforming it into an upscale resort for couples and families.
Tivoli Hotels & Resorts are a well-known hotel group in Portugal and Brazil. Following an acquisition of part of their portfolio by Minor Hotels (owners of Anantara Hotels), there has been a significant investment in some strategic Tivoli properties including the Tivoli Carvoeiro Algarve Resort – and the results are superb.
Coastal Location
Carvoeiro is a charming coastal resort town that has retained its Portuguese identity. It's less than an hour's drive west of Faro International Airport, right at the heart of the Algarve, on a stretch of beautiful coast. The resort is just a few minutes drive from the town, and is built within the cliffs.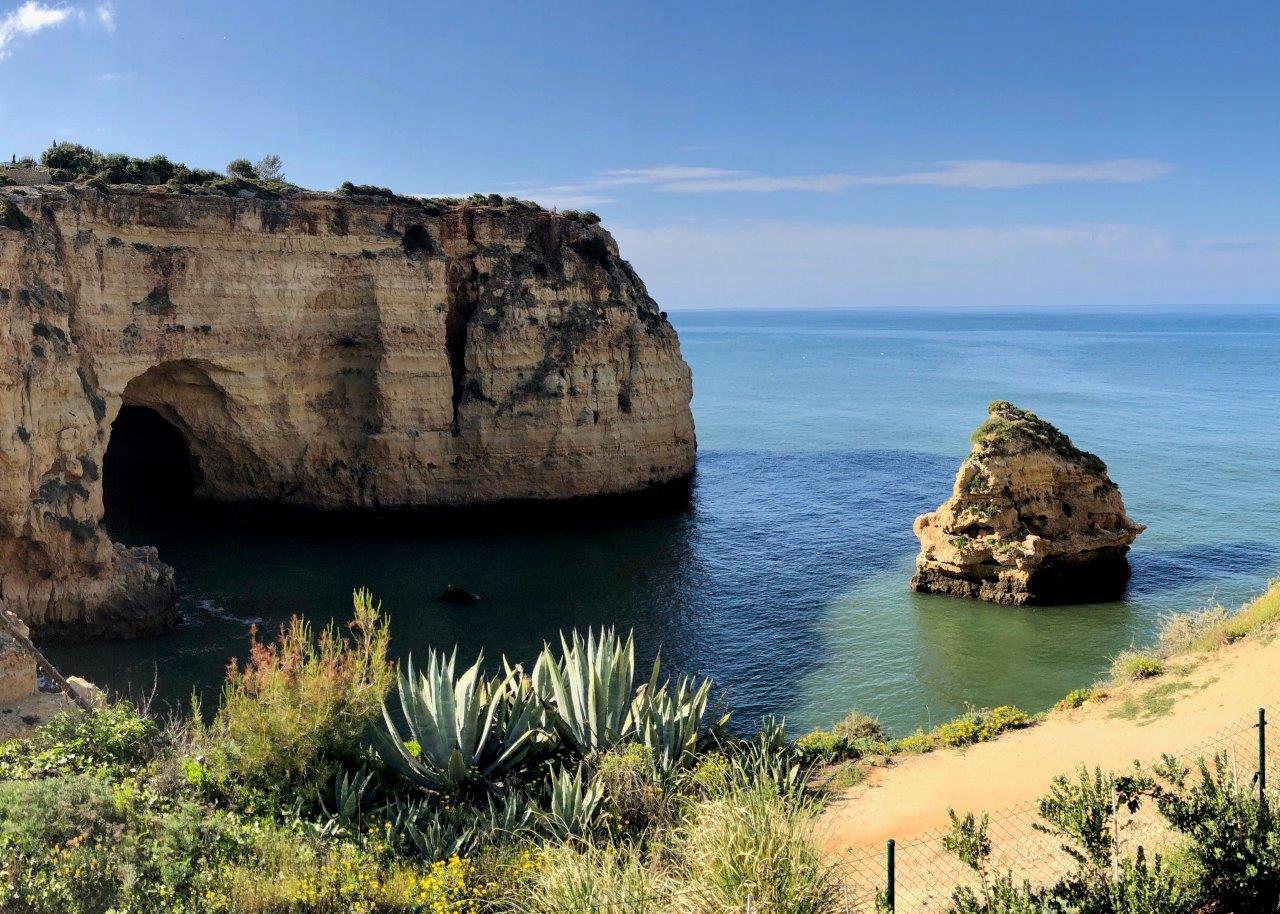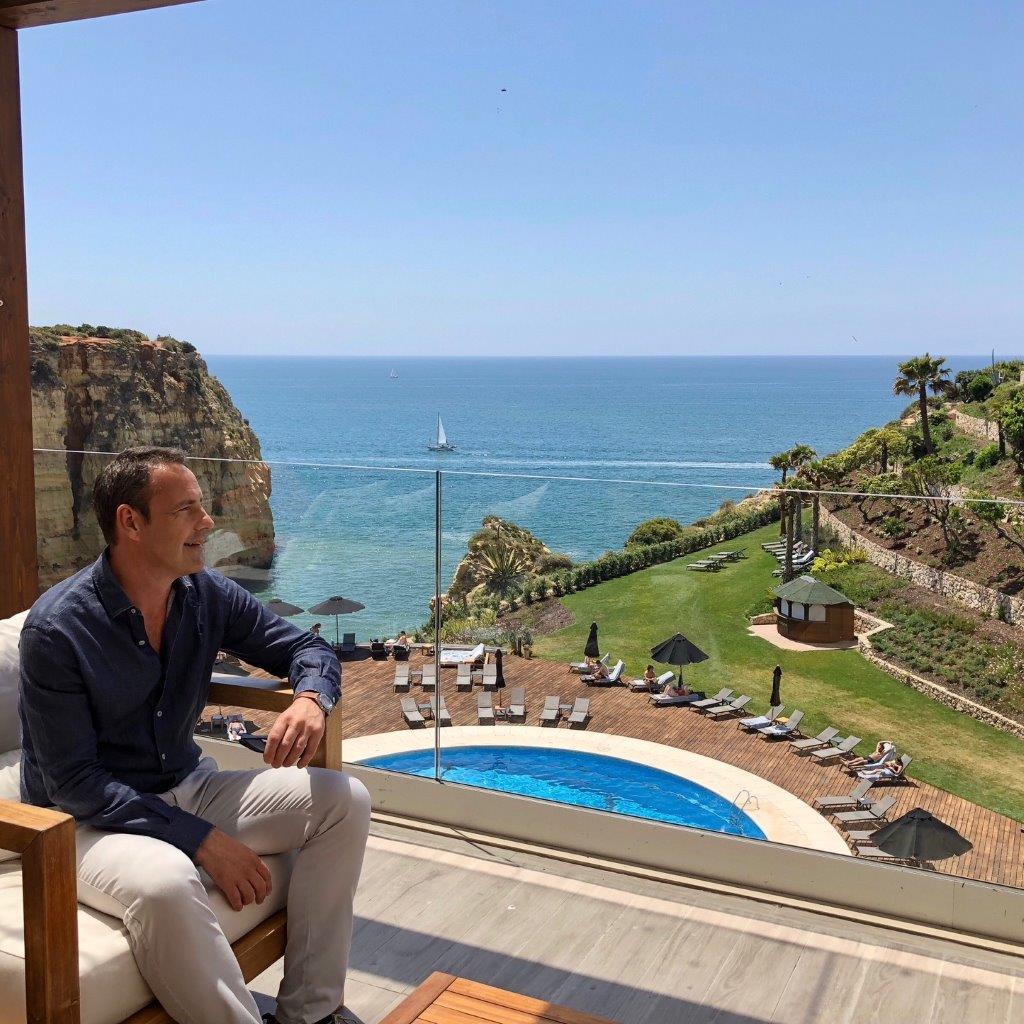 100% Algarve
Tivoli Carvoeiro Algarve Resort celebrates its provenance not only through the warmth of  the Algarve welcome by the team, and the thoughtful welcome and turn-down gifts in the room; but through the cuisine and wines offered in the restaurants and through local experiences such as walking tours along the coast – including a private hike to the Seven Hanging Valleys – the unusual coves along the coast.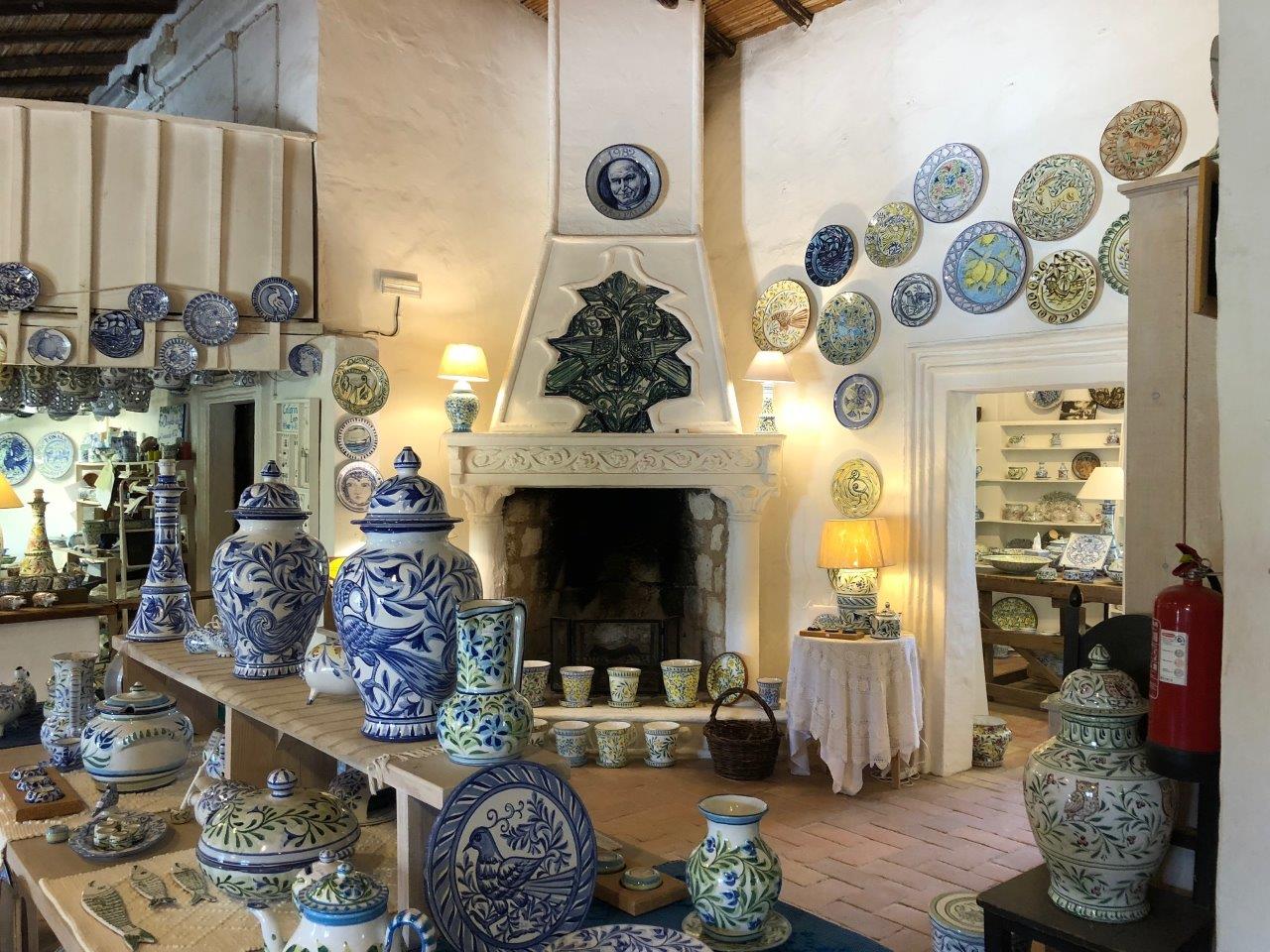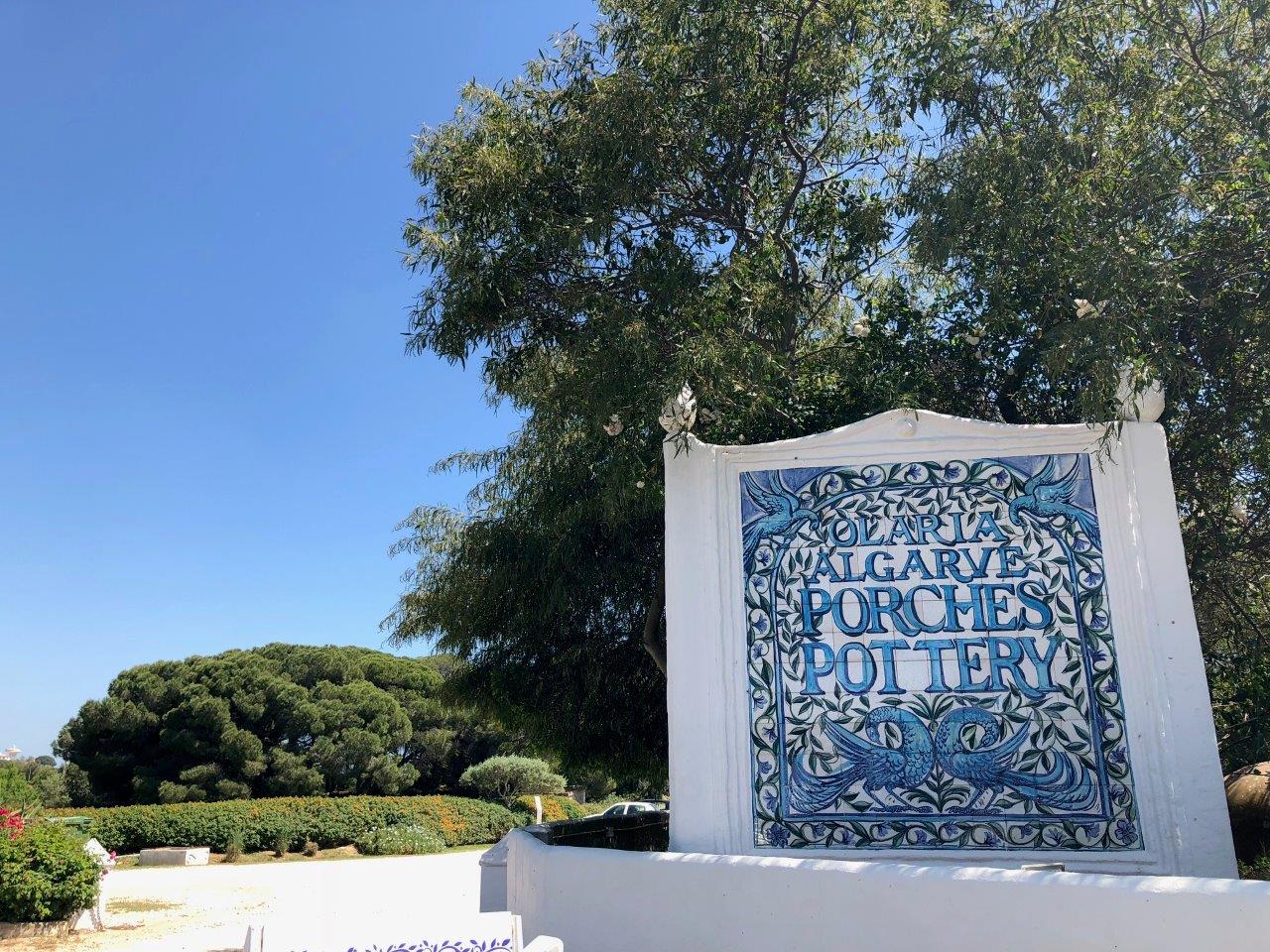 There are also plenty of nearby attractions to make days out times to build special memories. The nearby village of Porches is home to some of Portugal's most remarkable ceramics for example and is a must-visit.
Taste of Algarve
From breakfast through to dinner one doesn't need to leave the Tivoli Carvoeiro Algarve Resort to enjoy an authentic taste and flavour of the Algarve.
Mare Bistro is an all-day option for light bites overlooking the pool, whilst during the season the Turquoise Pool Bar keeps guests refreshed with fresh smoothies and iced drinks.
Azure Bar is a relaxing place to enjoy an aperitif as the sun begins to set over the horizon. This sets the scene for a memorable evening on the resort.
Med Food & Wine, with a sun-drenched terrace overlooking the resort pools and on out to the sandy cove and the Atlantic offers local wines and tasty dishes from local produce – a good choice for lunch.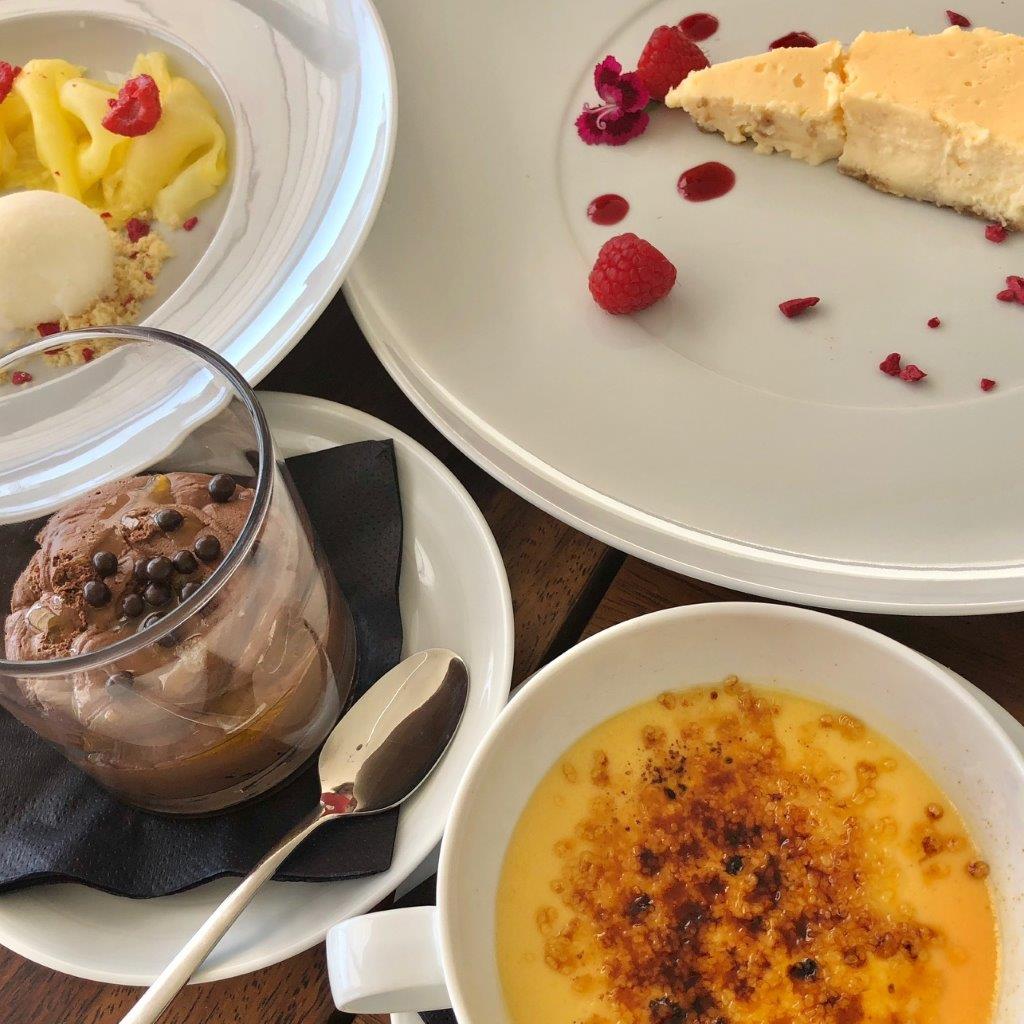 The One Wine Boutique offers an intimate chic setting to enjoy gourmet cuisine by Chef Bruno Rocha and be tempted by the excellent selection of Algarve wines. Wine Expert Gilberto Goncalves will help you taste the Algarve through a selection of wines by the glass. We started our evening with a dry sparkling rosé  'que 4', a perfect aperitif.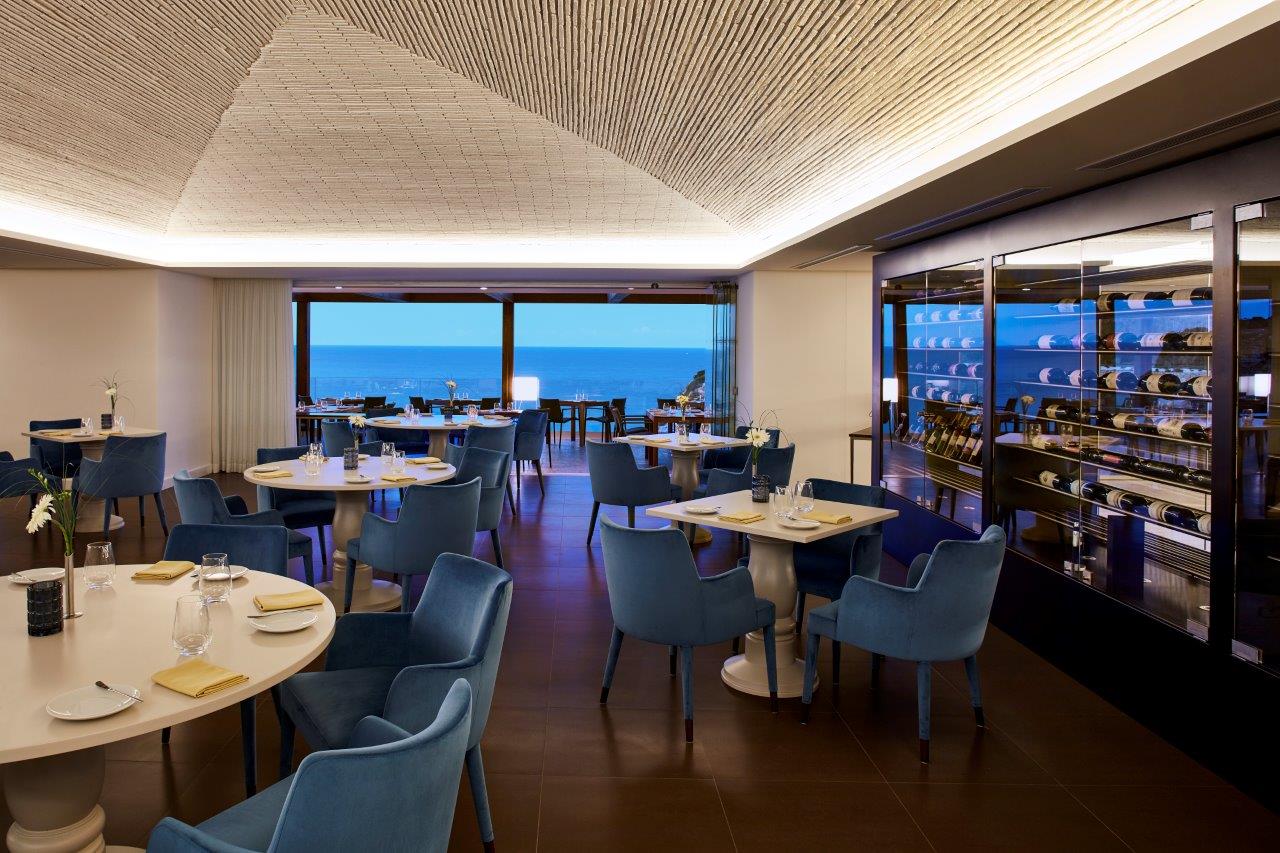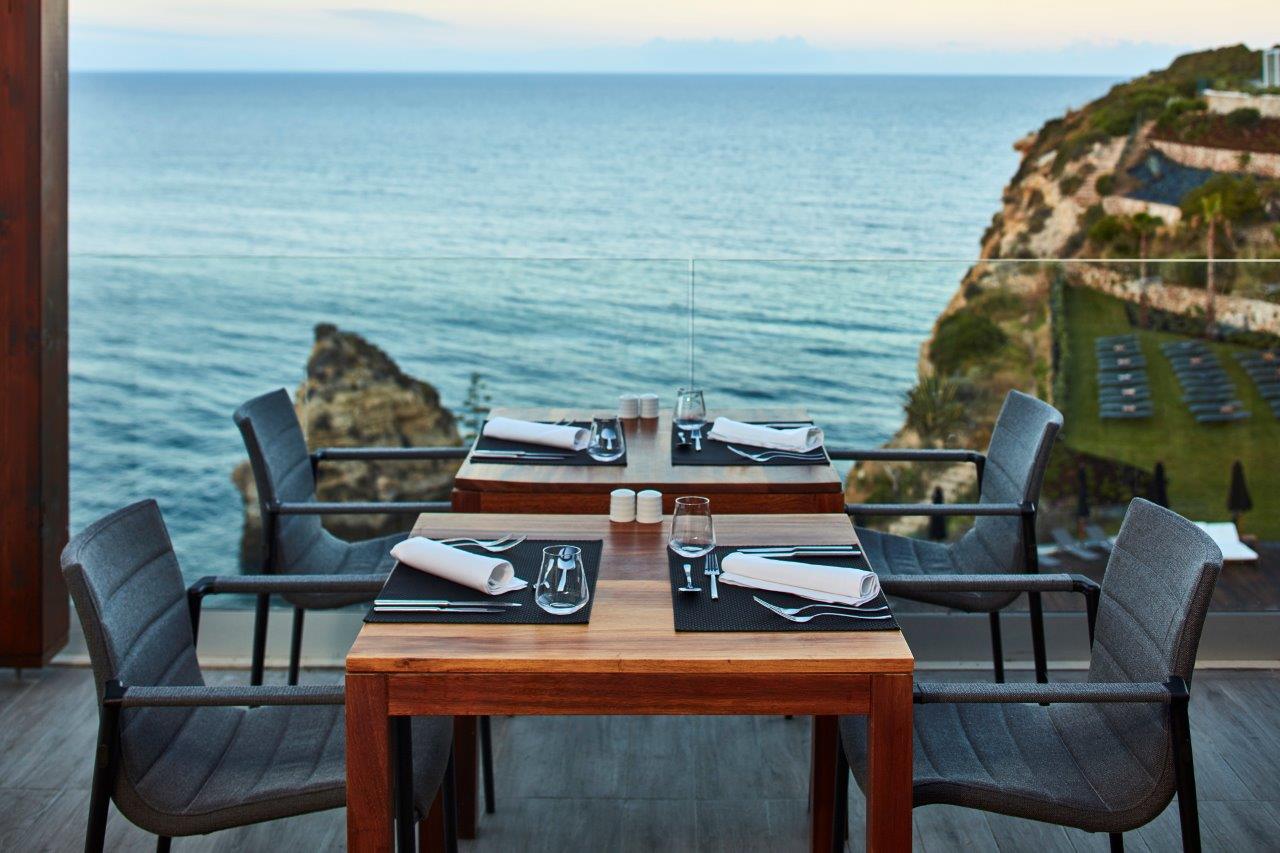 The menu is of local fish and seafood from the Atlantic; as well as premium 25-day matured beef.
I can certainly recommend the scarlet 'Carabineiros' giant prawns, sautéed with lemon confit, and coriander foam. The grilled octopus with sweet potato is superb; as was the Portuguese steak.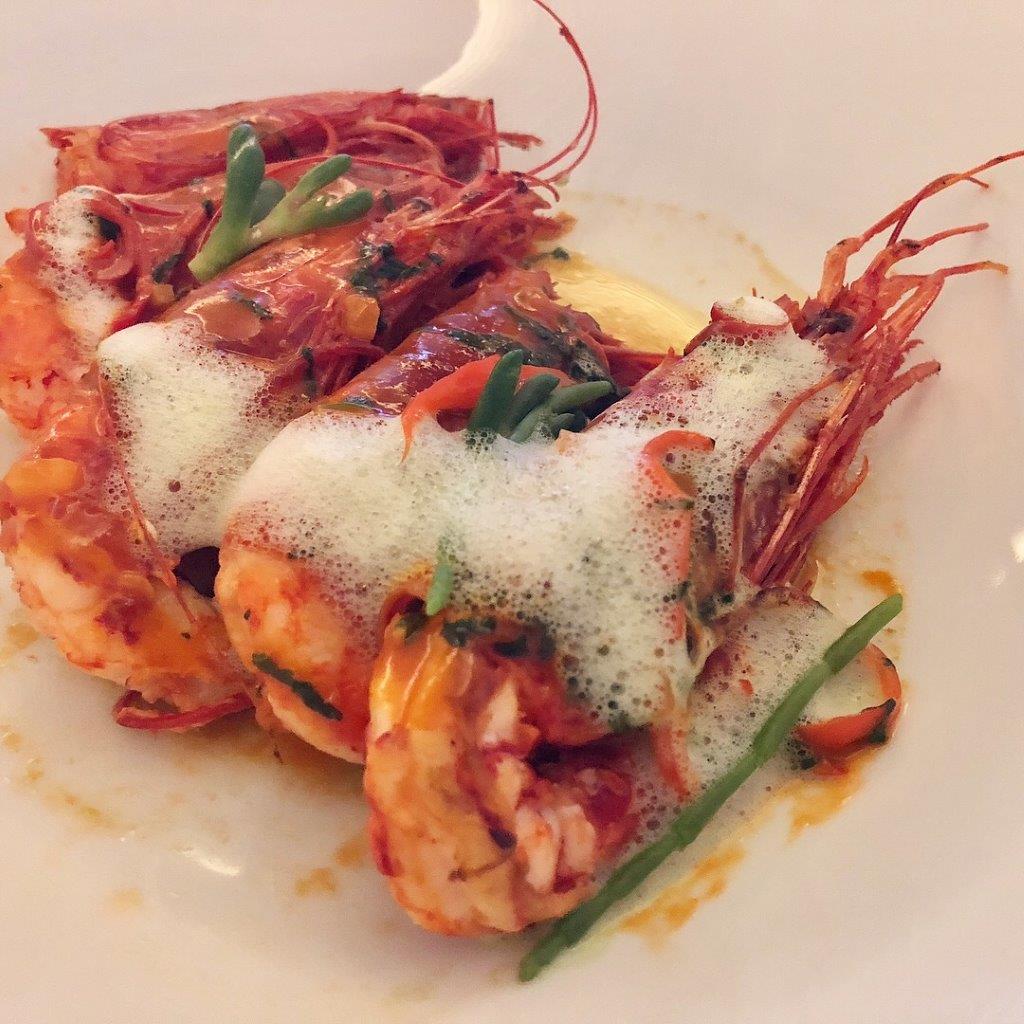 Gilberto suggested a 'Euphoria' rosé, a refreshing 'Alvor Singular' white; and 'Cabrita' Algarve red wine – what a superb flight of wines to take our meal to the next level.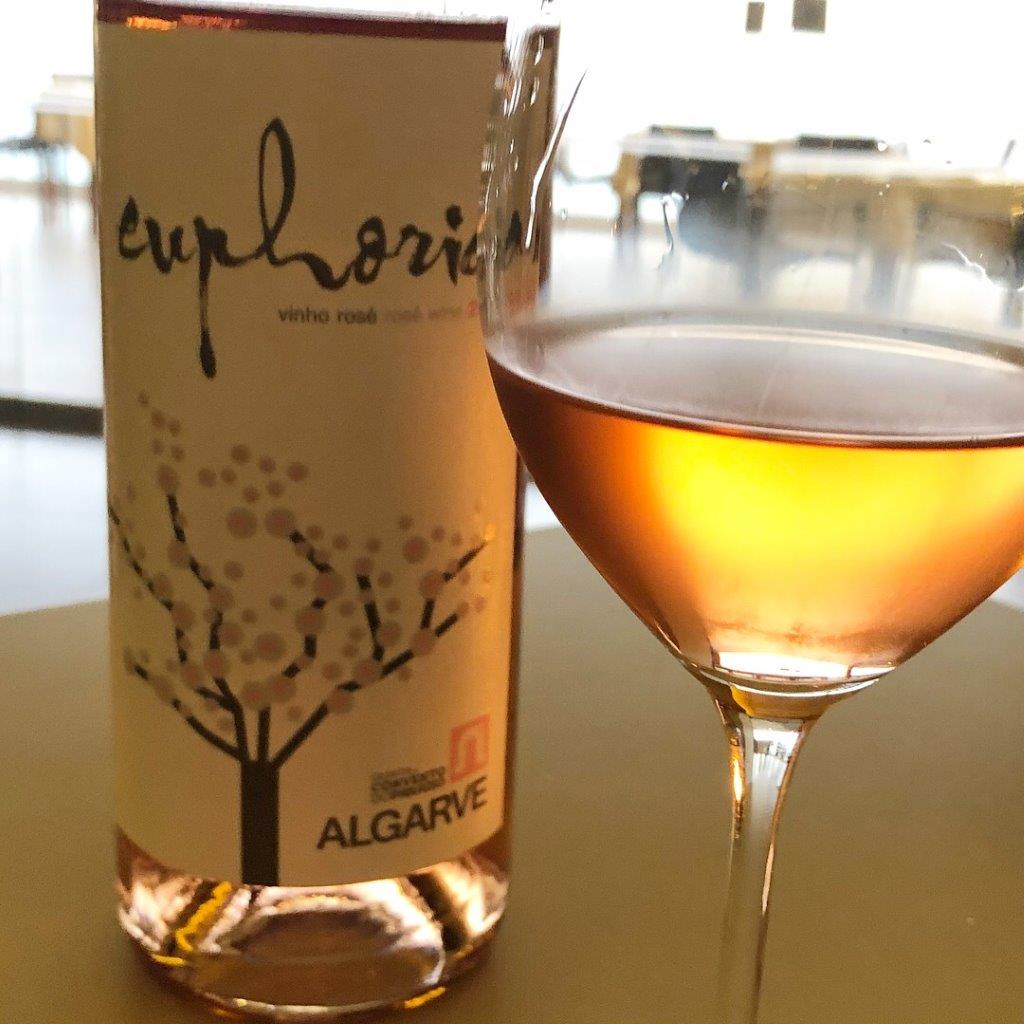 Sky Bar Carvoeiro is the place to end the evening. Fabulous views. I loved the signature artisan cocktails – so much so that for me it was the place to go before and after dinner! Before dinner try a classic Gin & Tonic, made extra special with Ginger, Cinnamon, and Cardamom bitters.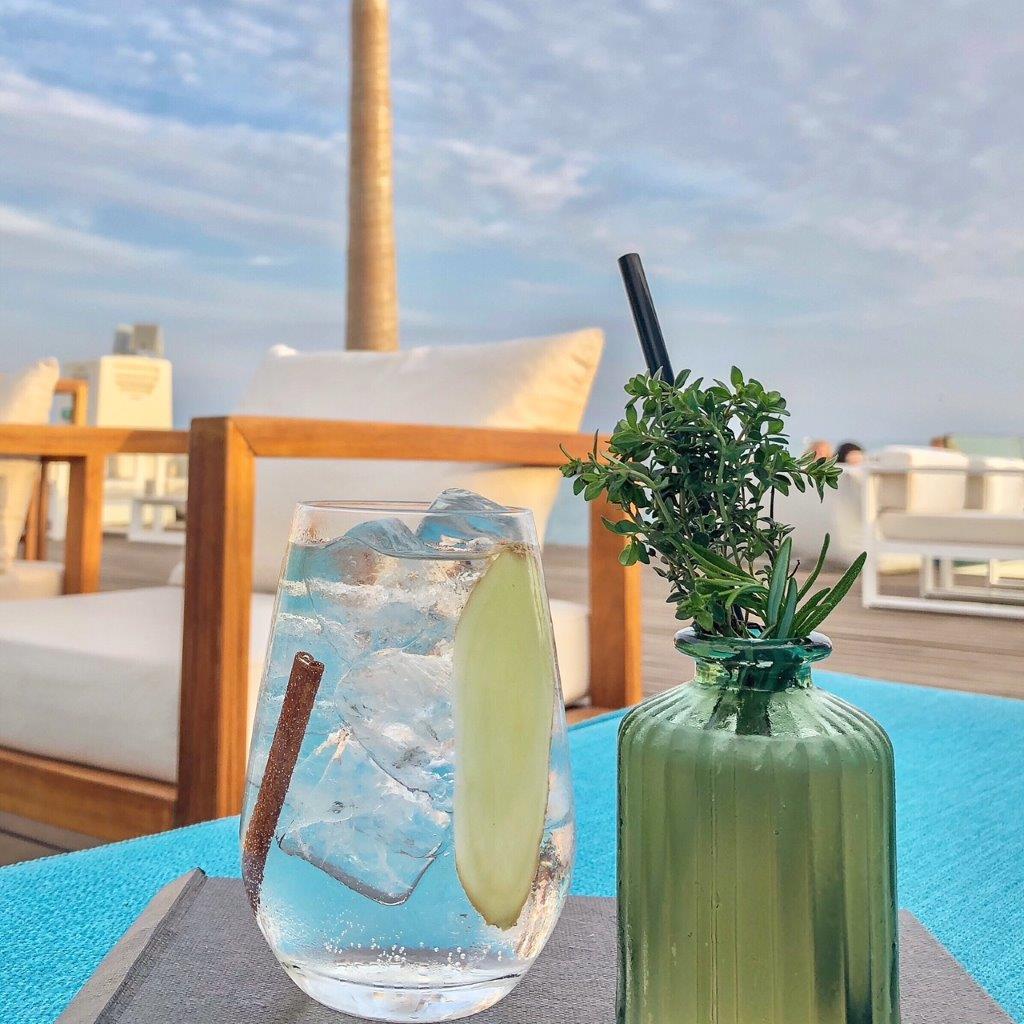 There is a small menu of snacks too, if you want to make an evening of it at the Sky Bar. Expect cool DJ tunes, mood lighting, and throughout the season live music too.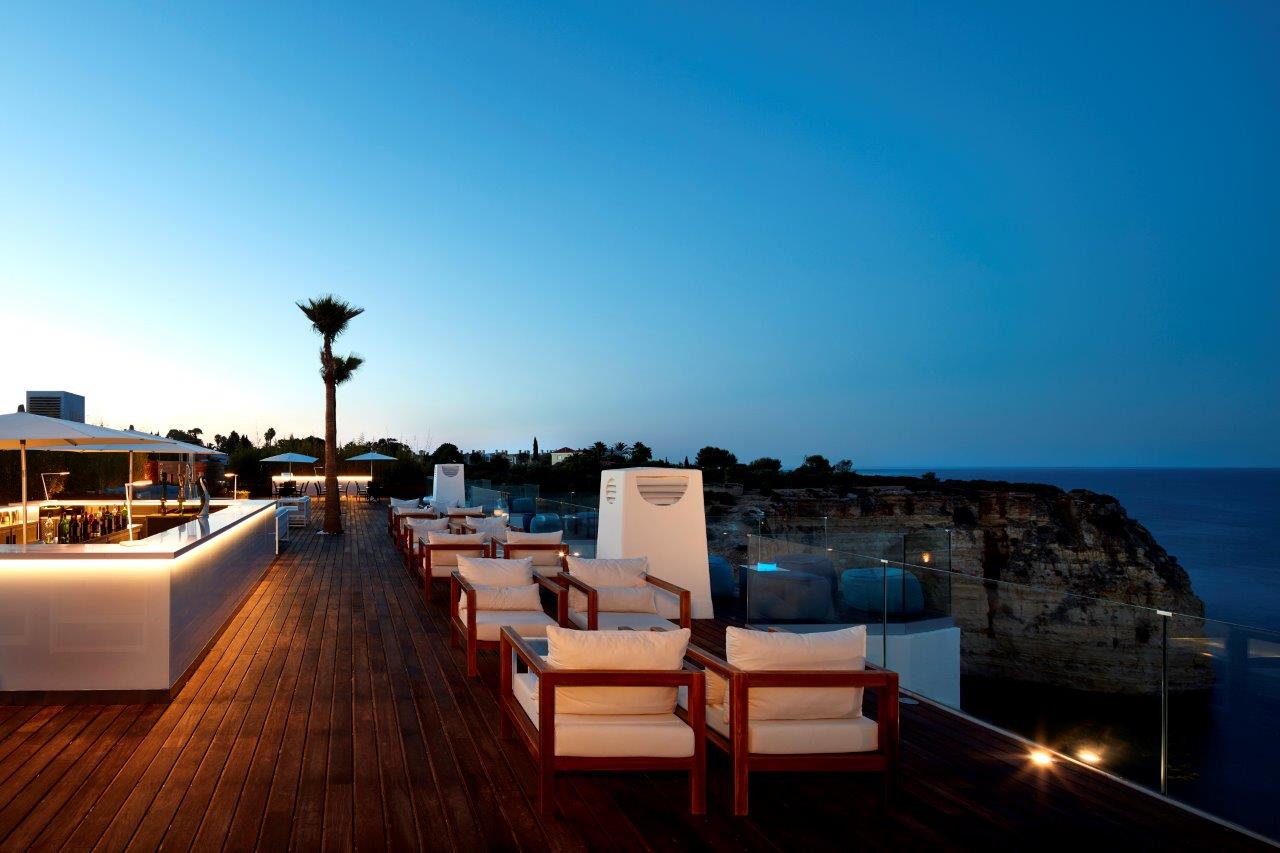 The Room
I was really impressed by the room!  The initial impression is very good.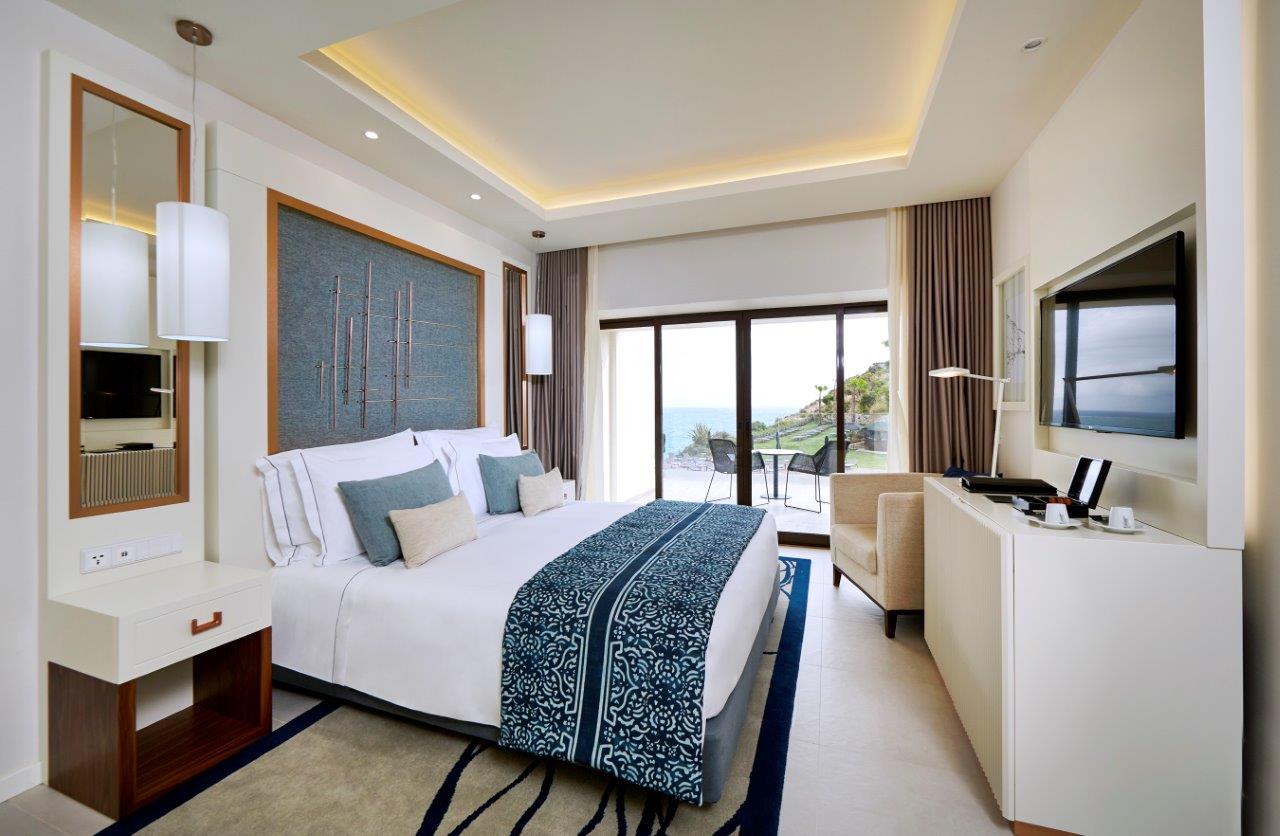 The building may have been built many decades ago, yet the contemporary remodelling has really made the space feel very contemporary. The large, glass faced terrace makes the room feel even larger, and of course there are those frontline ocean views.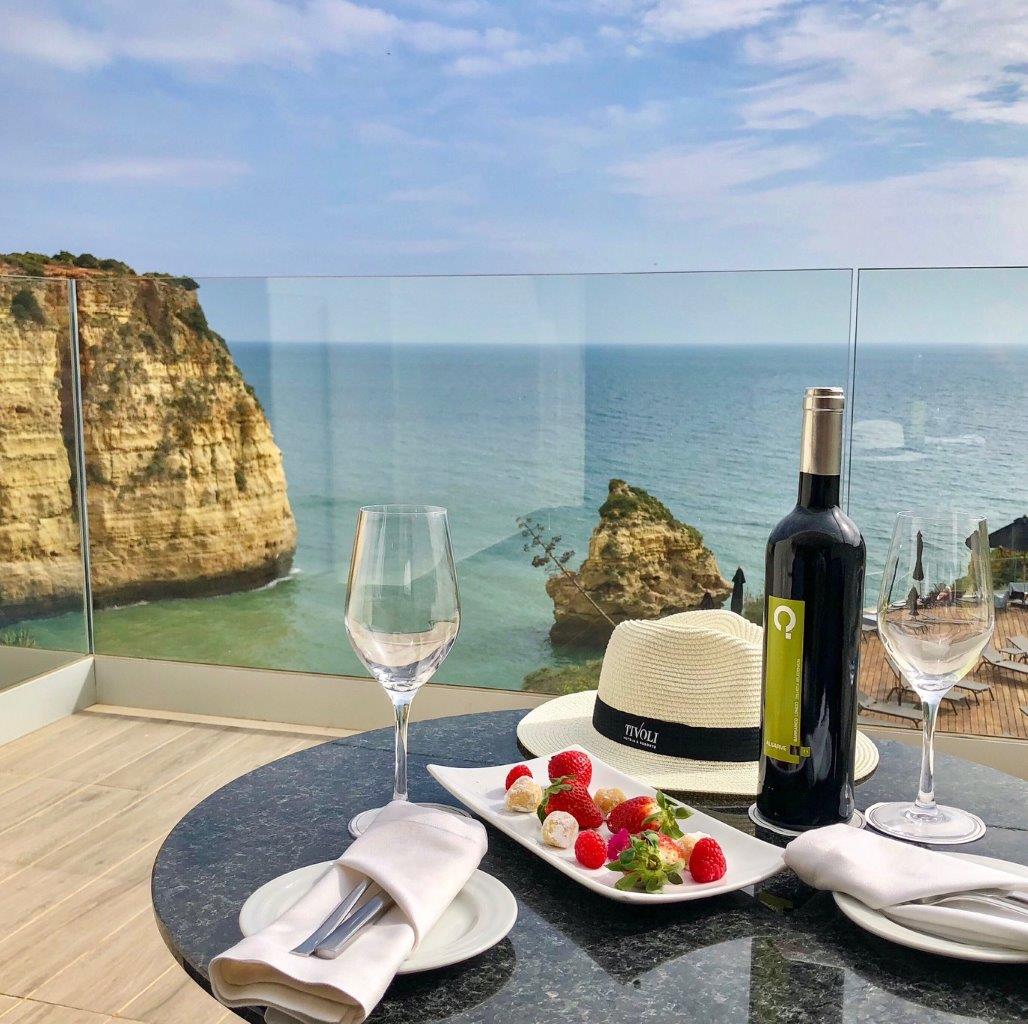 The bathroom is cavernous, and well designed with walk-in shower/wet room area. Amenities are by Portus Cale from Porto – wonderful.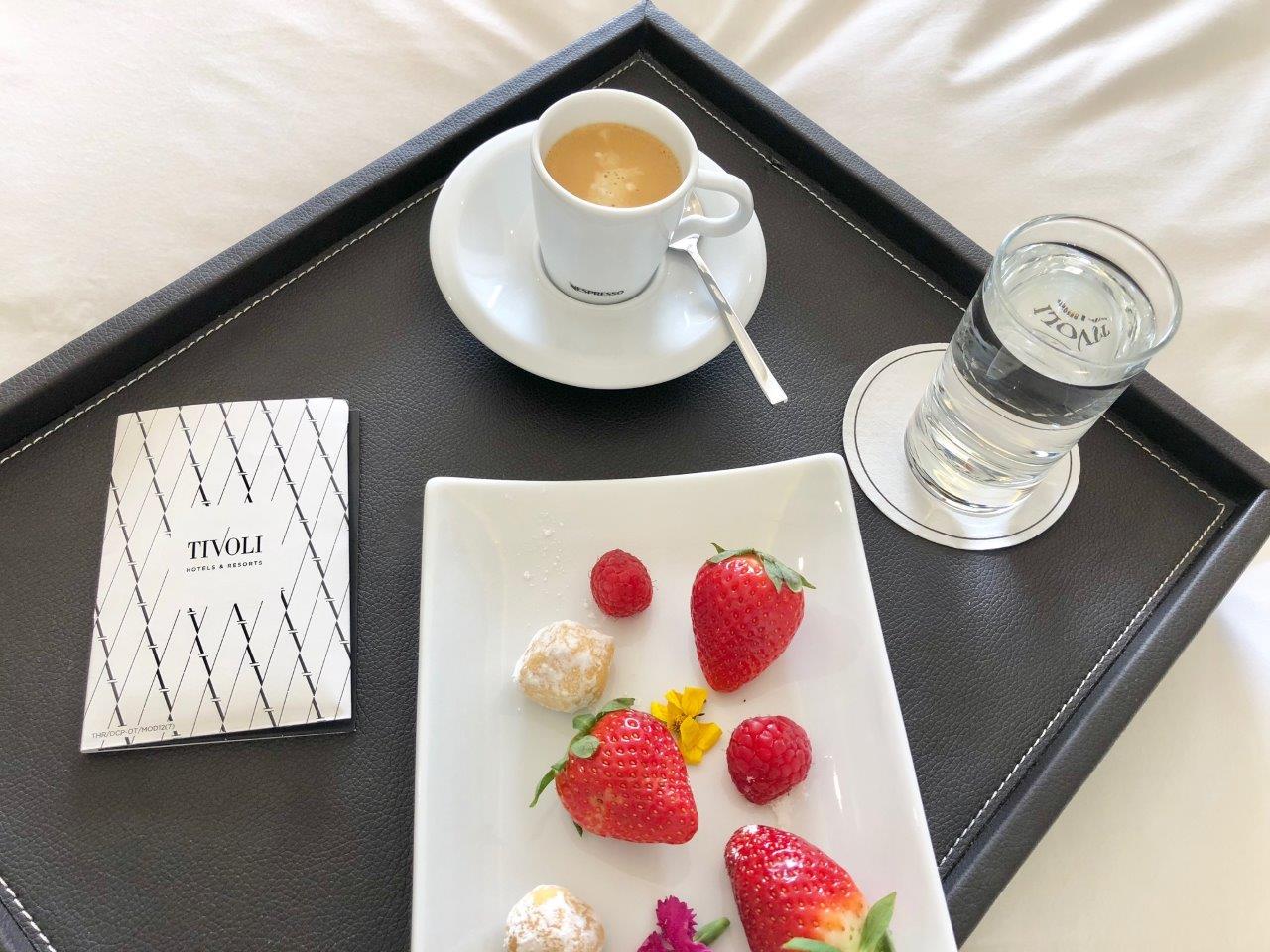 Thoughtful welcome gift including local wine, a fruit plate…and sun hats. At turndown we received a gift of local Algarve honey – so stylish, and a lovely memory to take home and enjoy.
The room was beautifully prepared and featured all the contemporary amenities one would expect from a 5-star hotel. Impressive – its just perfect for couples and discerning families.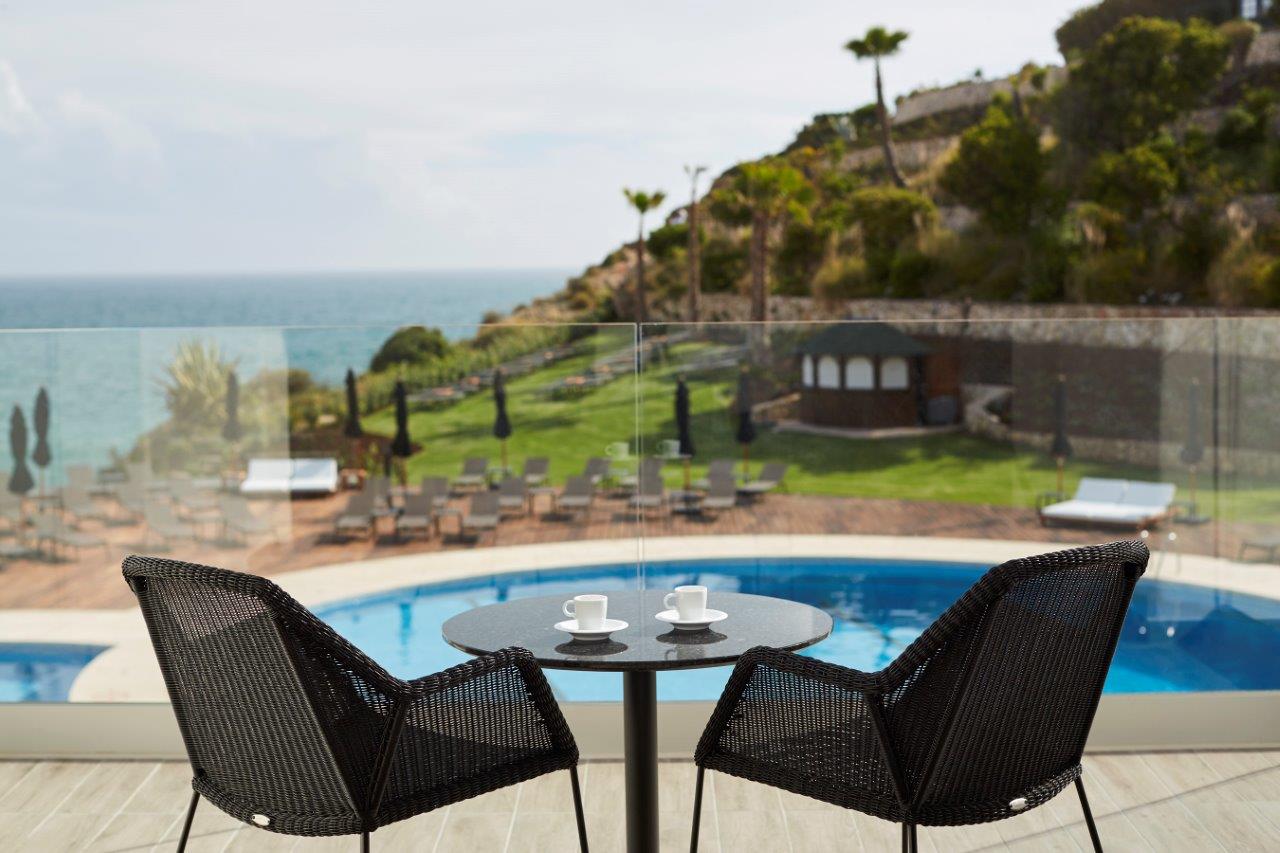 Tivoli Spa & Gym
The spa space is totally new and reflects the latest in wellness expertise and techniques. Expect sauna, steam room and gymnasium; and treatment rooms for the tailored spa treatments using Voya products from the west coast of Ireland. The spa ritual is one to book.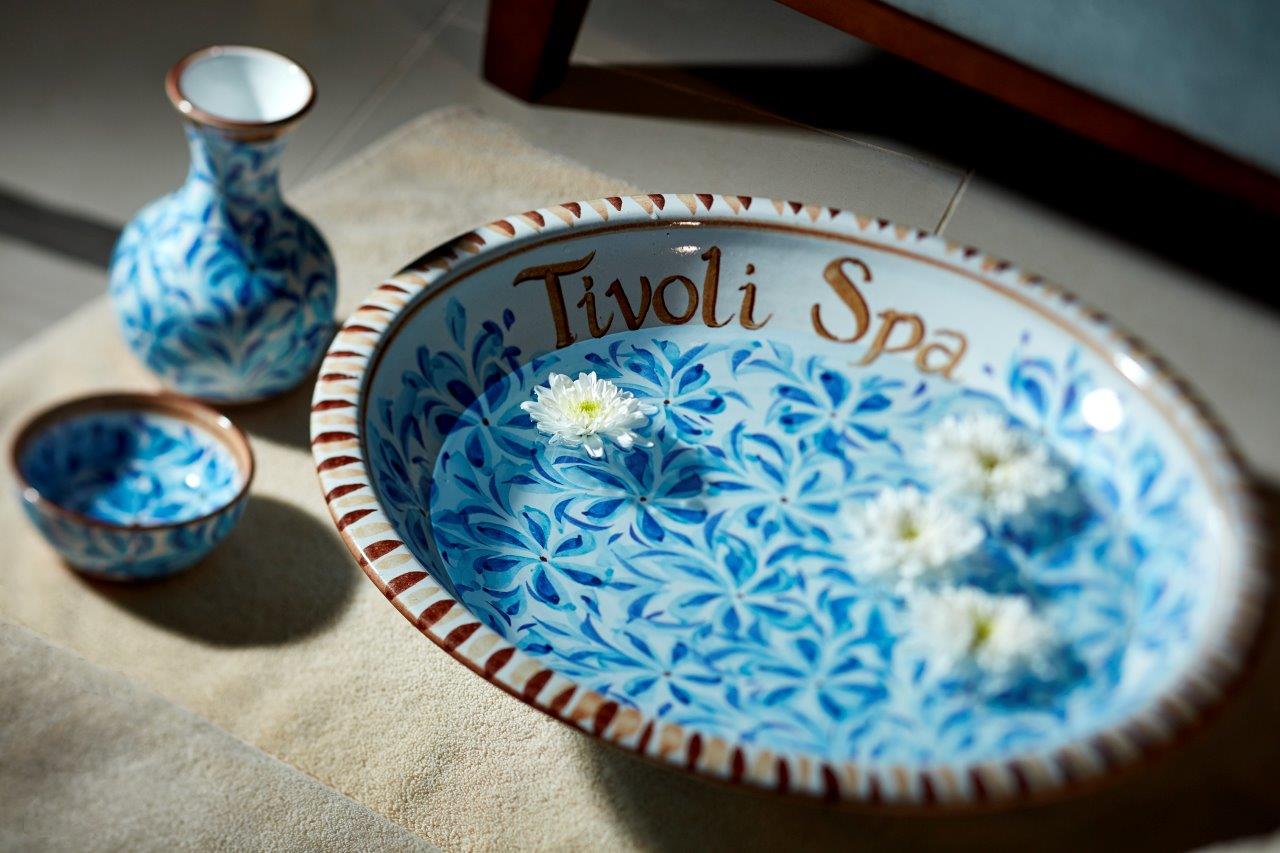 The Seven Hanging Valleys
The resort works with local experts to offer a arrange of Algarve experiences. I chose the hike along the picturesque coast to take in some of the remarkable 'hanging valleys' – coves that have been dramatically eroded over millennia.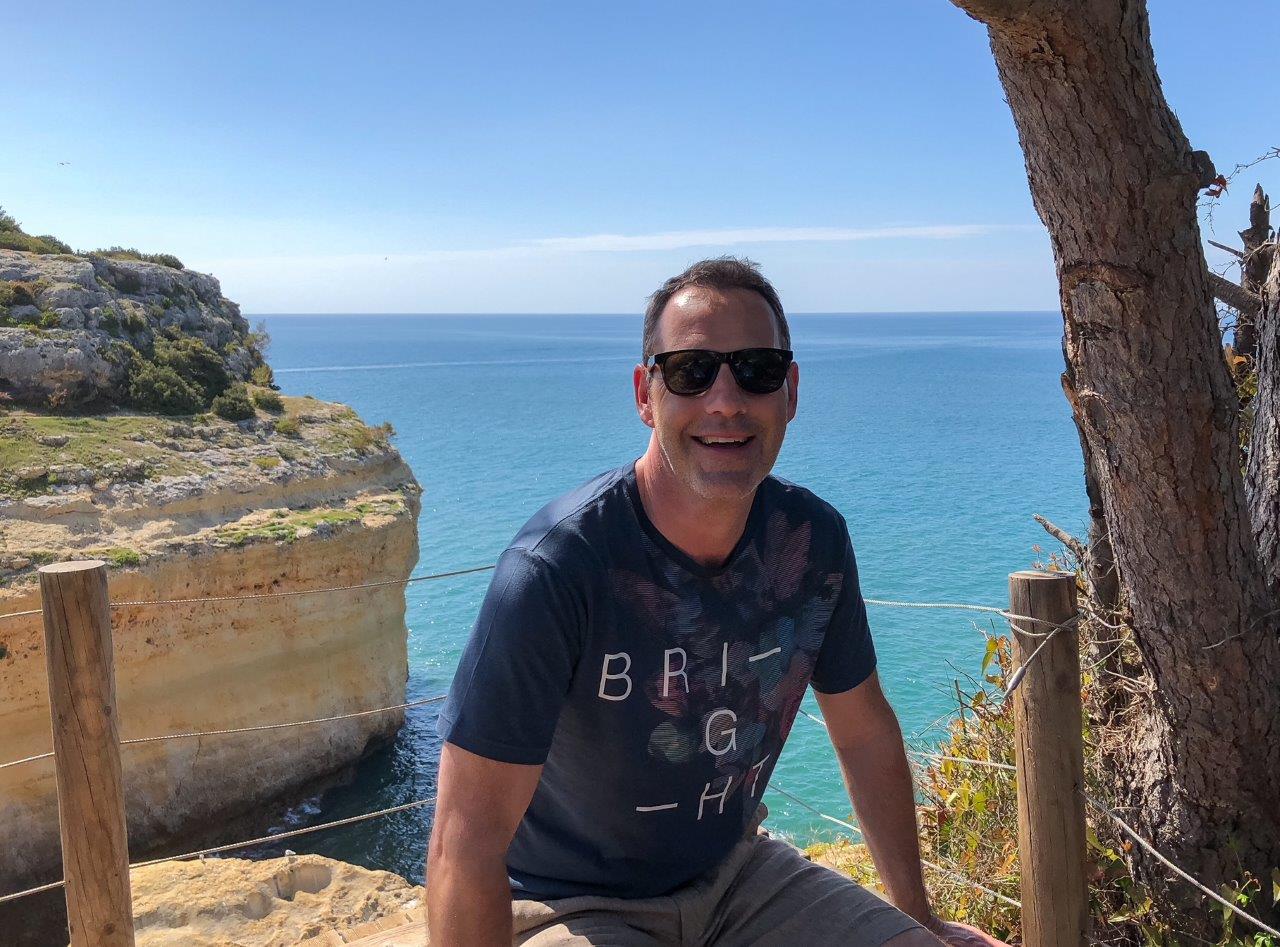 My host for the hike was Fabio, an outdoors adventure expert who made this morning one of the genuine highlights of my visit to the Algarve. The beauty of the Tivoli Carvoeiro Algarve Resort is that one can walk directly from the property to the Coast and enjoy the nature.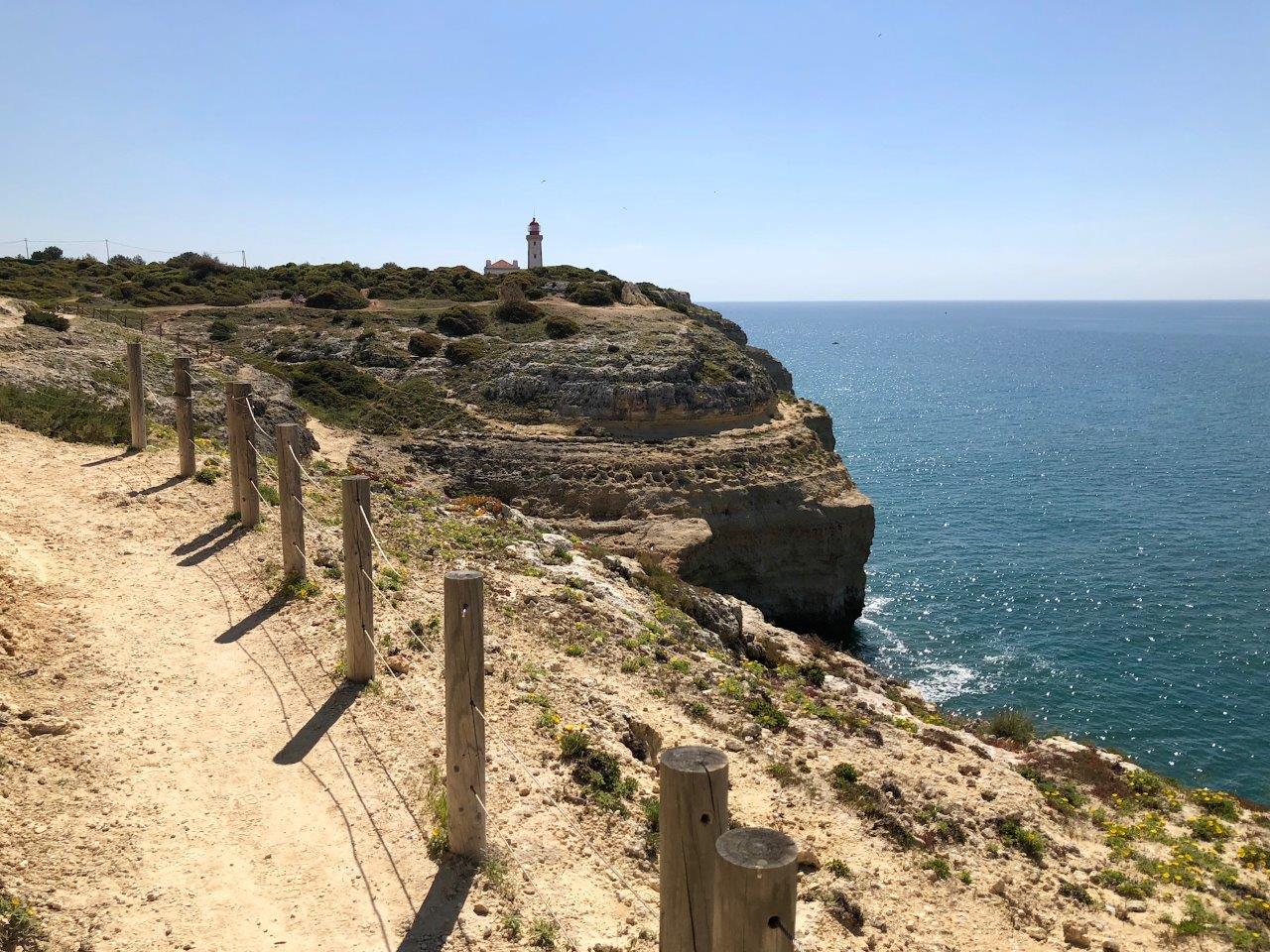 Information
Tivoli Carvoeiro Algarve Resort
Vale do Covo, Praia do Carvoeiro 8401-911 Carvoeiro Portugal
Tel: +351 282 35 1 100
Email: reservations.portugal@tivolihotels.com
Disclaimer: I was an invited media guest; although my opinions remain my own. I only write about products, services, restaurants, hotels and travel experiences that I consider to be of value to readers, and where I have enjoyed a positive experience.