Ukai is a firmly established favourite for Japanese food, confirmed by this year's 10th anniversary of the West London restaurant. Three years ago the restaurant moved to the current premises on the site of the much loved Market Bar on the world famous Portobello Road. TLE sent Laura to see how Ukai is shaping up amongst the tough competition of some on London's most esteemed restaurants.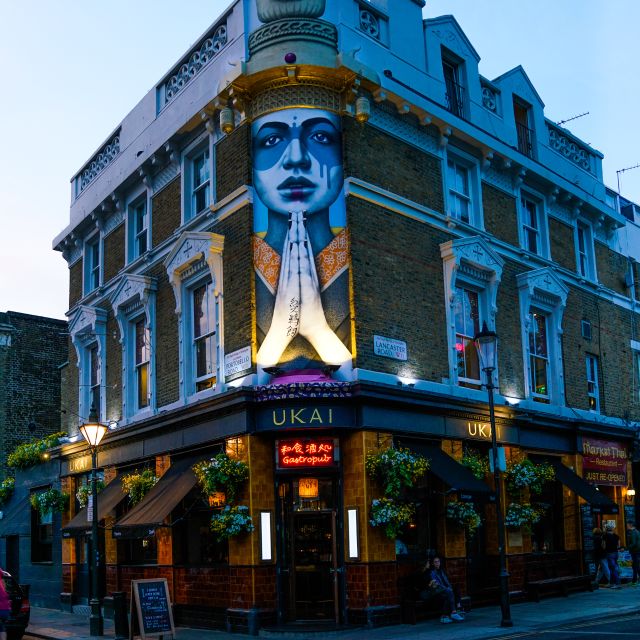 Background and Concept
When Ukai took over the ground floor of the Market Bar, an iconic 1980's hotspot for music and dance, there was a determination to stay true to the legacy of the London institution and its eclectic cliental. This has been achieved by preserving the 19th century façade and performance space in the bar area as you enter Ukai. The restaurant has done well in blending the raw edge of modern music culture with the delicate intricacies of the Japanese culture of which its menu embraces. The Eastern influence is represented in dark wooden panelling, a striking fresco of a beautiful Japanese lady and kimono's hanging from the walls, in contrast to the Western artwork of Amy Winehouse draped over the grilling area in the restaurant.
The menu
The interesting thing about the menu at Ukai is that it is Japanese food cooked by an Italian chef. This unusual combination works incredibly well, there is a flare and excitement to the food that may be missing in some of London's more monotone Eastern dining establishments. The chef, Alex summarised this so well when he explained "that you eat first with your eyes, presentation is everything". The menu covers a wide range of Japanese staples including steamed buns, tempura, robata, curry and sushi with moderns twists and imaginative combinations.
The Food
We started light with Tuna Tataki and Mixed Seafood Ceviche. The tataki was made with wonderfully tender sesame crusted white tuna, enhanced with yuzo, a Japanese citrus fruit used in many of the dishes at Ukai, truffle oil and ground peanuts adding sweetness to offset the citrus. The ceviche combined tuna and butterfish, aptly named as it literally melted in the mouth, with dragon fruit brining in texture through its crunchy seeds.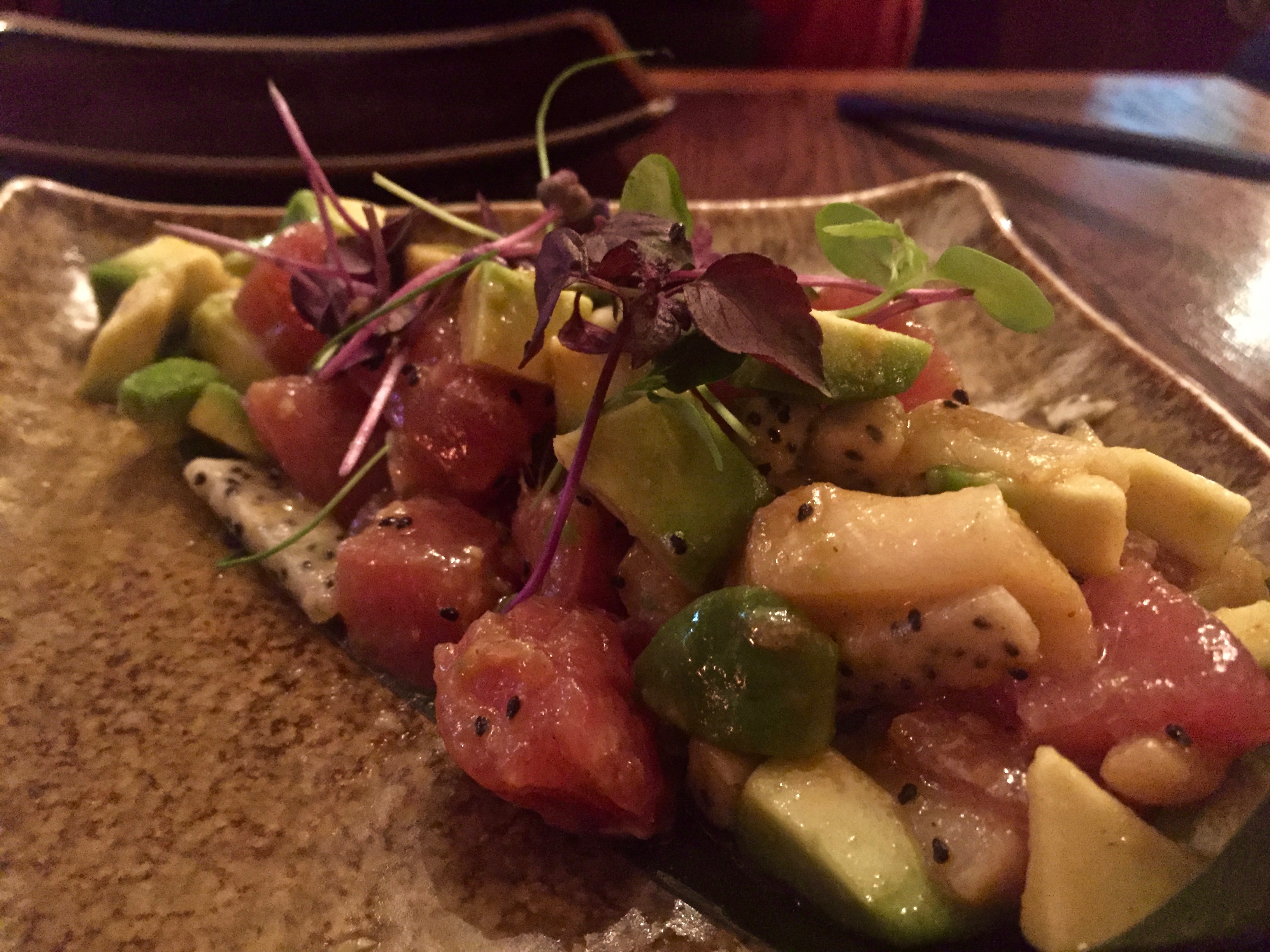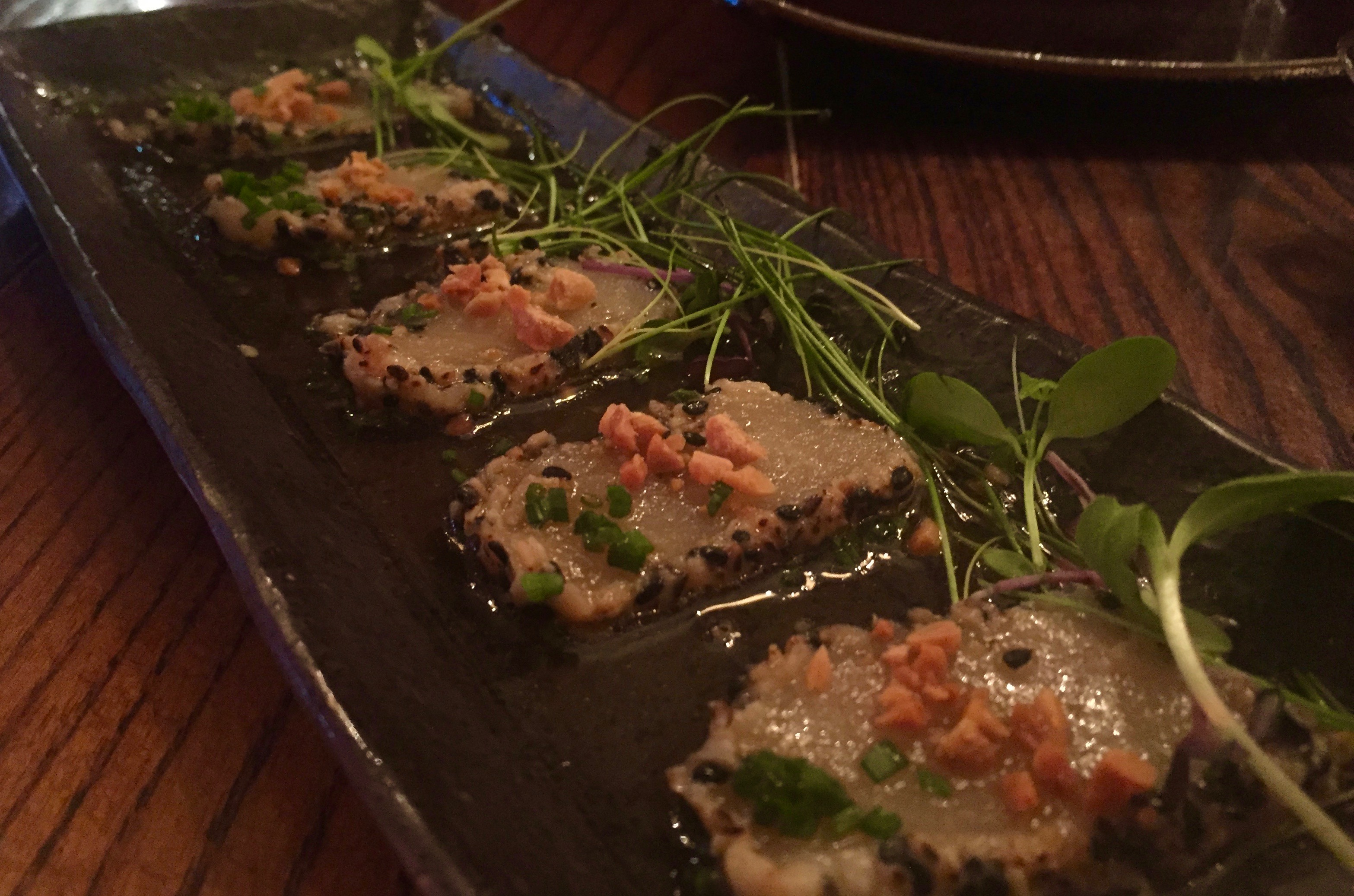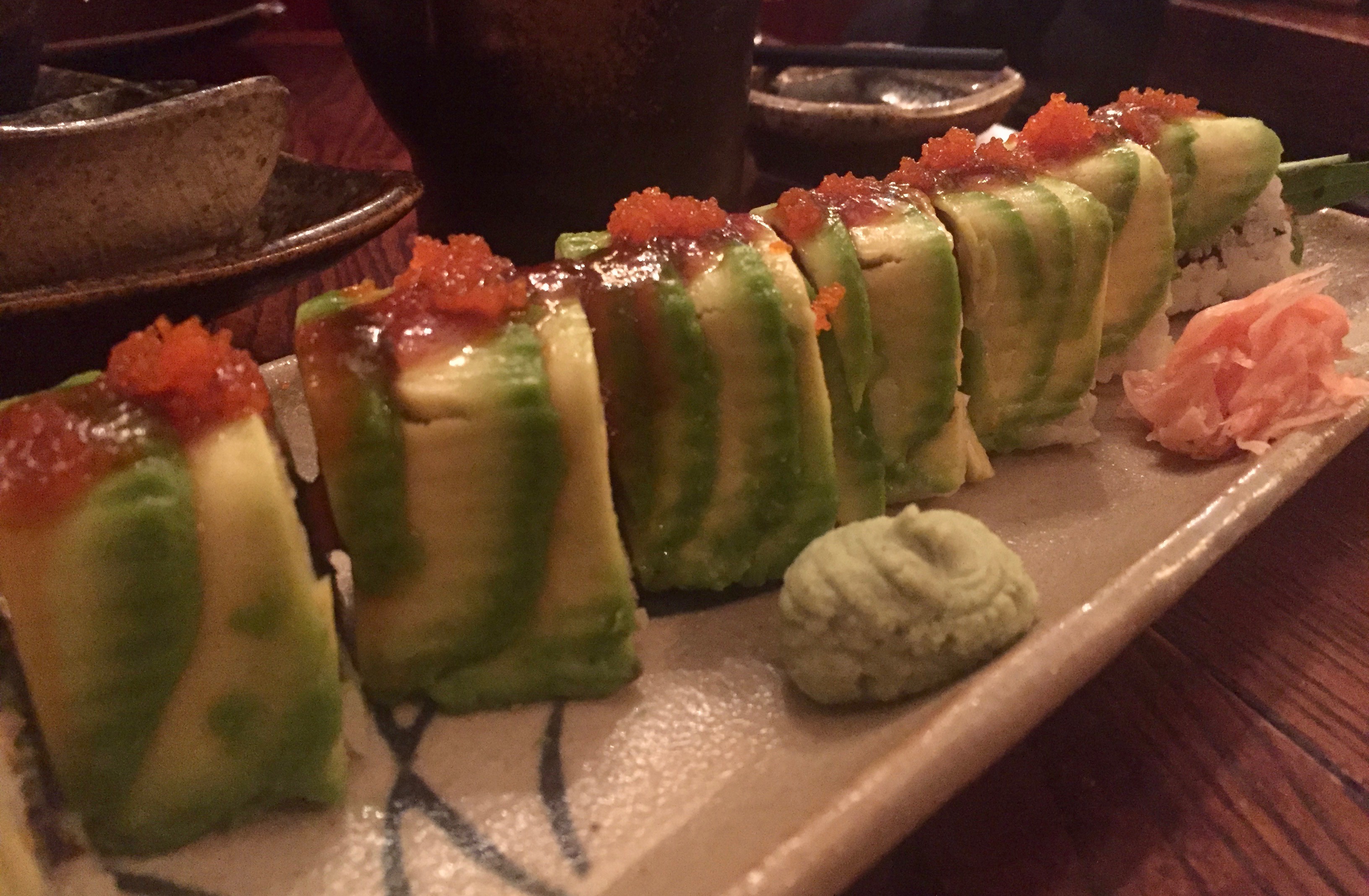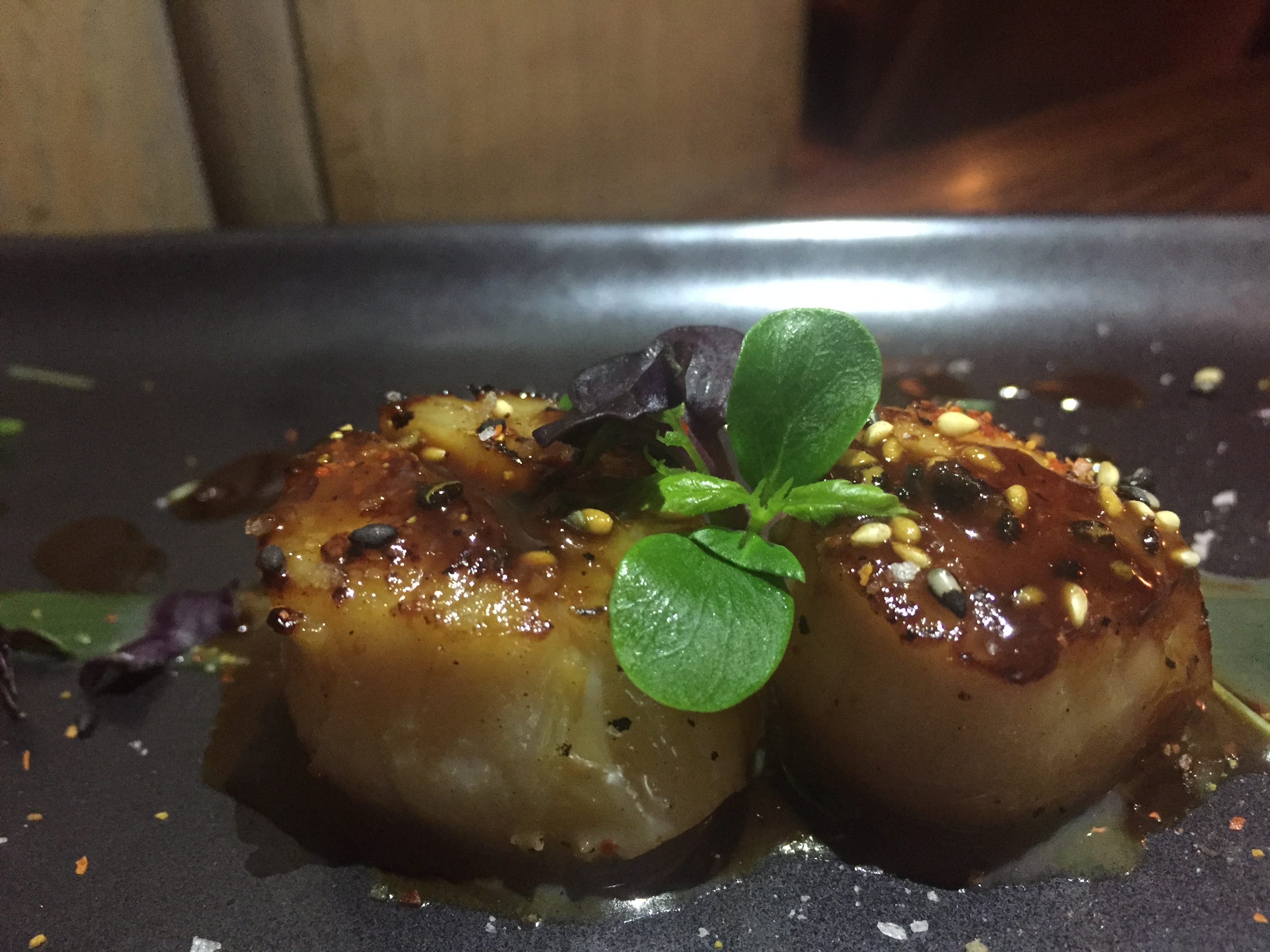 The Lobster Tempura is a showstopper, beautifully presented with a mock lobster tail; lightly battered balls of lobster are served with a tangy yuzo mayonnaise. Another visual highlight is the Dragon Roll, a kaleidoscope of colour encompassing eel, cucumber, avocado, salmon roe and rocket, it tastes as good as it looks.
The creativity of Alex the chef is also evident in the Tuna and Avocado Tartar, this well seasoned dish enhanced with the citrus of the yuzu, contrasts brilliantly both in flavour and colour with the accompanying bright a rich raspberry sauce. Examples of his expert handling of delicate ingredients shows in the Pan Fried Scallops with Orange Tobiko and Yuzu Ponzu, which were cooked to perfection.
For vegetable dishes I would recommend the Nasu Dengaku, baked aubergine with miso and sesame seeds is smoky, sweet and delicious. The Oriental Broccoli is served al dente with a delicious rich sesame dressing making it a fantastic side dish, and flavoursome enough to hold up well as a dish in its own right .
Wine and drinks
Like the menu, Ukai has an equally imaginative cocktail list where Eastern influence jazzes up Western cocktail classics. The Kyoto Style Mojito uses shiso leaves instead of mint, yuzo rather than lime, homemade ginger and lime syrup to replace the sugar and ginger beer adds more of a kick than the traditional use of soda, all in all a totally uplifting drink. The Origami Nest is an artwork and a cocktail combined, this heavenly mix of rums with black cherry marmalade, lime and mint is presented with a beautifully crafted origami boat.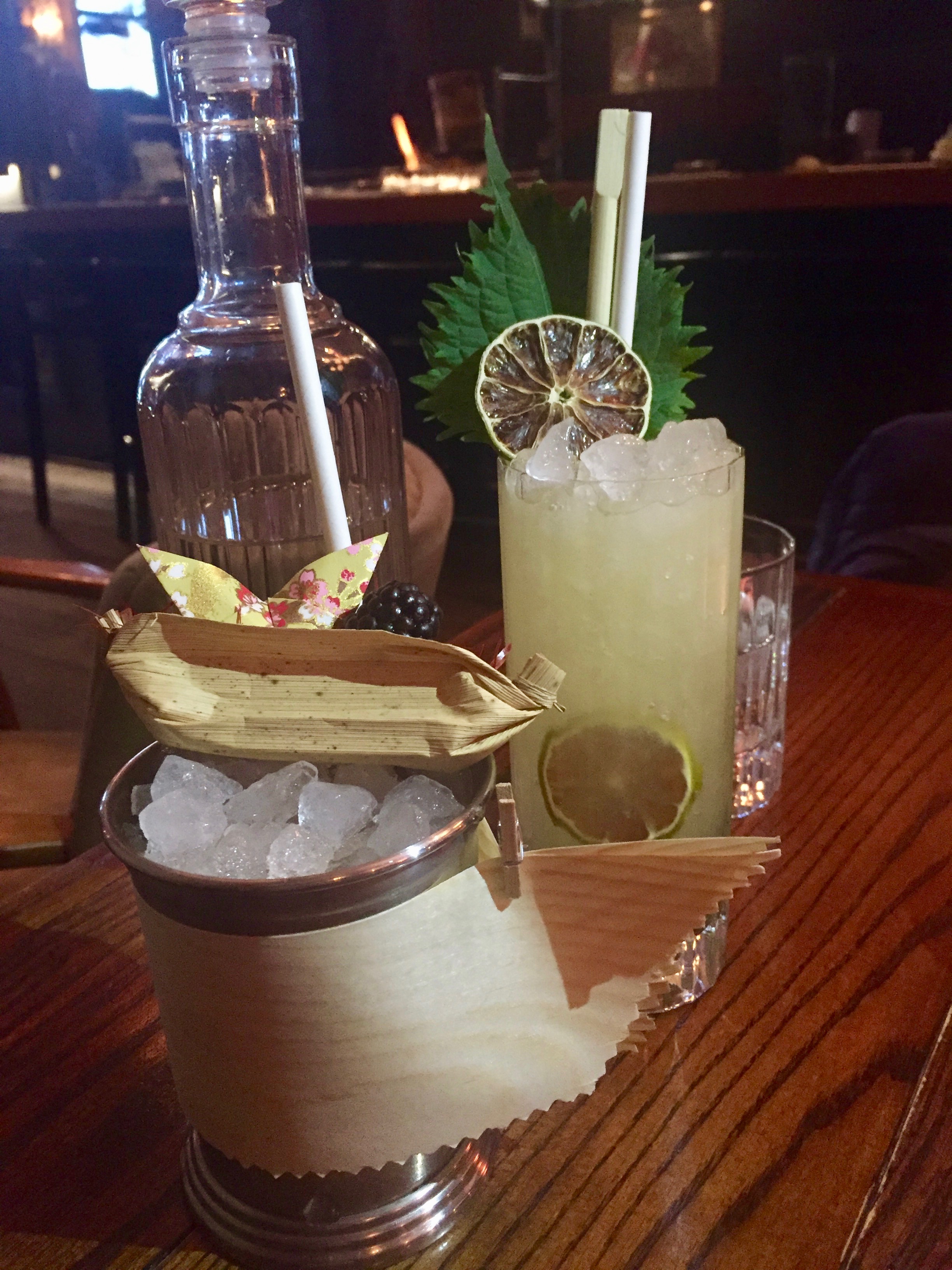 There is a good selection of wines, however it would be remiss to visit Ukai and not sample the Sake menu. Served in small carafes with both cold and warm options, our favourite was the Nigori Crème de Sake, silky and smooth with aromas of coconut and melons, this is both refreshing and cleansing, perfect to end the evening with.
Finance and details
For the gourmet show that Ukai provides, the dishes are very reasonably priced, especially for this area in West London. Most dishes come in between £7 and £10 with more substantial curries and stir fried dishes being £14 to £18.
Address: 240 Portobello Rd, London W11 1LL
Web: ukai.co.uk