The Volalto And Sirreti Assurance
With over a decade of experience in the Dominican Republic market (particularly the Punta Cana and Cap Cana resort areas), Volalto presents a portfolio of handpicked fully staffed villas and condos. Including Yarari Royale, set in one of the most sought-after gated villages in the Caribbean. This independently operated and managed villa is one of the exclusive Sirreti community members, meaning guests are assured that the property meets the highest of standards, and showcases excellence, in every aspect from high-spec finishes to personalised service.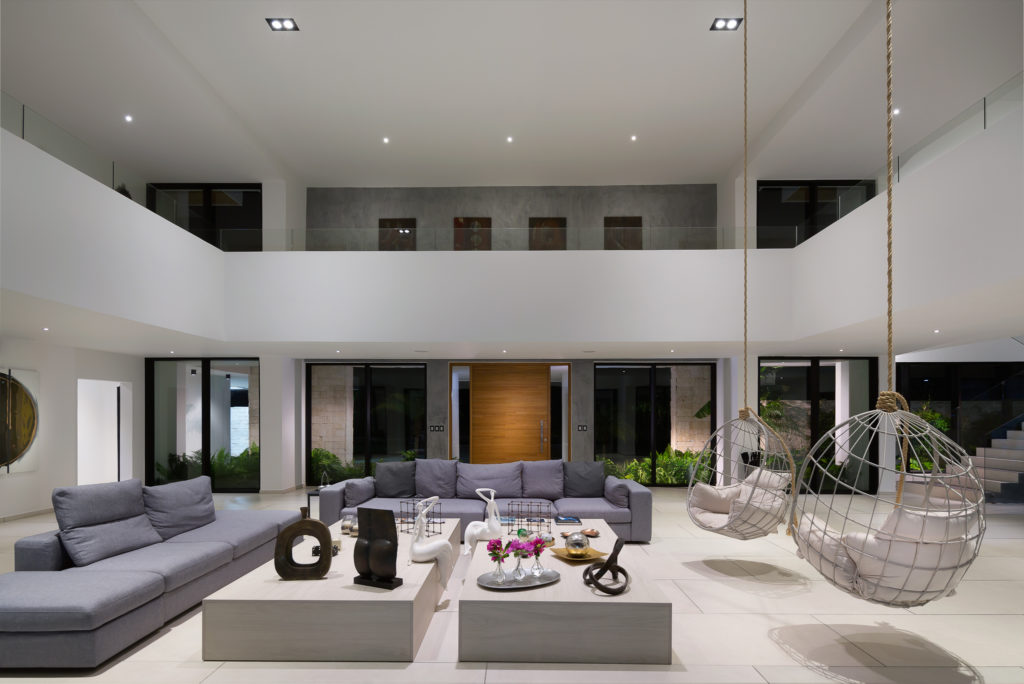 Seamless Service
From the moment you arrive, everything is taken care of, with an executive transfer service from Punta Cana Airport, private check-in and welcome refreshments. A daily maid and butler service is provided. The ocean is an integral part of any stay in this part of the world and at Yarari Royale you're but a five-minute golf cart ride to the famed Eden Roc Beach Club, to which guests receive complimentary access, alongside the Eden Roc Hotel ( La Palapa, Spa Pavilion, Uva Bar, Mediterraneo, Riva Bar, Blue Lagoon Pool Bar & Restaurant and Solaya Spa). Beach chairs are provided here and a concierge is available to take care of you.
Cap Cana: 26 Square Miles Of Caribbean Bliss
The gated resort of Cap Cana is the setting for this fine villa; with a year-round warm climate, very little rainfall, gentle ocean breezes, coral reefs and idyllic white sandy beaches, it's easy to see why this pocket of the Caribbean has become so popular with those seeking an ultra-luxury getaway. While an ideal choice for those who wish to do very little, there are plenty of opportunities to get active on land and sea too. Those staying at the villa have direct access to activities and amenities, including golf, tennis, sailing, windsurfing, kite surfing, snorkelling, scuba diving, deep-sea fishing and horse riding. Your concierge can also arrange excursions further afield on the island, spa visits (or in-villa massage treatments) and fitness classes.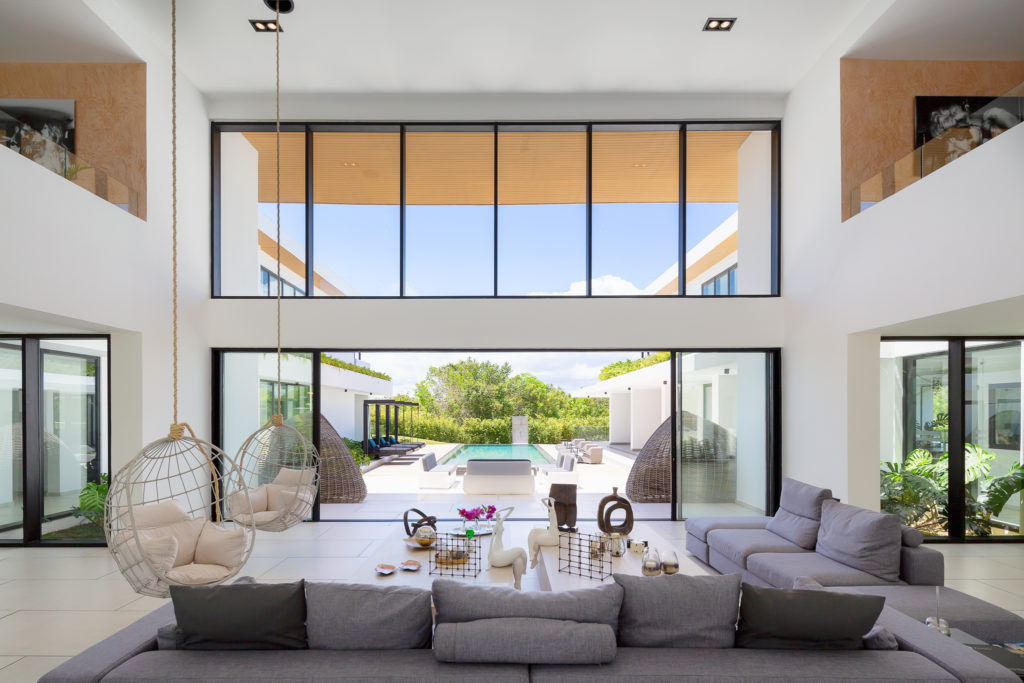 Versatile and Stylish
The villa is modern and homely while weaving in more dramatic elements, such as the high-ceilinged main entrance atrium area with double-level windows. Here swing seats hang from a great height, creating a barefoot chic feel and enjoying pool and garden views, along with the comfy sofas. This is just one of many areas for friends and/or family to gather. The villa works well for families — one of the bedrooms contains two queens and two twin bunk beds. But those travelling in smaller groups can book it as a six, seven or eight-bedroom property, as well as the full nine bedrooms (all of which are en-suite). The two king-sized suites include jacuzzi terraces and two of the bedrooms (a king and double queen) are on the ground floor, suiting those with limited mobility — or a desire to be that bit closer to the pool!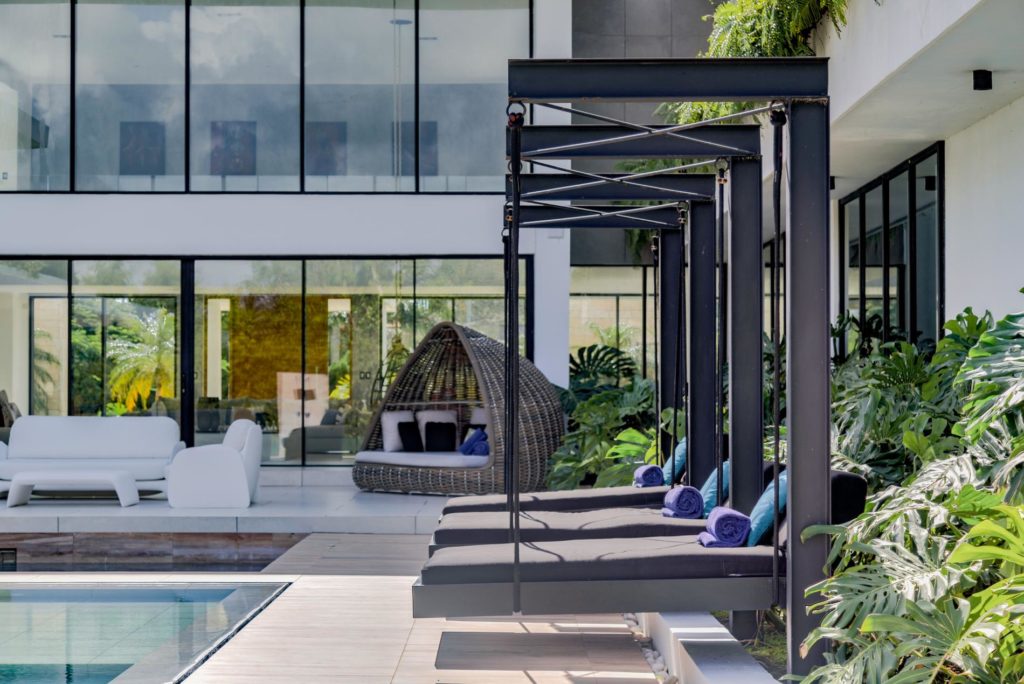 Hitting The Gym
If you're able to tear yourself away from the super comfortable cabanas and loungers beside the sleek pool, you may want to work up a sweat in your private TECHNOGYM. Fitness enthusiasts can take advantage of a dumbbell rack with dumbbell pairs from 1kg to 10kg, an adjustable bench, an Excite+ Vario Elliptical Cross Trainer, a SkillMill Console, a Jog Treadmill, a Kinesis PERSONAL HERITAGE BLACK and an Arke Functional Kit Med on Wallholder. You'll also have access to a professional Pickleball system and court which doubles for basketball (hoops can be adjusted to accommodate for younger kids).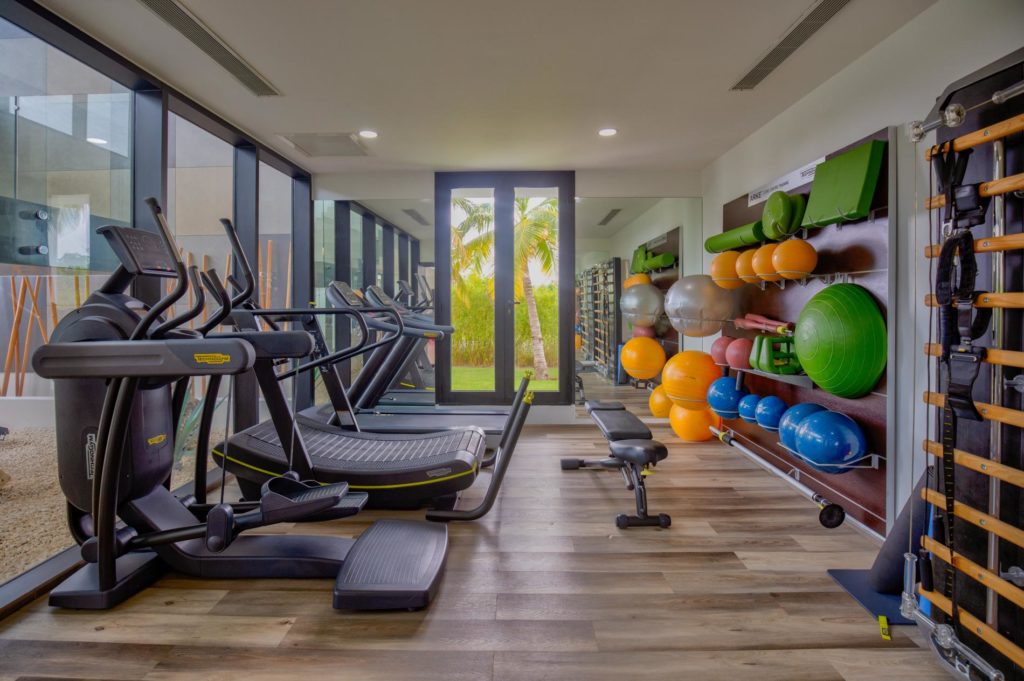 Personalised Dining
Alfresco meals are a key part of the lifestyle here, and Yarari Royale's outdoor dining area rises to the occasion with alacrity. However, you won't need to spare a thought for organising or cooking. Full or part catering is provided, according to your preference, with multiple menu options (you can begin making selections at the time of booking). Vegan and vegetarian diets are fully accommodated, and you can expect theme nights along the lines of: Dominican fusion, Spanish, sushi, Italian, Mexican, meat and seafood BBQs. Not only will the food follow the chosen theme, but so will the music and table decoration, so you can fully immerse in the sense of the occasion.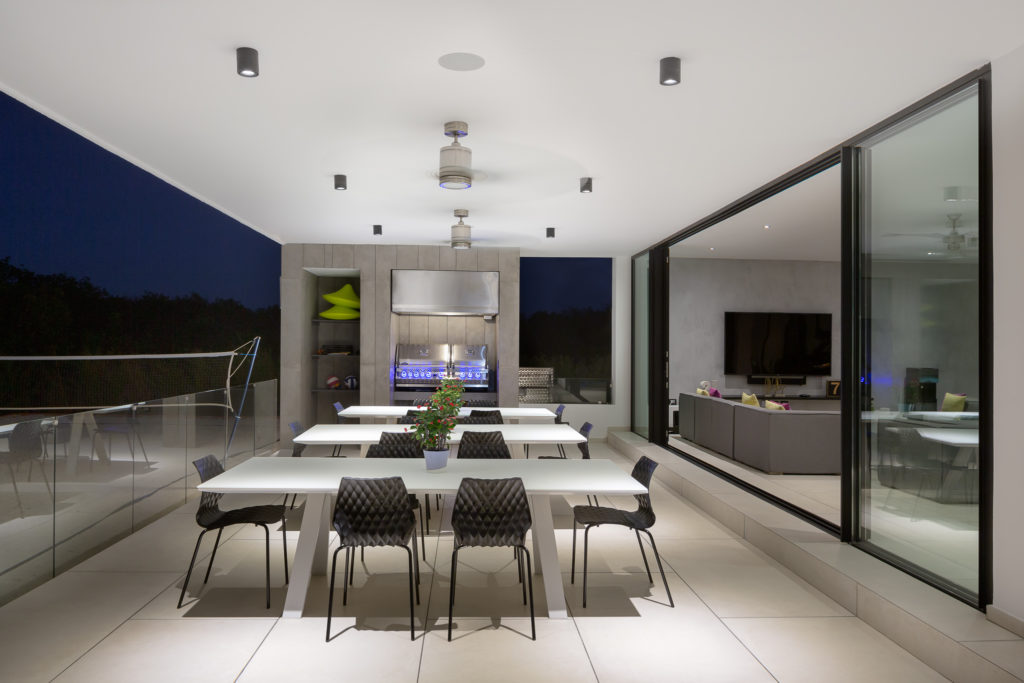 Yarari Royale is a spacious, air-conditioned, deluxe home-from-home in one of the world's most beautiful spots. And you can experience this stunning recently built property for yourself, by booking it as your holiday base in the Caribbean.