Iconic whitewashed walls, views across turquoise waters and elegant minimalistic interiors are all synonymous with a holiday to Greece, however, there is nothing cliche about the choices within our collection of best luxury hotels in the Greek Islands. From spacious bungalows and suites on Spinalonga to the impressive lagoon style resorts of Kos and butler serviced villas in Lindos there is a superb selection to suit every discerning traveller. Read on to discover more.
Crete
Blue Palace Crete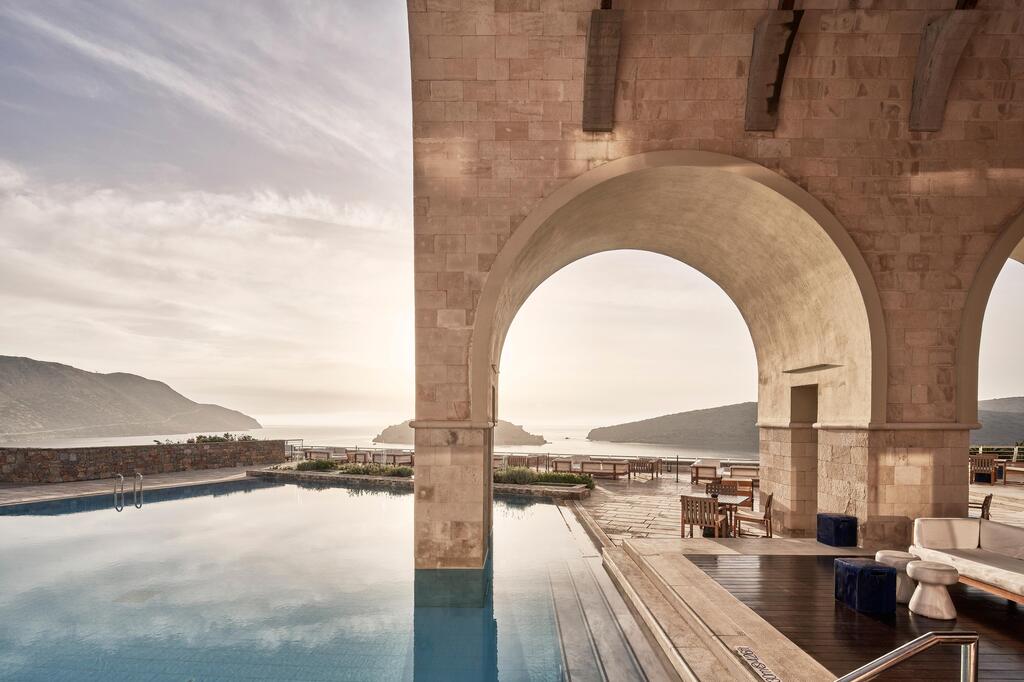 Offering guests breath-taking views of the island of the Spinalonga and the surrounding Cretan Sea, Blue Palace Crete is stylish and luxurious enough to make any guest feel like royalty. The suites here offer direct access to the impressive infinity-edge pool, which also delivers stunning ocean views while guests splash around or soak up the sun. In terms of style, contemporary meets tradition with pretty pebble mosaics, wooden shutters and clay roofs. Guests have their pick from spacious bungalows and suites that are set in a pretty palm and olive tree garden. Each room boasts light and bright furnishings with golden wood perfectly complimenting the marble bathrooms.
LUX ME White Palace Grecotel Luxury Resort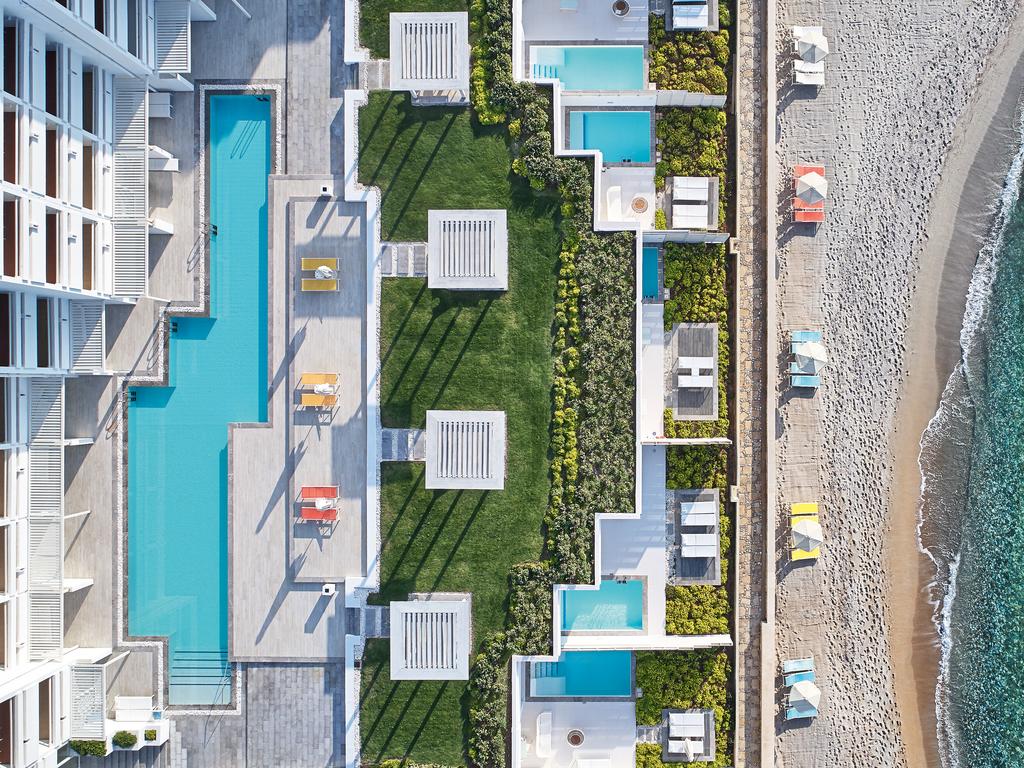 Built around a large and lovely saltwater swimming pool, this elegant hotel is set right next to the sea and boasts a fresh and breezy look and feel. The rooms and suites are spread across five buildings to provide plenty of privacy and bright white is the main colour that is used throughout the hotel complex. Each of the 263 rooms boasts plenty of luxurious touches from the huge beds and large picture windows to the range of first class amenities that guests are treated to. Couples will never need to venture far from the luxury and privacy of their room as Nespresso machines and around the clock room service are provided, while the Sea View bungalows offer VIPS the chance to stroll straight down to the sand without ever having to meet any of the other guests.
Kos
Diamond Deluxe Hotel Kos

Guests who truly want to unwind in style and feel good from head to toe are sure to enjoy making use of the luxury spa at the Diamond Deluxe Hotel Kos. The huge lagoon-style water complex is a great place to splash around for a while and there is also an indoor pool that has been designed especially for guests who want to swim laps. Many of the guestrooms here open direction onto the main outdoor pool and guests can walk down a short flight of steps from their veranda into the waiting water. The decadent suites also come complete with private pools for guests to enjoy.
Casa Cook Kos
This adults only establishment treats guests like royalty and is a popular place for couples to spend their honeymoon. Casa Cook Kos is set right on the edge of a beautiful stretch of sand and guests are treated to private beach access as well as stunning views of the ocean from their balconies and terraces. The large and modern spa complex comes complete with an indoor pool and a hammam, while the outdoor swimming pool is set with huge sun beds where guests can soak up the sun and indulge in a cocktail or two. People who are in search of optimum luxury should make sure that they secure one of the villas that come with a private pool and beach views, while those who are in search of fine dining will not be disappointed.
Mykonos
The Belvedere Hotel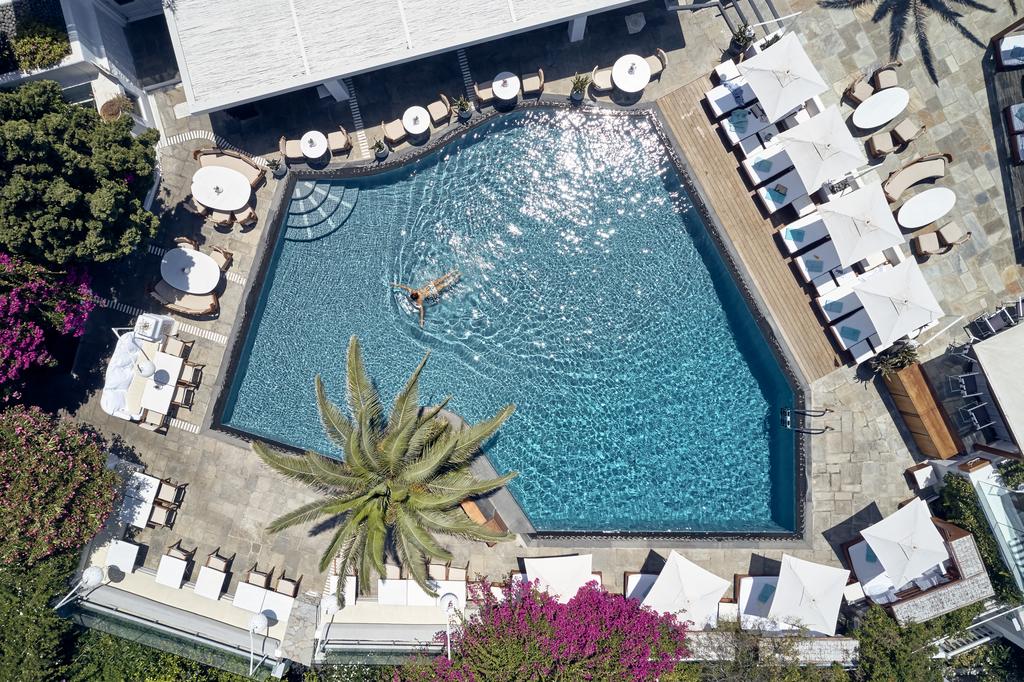 The Belvedere Hotel is located just on the edge of Mykonos Town; close enough for guests to soak up the cosmopolitan vibes yet removed enough to offer plenty of privacy and secluded luxury. Stunning views across the Aegean sea combined with a level of service, comfort and hospitality that is second to none it is clear to see why The Belvedere Hotel has established a reputation for being one of the most luxury hotels on the beautiful Greek island of Mykonos.
Rhodes
Lindos Blu Hotel & Suites
Providing guests with enchanting views of Vlycha Bay, Lindos Blu Luxury Hotel & Suites is situated a four-minute drive from Lindos town and the famous acropolis. Couples are sure to appreciate the fact that this luxurious establishment is adults-only, which makes it the perfect retreat for couples on their honeymoon. Dining in the Five Senses restaurant is a memorable and romantic experience, while guests are treated to private beach access and stunning views from the infinity edge swimming pool. The rooms and suites have been decorated in a cool contemporary 70s style and it is worth splashing out on one of the impressive villas that come complete with their own Jacuzzi and butler service.
Sheraton Rhodes Resort
Sun worshippers are treated to direct access to a private beach when they check into the Sheraton Rhodes Resort. This sleek and modern hotel is set with a number of spacious and stylish guest rooms and suites that have been created in the minimalistic style and boast floor-to-ceiling windows and smart parquet floors. The suites also comes complete with living areas and impressive amenities like VIP check-in. by far the pick of the bunch is the exclusive Aegean Suite Sea View, which are set on the top three floors of the hotel.
Santorini
Ikies Traditional Houses
Located in the picturesque village of Oia, this five-star resort is made up of individual dug-out cave houses all oozing minimalist elegance. Room décor really speaks for itself here where Scandinavian cool combines with classic Aegean white and blue. Calming tones of steel grey, brown and white are in abundance and beds are decked in natural fibre soft furnishings. The 11 suites date from pre-1956 and have outdoor spaces boasting lovely views of the bay. Some even benefit from private spa tubs for soaking up the sweeping panoramas. Breakfast is served on your terrace in an hour of your choosing before guests can make use of the fair sized communal plunge-pool on the lowest terrace. Whilst the hotel doesn't have its own restaurant, it's just a 15-minute walk to the centre of Oia where there are plenty of options and staff are happy to make recommendations.
Atrina Canava 1894
This compact cliffside hotel appeals thanks to its quirky individual rooms and boutique size and quality of service. Named after the year the owner's great- bought the land and then dug two kánaves (medieval wine cellars), this lovely hotel is located in the west end of Oia. Made up of nine suites or studio, five 'houses' and one villa, each space is unique. Three have private whirlpools and the Irene 'senior' suite boasts and incredible walk-in closet and stunning vaulted ceiling. Bathrooms have a grotto-like feeling about them and feature rain showers for the perfect drench and front terraces face out onto the sparkling turquoise water. The communal pool fades into the horizon and is strikingly surrounded by exposed volcanic rock walls, contrasting with the abundance of clean white. No on-site restaurant doesn't matter as such as you are so close to town but breakfasts (either American, English or Greek) are cooked to order.
Pegasus Suites and Spa
Perched high on the cliffs, overlooking Santorini's stunning caldera lies Pegasus Suites and Spa. This hotel effortlessly captures the elegance and romance of the island with its timeless yet modern decor and a fantastic range of exclusive spa services. The hotel incorporates elements of the traditional, classy Cycladic architecture like pristine whitewashed exterior walls and touches of vivid blue scattered throughout. While almost every room includes breathtaking views of the bay, some rooms also feature a private jacuzzi or pools for ultimate relaxation. Guests can also enjoy a shared pool and bar with sweeping views of the Caldera or take advantage of the hotel's fantastic spa and fitness centre providing exclusive spa treatments as well as an indoor heated pool and jacuzzi. Pegasus Suites and Spa also offers exquisite fine dining, under the stars restaurant serving traditional Greek cuisine with locally sourced ingredients and excellent wine list. The hotel will also help you arrange a special candlelit dinner on a private balcony for true romance. With so much to offer, Pegasus Suites and Spa is easily one of the best luxury hotel options in Santorini.
Zakynthos
Olea All Suite Hotel
If space and luxury are you main concerns, you can be sure that you will feel right at home at the Olea All Suite Hotel. As the name suggests, you can be sure that you will be treated to your very own suite these spacious suites have been decorated in the iconic Greek style and come complete with lavish sitting rooms and other features that are sure to make guests feel right at home. Each suite also comes complete with a huge patio area that is set with a private pool or Jacuzzi and this is the perfect place to unwind for a while. There is also a huge lagoon-style pool complex for guests to splash around in, while the decadent dining terrace is the perfect place to indulge in a range of classic Greek treats.
Cielo Villas
With an excellent onsite restaurant and a pretty garden to unwind in, this luxury hotel features plenty of touches that guests are sure to appreciate. Each of the villas here is fully air-conditioned and features marble floors with modern decor in bright colours. The villas that come with a sea view are spacious enough for up to eight people to stay in. however, for the optimum luxury, the three bedroom villa comes complete with its own private pool as well as a large living room set with a fireplace, a kitchen with a stove and dishwasher, and a huge terrace that overlooks the ocean. The bathroom is especially impressive and boasts both a huge bathtub and a shower.
Porto Zante Villas & Spa
Sun worshippers are offered the opportunity to unwind while enjoying pure luxury and seclusion on the private stretch of golden sand that is attached to this excellent establishment. While this is the perfect place to simply relax and do as little as possible, a wide range of activities and experiences are also organised for guests to take part in such as fitness classes, sightseeing tours and cookery classes. Guests are treated to a stunning beachside villa complete with their own private pool, while there are two excellent onsite restaurants where guests can indulge in Greek cuisine and dishes that feature plenty of Mediterranean flavour.