With an elegant bottle shape, bold colour and playful details, Glenmorangie's three new bottles which they unveiled earlier in the year sport a trend-setting look, perfect for any drinks trolley. As such, the distiller has partnered with interior design expert Lisa Dawson to offer tips on styling a cocktail cart.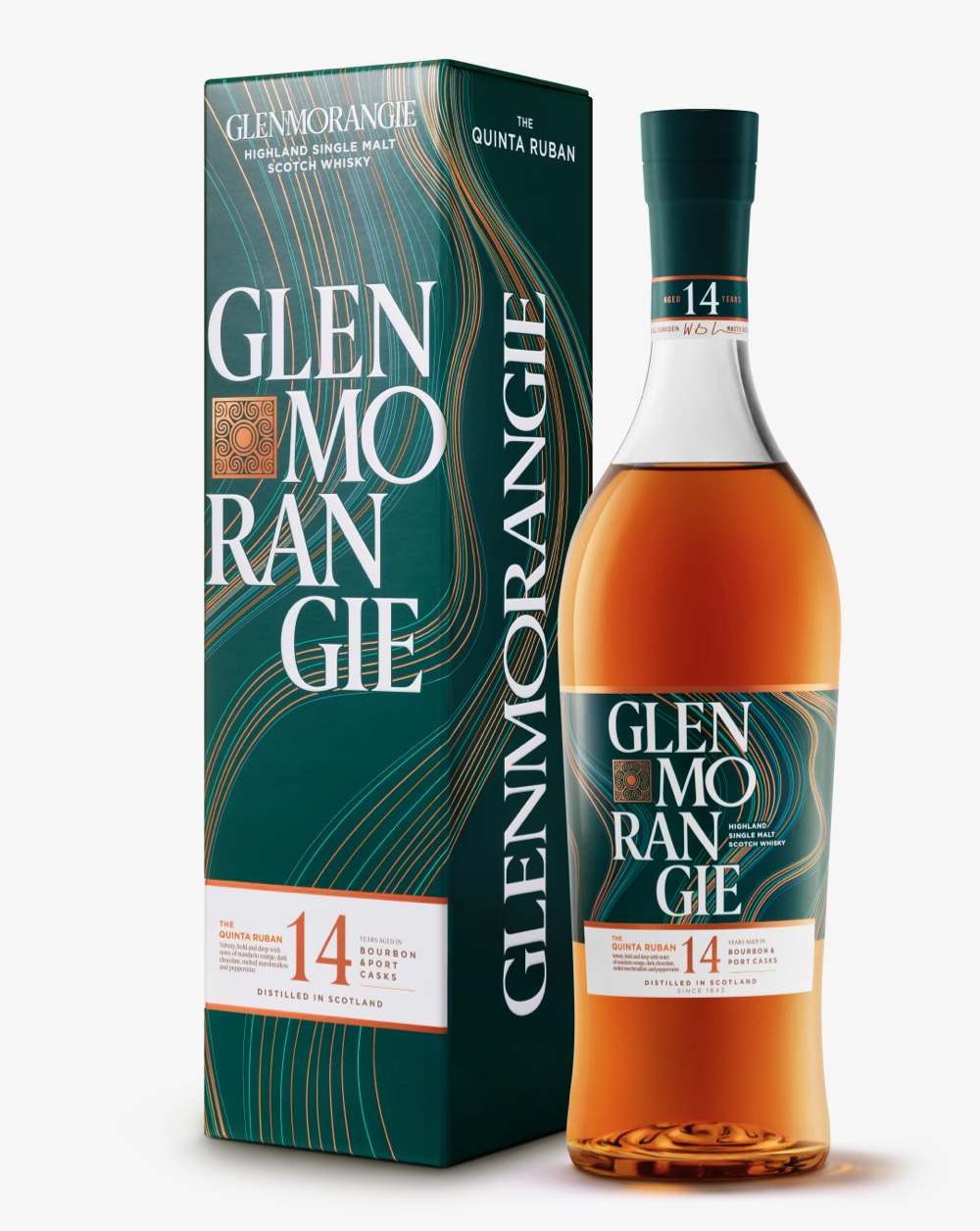 Start With A Tray
A good tray is your starting point when styling your drinks trolley. Perfect for displaying your favourite bottles or glassware, it anchors the space and creates a focus for the eye, bringing the look together. Metallics such as brass or silver work well, or be bold and go for a colourful piece that contrasts nicely with the drinks bottles. Natural materials such as wood, wicker or bamboo can be the perfect juxtaposition and will add texture. You can double up on functionality by using it to serve your drinks.
Add The Basics
No drinks trolley is complete without a basic bartender set; your creation kit. You don't need to go all out – think ice bucket or bowl, mixing spoon and metal straws as a start which is more than enough to create something special. You'll also need something in which to serve your drinks, so make sure you have a good range of glassware to hand. Mix up the textures and sizes – highball, tumbler, snifter – to add interest or go for coloured glass for impact.
Create Levels
Varying the height of your item placement is really important as it draws the eye and encourages you to look further. Books are great for stacking and can function as a base for smaller objects. Add height with a feature accessory – dinner candle holders or tall ornaments work well for this purpose – and vary the look with your favourite scented candle in a pretty vessel. The aim is to create balance to your scheme by having multiple levels on which to focus your view.
Bring In Greenery
Head to the garden for greenery or florals to add a touch of nature to your display. Any good leafy foliage will do the job – eucalyptus, hazel and myrtle are all excellent for bringing height and character to your drinks trolley. Use a statement vase in a tonal colour to suit your scheme and go big! Again, you're aiming for levels so don't hesitate to plump for larger foliage or flowers such as hydrangeas which have statement blooms.
Focus on Colour
The most important part of your trolley curation is, of course, the drinks bottles. The more aesthetically pleasing the design, the better – and bright colours can bring to life a fairly neutral scheme. Glenmorangie's new bottle design reminds me of the Pantone shade Orange Ochre – a key colour trend for 2022 – and you can bring the colour to the fore by incorporating complementary toned accessories. A bowl for your citrus fruits will tie the look together and create a drinks trolley to impress.
Read our guide to our favourite whisky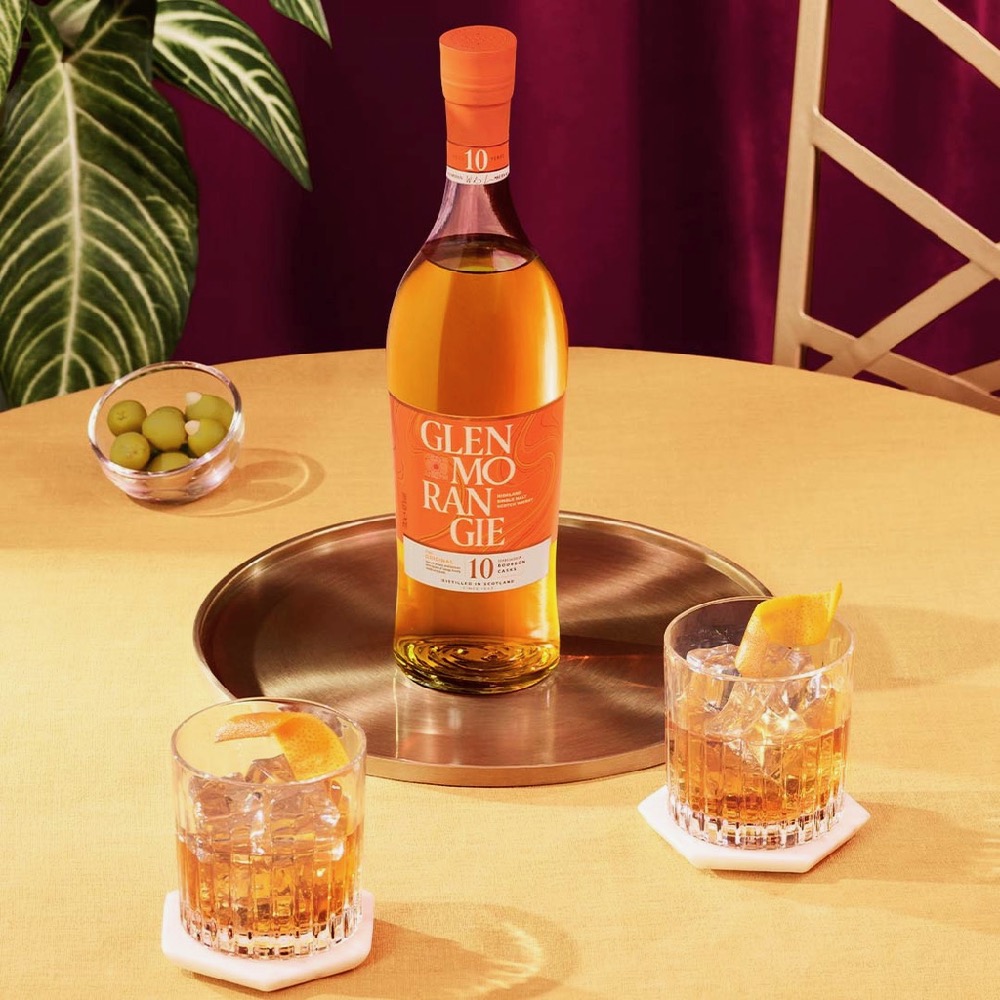 A trailblazing whisky brand
Using five key ingredients – wood, water, barley, yeast and time – Glenmorangie invent delicious single malt whiskies. They've been honing their craft for more than 175 years, using stills as tall as a giraffe (an emblem that's been included in the carton pack), to allow for more taste and aroma. Under the direction of Dr Bill Lumsden, the innovative team has made it their mission to bring new flavours and possibilities to the world of single malt whisky. Indeed, the brand already brings its whisky's wonders to life in a number of ways: from a colourful brand campaign shot by renowned photographer Miles Aldridge, to its boutique Highland hotel Glenmorangie House – a sensory playground, where guests can immerse themselves in the brand's delicious and wonderful world.
Optimistic orange, rich red, Glenmorangie green
The three core whiskies are The Original, The Lasanta and The Quinta Ruban. The Original sports the colour orange, suitably reflecting the liquid's notes of orange, honey and peach. A rich red was chosen for The Lasanta, marking its spicy sweetness and sunset inspiration. Finally, The Quinta Ruban displays a green that hints at the malt's forest-like depths. These are bottles deserving of an attractive, though-out display. But it's not only a matter of design, Glenmorangie is encouraging people to be adventurous with their serves and to step beyond their usual boundaries; whether that be drinking it neat, on the rocks, or in a zingy cocktail such as the Orange Highball or Ginger Lemon Freeze.
A Single Malt That Stands Out
The new bottle designs add elegance, with wider shoulders, a tapered neck and a swirled detail inspired by Glenmorangie's Signet icon to discover on the base. Luxury foils, embossing and premium materials have been used throughout, to ensure the packaging is of the finest quality and sustainable.
Creamy with vanilla and a rush of citrus, Glenmorangie Original is bottled at 40% ABV and has a RRP of £37. Rich and satisfying, with spiced orange and chocolate.
Lasanta is matured in bourbon and sherry casks for 12 years to create a taste of sunset, before being bottled at 43% ABV, this malt is available for a RRP of £46.
Quinta Ruban is designed to be as unpredictable as travel, evoking a dark and delectable forest, where the wind whistles with gusts of peppermint and dark swirls of chocolate; bottled at 46% ABV it has a RRP of £55.