Picture a place where azure waters gently kiss powdery sands and palm trees sway in the breeze – this is Phuket, the tropical paradise that has captured the hearts of beachgoers, watersports enthusiasts, clubbers and foodies from around the globe. A visit to what is described as the pearl of the Andaman Sea is a sensory journey, where you can do as little or as much as you fancy. From the bustling streets of Patong to the serene shores of Kata Noi, this island's diverse settings provide a backdrop to savour, experience, unwind and be pampered.
---
How To Get There
Phuket can be reached primarily via air and sea with two main entry points. Phuket International Airport: This is the most convenient option for international travellers. The airport is well-connected to major cities across Asia and the rest of the world, making it easy to find direct flights to Phuket. There are many daily domestic flights from Bangkok as well as from Chiang Mai, Pattaya U-Tapao and Ubon Ratchathani.
Qatar Airways Qsuite
If you are travelling from the UK to Phuket you can either land at Bangkok's main airport Suvarnabhumi or fly directly to Phuket's International terminal. We recommend travelling to Bangkok and Phuket with Qatar Airways which offers exceptional business-class cabins across all its fleet. They also offer Qsuite Business Class on its Doha to Bangkok route and business class on its Phuket to Doha route, both of which are excellent ways to travel.
Best Time To Visit
The best time to visit Phuket is typically during the dry season, which spans from November to April. This period offers visitors warm and sunny weather, making it ideal for beach activities, water sports, and exploring the island's natural beauty. December through to February is especially popular, with cooler temperatures and lower humidity. If you prefer a quieter experience, consider visiting in the shoulder months of November or March. Keep in mind that the rainy season, from May to October, can bring heavy rainfall and occasional storms, which may limit outdoor activities. However, the best time to visit Phuket really best time to visit depends on your preferences!
---
Eat
Phuket offers a culinary journey that is bursting with exquisite flavours and eclectic establishments. Family-run favourites, famous street-food stalls and fine-dining restaurants all of which offer top-notch service and delicious dishes. Whichever you choose you are guaranteed a truly memorable dining experience. Here are a few of our favourites to tantalise the taste buds.
PRU
The farm-to-table philosophy here runs very close to home. The restaurant has its own permaculture smallholding, Pru Jampa (read our review of Hideaway by Jampa here) and is committed to replanting and sustainability. As such, the eatery has been awarded Thailand's first Green Michelin Star and offers low-carbon footprint dishes plentiful in fruit and vegetables, roots, plants, flowers and herbs. The name is an acronym for plant, raise, understand. Ingredients that are not homegrown are foraged from many different regions in Thailand. From this produce, chefs create incredible six-course tasting menus for vegetarians and carnivores, with optional wine cellar pairings.
L'Arôme by the Sea
Dine overlooking Kalim Bay at this nautical restaurant and rooftop sunset deck. Swiss Chef Yannick Hollenstein brings a blend of the classic and the avant-garde to his interpretation of French cuisine, with a focus on his native Alpine region. French foie gras, Kristal caviar, Japanese Wagyu, Phuket lobster, wild-caught Krabi blue crab and hand-picked local clams are examples of some of his favourite ingredients, both imported and locally sourced. Naturally, the restaurant is inspired by the ocean setting, with a theatrical nine-course Prestige Tasting menu served. The dress code is "resort chic" with smarter attire preferred after dark.
La Sala
Part of a stylish resort in Mai Khao, La Sala is an all-day restaurant specialising in the flavours of the south. Service begins early, with an international breakfast buffet and live cooking stations. Lunch takes the form of street food platters to share and colourful salads, then from 2pm to 6pm, the space hosts afternoon tea with gourmet savouries, scones and patisserie. As evening falls, the emphasis leans toward spice, with curries, noodles, meats and seafood prepared Thai style. La Sala is set on and beside a truly beautiful lily pond.
For more dining inspiration check our guide to the Best Restaurants in Phuket
---
Do
Phuket presents a superb variety of exclusive experiences and activities for visitors – be it teeing off on prestigious golf courses, setting sail to explore the picturesque islands and hidden coves, taking to the skies for a birdseye view or diving deep below the sea. Adventure or relaxation or both! Visitors will soon realise they can have it all with a holiday in Phuket.
Yacht Charter and Island-Hopping
Chartering a private yacht offers an unparalleled experience of opulence and indulgence on the mesmerising waters of Phuket. Set sail to Phang Nga Bay, an area known for its dramatic limestone karsts rising majestically from the emerald-green sea forming many hidden coves that are often inaccessible by land, ensuring a sense of exclusivity and privacy that only a yacht can provide. Savour leisurely picnics, bask in the sun, or simply relish the serenity of your own secluded paradise. And when the call of the underwater world beckons, dive into a vibrant underwater realm, teeming with colourful coral reefs and a myriad of marine life.
Spa and Wellness Retreats
Phuket stands as an idyllic sanctuary for wellness enthusiasts. Here, you can indulge in an array of unparalleled spa treatments and rejuvenating wellness programs thoughtfully curated by the finest luxury establishments. Notably, the likes of the Jara Spa at the prestigious Trisara, the exquisite Spa at the renowned Banyan Tree, and the tranquil oasis of The Surin Spa at The Surin await to bestow their expertise upon you.
Exclusive Golf Courses
Golf aficionados can tee off at some of Thailand's more prestigious golf courses including the Canyon Course at The Blue Canyon Country Club, Laguna Golf Phuket and the picturesque Red Mountain Country. With lush fairways and stunning ocean views, these courses offer a memorable golfing experience, often combined with high-end amenities and clubhouses.
Discover Phuket's Heritage
Experience Phuket's rich cultural heritage on an evening tour. Explore historic quarters, admire Chinese and Sino-Portuguese architecture, and visit a colourful fruit market. Enjoy a sunset cocktail at Rang Hill's scenic viewpoint, followed by a traditional Thai dinner at Natural Restaurant. The tour offers a fascinating blend of history, culture, and local cuisine, making for a memorable Phuket experience.
Take a Helicopter Tour
For a truly breathtaking perspective of Phuket's natural beauty, book a private helicopter tour. Soar above lush jungles, dramatic coastlines, and emerald-green waters while enjoying the ultimate VIP experience.
The Skydance Phuket tour offers a thrilling 30-minute helicopter ride. The journey takes you on a scenic route with views of various famous locations, such as Nai Thon beach, the Millionaires' Mile, Layan and Bang Tao beaches, Surin, Kamala, and Patong beaches. The tour offers a unique perspective of Phrom Thep Cape at the southern tip of Phuket, a popular sunset spot and another excellent photo opportunity is as the helicopter circles around the 46-meter high Big Buddha. This high-in-the-sky view of Phuket is a truly memorable experience.
Underwater Adventures
A Phang Nga Bay snorkelling trip offers a paradise-like experience. You'll embark on a journey through emerald-green waters, passing by breathtaking islands and towering limestone cliffs. The highlight is snorkelling near the Koh Yao Islands, where you'll encounter stunning coral reefs and tropical fish. The itinerary includes a car transfer to Phuket's pier, a boat ride across the bay to Koh Hong Krabi, and stops in secluded bays for swimming. A picnic lunch with scenic views is provided, and the day concludes with more swimming and relaxation in the sun before returning to Phuket in the early evening.
Visit an Ethical Elephant Sanctuary
Visit an Ethical Elephant Sanctuary for a half-day experience with rehabilitated Asian elephants. The sanctuary prioritises responsible treatment and conservation of these gentle giants. Guests can meet the elephants, and learn about their stories and the importance of protecting them. You'll have a unique opportunity to feed the elephants, go on a forest walk to observe their natural behaviour, and see them foraging, bathing, and playing. This is a must-do experience for animal lovers who appreciate respectful interactions with elephants.
---
Sleep
From private villas perched high above the bay to beachside boutique hotels, Phuket's collection of luxury hotels, villas and resorts is plentiful. Guests will be spoiled for choice with each boasting warm Thai hospitality, fantastic facilities, supreme gastronomy and Insta-worth infinity pools. Whether seeking a romantic escape or a fun-filled family holiday there is a place in Phuket perfect for you! Read on to discover some of our favourites.
Anantara Koh Yao Yai Resort & Villas
Slow down and unwind in Thailand's last untouched paradise. The new Anantara Koh Yao Yai Resort & Villas sits on the lush island of Koh Yao Yai in the middle of Phang Nga Bay where limestone islets dot the horizon in every direction and it's just a short speed boat ride to and from Phuket and Krabi. Accommodation is spacious and the height of luxury, with penthouses and private pools looking out to sea, huge beachfront pool villas that line a kilometre of sandy white beach as well as family suites that offer a private playground for younger guests, with bunk beds and water slides adding to the fun. Immerse in island rhythms as you cycle past traditional fishing villages or try snorkelling and paddle boarding in the island's pristine waters. Top up your tan at the resort's expansive sun terrace and pool and grab a cocktail at the swim-up bar or take some time out in the spa. Start your day by tantalising your taste buds with a buffet breakfast, offering everything from Thai to Western and Asian cuisine and indulge in a culinary adventure at the resort's beachfront restaurant, where a tempting array of expertly crafted Seafood, Japanese, and International dishes await. Whether you're in search of a romantic escape, a family break, or a peaceful retreat to the alluring shores of Thailand, this resort guarantees to surpass your anticipations and invites you to experience the magic of this captivating destination.
Trisara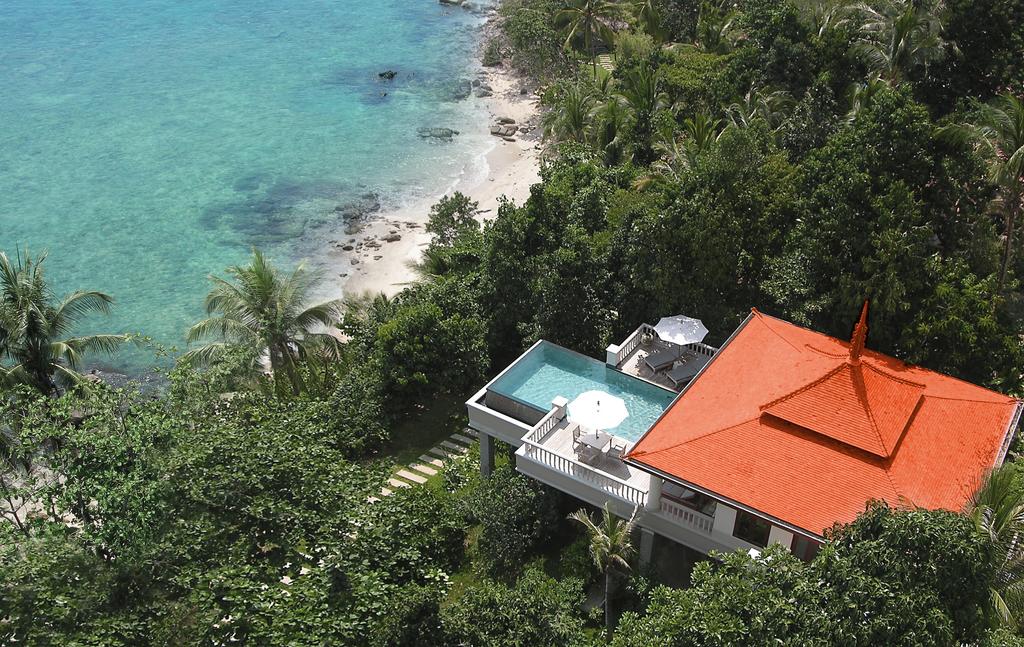 Trisara, located in the tropical hills of north-western Phuket, is a secluded paradise on the Andaman Sea, set within a protected nature preserve spanning fourteen hectares, this resort offers guests extreme privacy and tranquillity. The name Trisara refers to a mythical tropical garden paradise in the third heaven and the design of this five-star sanctuary draws inspiration from Thai cultural traditions and is blended with the use of natural materials and modern luxury elements that flow throughout the spacious villas and private residences. As Phuket's most renowned private pool resort, each villa and residence boasts a private swimming pool that looks out across the sea from the terraced hillside setting. Guests can also enjoy use of a private beach, ideal for sunbathing and water sports and other amenities include an infinity pool, fitness room, tennis courts, and even a Muay Thai boxing ring. There's also a Kid's Club for children's entertainment. For a relaxing experience, the JARA Spa focuses on physical and spiritual well-being, with sea-facing treatment rooms and a centuries-old Ficus tree as its spiritual anchor. The dining options at Trisara range from casual to fine dining, while its cocktail lounge provides a stunning backdrop for enjoying the island's sunsets. Trisara is an ideal destination for couples seeking a secluded break or is equally suited to families and friends looking for a peaceful, private, and attentive service-oriented holiday experience.
The Pavilions Phuket
Escape to an enchanting hillside haven of luxury and romance at The Pavilions, Phuket. Perched high above the scenic bays of Bang Tao and Layan, this idyllic retreat seamlessly combines sleek European elegance with traditional Thai beauty. With luxurious suites and sprawling private villas offering breathtaking views of the Andaman Ocean, and a range of amenities including an open rooftop bar 360 serving delectable cocktails, Alto the Italian-focused fine dining restaurant, and Firefly the all-day dining restaurant offers a relaxed poolside ambience. There is also a fabulous spa and open-air yoga pavilion, along with complimentary shuttles to and from pristine Layan Beach for guests to enjoy. The Pavilions provide an unparalleled experience of indulgence and tranquillity. Whether you're a honeymooner or a couple seeking a romantic getaway, this oasis promises an unforgettable fusion of sophistication and serenity against the stunning backdrop of Phuket's natural beauty.
For more hotel inspiration check our guide to the Best Luxury Hotels In Phuket