Third Garden in Heaven
This is the translation of the resort's name, reflecting its intention as a kind of Eden. It links into Buddhist beliefs around this celestial setting and reflects the brand's deep respect for Thai culture — something that is evident throughout the guest experience. Service is seamless and the approach to everything — whether food or fitness, is holistic. Trisara may be beautiful, but it is not just a pretty face; the resort's plentiful facilities including a Michelin Star restaurant, a multitude of other dining options, an incredible spa complex, an infinity pool, championship tennis courts, a Muay Thai boxing ring, a kid's club and with activities such as island cruises, watersports and cooking classes available too, there is plenty to keep guests entertained. It is without doubt one of Phuket's best luxury hotels.
A Hideaway Cove
While the retreat may be located in one of Thailand's most popular beach destinations, its specific location exudes exclusivity, built into protected hillsides planted with indigenous palms, plumeria, orchids and flowering vines. Venture further into your surroundings, guided by the Resort Hosts, who are on hand for tours to Old Phuket Town and beyond. The resort also has its own in-house digital studio, to capture your memories on film. All of this is found just 15-20 minutes from the airport, making a stay at Trisara an effortless experience on every level.
Check In
Trisara is a scenic 15-20minute drive south of the airport and we love the fact that transfers by private limousine to and from the airport are included in room rates, a member of Trisara staff will be waiting at the airport arrivals for you meaning the holiday starts that little bit sooner.
Guests are also A 24-hour concierge service via WhatsApp is available for guests – with an almost instant response rate.
Communal Areas
The hotel is quite spread out, giving it an exclusive feel and this ample space also creates the illusion of having the entire resort to yourself. Buggys are only a WhatsApp request away and will whisk you to any part of the hotel resort. Food and drink facilities are focused around a central courtyard looking out to the Andaman Sea, and connect with the infinity pool and beach bar too.
Private Pool Villas and Suites
All accommodation here faces west, making those sunset views over the sea nothing short of spectacular. Suites and Villas range from entry-level Signature Ocean View Pool Suites, to Junior Suites, Ocean View Pool Villas and Two Bedroom Ocean Front Pool Villas.
Sip a sundowner on your private pool deck and take a dip in your own infinity pool, before retiring to your expansive living quarters, bedroom, and bathroom with soaking tub. Villas also have dressing rooms running the full length of the villa, gardens, and an outdoor sala, all in soothing neutral colours and a design that radiates modern Thai luxury.
Our Villas During Our Stay
During our time at Trisara, we stayed in one of their Ocean View Pool Villas, laid out across 240 sq.m – they are huge -with plenty of space for two people, but can accommodate up to three adults and two children. Uninterrupted views look out to sea and your private pool is the perfect place for a spot of sunbathing.
Entrance
These villas have two entrances, one that leads into the dressing room making it easy for staff to move bags in and out providing extra privacy, and another entrance at the pool deck and bedroom.
There is also a small do not disturb "Angel of Privacy" ornament you can place at your villa door and staff will not come into the villa ground while it is placed there.
Bedroom & Living Area
This large open-plan space features a king-sized bed in the middle (plenty of plug points on either side) with a sofa area and personal bar to the left-hand side of the bedroom, and a desk area to the right. The central area behind the bed opens out into the bathroom, however, there are shutters which can be closed for privacy.
Personal Bar & Welcome
A fridge is packed with goodies, with complimentary water, homemade cookies, and chocolates which are replenished daily. Nespresso machine and fresh milk are on hand too.
Swimming Pool and Pool Deck
One of the defining features of the resort is that all of the regular suites and villas have private infinity pools with direct sunset views. This means that there are no bad rooms and no bad views here. The only difference between Ocean View Pool Villas and Ocean Front Pool Villas is the proximity to the beach. Ocean View Pool Villas are located midway up the resort whilst Ocean Front Villas are closest to the water and some have a lengthwise pool like ours, while others run in the opposite direction.
Bathroom
The bathroom and dressing room run the length of the villa with twin sinks one on each side (so you can make your own mess!) There is a central jacuzzi tub in the middle. And to the left lots of wardrobe space meaning you can easily keep two suitcases neatly hidden out of the way. And in the other direction the toilet indoor shower and then a second outdoor shower.
Outdoor Shower
I love an outdoor shower, and didn't even use the indoor one!
Villa At Night
A turn-down service happens each night, curtains are drawn, bedsheets pulled back and a small hand origami animal made from leaves is thoughtfully placed on your bed.
Michelin and Oceanfront Dining
The culinary jewel in Trisara's glittering crown is its Michelin-starred dining establishment, PRU, which stands for plant, raise, and understand. Here you can enjoy a fine six-course tasting menu at the weekend with optional wine pairings (advance booking is essential as reservations here are booked up months in advance).
Take a table at Seafood at Trisara, where homely Thai recipes are served in a stunning beachfront setting. Or at its newly unveiled restaurant Cielo their Mediterranean-inspired dining concept which transports you on a gastronomic journey through the coastal regions of Southern Europe and the Levant. Serving a fresh and sustainable al fresco experience this is set to redefine dining in paradise, embracing the timeless allure of the Mediterranean. Read more about Celio here.
At the time of visiting the restaurant the previous dining experience was called Waew, named after the triangular island visible from the property's private beach.
PRU Jampa
A large proportion of the ingredients you'll find on your plate across all of the dining experiences come from Pru Jampa (read our review of Hideaway By Jampa here and images below), Trisara's working organic farm and orchards.
Much of the remainder is sourced from local farmers and fishers, with whom the staff have built a strong rapport. Those with a keen interest in their food's origin can wander to the farm where resident bees and chickens are reared among the crops of veggies, herbs, and fruit.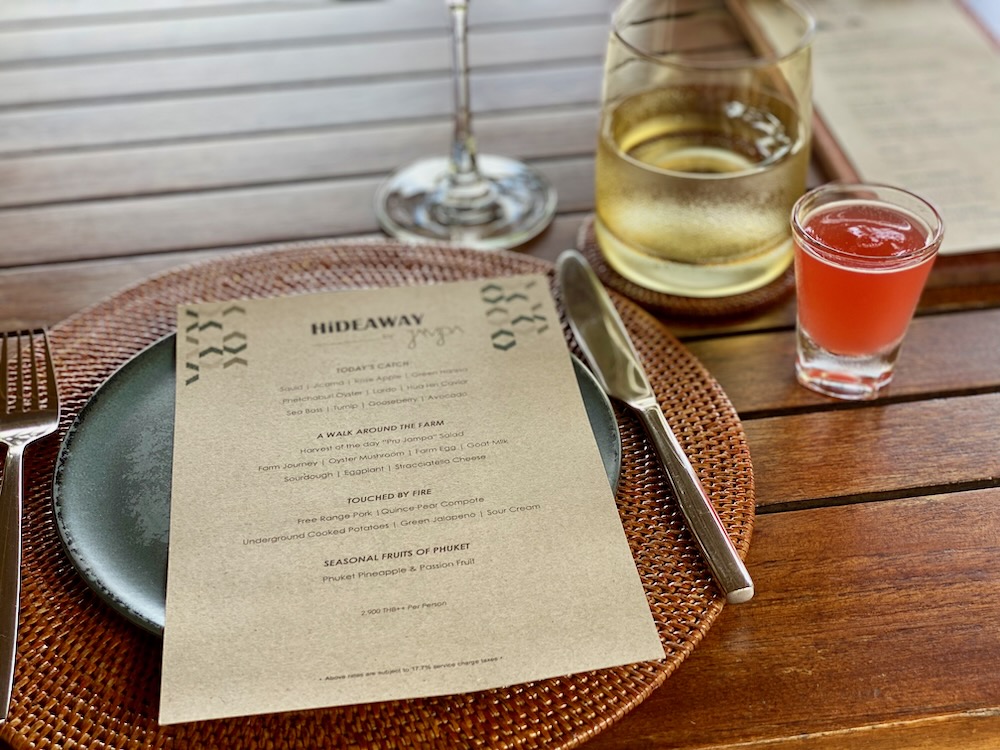 Breakfast
Breakfast is as much of a fine dining affair as the excquisite dinners at Trisara. Beautifully presented with a number of a la care options and a refined buffet offering too. Fancy that Instagram-worthy breakfast? Order a floating breakfast to your pool!
Jara Spa
Based on five pillars of wellness (root, trunk, branch, blossom, and spirituality), treatments at the resort's Jara Spa take place facing the sea in dedicated pavilions. These rituals utilise Trisara's new range of fully organic and chemical-free beauty products and essential oils, made using local ingredients. At Jara's heart stands an ancient Ficus tree, adding to the sense of grounding and connection with nature. Holistic classes, including yoga sessions, can be arranged as part of your wellness journey.
Your Own Private Beach in Phuket
Unlike other local resorts, you won't have to share this slice of beachy paradise with anyone, other than the other residents of Trisara. Lie in a sunny spot on a lounger or under the shade of a palm tree. The strip of white sand overlooking the azure sea is immediately met by a very long (48 metres to be exact) infinity swimming pool for elegant laps beside the coast. Beside this, you'll find muslin-slung daybeds.
Private Pool Residences
These are a true home-from-home and range from two to eight bedrooms in size. Each includes living and dining pavilions, long 20-metre lap pools, extensive gardens, private entrances, and kitchens (not that you'll have to cook, there are staff who will do this in-house). Like the villas and suites, the interiors are accented by ornate carvings in light-coloured wood, emphasising the resort's authenticity and connection with its geographical roots.
Final Thoughts
A stay here is a multi-sensory experience in paradise where the ocean is a constant presence. Sustainable, romantic, and with attention to detail that is truly flawless, Trisara is a resort that delivers on so many levels and guarantees the perfect luxury holiday in Phuket.
Contact Details
Website: trisara.com
Address: 60 Cherngtalay 1 Srisoonthorn Road Tambon Choeng Thale, Thalang District, Phuket 83110, Thailand