Located along the sun-kissed shores of Rio de Janeiro, Copacabana stands as an iconic jewel in the crown of Brazil's vibrant coastal destinations. With its legendary stretch of golden sands, the rhythmic pulse of samba music, and an irresistible blend of cultural richness, this world-renowned neighbourhood has long captured the hearts of visitors from every corner of the globe. Whether you seek days of sun-soaked relaxation, exhilarating nightlife, or a cultural adventure like no other, Copacabana welcomes you to embark on an unforgettable journey through its seductive streets and beaches, where the spirit of Brazil truly comes alive. And here are our favourite 5-star and luxury hotels in the area to stay at.
Copacabana Palace, A Belmond Hotel, Rio De Janeiro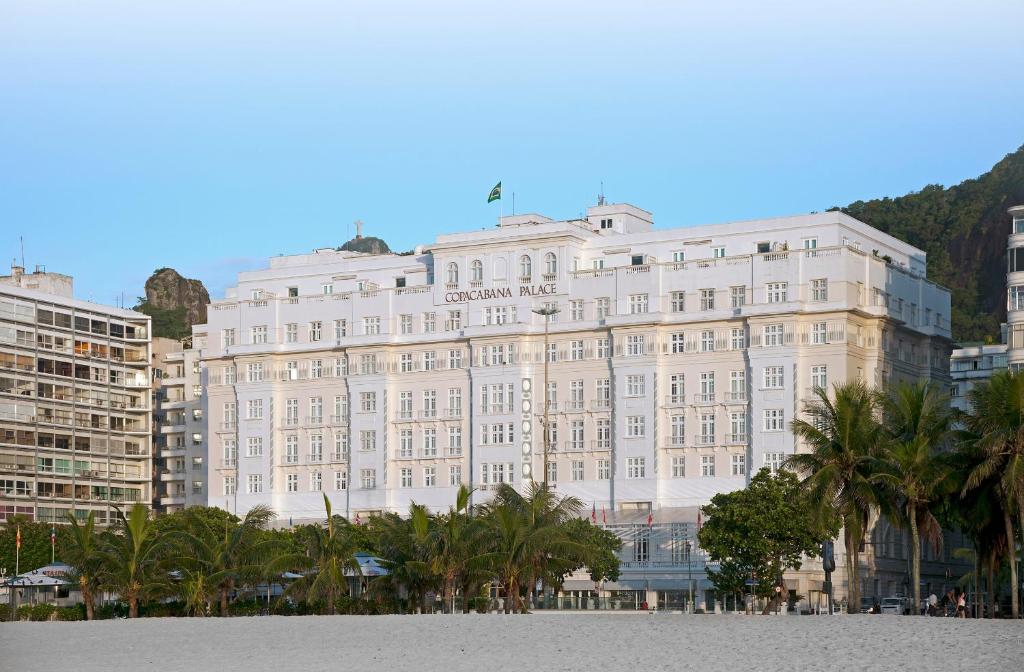 A shining example of Rio's glamour, this neo-classical Grande Dame has been in business since the roaring twenties. It faces out onto the beach, where guests can receive a waiter drinks service. On the third floor, there's a rooftop tennis court and a large glitzy pool area. The food and drink offer comprises the terrace Pérgula restaurant, Italian eatery Cipriani and Mee, a Michelin starred establishment under the direction of Ken Hom. Guests who've stayed at this landmark hotel include Prince Charles, Mick Jagger, Madonna, Cameron Diaz, Tom Cruise, Paul McCartney, and Lenny Kravitz. Black and white prints of past patrons adorn the walls, while chandeliers, wood panelling and marble add to the palatial feel.
Hotel Emiliano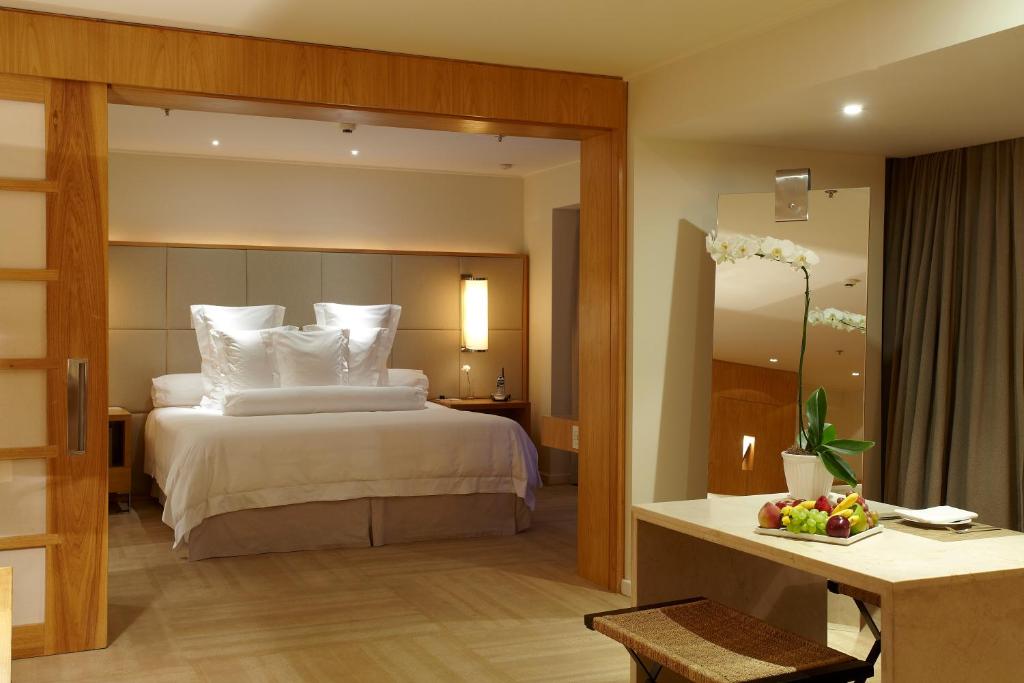 Another example of modernist architecture, Hotel Emiliano is the work of native designer Arthur Casas. The decor pays homage to Rio's mid-century heyday, with neutral tones and a minimal approach. A restaurant, Emilie, serves forward-thinking Brazilian-French fusion cuisine and features a huge tropical living wall. On the rooftop, a long, narrow infinity pool overlooks Copacabana Beach. Treatments at the Santapele Spa are all about rebalancing the body and are based on the three pillars of relaxation, revitalisation and detoxification. Crisp white linens and tan leather armchairs are found in the bedrooms, along with Santapele toiletries (Emiliano's own brand).
Fairmont Rio de Janeiro Copacabana
Bursting with mid-century glamour, this Fairmont hotel enjoys an iconic location, overlooking Sugar Loaf Mountain. Book one of 375 bedrooms, where you'll have your own balcony and 55″ TV. Opt for a Gold room for access to a private lounge with daily VIP complimentary breakfasts and cocktails. Swim in the hotel infinity pool with open views via a glass balustrade, or check out the vistas over a meal at the Fairmont's gourmet seafood Josper grill, Marine Restô. Other amenities include the Willow Stream Spa, Spirit Copa Bar and Coa and Co Cafe.
Hilton Rio de Janeiro Copacabana
Sleek neutrally decorated and plush rooms, typical of the Hilton Collection, are offered here. Perched beside one of the most famous beaches on the planet, it's a top spot for people-watching and sunning yourself beside the infinity pool. Its Anna Pegova spa is all the way up on the 38th floor, with ocean-view treatment rooms adding to the pleasure of a pampering visit. The Clarice Restaurant and Clari Bar are found on the 4th floor and there's a further rooftop bar, the Isabel Lounge, for cocktails and Brazilian food by Chef Pablo Ferreyra.
JW Marriott Hotel Rio de Janeiro
Arrive into a double-height, marble atrium at the five-star JW Marriott Hotel Rio de Janeiro. Sleek monochrome rooms are accented by shaped wooden headboards and black and white prints displaying landmark scenes from across the city. For extra living space, choose the 96-square-metre Presidential Suite. The Carioca all-day dining venue on the mezzanine is directly beside Copacabana Beach, while the Moonlight Rooftop Bar looks down onto it, with a street food truck serving food. Plus there's the in-house Cafe Illy bar for tea, coffee and casual snacks.
Miramar Hotel by Windsor
While the name may have you thinking this is in Berkshire, the Miramar Hotel by Windsor is in a hot and glamorous setting on the Avenida Atlantica. The 16th-floor infinity pool appears to melt into the ocean from its high perch, thanks to a granite base that provides a seabed-like effect — you'll also find a bar up here, serving light bites and drinks. Guests have the option of butler service, marble bathrooms, Nespresso machines, designer toiletries, and there are connecting rooms for families. There's also a lobby bar, breakfast buffet and restaurant.