This quaint fishing port of Rovinj on the Istrian Peninsula is one of Croatia's most Instagrammable locations, due to its colourful cottages, cobbled alleyways, towering hilltop church and baroque old town architecture. And with a plethora of delicious alfresco eateries dotted around the city, the aromas are mouth-wateringly enticing too. It's a superb holiday destination – whether you enjoy exploring historic sites, quaint shops or lounging on the stunning nearby beaches. Rovinj's subtropical climate ensures it feels like a true summer getaway with a romantic feel.  Make it an extra special stay by booking one of these four superb hotels…
Hotel Monte Mulini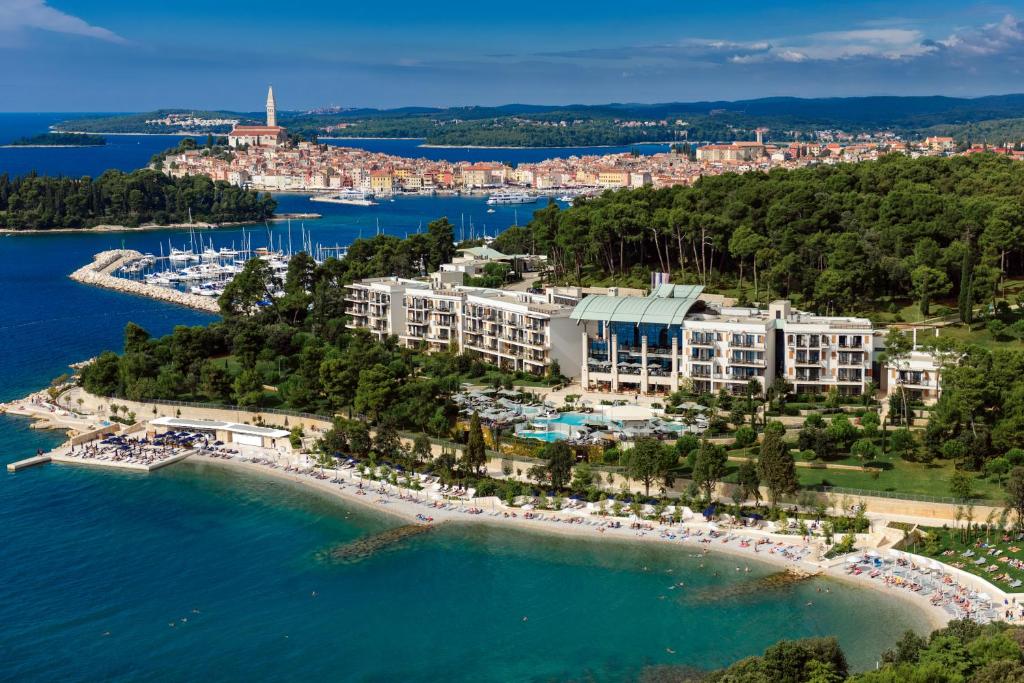 Just a 20-minute walk from the town centre, this five-star property is hidden away in the Zlatni Rt forest park, beside Lone Bay. 99 rooms are spread between two low rise buildings with a contemporary aesthetic. Bold accents are blended in among antique furniture pieces in a hotel that has earned a reputation as one of the best in the country. A sea-view pool complex offers a vibrant hub and sits beside the glamorous glass-walled lobby. There's also a swim-up bar, children-only pool and hydrotherapy section, all complemented by an additional indoor pool area that's attached to Monte Mulini's glossy spa. 
Hotel Adriatic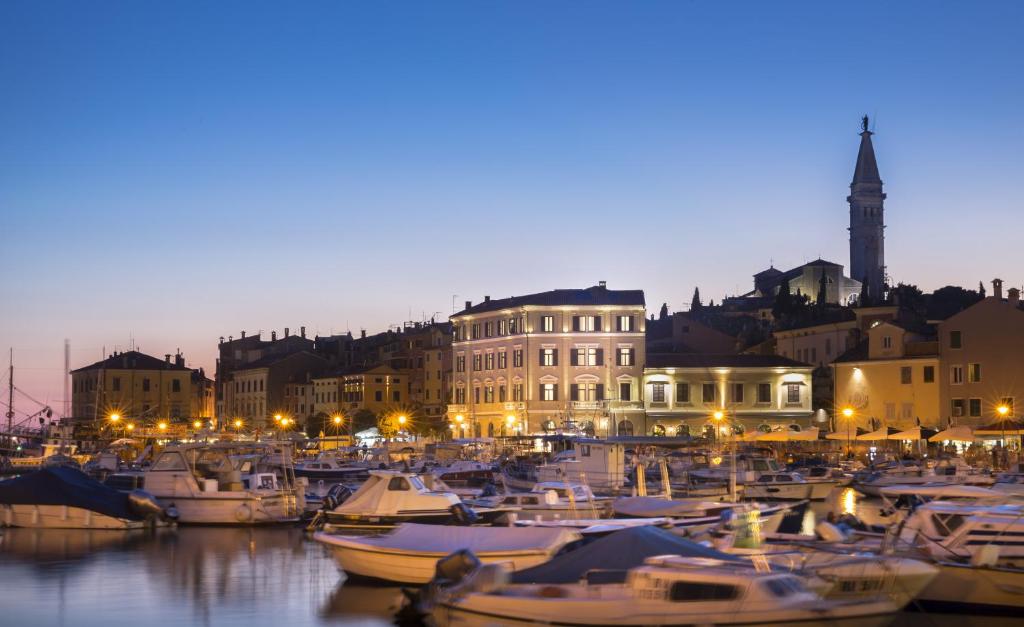 As the city's oldest hotel, this building dates back to 1892. However, it underwent a trendy renovation in 2015, contrasting the grand period facade. Adriatic's prime location, right on the edge of the harbour is one of the many reasons to book, alongside its beautiful artworks, French Riviera-inspired brasserie and cafe bar serving one of the land's finest selections of whiskies. A boutique atmosphere is maintained with just 18 large and luxe suites, each with attractive views. And while there are limited wellness facilities on-site, guests have access to nearby Hotel Lone's indoor and outdoor pools, as well as the spa.
Grand Park Hotel Rovinj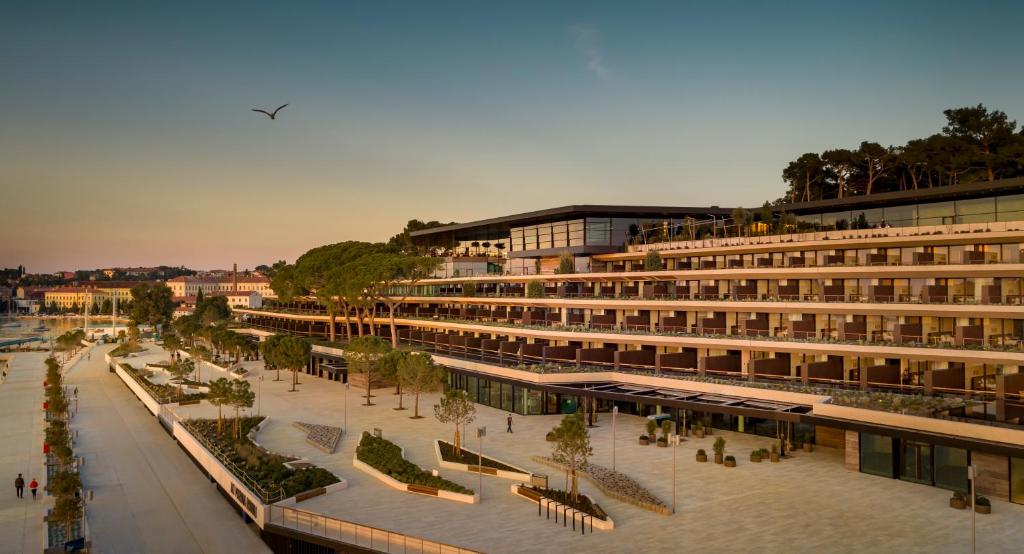 Families holidaying in the area will appreciate the Grand Park Hotel's dedicated kids' club and proximity to nearby Mulini Beach. But it holds plenty of appeal for those seeking a sophisticated stay too. Pierro Lossini has designed the modern interiors –  wood, polished concrete and glass feature heavily and there's an array of fashionable, high-end shops on the ground floor. Head up to the 50-metre rooftop infinity pool (which continues indoors to the Albaro Wellness & Spa), where you can enjoy woodland views from the plush lounger and beanbag strewn deck. Or if you need an escape from the heat of the day, sample the thermal suite's cool plunge pool and ice fall shower. 
Hotel Lone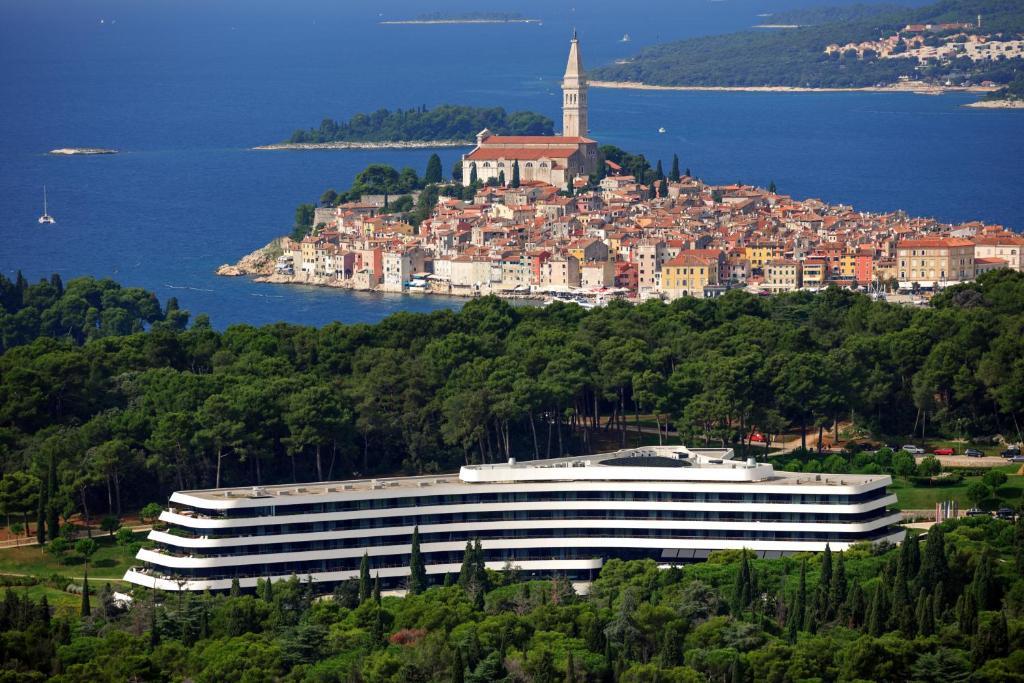 With a curved exterior, reminiscent of a modern cruise liner, the concept for the 248 room minimalist hotel was inspired by Rovinj's natural surrounds. Its deeply unconventional style, along with elegant cutting edge interiors and striking artworks, has earned its place as a member of Design Hotels (the first property in Croatia to do so). A large free-form outdoor seawater pool is hidden behind mature, tall trees, with its seductive array of whirlpools, waterfalls and geysers. Hotel Lone overlooks a pretty bay on one side and mature forestry on the other.