The Azores' location ensures they continue to be lesser-visited by tourists. They comprise nine islands strewn in the mid-Atlantic Ocean, collectively part of a Geopark created during a volcanic eruption in 1766. As such, there are many fascinating craters to explore, along with piercingly blue lakes and architecture dating back as far as the Middle Ages. They're a prime spot for whale and dolphin watching, with waterfalls, hikes and vineyards to explore inland. And as the Portuguese settlement is a little further off the beaten track, you'll find the hotels here cater to the more discerning traveller.
Grand Hotel Açores Atlântico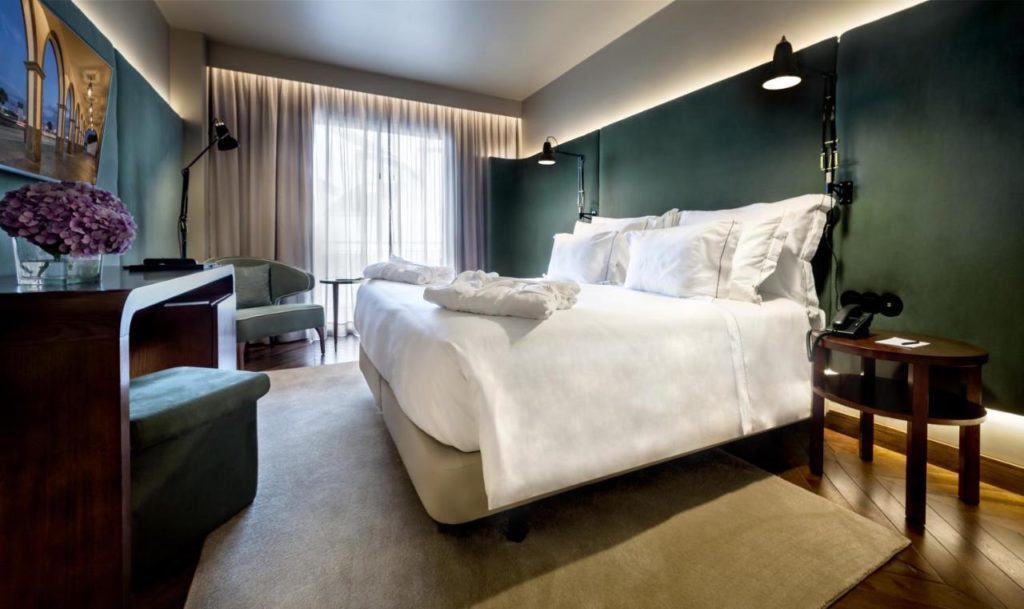 Ponta Delgada is the capital of the Azores and is found on São Miguel Island. It's here that the five star Grand Hotel is located, designed to reflect the maritime history of its environs. It faces out to the marina, is close to the historic centre and provides expansive ocean views. Step inside and you'll feel like you've set foot on board a classic luxury liner. 140 guest rooms have been inspired by the Empresa Insulana de Navegação shipping company, with suites named after its vessels. The Grand Hotel has an indoor heated pool, a gym, Balcony à la carte restaurant and the Vapore Bar & Lounge.
Terra Nostra Garden Hotel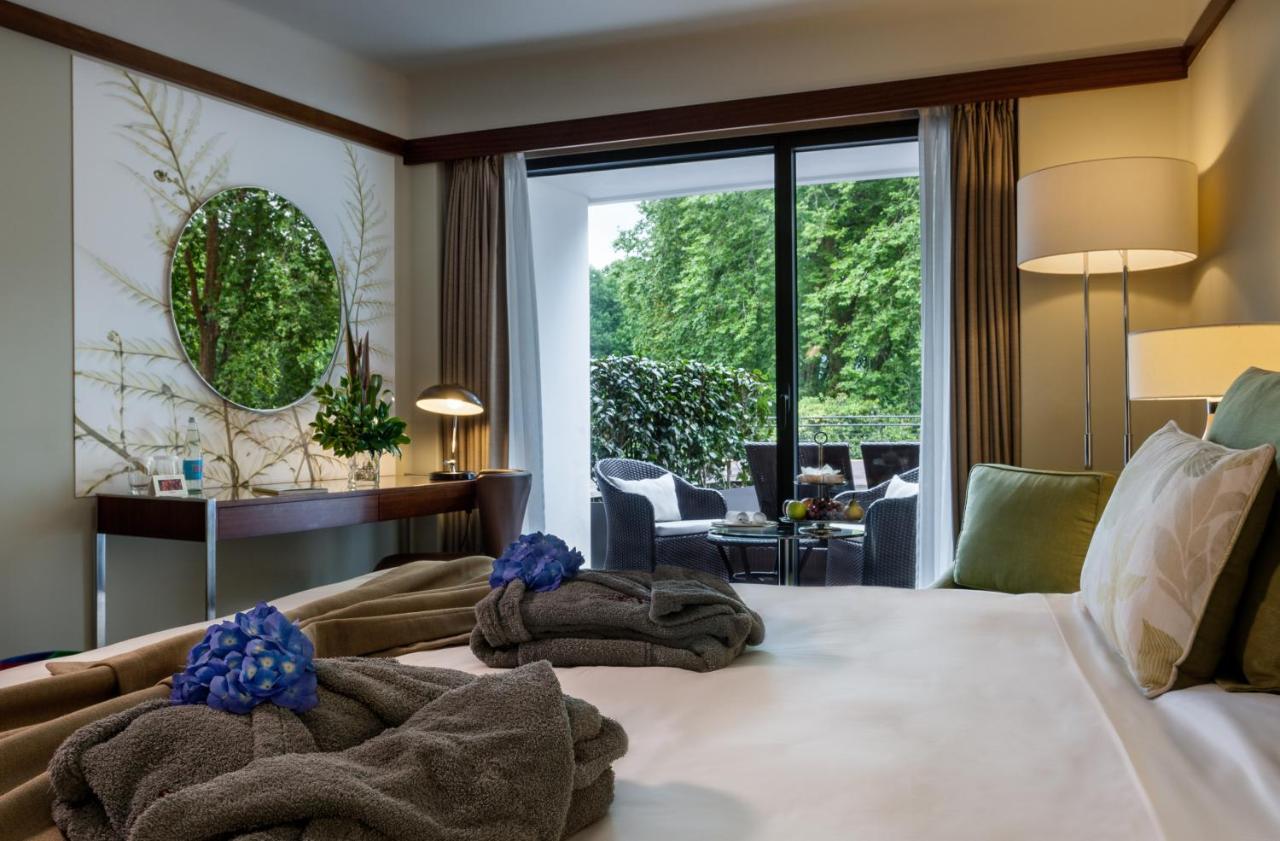 Also on São Miguel, but further afield in the Furnas Valley, an area known for its hot springs, is the Terra Nostra Garden Hotel. It features a natural outdoor thermal pool within the grounds and is a part of the same group as the Grand Hotel — Bensaude Hotels Collection. Dating back to the 1930s, the building itself has become an icon. TN Restaurant serves local specialities, while bartenders at The Gardener Bar & Terrace mix delicious cocktails with a charming view. 86 guest rooms and a spa have received an art deco-meets garden-themed makeover, reflecting its elegant heritage and leafy setting.
La Maison By White, São Miguel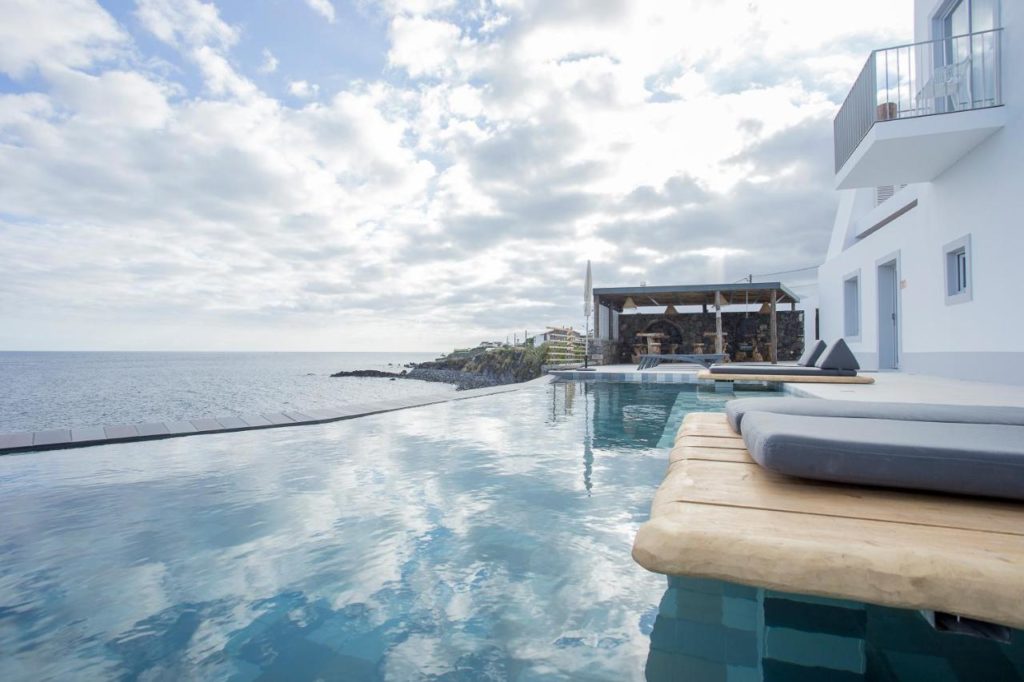 La Maison is an expansive private villa, part of the White collection of upscale contemporary self-catering accommodations. It provides an exclusive space for a family or group to retreat, furnished with a private pool, four bedrooms and open living areas bathed in light, opening out onto the outdoor terrace. Guests staying at La Maison have access to the resort's amenities. These include the Cardume restaurant, where locally caught fish and pasture-raised meats are served alongside fruits, veg and herbs from the venue's own farm, the Japanese Santa Bárbara Restaurant and a bar serving lighter meals. There's also The Hut, for wellness treatments.
Zenite Boutique Hotel & Spa
Angra do Heroísmo is the location for this four-star establishment, an area especially popular with cyclists. This is one for those who like creative decor — many of the public areas' flooring and lift interiors depict vintage maps of the Azores, polished concrete is used throughout the venue to create an earthy, urban vibe, while mid-century furnishings, statement gilt lighting and mosaic tiling add to the decorative artistry. Zenite Boutique Hotel & Spa has a restaurant, outdoor swimming pool, a fitness centre, a bar, a shared lounge and a garden. And it's just a few minutes walk to the port, sea and UNESCO centre.