This is the Golf Capital of the World, it's also big on tennis, but most flock to Palm Springs for the dry, hot climate, making it a long-term favourite among Hollywood's elite. As such, many famous names bought second homes here (it's just over 100 miles from Los Angeles), some of whom appear in the Palm Springs Walk of Stars. It borders the Mojave Desert to the north and the Little San Bernardino Mountains to the east, the latter providing shelter and hiking opportunities. Visitors who aren't keen on a climb can take the Palm Springs Aerial Tramway (the largest of its kind in the world) for incredible views and direct access to the San Jacinto Peak.
The Ritz-Carlton, Rancho Mirage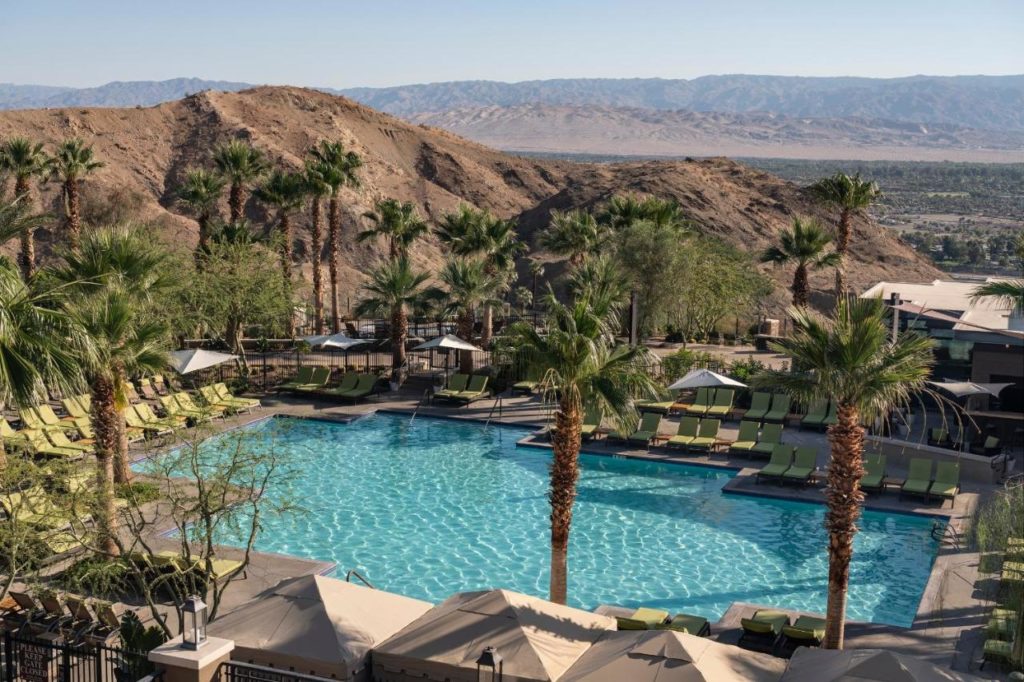 Stay among the gated communities of Rancho Mirage, in this Ritz-Carlton property overlooking Coachella Valley — the hotel's Edge Steakhouse offers some of the best vistas. The hotel opened in 1988 but has been modernised many times since. It has two restaurants serving seasonal dishes, two pools surrounded by plush exclusive cabanas and a high tech fitness centre. Its spa treatments take their inspiration from the surrounding land, using indigenous botanicals within the treatments. And guests can join yoga classes or request personal training sessions. Bedrooms exude a typical Palm Springs feel, with polished dark wood, offset by light-coloured soft furnishings.
Parker Palm Springs
Displaying a slightly bohemian, artistic flair, the Parker Palm Springs takes on Morrocan, maritime, pop art and retro American influences in its styling. The design plays beautifully with colour in the spaces and bedrooms are filled with unique, eclectic collectables. Guests can find nooks and crannies among the two swimming pools (one for families) croquet lawns, bocce courts, fruit trees and herb gardens; lie in a hammock, play ping-pong, play tennis, sip on boozy fresh lemonade and dine in the two restaurants. Those arriving at the wellness centre – The Palm Springs Yacht Club – are furnished with white cotton terry robes, flip flops and a thimble of cucumber-infused vodka.
Kimpton Rowan Palm Springs Hotel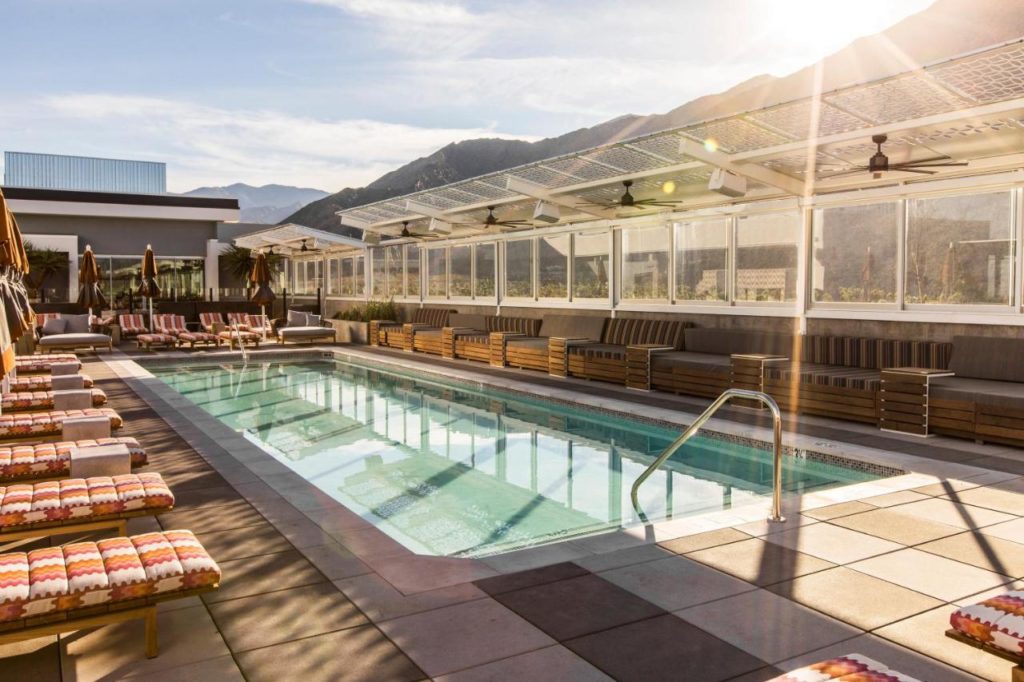 Rising six floors (very high by Palm Springs standards), this artful Kimpton hotel has a rooftop pool area – which feels a little like a cruise liner – with a view of the downtown area. On arrival, guests are greeted by a double-height light-filled lobby, with huge windows and a huge macrame owl. Beyond this, there's the orange celinged Juniper Tree restaurant, the top floor 4Saints dining room, a fireside Window Bar and a poolside High Bar. Valet parking, a house car for short journeys, free bicycle hire and use of yoga mats are all included in your stay.