Whether you're a frequent visitor or sampling London life for the first time, you'll never fail to be astounded by the capital's sheer range and quality of gourmet options. From showy, theatrical experiences, to exclusive private dining rooms, opulent eateries and trendy laid-back haunts magnetising celebrities, it's all available here. Michelin stars are plentiful and some of the world's most innovative international chefs have set up shop in the city. So if it's the ultimate in high-quality cuisine you're seeking, these are the tried and tested London restaurants you simply mustn't miss on your next trip.
The Pem Restaurant
Inspired by the commitment, boundary-breaking and passion of the high-profile suffragette, Emily Wilding Davison (nicknamed Pem), celebrated Chef Sally Abé set up this destination restaurant at the Conrad St James. Her hand-picked team, appropriately, features many females and sports a feminine, vintage design, with plush pink seating. Diners can order from the set menu or the a la carte menu, or embark on a Taste of The Pem experience, with six courses and an optional wine pairing curated by international Sommelier Emily Harman of Vinalupa. Dishes are made using sustainable, seasonal British produce and ingredients from small producers.
Charlies at Brown's Hotel
The Chef Director at Charlie's is the AAA Rosette and Michelin-starred Adam Byatt. Elegant and distinctly British, the restaurant within Brown's hotel in Mayfair features wood panelling, imposing pillars, circular tables and playful bold wallpaper accents. This is a great choice for a glamorous Sunday roast; Charlie's menu offers dearly-loved classics with a contemporary and European twist, showcasing our isle's best produce and ingredients – and it changes with the seasons. In addition to the lunch and à la carte menus, there's an excellent range of plant-based dishes. Sharing platters are also available, such as the quince, pear and almond crumble.
The Game Bird at The Stafford
Now under the direction of the Michelin-starred Lisa Goodwin-Allen in association with Executive Chef Jozef Rogulski, The Game Bird at The Stafford serves contemporary and elegant British dishes in a relaxed setting in the heart of St James. Gala Pie, Dover Sole, Potted Southport Shrimps, Jacob Cross Lamb, Butter-Poached Native Lobster and of course, The Game Bird itself (Roast Squab Pigeon, with buttered Turnips, Apple and Bacon Barley Risotto) are just a few of the items you can expect to find on the menu. It highlights our island's incredible produce, with a focus on seasonal ingredients. Pop by for a lighter bite of Exmoor caviar accompanied by hot English crumpets or try out their exquisite Afternoon Tea which is served between 12 – 7 daily.
Eldr Roof Garden at Pantechnicon
Bathe in sunshine year-round, when you dine on the Eldr Roof Garden's south-facing terrace (read our interview with head chef Jenny). Its Nordic-inspired garden provides a commune with nature that's rare in the venues of London's city centre, not to mention some glorious views. The unique range of cocktails reflects this Scandi influence too, with a seasonal menu offering libations that each reflect a different territory of the Nordic lands. Food is served throughout the day, with heartier mains like Skrei cod with smoked cream, roasted salsify and watercress; lighter snacks such as moose salami with pickled onion and juniper smørrebrød; and desserts including smoked apple and yoghurt sorbet.
Madhu's at The Dilly
Punjabi cuisine meets Kenyan food in this glorious Edwardian Hotel in Picadilly. Madhu's is housed in a chandelier-lit grade II listed Oak Room, where tables are laid with heavy silver cutlery and vintage style crockery. Starters are arranged onto a silver serving wheel, with mains and desserts equally artistically presented. Everything here pleases both the eyes and the tastebuds, augmented by attentive, friendly service. And a large cocktail list offers creations inspired by the flavours of India. While the hotel has a long heritage, the restaurant itself only opened in the middle of 2021, providing sophistication and spice in equal parts.
Junsei
Another recent arrival to London's ever-expanding fine dining scene is this authentic Japanese restaurant Jusei. Found in Marylebone, Junsei specialises in Yakitori (food skewered and grilled over a charcoal fire). Nothing is wasted here – expect to see animal parts ordinarily eschewed in many eateries (for no good reason other than tradition), presented as delicacies. The restaurant's name translates as 'pure', nodding to its minimalist decor and cooking style. It's intimate, so book ahead to get a seat, especially if you want to be one of five diners seated at the 'chef's table, with a front-row view of the kitchen's activity.
Whitcomb's at The Londoner
image credit Andrew Beasley
About as central as you can get, Whitcombe's is located at Leicester Square, within the luxurious new five-star hotel The Londoner. It opened during the last quarter of 2021 with cosy plaid upholstery, dramatic black-and-white art photography, padded blue menus and comfy leather sofa banquettes. The restaurant cleverly mixes stylish simplicity, with traditional homeliness, while the dishes are a modern take on French cuisine, accompanied by top-drawer wines. À La Carte options include sharing dishes, like the decadent Fromage au four – a skillet of melted Gruyère, Emmental, Cognac, crispy pancetta and Dijon mustard – are sure to entrance any cheese lover.
Sachi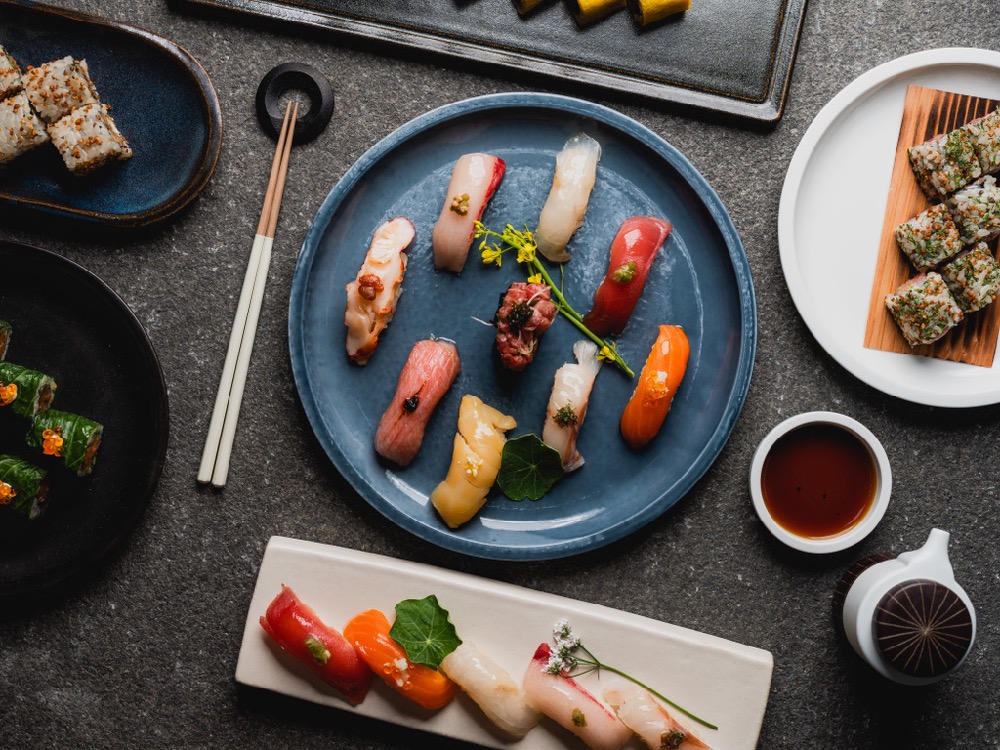 Celebrating all things Japanese, Sachi (read more here) is in part inspired by Tokyo's speakeasies – with a Nordic twist. On the lower ground of a six-floor building, Sachi has a chef's sushi table. Here you can watch the food being prepared, theatre style. There's a private dining area with its own bar, while the main open restaurant opens onto an ornate oriental garden with booths hidden away (perfect for date night).  Open Wednesday through to Sunday, Sachi's tantalising menu presents dishes such as lobster miso, a tomato salad with smoked senbaisu, Toro tuna and trout roe sashimi. And although sushi is traditionally fish-based, the kitchen has a plentiful selection for vegan and vegetarian diners. 
Sycamore Vino Cucina
Brand new for 2021, this authentic Italian all-day restaurant is found in Covent Garden and was launched as part of the lifestyle luxury hotel, Middle Eight. Specialising in Italian mixology, the bar has 15 different varieties of Negroni alone, as well as an impressive wine selection, showcasing small-scale producers from regions including Piedmont, Lombardy and Tuscany. Start the day with an egg-topped Nduja  Breakfast Pizza, stop in for Cicchetti (Venetian tapas) at lunchtime and tuck into delicacies such as the Bistecca di Manzo (35-day aged longhorn porterhouse with whipped potatoes), for dinner. The urban hangout is open to both hotel residents and walk-ups, with DJs and live musicians frequently playing late into the night. 
Adam Handling Chelsea
Located in one of the most affluent and trendy areas of the city, Chef Patron Adam Handling's Chelsea restaurant offers contemporary elegance in keeping with its surroundings. The building itself has had a colourful past, as the residence of both Lilly Langtry and Oscar Wilde. Handling – who was previously awarded Scottish Young Chef of the Year – has conjured a menu that's both modern and British in style, with seasonal ingredients sourced close to home. It's all in keeping with the restaurant's ethics of sustainability. Dine from the a la carte selection, or try some of Adam's signature creations from the tasting menu. Sunday lunch is a real highlight (read our review), with a luxury all you can eat banquet buffet including lobster, caviar and oysters, paired with unlimited drinks packages. And if the range is too sophisticated for younger palates, there's a children's menu too, making it a popular spot for young families in search of fine food
Akira at Japan House
Receive a warm 'omotenashi' Japanese welcome at Akira (read our review), on the first floor of Japan House in Kensington. The restaurant follows a 'trinity of cooking' principle: food, tableware and presentation, making a visit feast for the eyes as well as the tastebuds. Simple, minimalist and contemporary decor incorporates traditional Japanse design. This is complemented by regional artisan crockery – all curated by chef Shimizu Akira. The eclectic menus will especially delight meat and fish lovers. Order a la carte sushi, Wagyu sirloin and rump steaks, Akira's own take on fish and chips, or op for a three or five-course set menu. Japan House corporate members benefit from a private dining room and their own dedicated menus. For those who revel in watching while eating, Akira offers an especially exciting and dynamic dining experience – marvel as the chefs create and cook over the Robata charcoal grill, in a theatre-style kitchen at the restaurant's centre.
Alain Ducasse at The Dorchester
Renowned chef Alain Ducasse brings his Michelin three-star French cuisine to one of the best hotels in London. Experience new menus throughout the year, designed by Executive Chef Jean-Phillipe Blondet and inspired by the seasonal produce sourced in both France and Britain. Choose from critically acclaimed tasting menus, a Jardine menu, a la carte, seasonal menu and a weekly changing lunch hour selection. The neutral, sophisticated and refined surroundings allow the focus to be placed on the culinary experience. Signature dishes include fillet of Angus beef and seared foie gras Rossini, and a Monte-Carlo rum baba – or go all out with the sauté gourmand of lobster and a bottle of bubbles. The service is impeccable, making it ideal for a very special occasion. And as the hotel is frequented by many celebrities, Alain Ducasse at The Dorchester offers the chance to dine alongside the rich and famous.
www.alainducasse-dorchester.com
Le Gavroche
As the first restaurant in the UK to be awarded one and two Michelin stars, Le Gavroche is somewhat of a veteran on London's high-end culinary scene. Having opened in Mayfair in 1967 under the direction of Albert Roux, the restaurant has received many decorations since. Current chef de cuisine Michel Roux jr regularly appears in the media as a French cuisine expert. His menus include a vegetarian selection, business lunch, a la carte and tasting menus – all with fine wine pairing suggestions. Red and green hues bring a warm, yet elegant feel to this formal establishment in which gentlemen are required to wear a shirt and jacket. Le Gavroche may translate as 'The Urchin', but there's nothing rough and ready about this place. Be prepared to book at least three months in advance, and do order the entrancing feather-light cheese souffle.
Hyde Park Bar
Hyde Park Bar has the air of a private members' club with dark wood panelling and late-night jazz. Found in the affluent suburb of Knightsbridge, its cabinets are filled with over 130 different types of whisky and premium cigars. Casual yet refined, the kitchen serves light meals including hand-stretched pizzas, mezze plates and club sandwiches, alongside a la carte specialities focussing on traditional favourites such as a refined take on haddock, chips and mushy peas, lamb cutlets and beef fillet. 
La Dame de Pic
Anne-Sophie Pic is the most decorated female Michelin-starred chef on the planet; her aim, to provide a "powerful and unexpected gastronomic experience". And it's at La Dame de Pic, that diners can sample her signature distinctive French dishes with unparalleled flavour combinations never ceasing to surprise the palate. But the cuisine here isn't all about the taste- texture and aroma play an integral role too. The Discover, Journey and Voyage tasting menus consist of four to six courses. La Dame de Pic is located in the Four Seasons Hotel London, Ten Trinity Square, beside the capital landmarks of the Tower of London and Tower Bridge. 
Hide
Seasonal dishes, created from ingredients sourced via a network of UK wide small farmers and suppliers, are crafted for breakfast, lunch at dinner at Hide. Where possible, items are made in-house, including daily freshly baked bread, jams, juices and pickles. While the vibe at this Picadilly eatery is relaxed, the service is excellent, with attention paid to every detail – all the food is presented with fashionable and artistic flair. Menus are healthy and nutritious as well as indulgent and meals can be paired with a tipple from Hedonism Wines – the sommelier team are on hand to recommend a suitable vintage.