Updated December 2015
The capital of Scotland, Edinburgh is a tourist mecca filled with restaurants, historic landmarks and breathtaking scenery. If you are here for a long weekend, over night or even longer then you need somewhere luxurious to stay and thankfully Edinburgh is overflowing with luxury accommodation. So here is the TLE top luxury hotels in our favourite city.
1. Sheraton Grand Hotel & Spa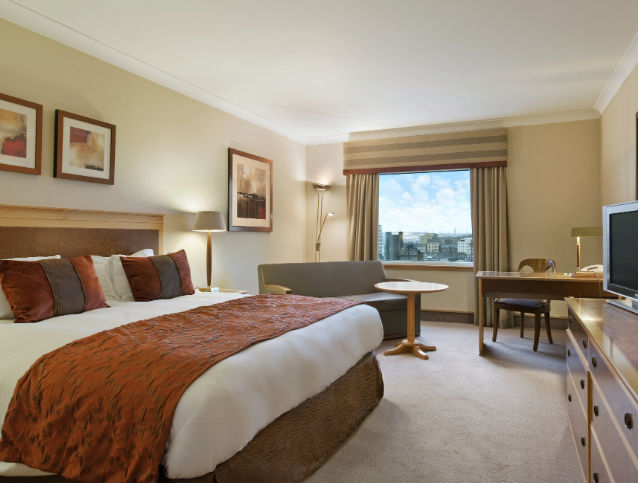 A recent renovation turned the iconic Sheraton Grand Hotel & Spa into a true destination of bliss and luxury in the heart of Edinburgh. Many of the rooms overlook Edinburgh Castle, and most other major attractions in the heart of the city are easily within walking distance. Along with offering more than 260 rooms and suites, making it one of the bigger luxury hotels in Edinburgh and the Sheraton Grand Hotel & Spa possibly has one of the best spa's in the city. Swing by One Square, the onsite restaurant and bar, for a variety of British fare and a lively but sophisticated bar atmosphere.
Address: 1 Festival Square, Edinburgh EH3 9SR
Phone: 0131 229 9131
Web: sheratonedinburgh.co.uk
2. The Glasshouse, an Autograph Collection Hotel
Just as the name implies, The Glasshouse's defining characteristic is that each of the 66 rooms boast floor-to-ceiling glass along one wall. This allows guests to overlook Greenside Place and the surrounding area, and it creates a light, contemporary feel to the richly historic destination.
Read more about the Glasshouse
Address: 2 Greenside Row, Edinburgh EH1 3AA
Phone: 0131 525 8200
Web: theglasshousehotel.co.uk
3. Malmaison Edinburgh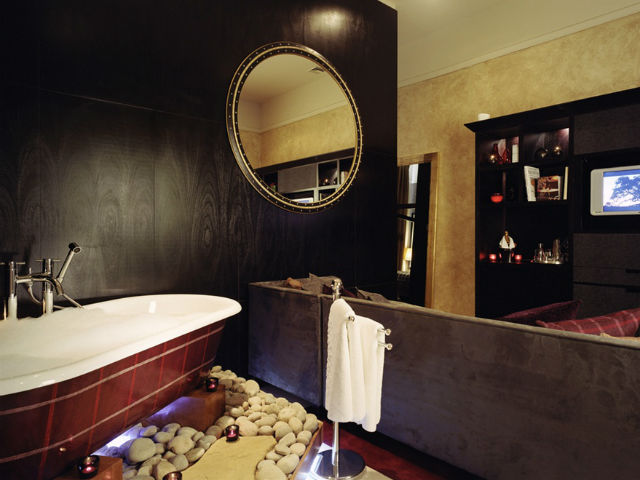 Known for romance and style, Malmaison Edinburgh is popular with younger guests who are in the city for pleasure rather than business. Located down in Leith docks, this once house of ill-repute is now a beautiful 100 room (and suite) boutique hotel with onsite spa brasserie and bar. A great summertime location as they have a large outdoor seating area making it an excellent choice for a glass of wine to unwine after a days sightseeing in the city.
Address: 1 Tower Place, Edinburgh EH6 7BZ
Phone: 0844 693 0652
Web: malmaison.com/locations/edinburgh/
4. The Scotsman Hotel
Once the richly furnished offices of the Scotsman Newspaper, this hotel was transformed into a historic and perfectly-located establishment just minutes from The Mound and the Princes Street Gardens. A highlight of the hotel is the North Bridge Brasserie, which combines dramatic Victorian architecture with Scottish and French fusion cuisine. You'll also find recreation and relaxation amenities like an onsite spa, a fitness facility and stainless steel indoor pool.
Address: 20 North Bridge, Edinburgh EH1 1TR
Phone: 0131 556 5565
Web: thescotsmanhotel.co.uk
5. Waldorf Astoria Edinburgh
Once better known as the Caledonian, the Waldorf Astoria Edinburgh underwent an extensive renovation to bring it into the Waldorf a few years ago. These upgrades resulted in the hotel winning awards like the Luxury Hotel of the Year and the Spa of the Year, among others, for 2014. Whether you opt for a classic room or a luxury suite with a view of Edinburgh Castle, expect sumptuous linens and muted colours that signify class and elegance.
Address: Princes St, Edinburgh EH1 2AB
Phone: 0131 222 8888
Web: thecaledonianedinburgh.com
6. G&V
Definitely not lacking in style or colour, this five-star boutique hotel on the Royal Mile is a stunning contemporary landmark in a city known for its historic architecture.
Filled with monochrome prints and flashes of colour, the G&V Royal Mile Hotel is a showpiece for modern Scottish design. From textiles to luxury toiletries, furniture to amenities, you'll be rewarded with some most stunning and beautiful surroundings.
Beyond the creative and vibrant design of the rooms, no expense was spared to make your time more luxurious. With spa, DVD library, on-demand movies, free WiFi throughout, walk-in rain shower, iPod docks and Nespresso machines in each room, your comfort is at their core.
And gastronomically this boutique hotel reigns high with its award-winning restaurant Cucina. Whether you're looking for a morning cappuccino, elegant lunch or tantalizing dinner, their modern, fresh and inspired Italian cuisine must be on the cards.
Address: 1 George IV Bridge, Edinburgh EH1 1AD
Phone: 0131 220 6666
Web: www.quorvuscollection.com/gandv-hotel-edinburgh