The small nation of Bhutan is surrounded by the intense natural beauty of the Himalayas. While this country has long remained a mystery to visitors, more and more intrepid travellers are managing to break down barriers and explore everything Bhutan has to offer. While most visitors travel to Bhutan in order to go trekking and learn about Buddhism, a number of establishments are slowly emerging that cater to lovers of luxury. Here are some of the best luxury hotels that are just waiting to be enjoyed in Bhutan.
Dhensa Boutique Resort
Overlooking the enchanting Punakha valley, the Dhensa Boutique Resort is set amongst lush pine trees and makes the perfect retreat for nature lovers who also enjoy their creature comforts. Guests will find a number of impressive walking trails right on their doorstep such as the Sangchen Dorji Lhuendrup Nunnery Lhakhang, which can be found just five minutes away. After a busy day of exploring, guests will be able to return to this five star resort to indulge in a range of special treatments and therapies that feature hand blended essential oils. A range of other wellness practices are just waiting to be enjoyed such as yoga and unwinding in the outdoor wood-fired bath, while the onsite restaurant serves nourishing and nurturing dishes.
Taj Tashi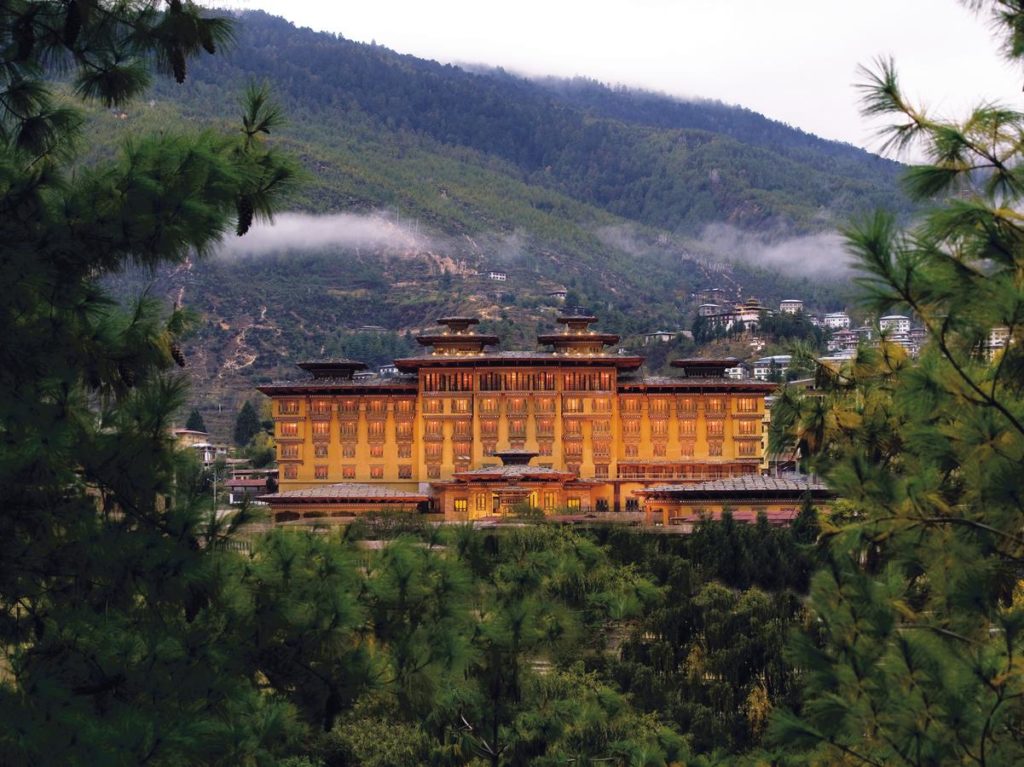 Set right in the heart of the nation's capital, Taj Tashi serves as a decadent retreat from the hustle and bustle of the city. The architecture of this hotel features an impressive blend of traditional Dzong architecture and luxurious modern design, including a number of impressive hand drawn Buddhist murals. There are 66 spacious guestrooms and suites to choose from here and guests are treated to magnificent mountain views as well as town scapes from their private terraces. The hotel also boasts two excellent restaurants as well as a cosy tea lounge, a bar and a lavish spa where it is possible to enjoy a little pampering.
Bhutan Spirit Sanctuary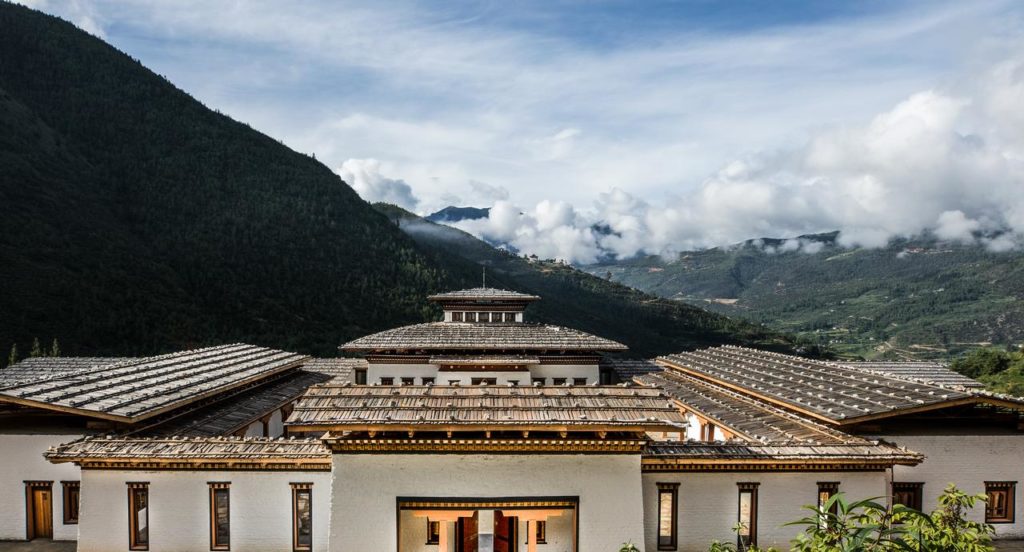 Lovers of luxury who are looking for a truly spiritual experience are sure to find that this is the perfect place to stay. Bhutan Spirit Sanctuary offers just 24 boutique guestrooms, which are set in a stunning remote location just a twenty-minute drive from Bhutan's international airport. Guests are treated to stunning views across the Neyphu valley of Paro as well as the stunning Eutok Samdrupcholing Goenpa Monastery. This family run establishment was created in the style of a traditional Bhutanese fort and guests can be sure that they will receive a warm welcome and plenty of personalised touches.
Le Méridien Paro, Riverfront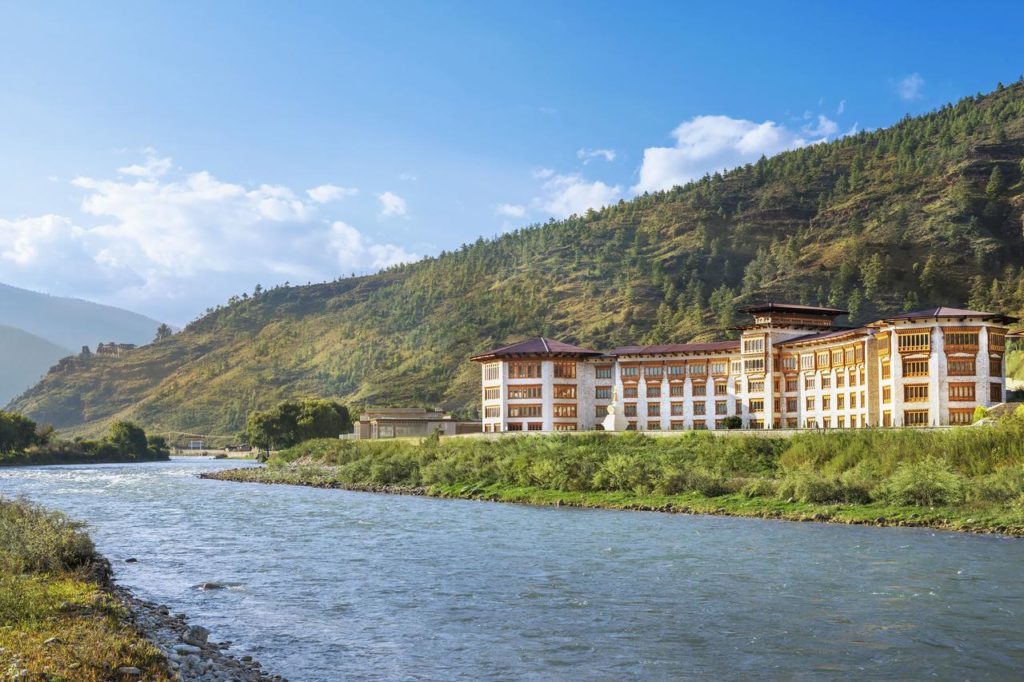 Commanding an excellent position on the bank of the Paro River, the Le Meridien Paro Riverfront provides 59 rooms for guests to choose from. True luxury seekers will want to make sure that they secure one of the hotel's lavish seven suites, each of which provides stunning views of the Paro River and Paro valley from their balconies and picture windows. The hotel boasts two restaurants, Bamboo Chic and Latest Recipe, both of which feature innovative dishes that are based on local food traditions with unique touches thrown into the mix. Bamboo Chic serves classic Asian dishes with a modern twist, while Latest Recipe serves international à la carte dishes. The hotel also boasts several enchanting indoor swimming pools as well as a large fitness centre and a large wellness centre where a whole host of spa treatments are just waiting to be enjoyed.
Zhiwa Ling Hotel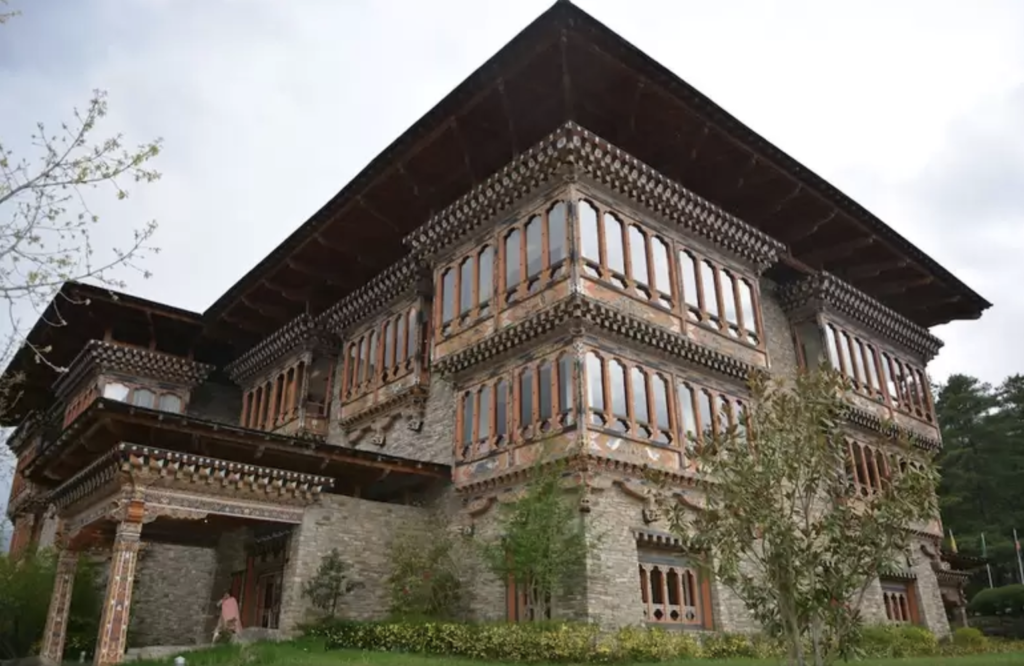 With just twenty guestrooms to choose from, people who check into this luxurious hotel can be sure that they will be treated to an exclusive and intimate experience. Each of the spacious rooms here has been designed to capture natural sunlight and provide stunning panoramic views of the surrounding valley. Lovers of fine dining will be treated to the best of Bhutanese and Western fare, with all the vegetables coming straight from the hotel's organic kitchen garden. There is also a large garden to stroll through and plenty of communal areas to unwind in.