Currently one of the hottest city break destinations, Lisbon's charming cobbled streets, coastal setting and unique architecture are a big draw. But The City of Seven Hills has an increasingly enviable culinary scene too. Its signature dishes like bacalhau (salted cod), Caldo Verde (kale and sausage soup) and Pasteis de Nata (custard tart sprinkled with cinnamon) remain staples, but a new wave of cuisine, innovative chefs, food markets and stylish restaurants make it a paradise for foodies. Here are some of our favourite places to eat in the city.
Infame
This restaurant is part of the 1908 Lisboa Hotel, found within the district of Largo do Intendente. Infame's large picture windows allow diners to look out onto the square, the upscale venue fitting perfectly into the neighbourhood's industrial-chic vibe. Ingredients are locally sourced, to provide a real taste of Lisbon, with meals served from breakfast through to dinner. Under the leadership of Chef André Rebelo, the menu offers a fusion of Portuguese – fused with international – flavours. Dishes have been playfully named, such as Kraken Me UP (squid, curry, shrimp and gnocchi) and You Sexy Thing (chocolate mousse, peanut praline and olive oil).
Rocco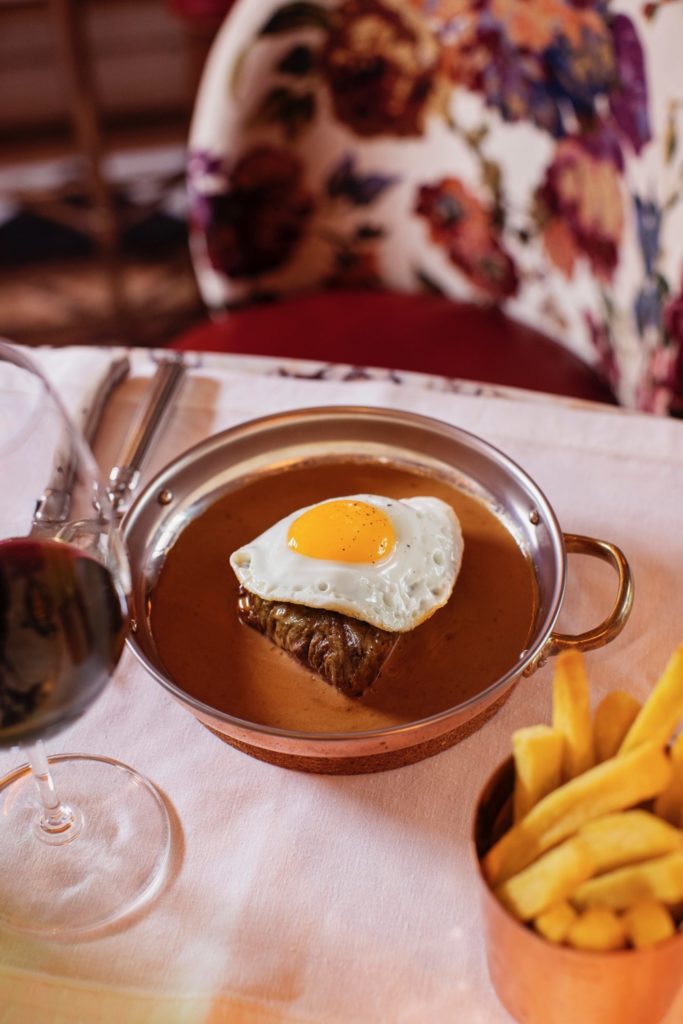 While Rocco is but one restaurant, it encompasses three separate areas. Step inside (via The Ivens Hotel) to what is a decadently immersive experience. Pass a heavy velvet drape to the Gastrobar, a circular counter surrounded by chintzy Art Deco style decor and a suspended wine cellar, serving lighter meals and divine cocktails along with DJ. The destination Ristorante serves traditional Italian dishes – classics prepared according to authentic recipes – and has a terrace for outdoor eating. Then there's the Crudo Bar, the venue's most theatrical spot, where diners tuck into tiered platters of oysters, caviar, crab, prawns, tartare and ceviche while sipping on champagne.
BAHR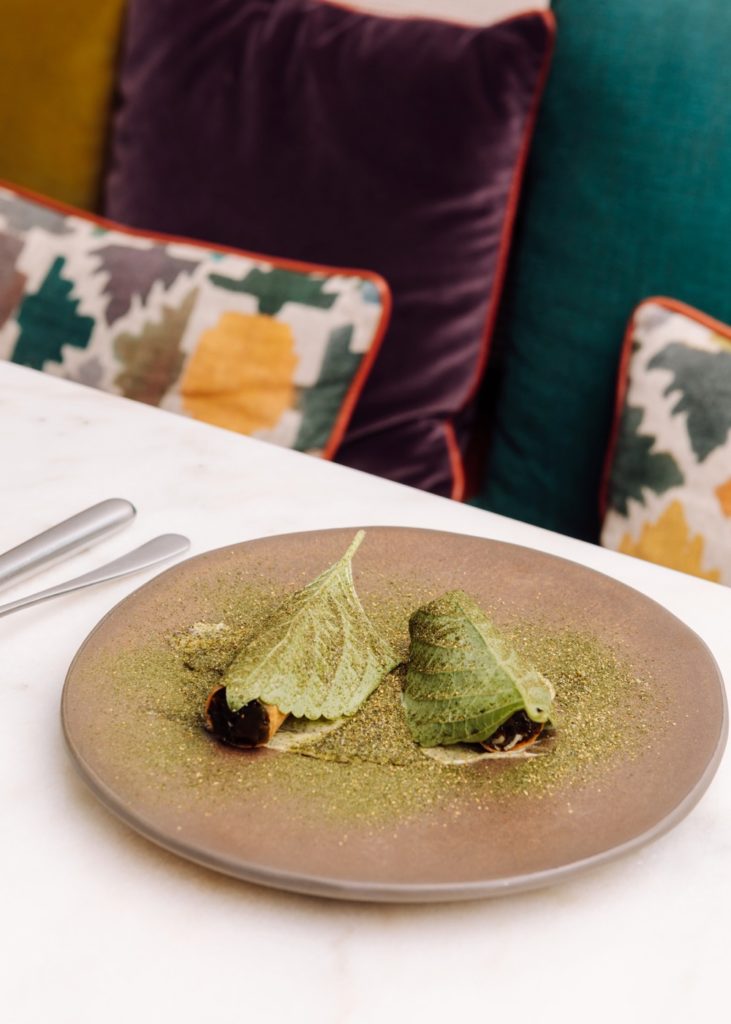 The globally esteemed Michelin-starred Nuno Mendes is the Creative Director of BAHR at The Barrio Alto Hotel. While he's a Lisboeta, Mendes spent many years working in London, before returning to his home city. BAHR's boho flair mirrors the atmosphere of its arty neighbourhood, Bairro Alto. Service begins at 7 am, with breakfast, followed by a Market Menu lunch, weekend brunch and dinner. Mendes prepares snacks like smoked goose barnacles on toast, starters such as aged beef tartare and mains including black pork Secretos with crayfish and Savoy cabbage. Dine indoors in the deeply fashionable restaurant, or on the terrace, with views of the Tejo river.
Clorofila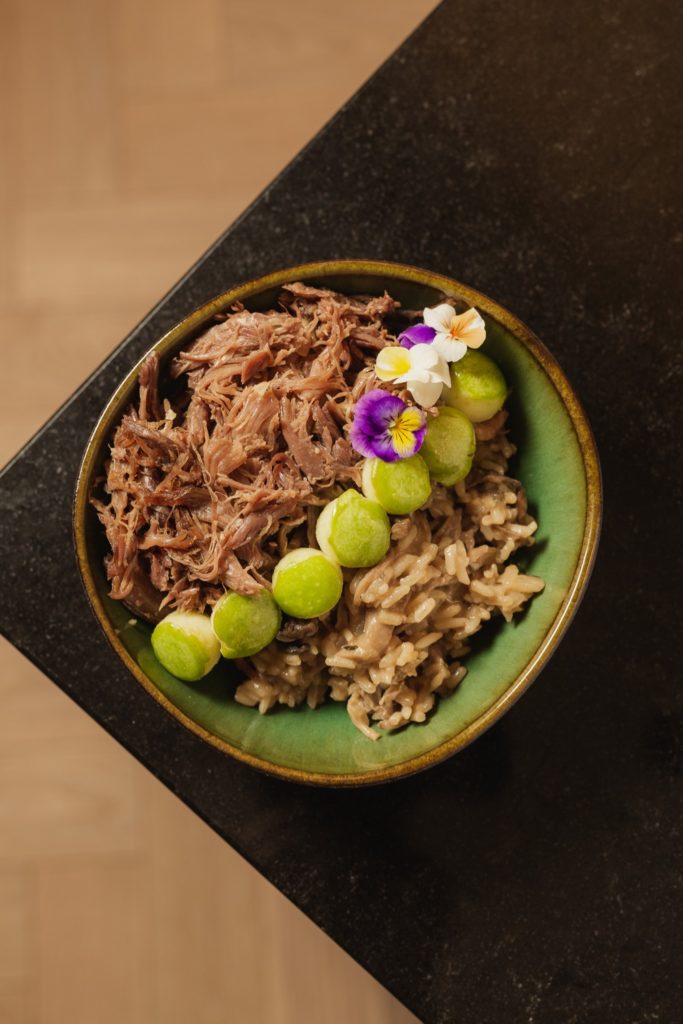 Clorofila at The Lumen Hotel offers one of the most unique experiences in the city. As you eat your meal, you'll be treated to a front-row view of the Lisbon Light Show. Diners can take an incredible video mapping a journey through the capital with a dazzling display projected on the courtyard walls. Inside, the restaurant's deep green hues create a connection with nature, at the same time as contemporary sophistication. The adjacent garden's water mirrors evoke a sense of tranquillity, as sharing menus and executive menus – with the motto 'healthy gathering' are served to night and day guests.
BouBou's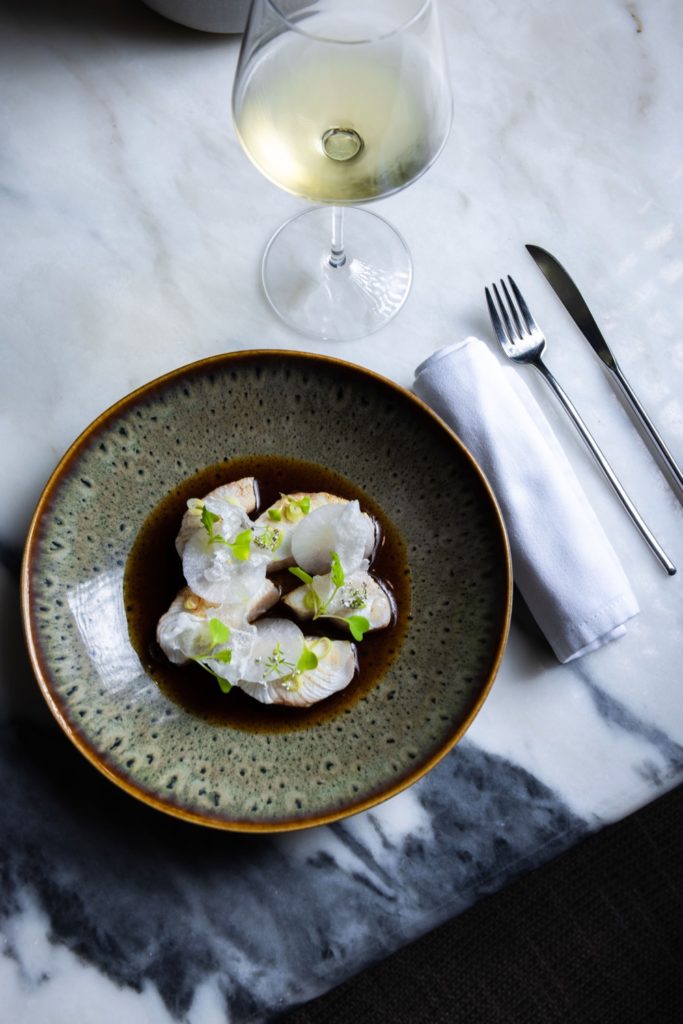 Local to the Príncipe Real district, BouBou's was the brainchild of Agnes and Alexis Bourrat, opening in 2018. Seasonal produce, a zero-waste approach and a love of vegetables help to define the menus, calling on the couple's own international roots and experiences. Diners can sit in the main restaurant (some seats provide views of the kitchen activity), in the bar, on a small terrace, or within BouBou's own tropical-esque garden. Alexis' sister, Louise, is at the helm in the kitchen, creating nine-course tasting menus and a la carte dishes to serve every appetite, including large sharing options.
Sala De Corte
If you're in the mood for steak, this is the place to come. Housed in a high-ceilinged industrial warehouse building, with leather banquettes and polished brass lamps, the venue specialises in dry-aged meat. It's under the directorship of the award-winning Luís Gaspar, who prepares a variety of excellent cuts in a grill and charcoal oven. Open from midday to midnight (1 am at weekends), it has a sophisticated feel, serving artistically presented food and amuse-bouche alongside the courses. Definitely one for meat-lovers, diners can take their pick from rump, picanha, entrecôte, loin, chateaubriand, t-bone and chuletón.
Cavalarica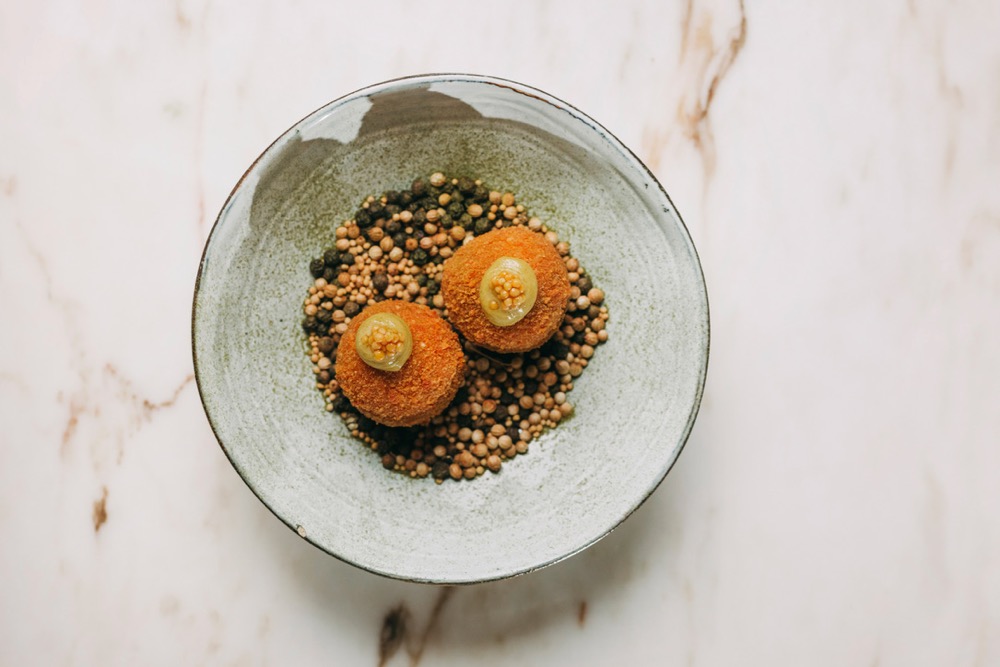 Following its success in Comporta, the Cavalarica team decided to set up shop in the capital. But while it features favourites from the original venue's menu, the majority of the dishes in the Lisbon establishment take on a different personality to its sister restaurant, geared to an urban market and more solo dining than the groups and families typically found on the coast. Ingredients showcase the country's rich produce, including oysters by Célia from Neptun Pearl, vegetables from Cerquinha, Alentejo pork from Salsicharia Estremocense and red mullet from the Algarve. An excellent range of natural and biodynamic wines can be ordered, as well as artisanal cocktails by Fábio Nobre.
Oficio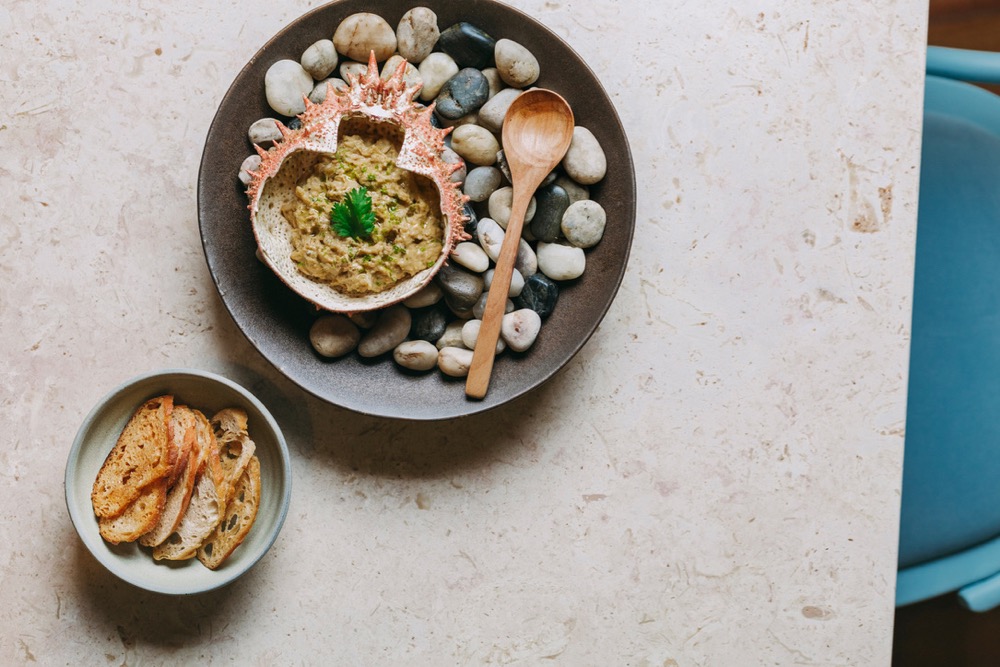 Another of Bairro Alto's exciting eateries, this one had a total makeover in 2021. It's been brought bang up to date, with pastel neon signage, engraved mirrors, funky artworks and staff wearing tees emblazoned with pertinent sayings. Diners can eat indoors or people-watch at outdoor tables on the pedestrianised street. With coasters marked by QR codes (containing Oficio's own playlist), it's almost hard to believe this place was once a monks' refectory. Enjoy crab from the Algarve, bread from a local artisanal bakery, Spanish-style paella and Portugal's answer to the Scotch egg. And don't miss the whole cheese tart for pudding – it's fast becoming a signature dish.
Belcanto
This is an institution in the city, having been around since 1958. It's found in the Chiado neighbourhood, on the picturesque São Carlos Square and is considered to be one of the best restaurants in the world, not just in Portugal. TV and cookbook author Chef José Avillez took the reins in 2012, earning its first star within a year, with the second coming two years later. His focus is on national food, offering two tasting menus and an à la carte option. The setting is grand and romantic, with high vaulted stone ceilings, chandeliers and 45 covers.
Alma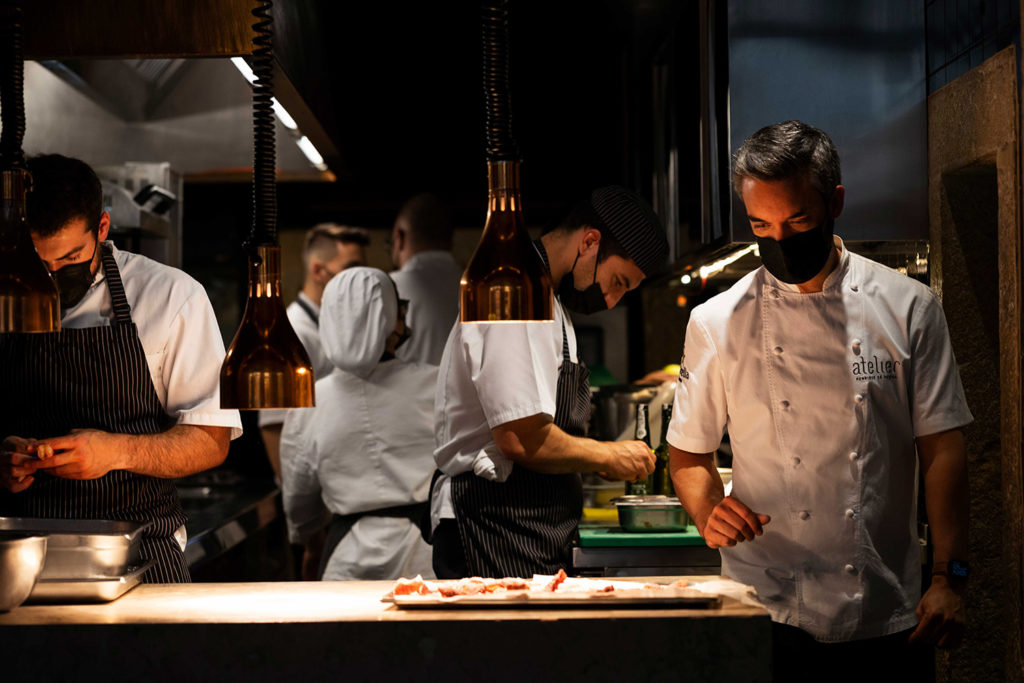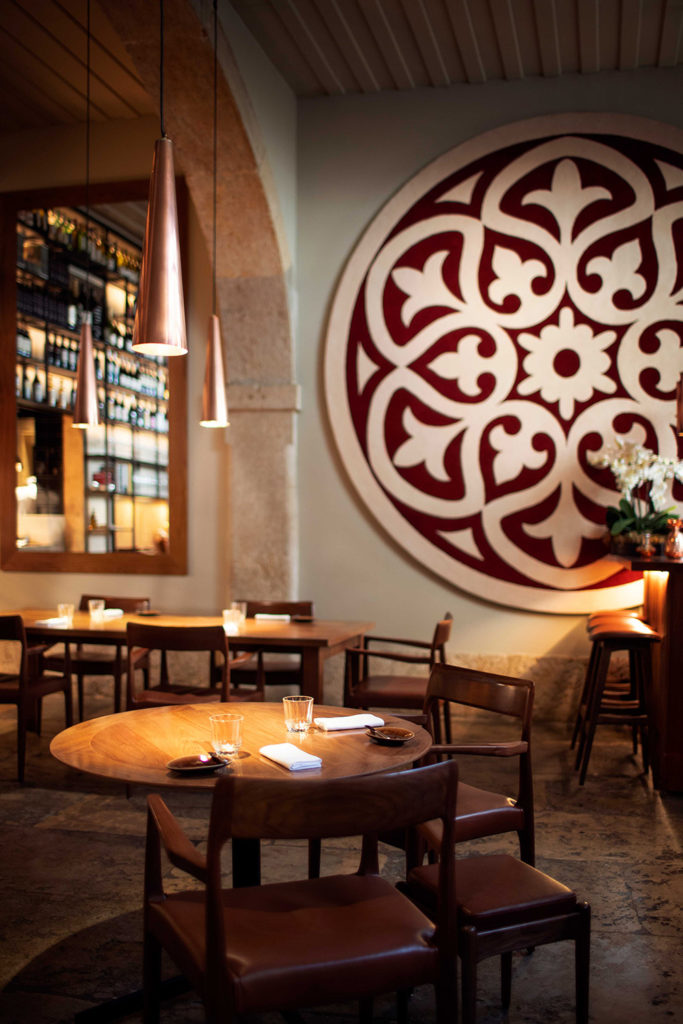 Henrique Sá Pessoa defines his food as tasteful and refined, made using top quality products and perfect cooking techniques. He's been influenced by international travels and has a particular passion for Asia, so brings these tastes to his Portuguese restaurant. Alma's signature menu comprises five courses, a riff on traditional local food. Then there's Costa a Costa, a homage to the nation's excellent seafood, crafted using sustainable catches. Or diners can select from an a la carte selection, such as onion broth with monkfish, mussels and caviar, Iberian pork cheeks with turnip and plum chutney and sea flavours with citrus 2.O for after.
Fifty Seconds
Spectacular sky-high panoramas await diners at Fifty Seconds. Take your seat 120m above ground in the landmark Vasco de Gama tower, at the top of the Myriad by SANA hotel. Spanish chef Martín Berasategui is no stranger to a Michelin Star — he holds a total of 12 across all of his venues and bagged Fifty Seconds' within a year of opening, with more than a little help from his mostly Portuguese kitchen team. A seven-course Fifty Seconds menu is offered, alongside a ten-course tasting menu — and the decor is as luxurious as the food, designed by the esteemed architect Nuno Rodrigues.
www.fiftysecondsexperience.com
Eleven
The first of Lisbon's restaurants to earn its Michelin star, Eleven has maintained its place as one of the finest places to eat in the city. It's under the leadership of German chef Joachim Koerper, whose gourmet passion lies in the flavours indigenous to Portugal, Spain and Italy. He describes his approach as "luminous and elegant" and often emerges from the kitchen to interact with diners. In addition to tasting menus, business lunches and a la carte, there's a Lobster Menu, which includes a copy of Koerper's own cookbook. Overlooking Parque Eduardo VII (and the capital's skyline beyond), Eleven offers a lush green outlook.
Cura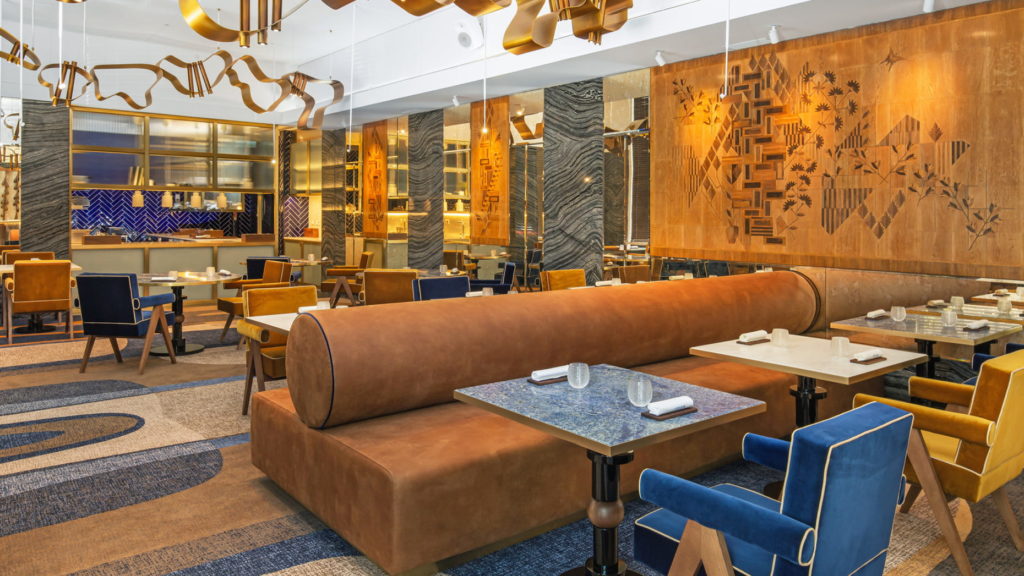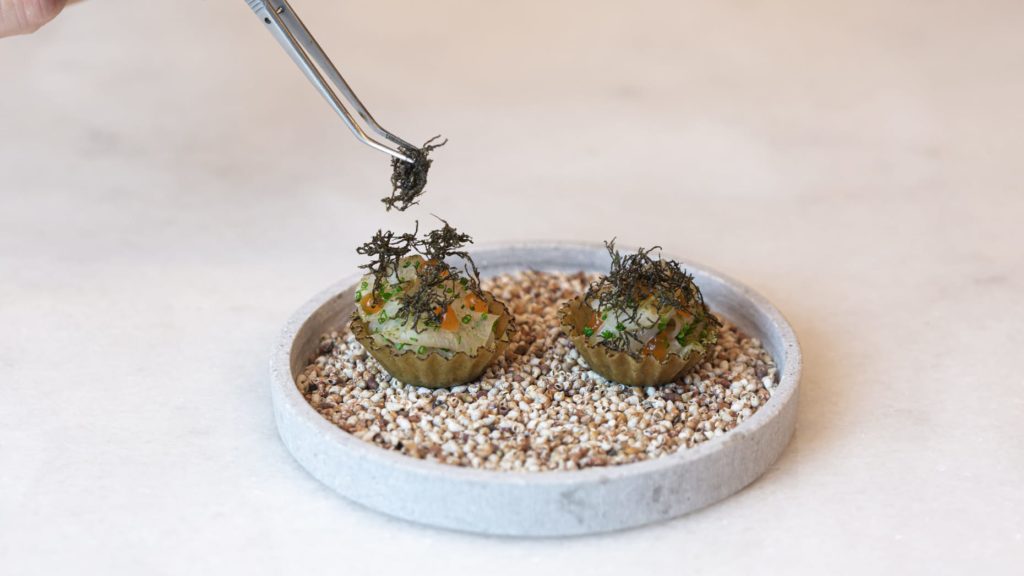 "Curadoria" means "skilled curatorship" in Portuguese, something that lies at the heart of this restaurant's gourmet philosophy. Pedro Pena Bastos' artisanal food can be enjoyed in the evenings, via three elegant tasting menus, one of which is vegetarian. Every dish is a work of art and guests can even get a glimpse into what goes on "behind the scenes" as Cura has an open kitchen where the unified team work as one. Some items, like olive oil, come from the chef's own estate in Tomar. The restaurant is found within the Four Seasons Hotel Ritz Lisbon.