Rome might not have the international status of 'fashion capital' like Milan, but there isn't much in terms of shopping that can't be found in the Italian capital. And why not combine sightseeing and eating with a mega-shopping spree. And if shopping is at the very top of your to-do list when in Rome, you'll want to stay at one of these strategically located hotels. Most feature a bar so you can kick up those heels after a long day on the shopping strip pavement and some even with spas to rejuvenate and refresh to hit them again the next day!
High Street Strip: Corso 281 Luxury Suites
You don't get any more boutique or high end on Via del Corso than Corso 281 Luxury Suites. Located on the main thoroughfare of the city right in the heart of high street brand shopping, this 12 room property is positioned perfectly. With stunning designer interiors, Nespresso machines, luxurious Bulgari amenities, each of the architecturally appointed rooms boasts views of Roman rooftops or the grand Piazza Venezia. An added comfort and touch is the smart device in each room to help you navigate the city like a true local.
Address: Via del Corso 281
Web: www.corso281.com
For Designer Shopping: Hotel d'Inghilterra – Starhotels Collezione
Hotel d'Inghilterra which is right off the famed Via dei Condotti – home to Italy and the world's most exclusive designer stores (from Gucci and Prada to Hermès and Louis Vuitton). Classic Italian style interiors make the hotel a plush oasis off the crazy streets that are Rome. Their Caffe Romano offers up local and regional Italian dishes and has tables out on the street for the warmer months.
Address: Via Bocca di Leone 14
Web: www.starhotelscollezione.com
Local Artisan Shopping: Rome Glam Hotel
Rome Glam Hotel sits right on the edge of the cool, boho Monti neighbourhood where young and local designers are dotted throughout. Its location makes it great for shopping and exploring this area as well as quick access to many of the museums in the centre including Palazzo delle Esposizioni and the Scuderie del Quirinale. Designer and boutique interiors plus a rooftop terrace is a bonus.
Address: Via Nazionale 82
Web: www.moodhotels.it
Shopping For Men: Grand Hotel Plaza
Grand Hotel Plaza, located on Via del Corso and a short walk from mens leather and clothing outlets in the Campo Marzio area. The beauty of this hotel, aside from its prized location, is that it boasts a number of terraces. And not just in many of the rooms and suites, but the Terrazza dei Limoni (with its pretty lemon trees) is the perfect place to relax and watch the world go by.
Address: Via Nazionale 126
Web: www.grandhotelplaza.com
Shopping For Women: Hotel de Russie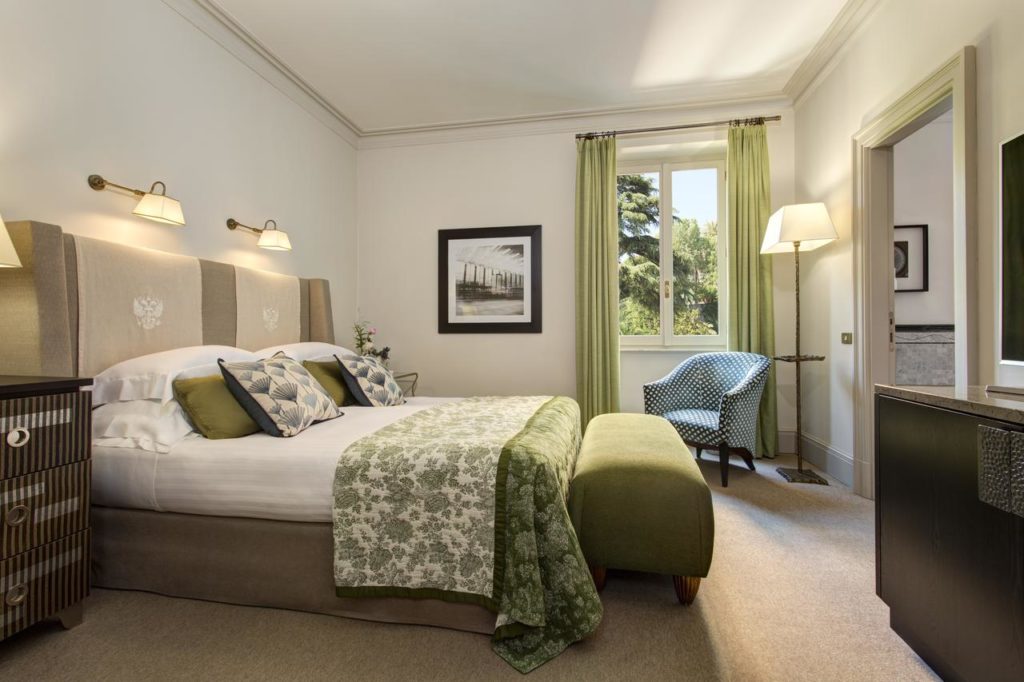 Hotel de Russie, located on the affluent Via del Babuino not far from the designer stores for leather and shoes, clothes and cosmetics. This luxurious five star hotel is part of the Rocco Forte Hotel group and boasts an award-winning day spa, gourmet restaurant and the iconic Stravinskij Bar. Here, locals and foreigners alike mix in the evening for one of their signature spritz cocktails and during the day for their mighty club sandwich in the garden at lunch hour. The plush rooms have marble and mosaic bathrooms and the finest tapestries and artwork.
Address: Via del Babuino 9
Web: www.roccofortehotels.com
Shopping For The Foodie: Hotel Ponte Sisto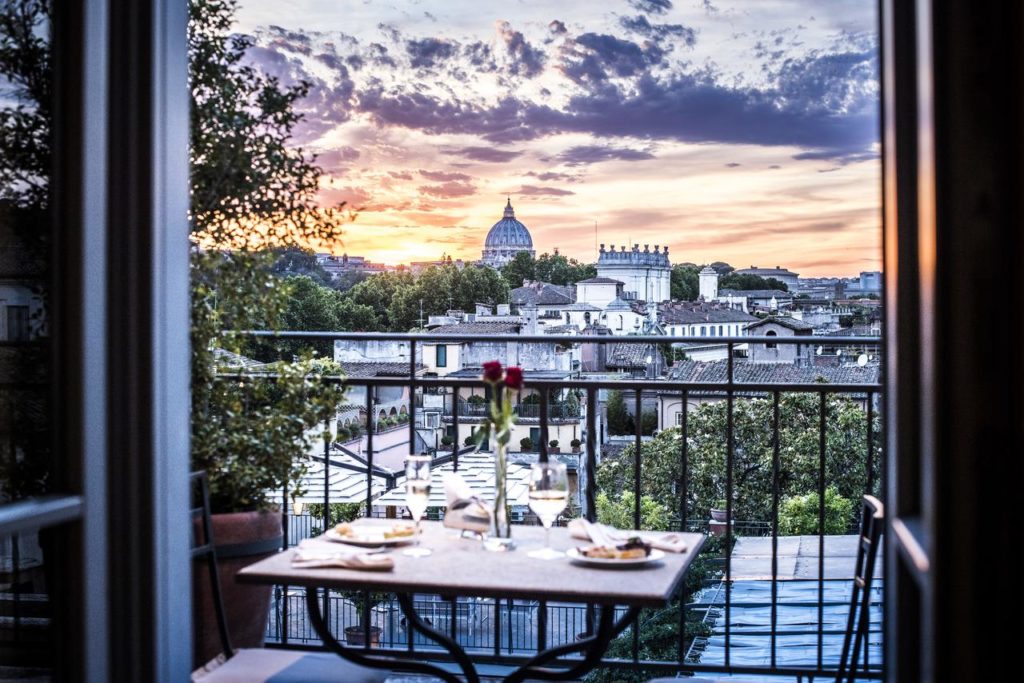 Hotel Ponte Sisto a short walk from the bakeries around the famed Campo de Fiori market and some of the still family-run artisan food shops and neighbourhood markets of the Trastevere and Testaccio districts. In what was a former monastery, some of the rooms here feature balconies and even whirlpool tubs and the lovely garden courtyard or rooftop terrace is the perfect place to relax.
Address: Via dei Pettinari 64
Web: www.hotelpontesisto.it/en/
Antique Shopping: Hotel Art by the Spanish Steps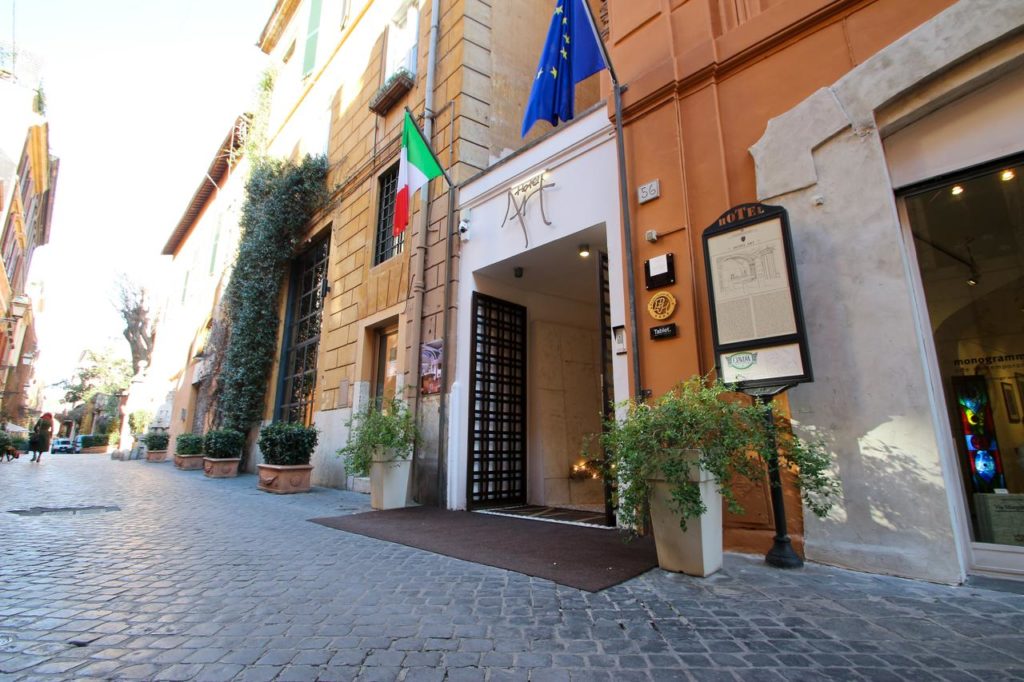 Hotel Art by the Spanish Steps is an art design hotel on the picturesque Via Margutta – famous for its antique shops but even more so for the many scenes which feature in the Hollywood classic, Roman Holiday. With design touches throughout, each of the four floors has its own colour theme (blue, orange, yellow and green) which extends from the halls into the rooms, accentuated by floor lighting that lights up verses of famous poetry.
Address: Via Margutta 56
Web: www.hotelart.it
ABOUT MARIA PASQUALE
Born to Italian parents, Maria always knew Rome was her destiny, although she was raised in Melbourne. With a formal background in political science and history, she is now a food and travel writer and contributes regularly to USA Today, The Telegraph, Condé Nast, CNN and Fodors. She has worked with major brands including Dubai One TV, Etihad, Marriott, Rocco Forte Hotel Group, Baglioni Hotels, Pullman, Paris Tourism Board and many others.
Her popular and award-winning lifestyle blog, HeartRome is read in over 100 countries, has been featured in BBC and Vogue among others and boasts a 30,000 strong social media following. Her first book, I Heart Rome (Smith Street Books / Rizzoli) is a collection of recipes and stories and was released worldwide in November 2017. In Rome you'll find her walking the streets of Trastevere, checking out the latest bar for an aperitivo or dining with friends.
Social
W: www.heartrome.com
T: @HeartRome
F: www.facebook.com/HeartRomeBlog
I: HeartRome